Limited Edition Prints
Sunday, August 6, 2017
Limited Edition Print Release - Announcement

Limited Edition Print Launch
Thank you so much to everyone who answered my survey about limited edition prints. Your answers were very helpful in deciding the best way to make these prints extra-special. We actually ended up going with the highest voted options all down the line!
I am starting with a limited edition print release of 15 paintings. Each choosen painting is iconic or special in some way, such as the cover painting of my newest book, Open Impressionism; Volume II. It was definitely hard to choose from among over 1,300 paintings created during the past decade. I will continue to release occaissional paintings as limited edition prints, such as one painting chosen from my new Coastal Collection.
These new limited edition prints will be created only in the dimensions of the original oil painting, and they will be printed on canvas. This will be the most accurate rendition of the original, since each brush stroke will be exactly the same size as in the original oil painting. You will have multiple framing options available, including a black floater frame (which was the most requested.) I will personally sign and number each print with a small brush dipped in gold enamel. I will also sign and number the Certificate of Authenticity, which will be included on the back of the print. I will be offering an edition size of 200 for each print.
Click here to view the prints!
Jacaranda
One of the 12 paintings choosen as limited edition prints is Jacaranda. This painting was the cover for my first coffee table book, Open Impressionism. This book is now out of print (although there are copies on Amazon.)
This is one of the only paintings I have ever done of a jacaranda tree. I have fond memories of a huge jacaranda tree living in my grandmother's front yard, and growing up I always knew it was my mother's favorite tree. One year for Christmas I painted this painting for my mother. This painting has always been special to me, and I am pleased to be able to offer it as a limited edition print.
Coastal Blooms
The winner of the survey was Coastal Blooms! I created this painting several years ago, and it was one of first coastal paintings I ever created. The yellow mustard blooms against the winding seascape of Highway 1 inspired me to continue painting coastal works and searching for vibrant color in the cool-tones of California's coast.
The original oil, now in a private collection, was done in the size 30x30. By rendering the canvas print in the same dimensions as the orignal, you will be getting as close to the original as possible.
Saguaro Dusk
With over a half-million views on my Pinterest page in the past year, this painting, Saguaro Dusk, leads the charge for the most-viewed painting on my page. I also wanted to be sure to include a dramatic sky painting in the release, so I decided on this piece.
This painting was an immediate hit on my other social media sites, Instagram and Facebook. This print will be offered as a 48x48 inch canvas print. The large size of the image is part of the dramatic effect of this painting.
Spring Road
I knew I wanted to include one petite painting in my limited edition print release. After going over and over my petites, I finally settled on Spring Road. This painting is so cheerful and it captures everything I love about Paso Robles. For such a small painting, it manages to capture an immense amount of space and movement on the canvas.
This print will be available only in the size of the original oil, 16x20 inches.
Path in Bloom
Path in Bloom was included in the Painted Parks Exhibition, my first solo museum show, at the St. George Art Museum in southern Utah (2016). This painting was inspired by hiking around Park City, Utah. I love the wildflowers in the foreground and the beckoning trail.
I always photograph my prints so that the texture of the original oil painting can be clearly seen. The natural thickness of the oil paint and movement of the brush strokes are important to the overall experience of the painting.
The Erin Hanson Gallery
9705 Carroll Centre Road
San Diego CA 92126

(858) 324-4644
Please call or text us at the number above to make an appointment at the gallery.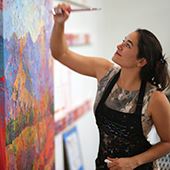 ERIN HANSON is a life-long painter, beginning her study of oils as a young child. Her passion for natural beauty is seen in her work as she transforms vistas familiar and rare into stunning interpretations of bold color, playful rhythms, and raw emotional impact. Her frequent forays into National Parks and other havens of nature include backpacking expeditions, rock climbing, and photo safaris. Hanson's unique painting style has become known as Open Impressionism, which is now taught in art schools around the world. With thousands of collectors eagerly anticipating her work and millions of followers online, Hanson has become an iconic, driving force in the rebirth of contemporary impressionism, and she is quickly recognized as a prolific, modern master.

---
---