Ocotillo Light: An In-Depth Look
Saturday, February 24, 2018
Painting In-Depth Look
Borrego Springs has been a favorite haunt of mine for nearly a decade. I fell in love with the California desert when I was a kid and used to go camping at Joshua Tree National Park. I also lived in Palmdale for a while as a teenager, and I used to take my German Shepard out into the Joshua Tree-filled desert, hiking by moonlight and searching for animal bones to add to my collection (I was always a biologist and an artist!) I loved being all alone in the wide-open desert, surrounded by the alien-looking cacti starkly silhouetted against a star-filled sky, feeling a sense of infinite space surrounding me.
I discovered Borrego Springs when I did an art festival there several years ago. I immediately fell in love with the Anza-Borrego State Park. The whole region is so sparsely populated that you feel isolated and surrounded by the magnificent and dramatic beauty of the desert. There are city regulations keeping artificial light at a minimum, so you can really see the stars at night! There are countless hikes you can take into the canyons, an awesome oasis, and if you are lucky, you can catch a wildflower superbloom in the springtime.
Here is the collection of Borrego Springs-inpsired paintings I have done over the past years: view here.
The painting "Ocotillo Light" captures a scene from the southern edge of Borrego, where there are hundreds of ocotillo growing along the slopes leading up to the surrounding mountains. When the ocotillo bloom, their desert stalks turn from gray-brown to green, and the tips of their spider-like stalks bloom with bright red flowers that always remind me of birds of paradise.
The brush strokes in "Ocotillo Light" are loose and impressionistic, conveying a sense of movement within the painting. When you see the painting in person, you can experience the thick texture of the paint and lustrous sheen of the oil color.
The painting has been framed in a 23kt gold floater frame, to set off the colors in the piece. Here is a digital "in-room mockup" of the painting, so you can get a sense of the painting's dimensions:
Ocotillo Light
Oil on canvas, 40 x 50 inches
View all my paintings of California desert here.

I hope you enjoyed the in-depth look!
- Erin Hanson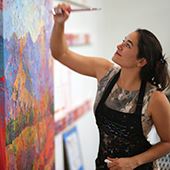 ERIN HANSON has been painting in oils since she was 8 years old. As a young artist, she worked at a mural studio creating 40-foot-tall paintings on canvas, while selling art commissions on the side. After getting a degree in Bioengineering from UC Berkeley, Erin became a rock climber at Red Rock Canyon, Nevada. Inspired by the colorful scenery she was climbing, she decided to paint one painting every week for the rest of her life. She has stuck to that decision ever since, becoming one of the most prolific artists in history. Erin Hanson's style is known as "Open Impressionism" and is now taught in art schools worldwide. With thousands of collectors eagerly anticipating her work and millions of followers online, Hanson has become an iconic, driving force in the rebirth of contemporary impressionism.

---
---