Kolob Light: An In-Depth Look
Saturday, January 6, 2018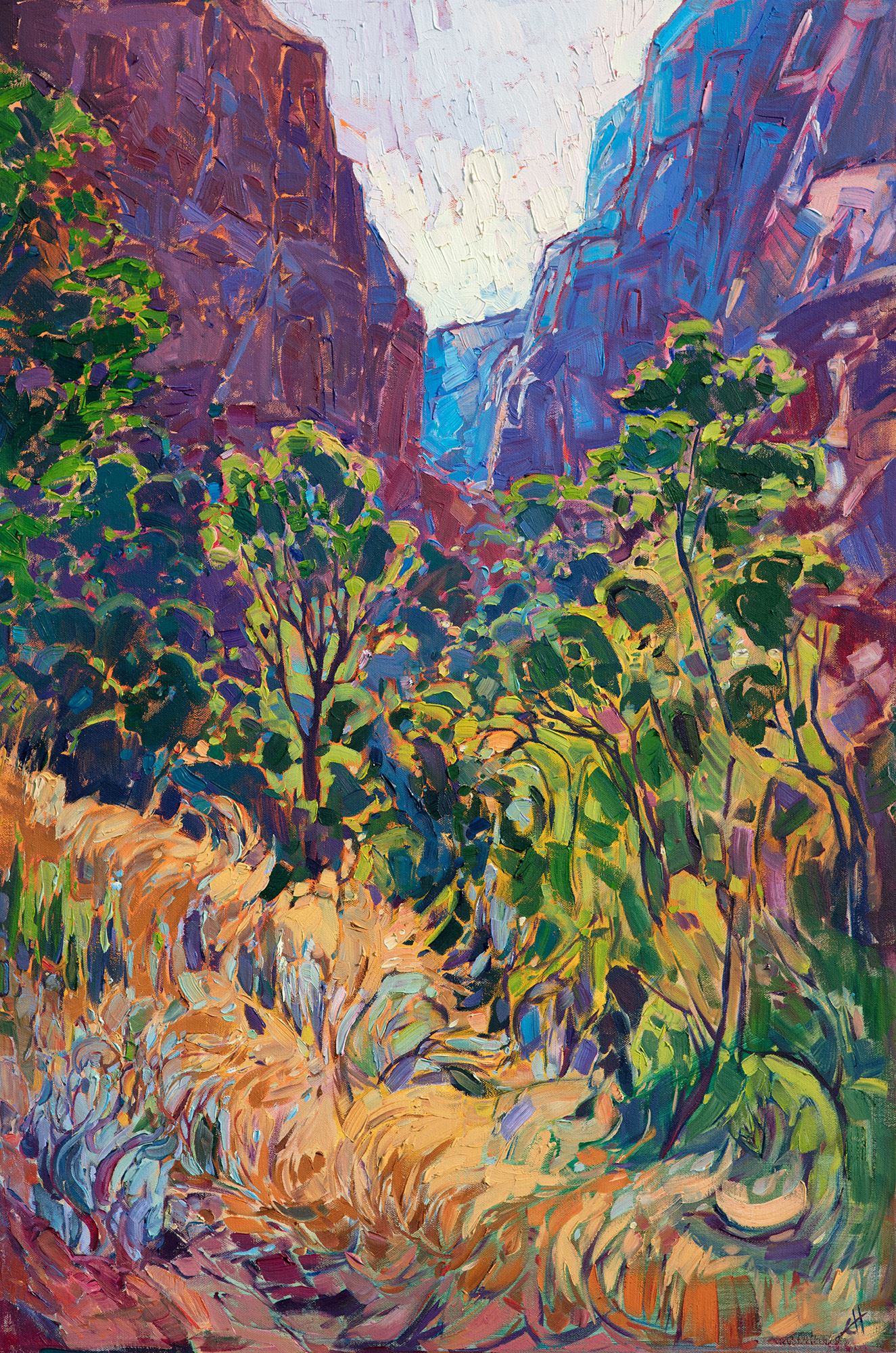 Zion National Park has been a favorite haunt of mine for almost ten years. The landscape is quite varied, changing from high-altitude plateaus to steep cliffs of changing color, from slot canyons to river-bed scenery. I love visiting at different times of the year, seeing snow in January, yellow cottonwoods in the fall, and golden grass in the summer.
A few years ago I went on a 5-day backpacking trip across 50 miles of National Park land. I went with two of my brothers, and we hiked from Kolob Canyon, the northwestern entrance to Zion, all the way to the East Gate of the park. The trail took us from the dramatic canyons of Kolob steeply down to the Virgin River, and then up onto the high desert plateaus of Zion. After three days of hiking across the plateaus, we came down to Angel's Landing, and then further down the steep switchbacks to the main canyon floor. The weather was cold and crisp in November, and most of the leaves had already fallen off the aspens and cottonwoods. By day four it had started to rain, and on day five it snowed all day, as we hiked up out of the canyon and out onto the slickrock of eastern Zion. It was exciting seeing the landscape change so quickly from autumn to winter, and I have painted dozens of paintings since that trip.
The painting "Kolob Light" captures a scene from Kolob Canyon, where we started the backpacking trip. To me the painting captures all the promise of adventure, and I imagine passing the long curling grasses and setting out to explore the distant canyons.
The brush strokes are loose and impressionstic, conveying a sense of movement within the painting. I wanted to capture the back-lit trees and the dramatic lighting cut out by the canyon walls. Because of how the brush strokes fit together, the painting has a mosaic, or stained-glass appearance.
Here is a photo of the painting in its frame, as well as a digital "in-room mockup" of the painting, so you can get a sense of the size of the piece: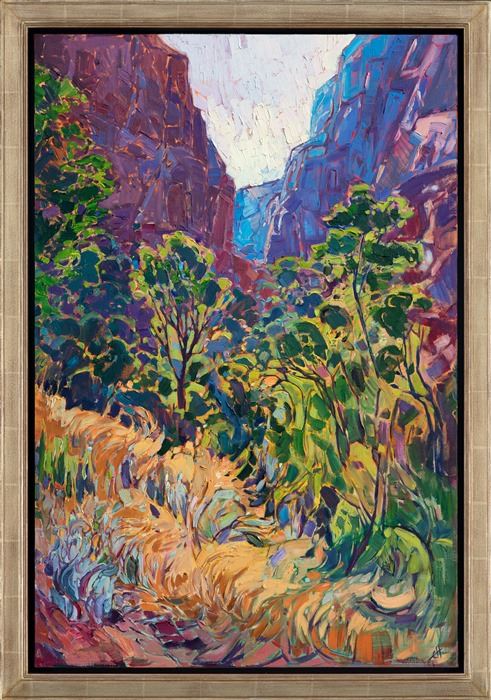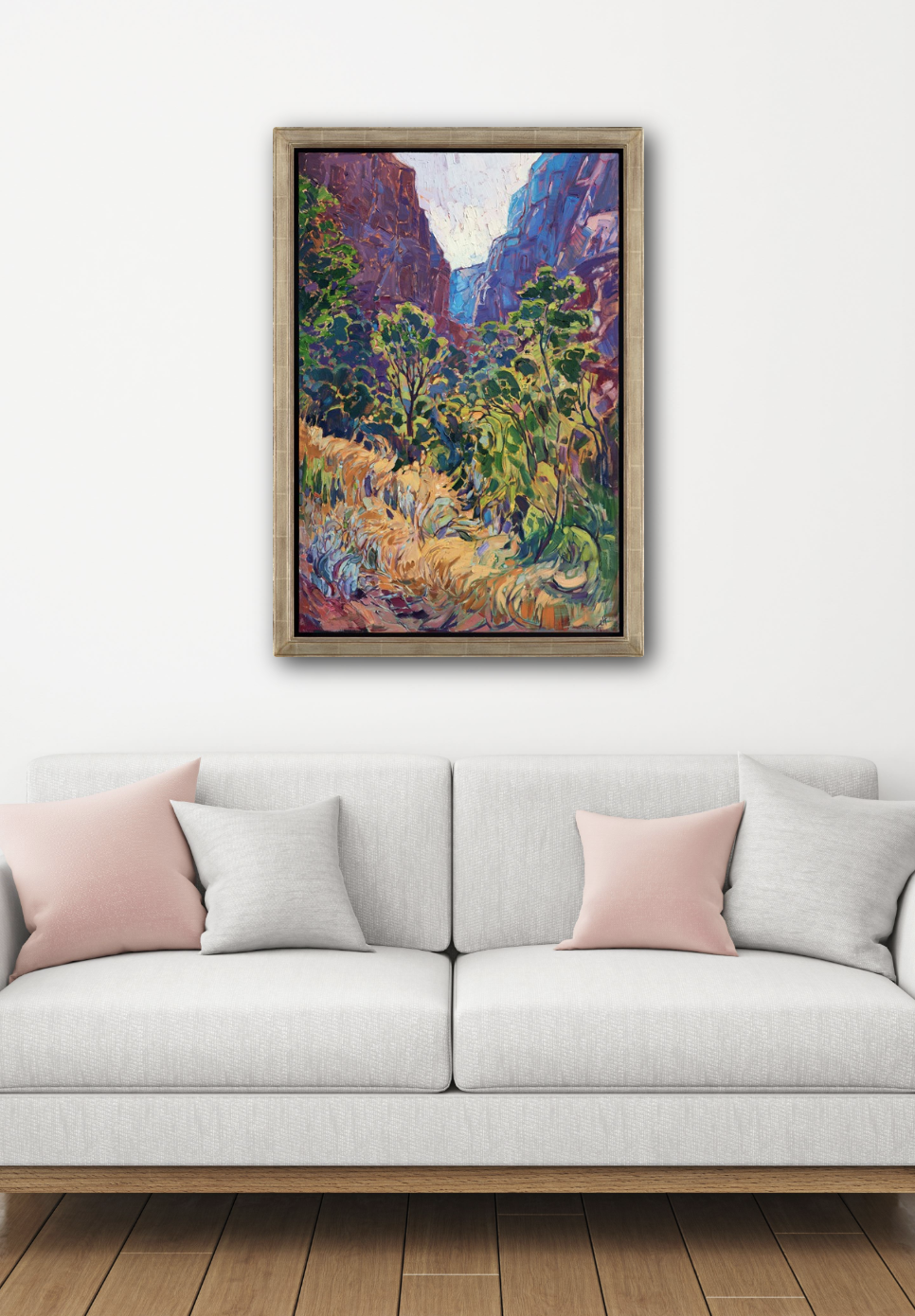 Kolob Light
Oil on canvas, 24x36 inches
I hope you enjoyed the in-depth look!
Sincerely,
Erin Hanson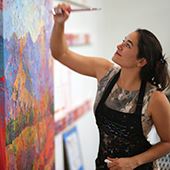 ERIN HANSON is a life-long painter, beginning her study of oils as a young child. Her passion for natural beauty is seen in her work as she transforms vistas familiar and rare into stunning interpretations of bold color, playful rhythms and raw emotional impact. Her frequent forays into National Parks and other recesses of nature include backpacking expeditions, rock climbing, and photo safaris. Hanson's unique painting style has become known as Open Impressionism, with hundreds of collectors eagerly anticipating her work. As an iconic, driving force in the rebirth of contemporary impressionism, Hanson is quickly recognized as a prolific, modern master.

Subscribe to the weekly newsletter for insider artist updates!
---
---