Ode to Sunflowers
Impressionist Paintings of Sunflowers
Tuesday, July 25, 2023
While I had always admired the colorful sunflower paintings by van Gogh, it never occurred to me to try painting them myself until, one day, I saw a vase of sunflowers that had been allowed to dry out without any water for two months.
When I looked at the drooping, dried-out petals curving around the large heads, I knew instantly I had to paint them. Here was abstract color, bold contrast, classic theme... everything needed for the perfect painting.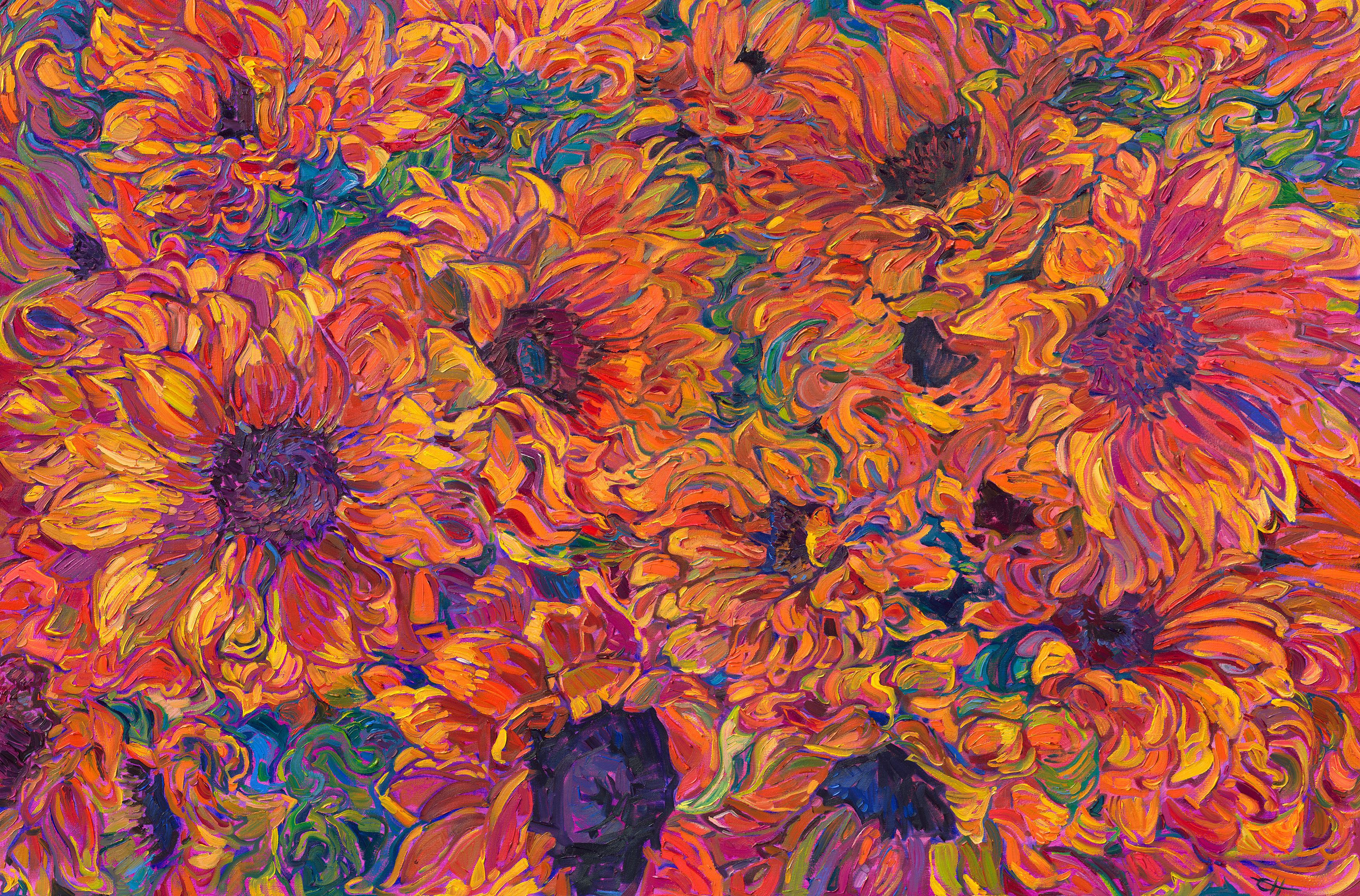 Blooming Petals by Erin Hanson, 2023
I have been painting sunflowers ever since. In fact, last year, I had so many sunflower ideas to paint I dedicated a whole show to the flower: The Sunflower Show. When the season has been right, I have been buying armfuls of sunflowers and staging them against different fabric backdrops. The older and more dried out the sunflowers get, the more character they acquire!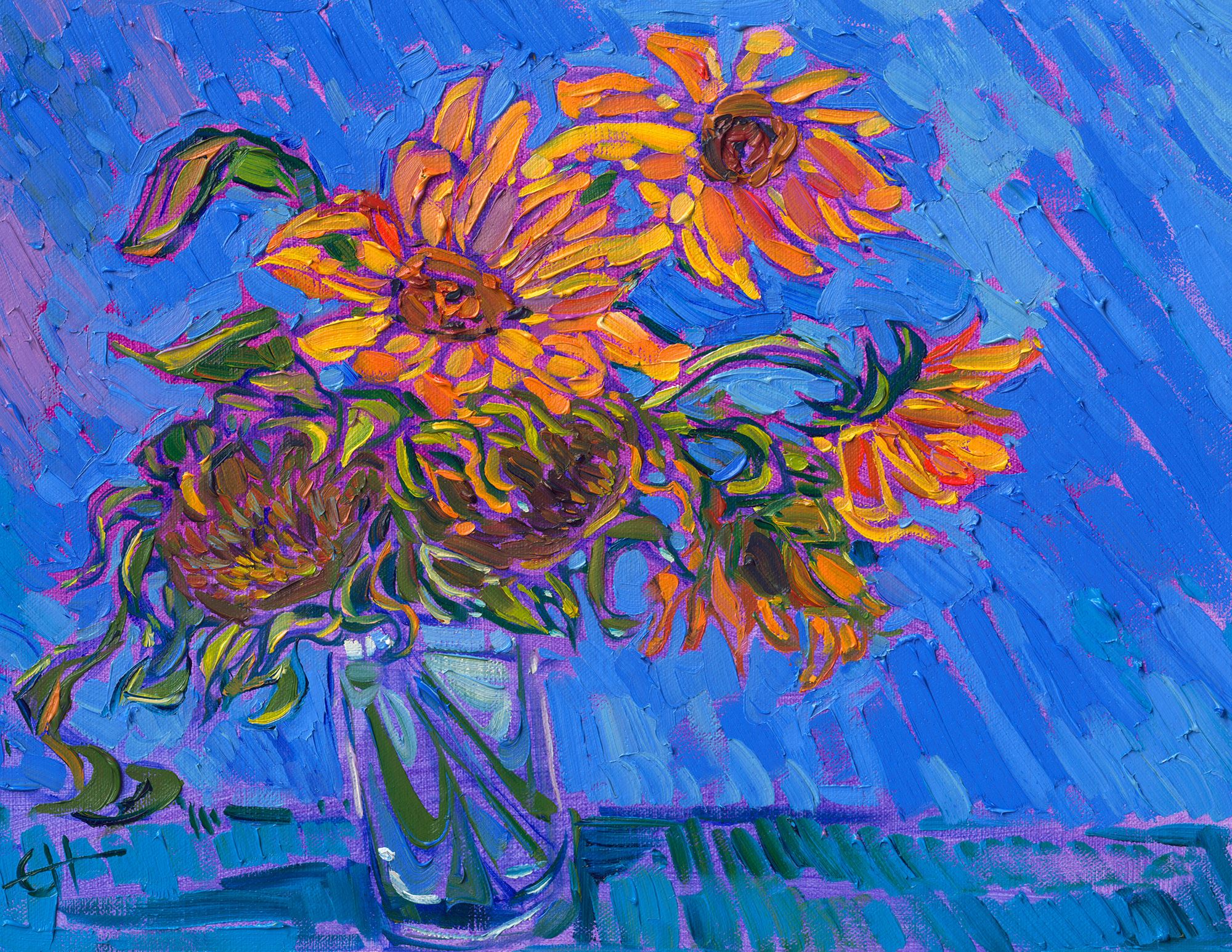 Blooms on Blue II by Erin Hanson, 2023
After moving to Oregon, I was inspired for the first time to paint sunflowers still growing in the fields, and I began exploring cultivated farms of sunflowers.
I heard that Monet had built his own water lily pond to paint in the comfort of his own garden, and this gave me an idea: this spring, I planted a hundred of my own sunflowers on my forty-acre property in Oregon wine country. I searched around online until I found twenty different varieties of heirloom sunflowers in different colors, shapes, and sizes. Many of them have bulbous, rounded heads reminiscent of van Gogh's sunflowers.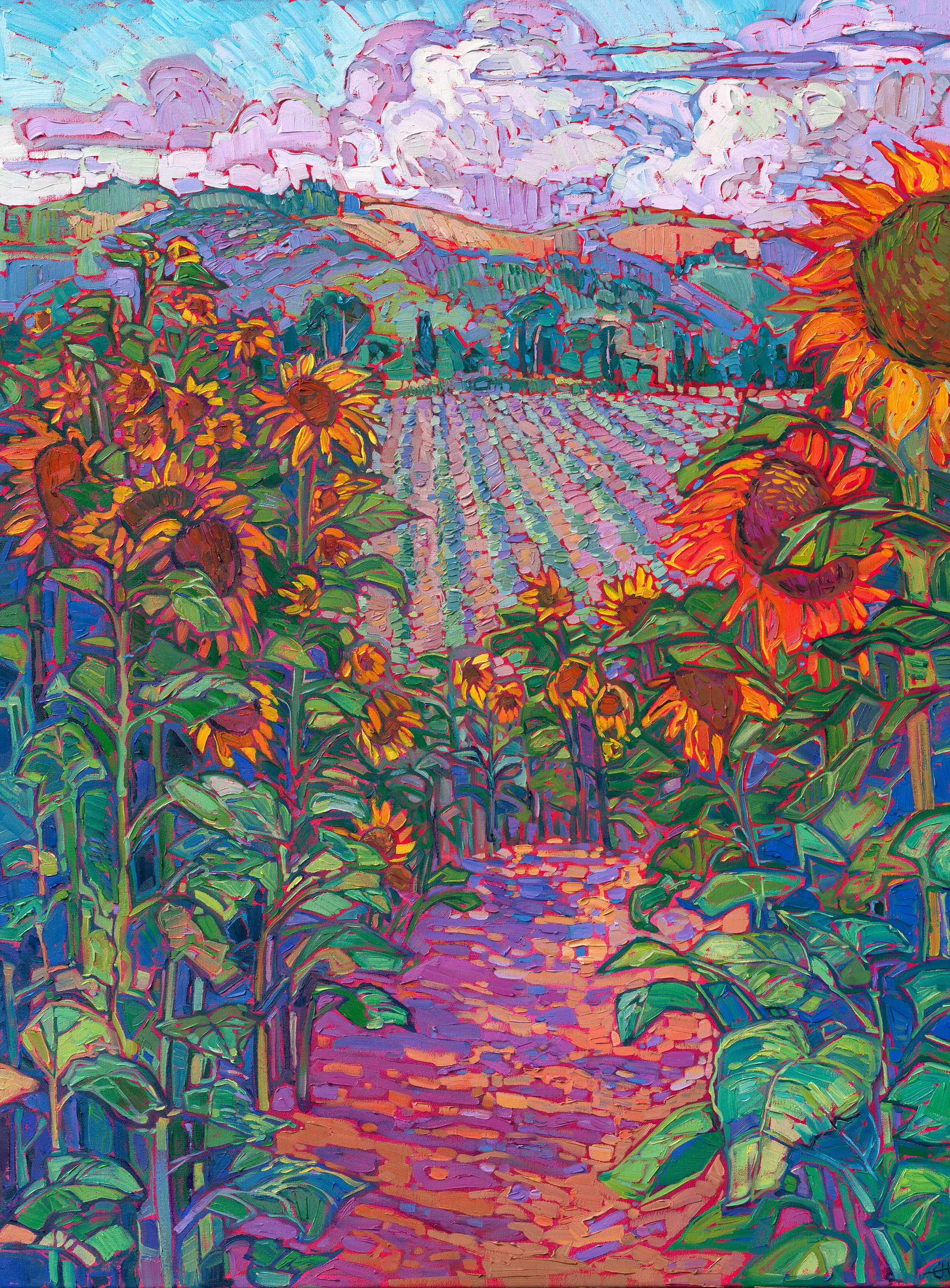 Fields of Sunflowers by Erin Hanson, 2022
When my flowers bloom this autumn, keep your eyes peeled for a new wave of sunflower paintings!
(Who knows, maybe there will even be The Sunflower Show: The Sequel.)
Article by Erin Hanson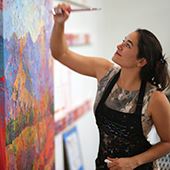 ERIN HANSON has been painting in oils since she was 8 years old. As a young artist, she worked at a mural studio creating 40-foot-tall paintings on canvas, while selling art commissions on the side. After getting a degree in Bioengineering from UC Berkeley, Erin became a rock climber at Red Rock Canyon, Nevada. Inspired by the colorful scenery she was climbing, she decided to paint one painting every week for the rest of her life. She has stuck to that decision ever since, becoming one of the most prolific artists in history. Erin Hanson's style is known as "Open Impressionism" and is now taught in art schools worldwide. With thousands of collectors eagerly anticipating her work and millions of followers online, Hanson has become an iconic, driving force in the rebirth of contemporary impressionism.

---
---