"Oaks and Blooms" In-Depth Look
Erin shares her inspiration behind a recent painting inspired by Texas Hill Country.
Monday, October 16, 2017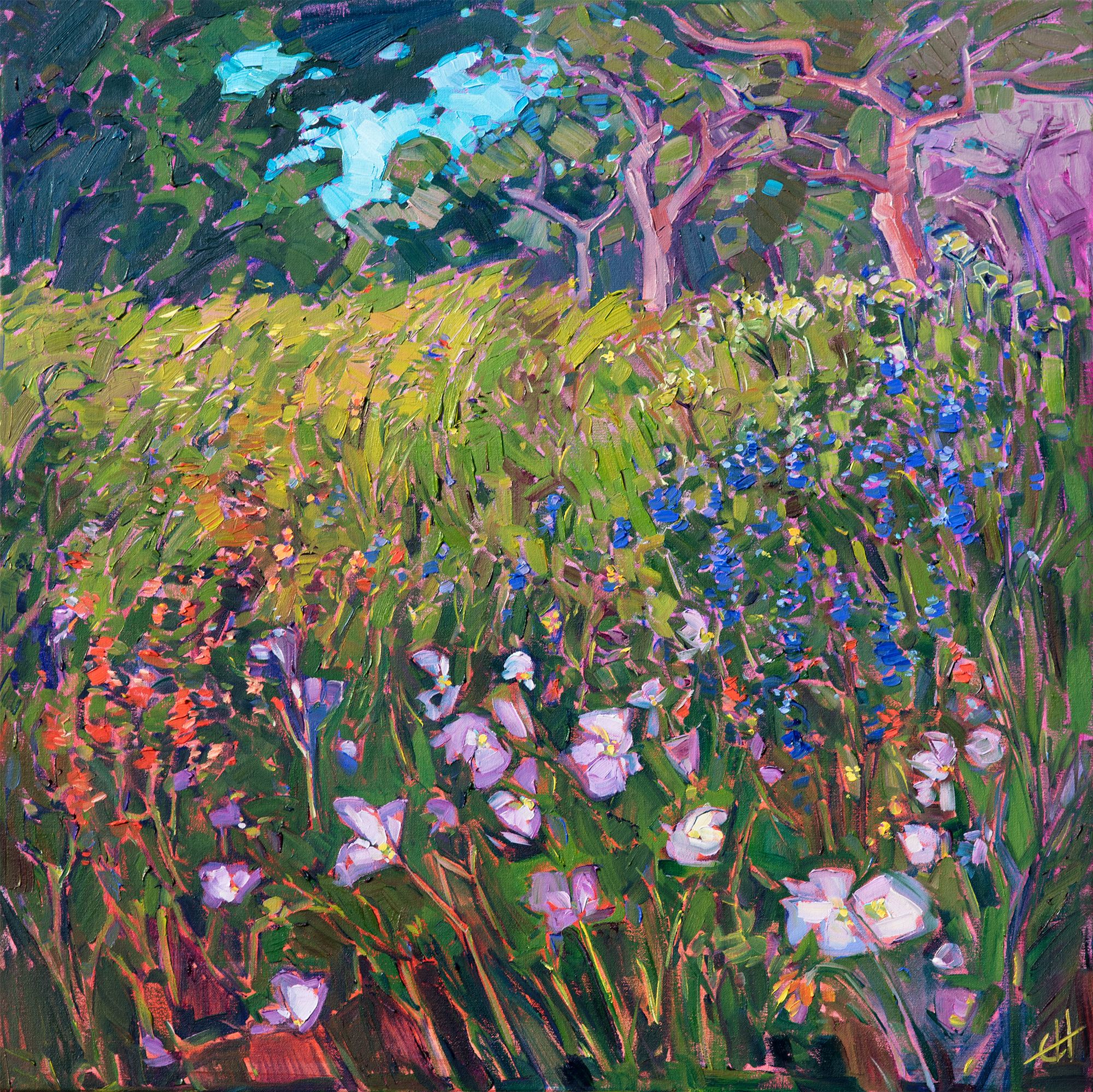 I visit Texas every year in the spring, and I always make sure to spend a few days in the beautiful hill country near Austin and the countryside north of Houston. Texas is full of color in the spring, the trees and meadows bright with new green growth.
Of course everyone's favorite thing about spring in Texas is the amazing multitude of wildflowers that bloom every year. Lady Bird Johnson, the First Lady of the United States in the 1960's, personally spread wildflower seeds all over the highways and landscapes of Texas. In her words, "Where flowers bloom, so does hope." To this day, the flowers she planted abound and turn Texas' roadways into blankets of color that change color from week to week. Some of my favorite wildflowers are black-eyed susans, Indian paintbrushes, poppies, bluebonnets, evening primroses, and firewheels.
Here is a photo of my van parked along a country roadside west of Austin. There are wildflower trails you can follow through the winding hills and farmlands to see the best of the yearly blooms. If you are lucky, you can see the whole range of colors all at once: white, red, blue, pink and yellow.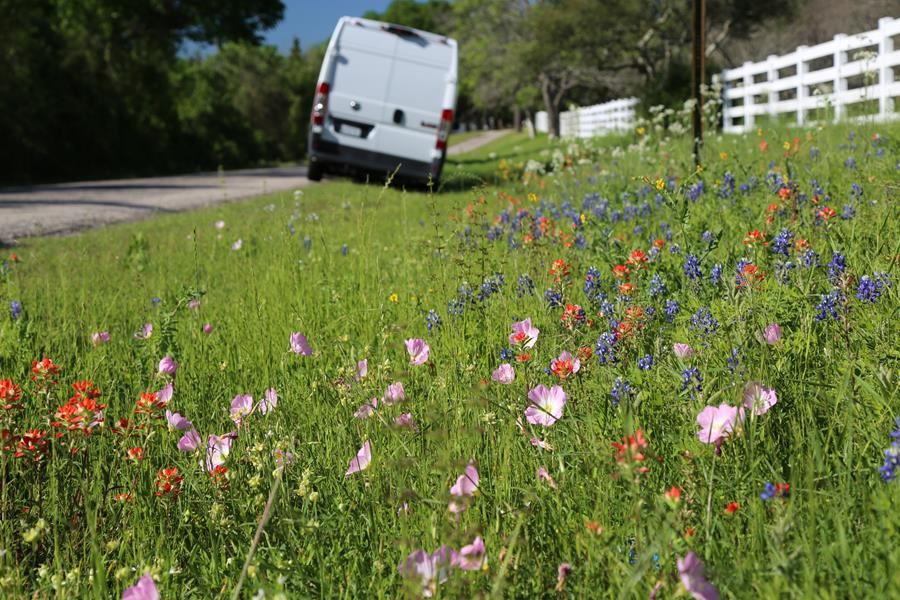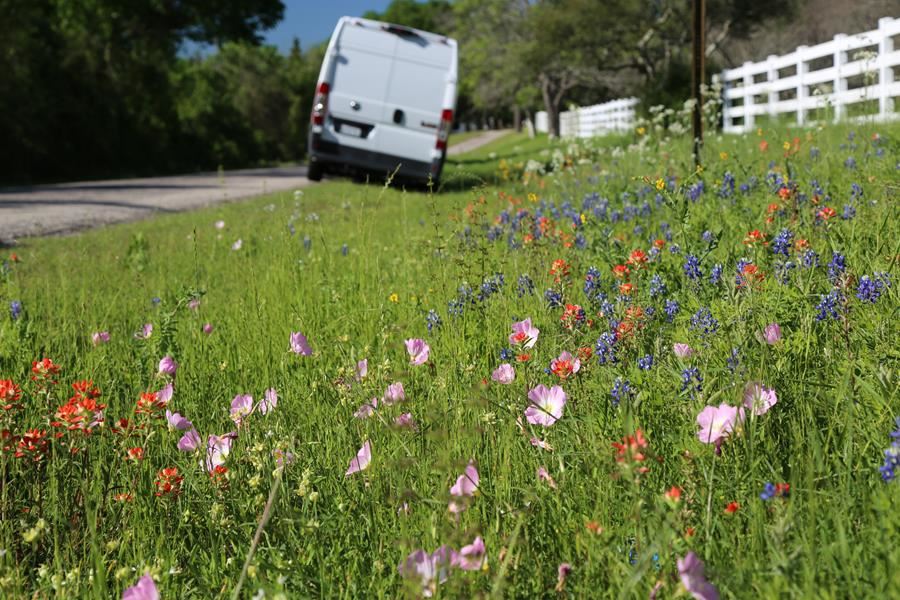 The painting "Oaks and Blooms" captures this rare beauty in thick brush strokes of vivid color. When I re-capture a scene with paint, I want to bring to life the actual feeling of standing there outdoors and experiencing the scene with your own eyes. As you've probably noticed, a photograph never seems to quite capture the beauty of seeing nature in person. So, in my paintings, I need to go beyond a photo and capture the emotional content and impressionistic light of the real experience. In this scene, I wanted to capture how big and colorful the wildflowers looked in person, compared with the darker oak trees in the distance.
I have framed "Oaks and Blooms" in a hand-carved, open impressionist frame, a signature frame I developed to accompany my paintings. I choose a soft, champagne gold for the finish, which offsets the rich colors in the painting.
Here is a photo of the painting in its frame, in a digital "in-room mockup" of the painting, so you can get a sense of the size of the piece: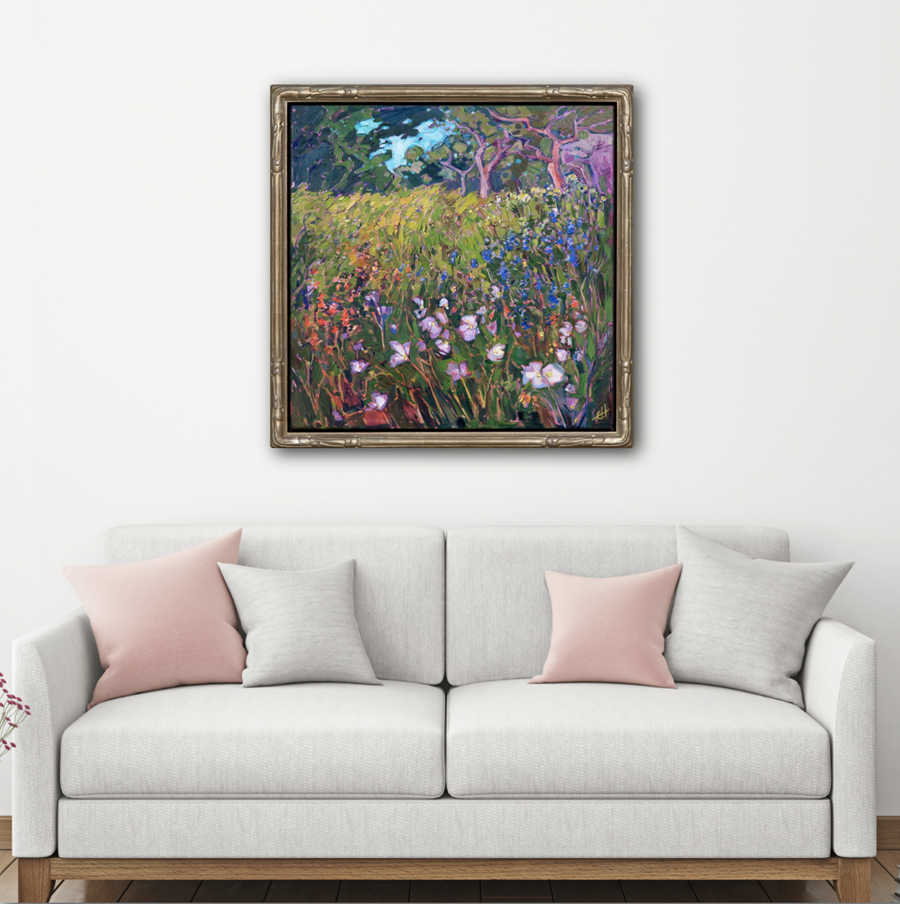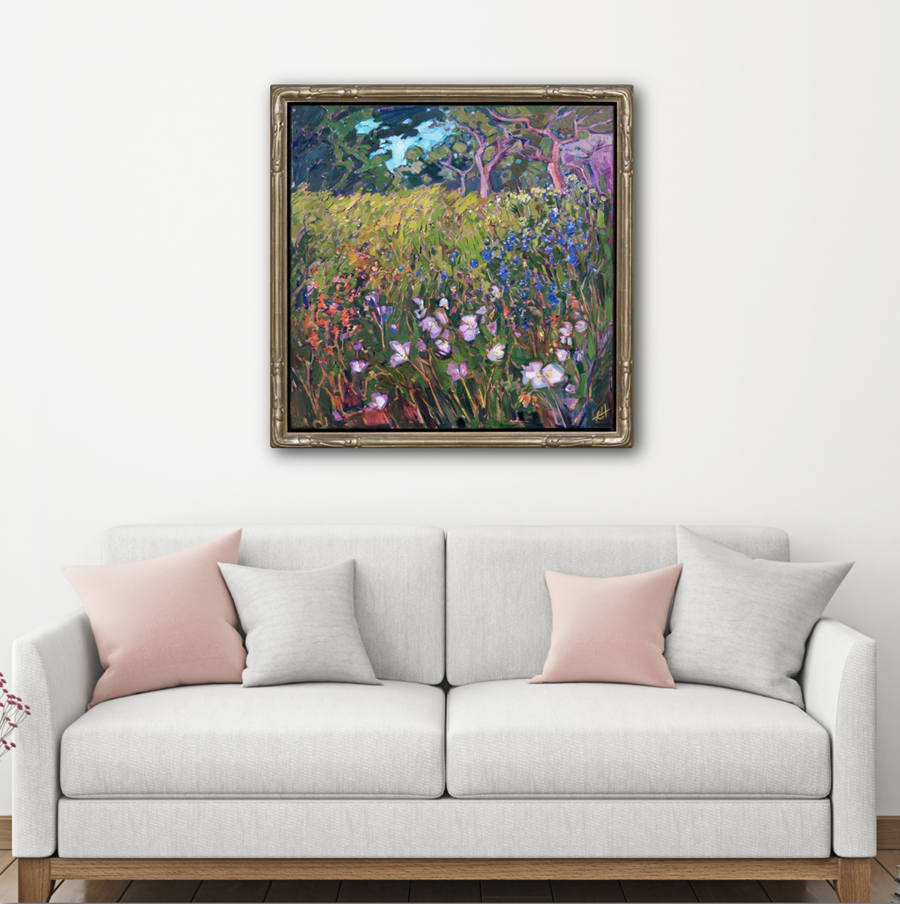 Oaks and Blooms
Oil on canvas, 30x30 inches
Erin Hanson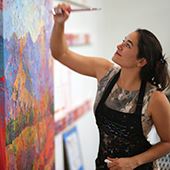 ERIN HANSON has been painting in oils since she was 8 years old. As a young artist, she worked at a mural studio creating 40-foot-tall paintings on canvas, while selling art commissions on the side. After getting a degree in Bioengineering from UC Berkeley, Erin became a rock climber at Red Rock Canyon, Nevada. Inspired by the colorful scenery she was climbing, she decided to paint one painting every week for the rest of her life. She has stuck to that decision ever since, becoming one of the most prolific artists in history. Erin Hanson's style is known as "Open Impressionism" and is now taught in art schools worldwide. With thousands of collectors eagerly anticipating her work and millions of followers online, Hanson has become an iconic, driving force in the rebirth of contemporary impressionism.

---
---