Erin Hanson Painting Details
Things to Know When Buying an Erin Hanson Painting
Friday, December 16, 2016

About the Paintings
I create vivid, impressionistic oil paintings that capture the feeling of being outdoors. All my paintings are inspired by backpacking and hiking trips I have done across the Western states. My technique is done with expressive color and loose brush strokes, in a wet-on-wet technique known as alla prima. Alla prima comes from Italian, literally meaning "at first attempt" and is loosely applied to any painting that is done in a direct, expressive style.
I extensively plan out my paintings before I start painting with a brush, working out compositions and color combinations that will most effectively capture the drama of the landscape. I work with a limited palette of 4-5 colors, which I mix into a wide variety of hues and values appropriate to the scene I am creating. When it comes time to paint, I try to get the painting "right the first time," using as few brush strokes as possible to capture the immediacy and emotional movement of a landscape. The French term for this application is premier coup. You can see the texture of every brush stroke in my paintings, since I do not layer or thin my paint with turpentine. The result is an impasto oil painting that has additional depth and movement from the thick texture of the paint.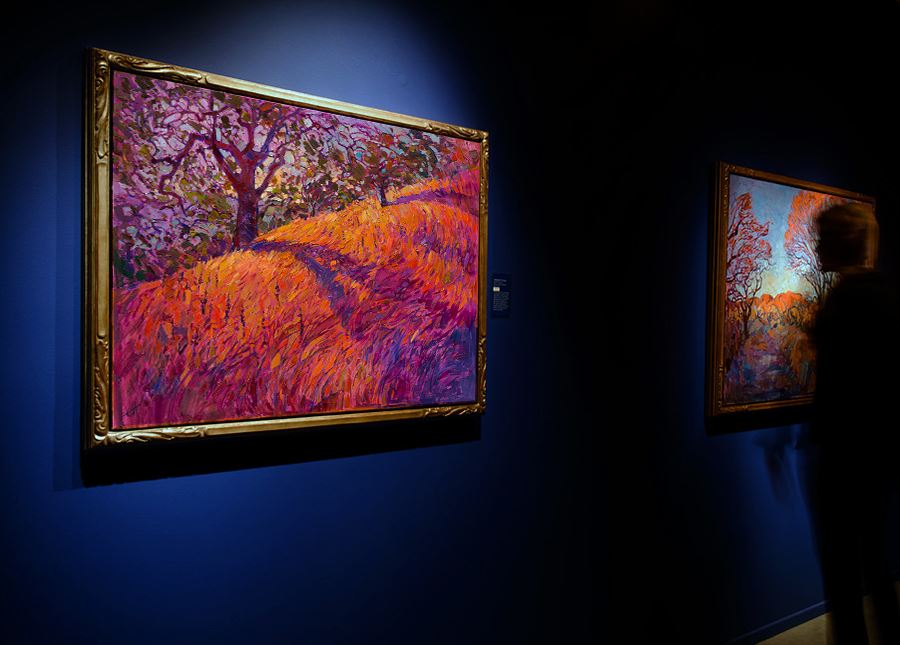 Hanging Your Painting:
My paintings are created on different types of canvases, depending on the size of the finished painting. The small "petite" works on done on 3/4" canvas or stiff canvas board. Medium-sized paintings are done on 1-1/2" deep canvas, with the painting continued around the edge of the canvas. This type of canvas can be hung without a frame, for a contemporary look in your home. My extra-large pieces are done on 2" or 3" deep canvas, which gives the large paintings more stability.
All my canvases are pre-wired and arrive ready to hang. To help keep your painting level, I recommend hanging your painting from a pair of Ook picture hanging hooks spaced apart on the wall. You can also use a small ball of museum wax at the corners to keep your painting firmly fixed in place on the wall.


Framing Your Art:
My oil paintings are offered both framed and un-framed. We are happy to help you find the perfect frame for your new painting. Smaller paintings on 3/4" canvas can be framed in any type of standard frame or in a plein-air style frame. The larger paintings, which are done on 1-1/2" canvas, are best framed in floater frames, or left to hang unframed on the wall. Floater frames are designed to cradle deep canvases: the frame screws into the back of the canvas, which allows the canvas to "float" in the frame, leaving a small gap around the painting. Floater frames can be made in a variety of finishes, including gold, silver, black, white, and in any type of hardwood and stain finish.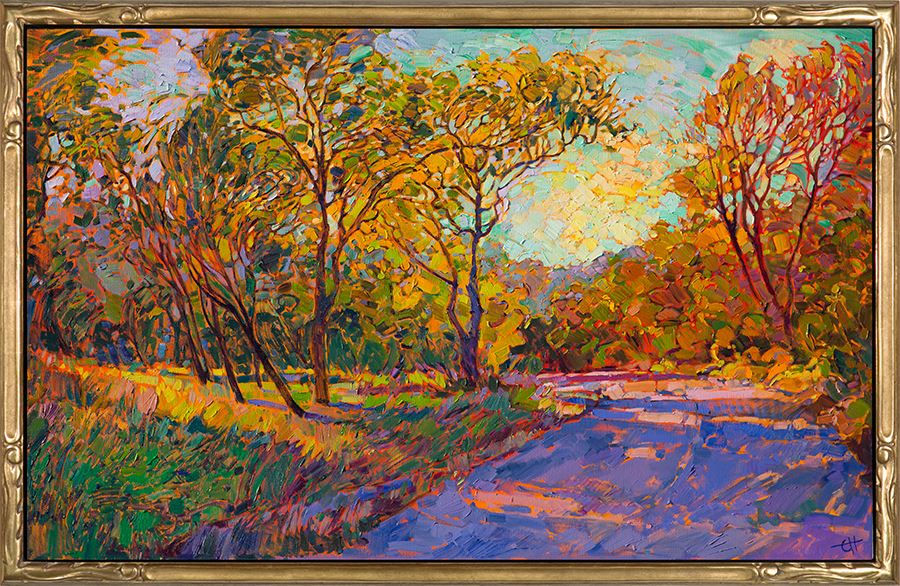 I offer a special type of floater frame, available exlusively from The Erin Hanson Gallery, which I designed myself to complement my contemporary impressionism paintings. These frames were inspired by the classic American impressionism frames, which have beautifully carved corners and clean lines. My Open Impressionist frames are adapated as floater frames, so they stand away from the sides of the canvas and let you experience every brush stroke in the painting. Each frame is custom-made for a specific painting, hand-carved and gilded in genuine gold leaf, and made here in the United States. Please contact my gallery to get a quote for an Open Impressionist frame for your Hanson original.


A Word on Lighting:
Your painting will look different depending on the changing quality of the surrounding light. Natural ambient light will create a nice feel for your painting during daylight hours, the colors subtly changing as the sun rises and sets throughout the day. At night, however, you will be fully reliant on artificial light to illuminate your artwork. Have you ever noticed how great paintings look in a gallery setting? Art galleries use warm or cool-toned spot lighting to accentuate the colors in the painting, and they usually intensify the light on the painting's center of attention.
You can imitate this effect in your own home by installing halogen or LED directional spot lighting in the ceiling above your painting. These lights are surprisingly inexpensive to install (an electrician can install them in a few hours), and if you wish you can purchase the fixtures and bulbs yourself online. As a general rule, use cool lighting to illuminate a painting that has predominately cool colors, and use warm lighting on a painting with mostly warm colors (the wrong color bulb can cause your painting to look "muddy.")
Many houses are already fitted with some sort of recessed ceiling fixtures. These can be adapted to directional spot lighting with minor handyman work. Even without direct lighting on your painting, however, the artwork will still present well with nearby incandescent lighting. One thing to avoid is hanging your painting behind a hanging chandelier, which will cast a direct glare spot in the middle of the painting, without highlighting the natural colors and texture of the painting. A light that is angled from above, or even from the side, will allow you to see the thick brushwork, see each subtle variation in color, and truly enjoy your painting in a whole new light.
Enjoy!
Erin Hanson, Artist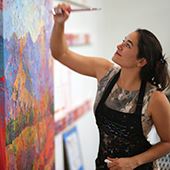 ERIN HANSON has been painting in oils since she was 8 years old. As a young artist, she worked at a mural studio creating 40-foot-tall paintings on canvas, while selling art commissions on the side. After getting a degree in Bioengineering from UC Berkeley, Erin became a rock climber at Red Rock Canyon, Nevada. Inspired by the colorful scenery she was climbing, she decided to paint one painting every week for the rest of her life. She has stuck to that decision ever since, becoming one of the most prolific artists in history. Erin Hanson's style is known as "Open Impressionism" and is now taught in art schools worldwide. With thousands of collectors eagerly anticipating her work and millions of followers online, Hanson has become an iconic, driving force in the rebirth of contemporary impressionism.

---
---