How-To: Lighting Your Fine Art
Monday, August 15, 2016
Art collectors have varied preferences for how they light their homes and art. Some prefer ambient lamp light or natural daylight, while others prefer spotlight-like track lights to focus the eye on their art collection. No matter your preference, it is important to understand that light affects each painting differently, playing off the varied colors of each piece.
Lighting Rule of Thumb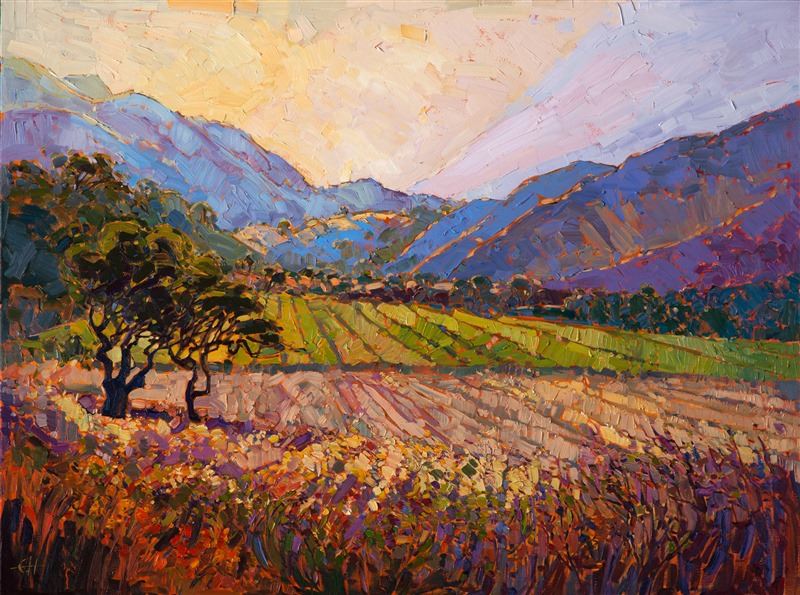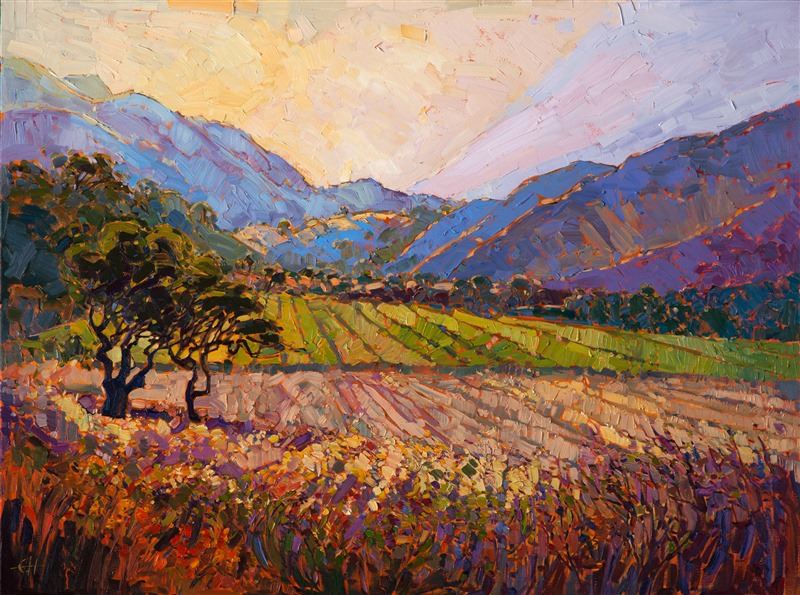 There is a rule of thumb that many museums and professional art collectors follow: the light source for your artwork should be three times the brightness of the ambient lighting. Often, when the light focused on the painting becomes brighter than this, the painting becomes too stark or difficult to look at.
When thinking about this rule of thumb, it is important to take a look at how your painting is being displayed. Is it behind glass? Does the piece have texture? Are the colors of the piece predominately warm or cool? These are important factors to consider when deciding upon light placement. The last thing you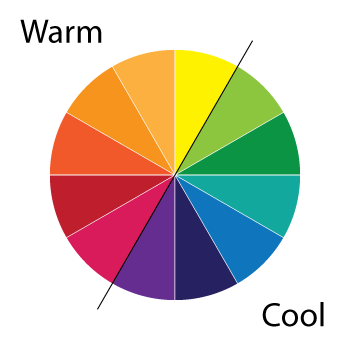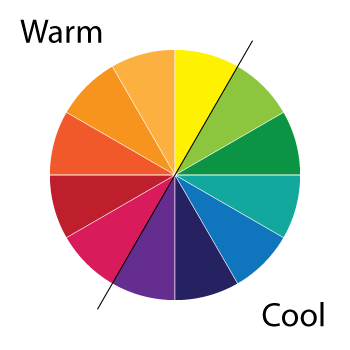 want is a bright light reflecting off the glass, making the painting impossible to see, or the incorrect lightbulb casting a clashing hue over your beautiful new painting.
The best way to reduce glare on any surface is to position your light source at a point between a 25 and 35 degree angle from the piece. When you are positioning the light, look at how the brightness interacts with your painting and its frame. Does the light create a shadow? Is there a glare? If you adjust within that 25-35 degree range, both of these issues can be eliminated.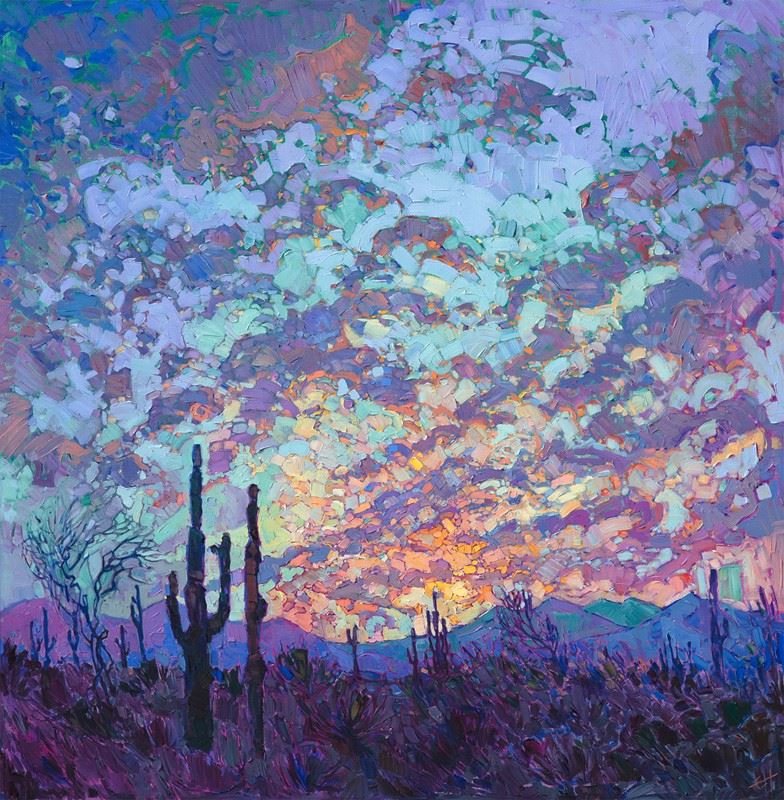 Type of Lighting
LED lights are extremely versatile and can be used in track lighting, spotlights or recessed lighting. They don't emit UV rays, infrared light, or heat – making them the best option for lighting fine art. Both LED and halogen bulbs come in different "spreads," including wide floodlights, medium-width spotlights, and narrow spotlights. Of course, the further the bulb is from the artwork, the greater the spread of the light will be.
You can purchase LED bulbs in warm and cool colors, ranging from 3000k (warm) to 5000k (cool daylight.) From many years of experience at The Erin Hanson Gallery, we have found that a predominately cool painting (like Saguaro Dusk, right), looks best in cool light, while a warm painting (like Carmel Light, above) looks better in warm light. This makes the predominant color in the painting more vivid and beautiful, instead of being "canceled out" by a contrasting color of light bulb. We genearlly use 3500k or 4000k Soraa LED bulbs in the gallery to complement Hanson's oil paintings.
Whichever bulbs you end up getting, make sure the Color Rendering Index (CRI) is over 95. This will prevent your painting from looking "muddy" under artificial light.
Another thing to consider is the placement of the painting and the shadows it will cast. For example, placing a painting in warm light will cast a cool shadow. So, if you have warmer walls, the light will cast a blue or purple shadow. This may or may not be the effect you are trying to create.
We recommend that you experiment with warm, medium and cool bulbs to see which gives you the effect you would like.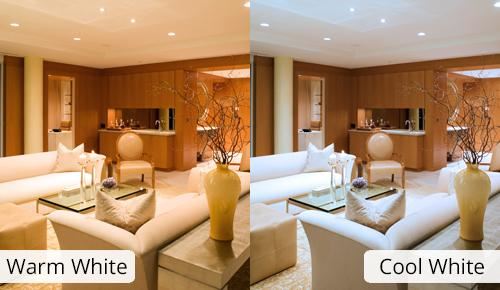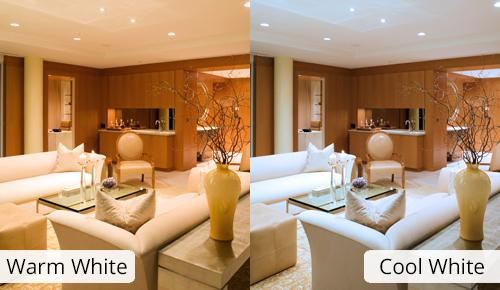 Image Source: Integral LED
How-To Quick Guide
Because every room has ambient light, we recommend that the beginning art connoisseur try the following technique:
1. Pick the room in which you'd like the painting to hang.
2. Position the painting and note the natural lighting that comes in during the day and the ambient lighting that you already have. Take a look at how this lighting affects the look of your painting.
3. Set up a track-light LED spotlight at a 30-degree angle to your painting. This allows the light to bounce from the painting's surface onto the ground (instead of bouncing into your eyes, which creates glare spots.)
*Pro Tip: You can buy spotlights that cast light in the same shape as your painting. For example, if you have a square painting, you can get a spotlight that brightens the painting in a square. This prevents light from bouncing off the wall around the painting.
4. Try warm, medium, and cool lights during the day and at night. See which light brightens your painting in a way that is most pleasing to your eye. Tip: paintings with mostly warm colors look best in warmer light (3500K) and paintings with mostly cool colors look best under cool light (4000K.)
5. Install the favored lighting mechanism.


You can see how we light Erin Hanson's paintings by visiting us at The Erin Hanson Gallery. One of the wonderful things about owning an original oil painting is you get to enjoy how the painting changes in different lighting. With or without artificial lighting, the painting will change from daybreak to sundown, and you may find yourself constantly surprised at how varying the colors and mood of the painting appear from hour to hour in your home.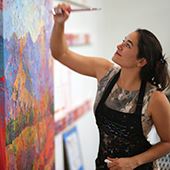 ERIN HANSON has been painting in oils since she was 8 years old. As a young artist, she worked at a mural studio creating 40-foot-tall paintings on canvas, while selling art commissions on the side. After getting a degree in Bioengineering from UC Berkeley, Erin became a rock climber at Red Rock Canyon, Nevada. Inspired by the colorful scenery she was climbing, she decided to paint one painting every week for the rest of her life. She has stuck to that decision ever since, becoming one of the most prolific artists in history. Erin Hanson's style is known as "Open Impressionism" and is now taught in art schools worldwide. With thousands of collectors eagerly anticipating her work and millions of followers online, Hanson has become an iconic, driving force in the rebirth of contemporary impressionism.

---
---