Go Leaf Peeping in the Northeast with Erin Hanson [Part 1]
Leaf Peeping in New England
Monday, October 25, 2021
Have you ever heard of "leaf peeping"? It is a common New England term for seeking out the most vibrant autumnal colors among local or far-flung trees and forests. This activity can be immensely satisfying. The vibrant, seasonal colors found in trees around the world can bring a feeling of renewed energy and peace to those who go looking.
Impressionist artist Erin Hanson loves warm tones and the luminous variety of color found during the brilliant season of fall. Erin has leaf peeped in locations all around the United States and the world. In this article, we are going to talk about some of the more iconic leaf-peeping locations she has visited and share her work.
Leaf Peeping in New England
New England is a popular leaf-peeping destination, possibly the most well traced in America. This part of the United States includes some premium autumnal foliage, including every kind of maple tree that you can imagine, red oaks, white oaks, and more. These trees are known to turn incredible colors during the fall season.
This route will take you through New Hampshire, Maine, and part of the Appalachian Trail.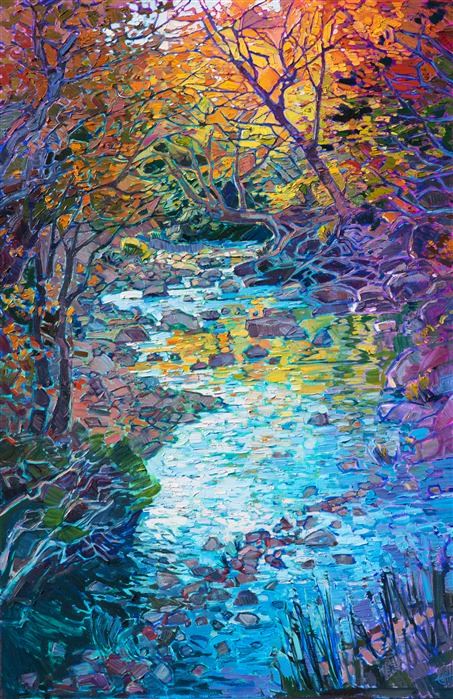 Crystal Creek by Erin Hanson, 2018
There are so many beautiful places in New Hampshire. Erin stumbled upon this crystalline creek in the middle of the afternoon, right as the clear autumnal light shone upon the water. Sunlight illuminated the maple tree from behind and created refraction of crystal light that was beautiful to behold.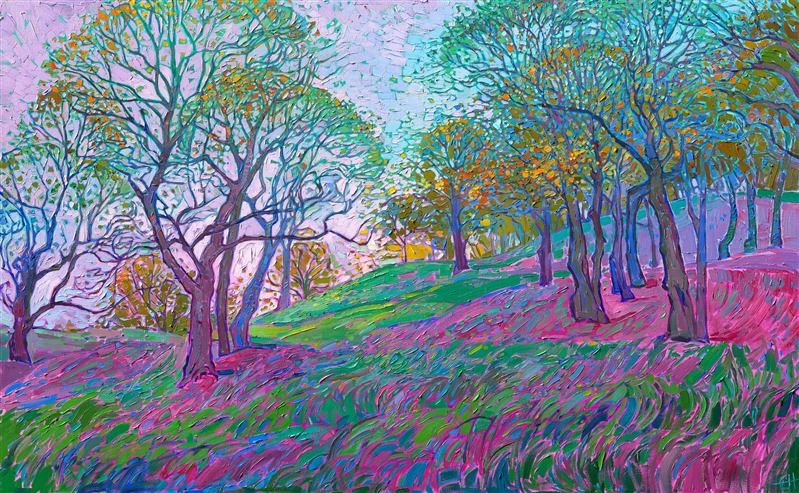 Enchanted Forest by Erin Hanson, 2020
This painting depicts how lush and verdant the countryside is during leaf-peeping season. Green grass moves in the crisp breeze as trees lose their leaves and coat the ground in jewel tones.
Erin traveled through New Hampshire to one of the most famous leaf-peeping destinations in the country, the White Mountains. These are a part of the Appalachian Mountains and they contain the highest elevations in the Northeastern U.S. That means they are a perfect place from which one can view the incredible tapestry of New England's autumnal splendor.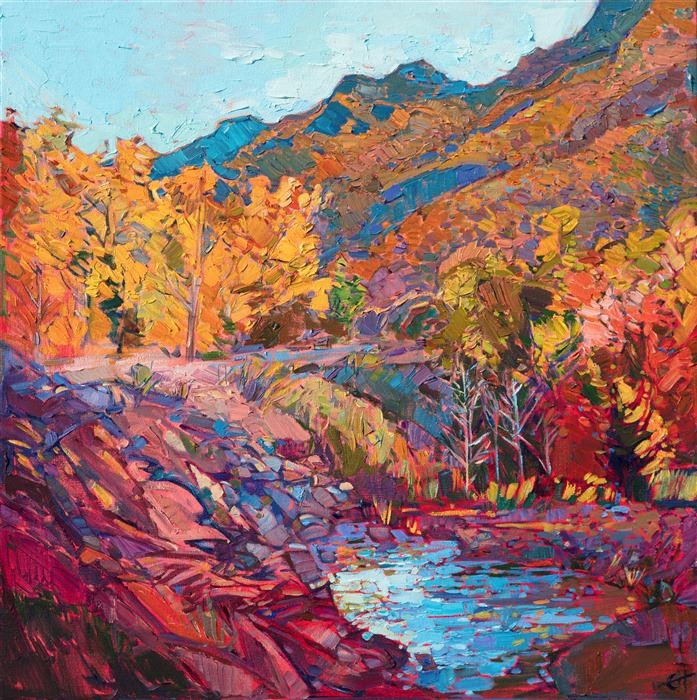 White Mountains Brook by Erin Hanson, 2017
This painting was inspired by a short hiking trip in New Hampshire's White Mountains. The brush strokes capture all the texture of the tree-covered mountains and the vividly fall-colored trees. The low-laying brook shines bright blue in the early morning light, reflecting the beautiful landscape surrounding it.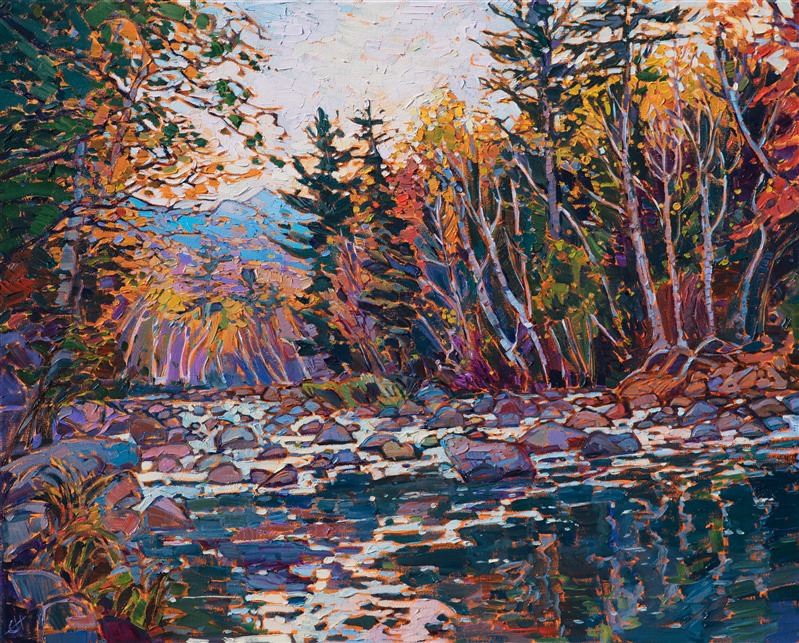 New England Lights by Erin Hanson, 2018
The landscape on and around the White Mountains contain some of the most beautiful vistas for leaf peepers. In this painting, Erin captures a stream glimmering in the early morning light. The distant mountains peaks appear blue and green as they overtop the trees.
Erin hiked a portion of the Appalachian Trail to enjoy the fall colors available during leaf-peeping season. The entire trail is extensive, a hike of over 2,190 miles covering 14 states. It takes about 5 to 7 months to hike the entire trail, and few hikers make it the entire length. However, many parts of the trail are accessible to those who want to take shorter hikes and simply enjoy the beauty that this part of the country has to offer.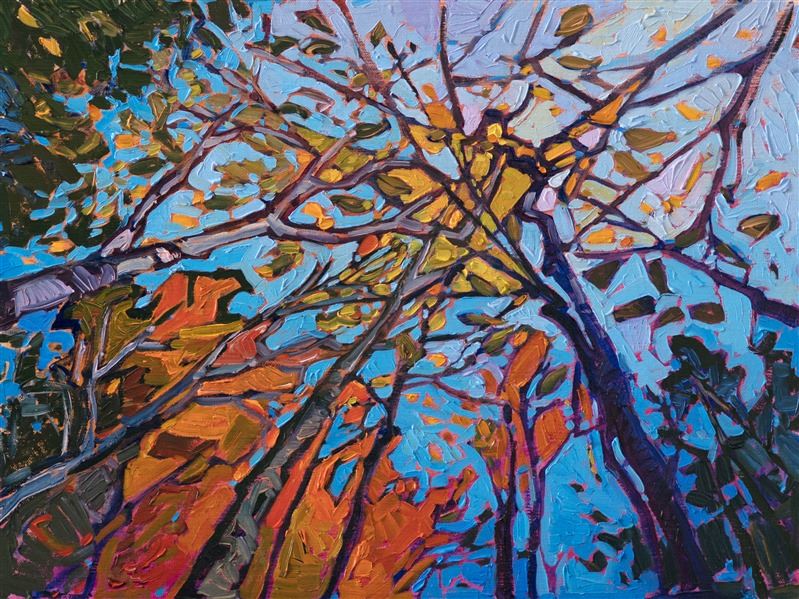 Aspen Sky by Erin Hanson, 2018
Aspens reach into the sky in this painting of New Hampshire, seen from the Appalachian Trail. The painting captures the feeling of pausing during a hike and looking up into a brilliant autumn sky.
From New Hampshire, we move up to Maine's Acadia National Park. This beautiful national park is a gem that many native Maine residents know about and enjoy. The Park is filled with diverse landscapes from wetlands to coastline to hardwood forests.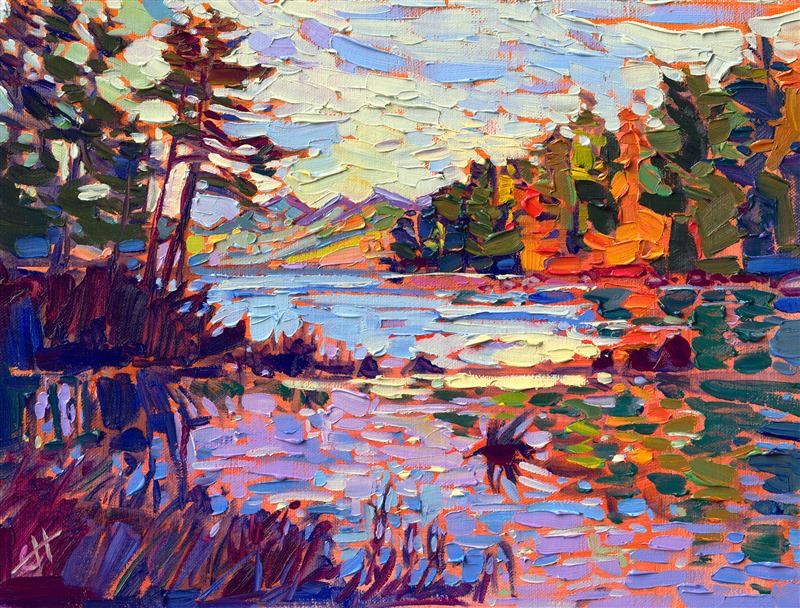 East Coast Flame by Erin Hanson, 2021
Flames of autumn color are reflected in the lake waters of Acadia National Park, in Maine. This petite canvas encapsulates a vast autumnal landscape.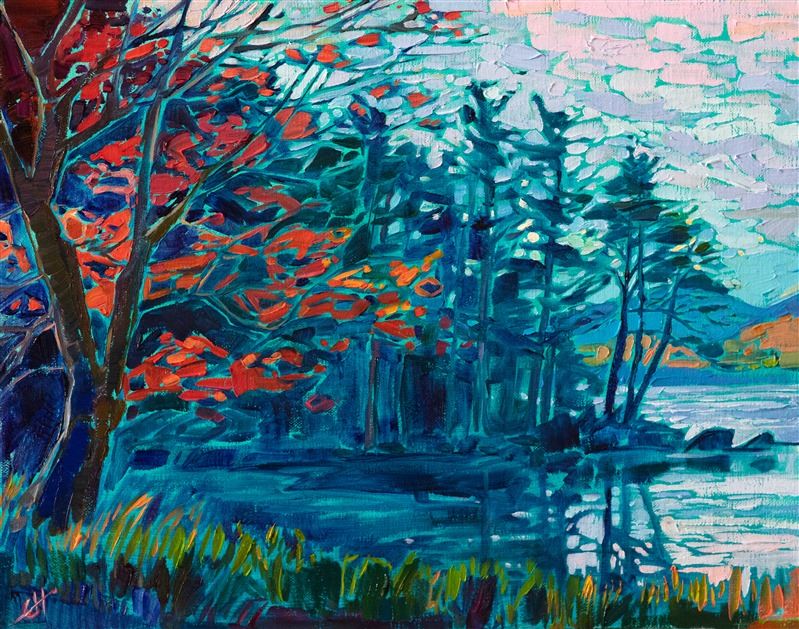 East Coast Maple by Erin Hanson, 2019
This petite painting of Acadia National Park captures one of Maine's many lakes with lively strokes of color. The maple tree in the foreground stands out starkly against the background of evergreen trees.
Next, we head to Quill Hill. This beautiful, privately-owned lookout is maintained for public use. Quill Hill affords 360-degree views of Maine in all of its autumnal splendor. Locals know this spot as "the best view in the state."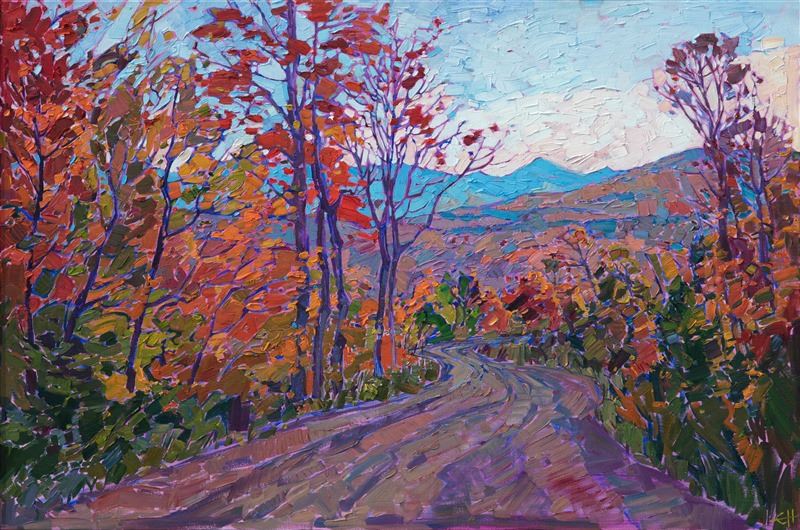 Autumn Path by Erin Hanson, 2017
Driving to the top of Quill Hill, in Rangeley, Maine, afforded a 360-degree view of the surrounding mountains and rolling landscape. This painting captures the beauty of autumn in thickly applied brush strokes and vivid color.
Leaf Peeping in the Canadian Rockies
Erin made a brief foray into the Canadian Rockies while on a trip to Glacier National Park in Montana. While the incredible vistas of Glacier arrested her attention, a quick trip to the border showed Erin that there is more to be explored in the wilds of the North. Come take a brief glimpse into Canada with Erin's petite painting of the Canadian Rockies, shown below.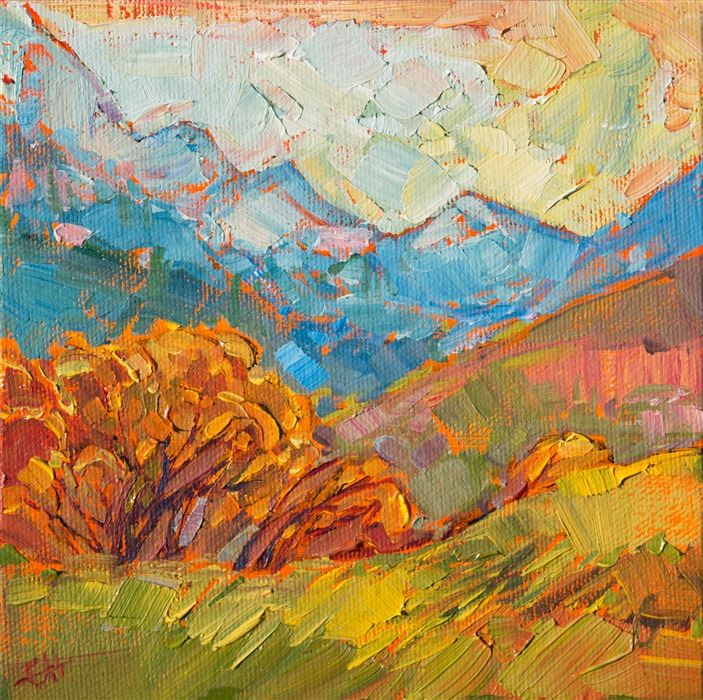 Autumn Rockies by Erin Hanson, 2016
The beautiful colors of the Canadian Rockies are captured here in loose brush strokes and vivid colors. This petite painting is small but expressive, a beautiful rendition of fall colors.
Would you like to explore more autumnal works by Erin Hanson? Click here to explore all Erin Hanson pieces that celebrate fall colors!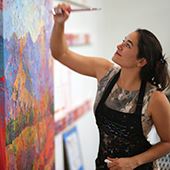 ERIN HANSON has been painting in oils since she was 8 years old. As a young artist, she worked at a mural studio creating 40-foot-tall paintings on canvas, while selling art commissions on the side. After getting a degree in Bioengineering from UC Berkeley, Erin became a rock climber at Red Rock Canyon, Nevada. Inspired by the colorful scenery she was climbing, she decided to paint one painting every week for the rest of her life. She has stuck to that decision ever since, becoming one of the most prolific artists in history. Erin Hanson's style is known as "Open Impressionism" and is now taught in art schools worldwide. With thousands of collectors eagerly anticipating her work and millions of followers online, Hanson has become an iconic, driving force in the rebirth of contemporary impressionism.

---
---