Cypress Lights: Behind the Art
Wednesday, June 26, 2019
We wanted to take a moment to look behind the scenes at one of Erin Hanson's newest paintings. Cypress Lights was painted in 2019 in her San Diego-based studio. We hope you enjoy this Erin Hanson interview about Cypress Lights.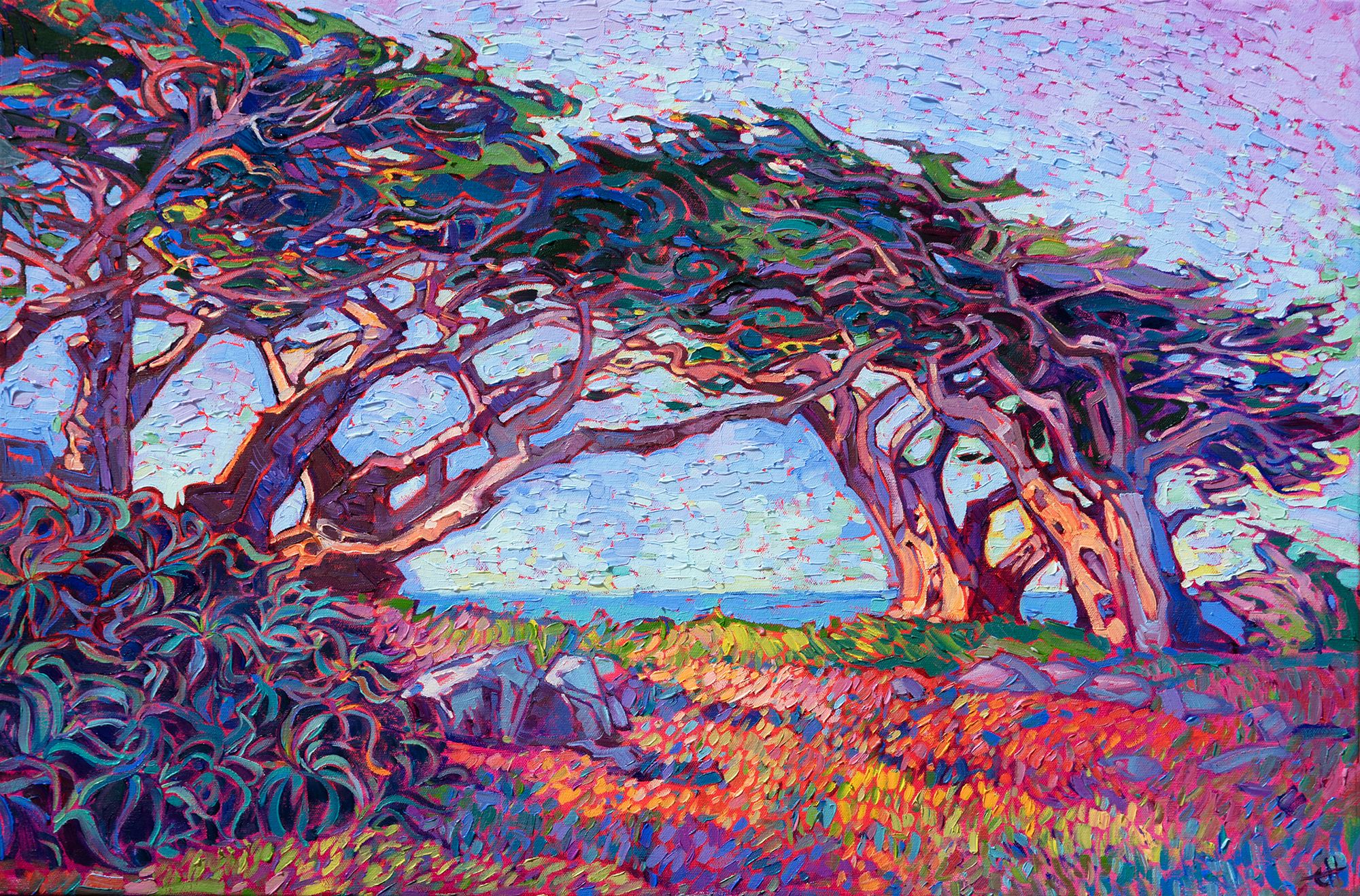 Where were you when you found this view?
I was driving along the famous "17 mile drive" in Pebble Beach, between Carmel and Monterey.
What about this painting is most interesting to you?
I used short, thickly-placed brush strokes to capture the glittering feeling of the color I saw that morning. I felt like the color was sparkling and changing before my eyes.
Tell me a bit about your use of color in this painting.
In this painting, Cypress Lights, I wanted to bring to life all the color I saw in that early morning. Every surface, from the wet rocks to the shimmering ocean to the wind-bent cypress trees, was scintillating with glimmering color. Pinks and lavenders and sherbet oranges abounded everywhere I looked.

Tell me a little bit about that day and the experiences of that particular adventure.
I had been exploring the wine country region of Carmel Valley the day before, and I decided to watch the sunrise along the Monterey coastline. I woke up in the quiet darkness before dawn and drove my 20-ft cargo van to the coastline north of Pebble Beach. Since the roads were pretty much deserted, I was able to park my van randomly in the middle of the street and jump out and take photos whenever I liked. The sun rose beautifully and the sky was clear and free from fog. After taking about a hundred photos of the purple-hued Monterey rocks, I turned my attention to the cypress trees growing along the beach. These stately, wind-sculpted trees captured all the color of the dawn against their opalescent bark. I became enamored with their intricate, abstract shapes. My favorite cypress trees appeared when I drove through the Pebble Beach golf course.
Trivia: When was the first time you remember admiring a coastal view?
The first time I remember being deeply impressed with the beauty of a coastline was camping as a kid at Leo Carrillo State Park, near Malibu.
Painting Details: Cypress Lights measures 30 by 20 inches and was created on 1-1/2" canvas, with the painting continued around the edges of the canvas.
Framing: The piece is framed in a 23kt gold leaf floater frame. For additional framing options please reach out to our collector relations manager Linda at (858) 324-4644 or linda@erinhanson.

Style: Open Impressionism
Medium: Oil on canvas
Artist: Erin Hanson
Location: 17 Mile Drive in Pebble Beach, California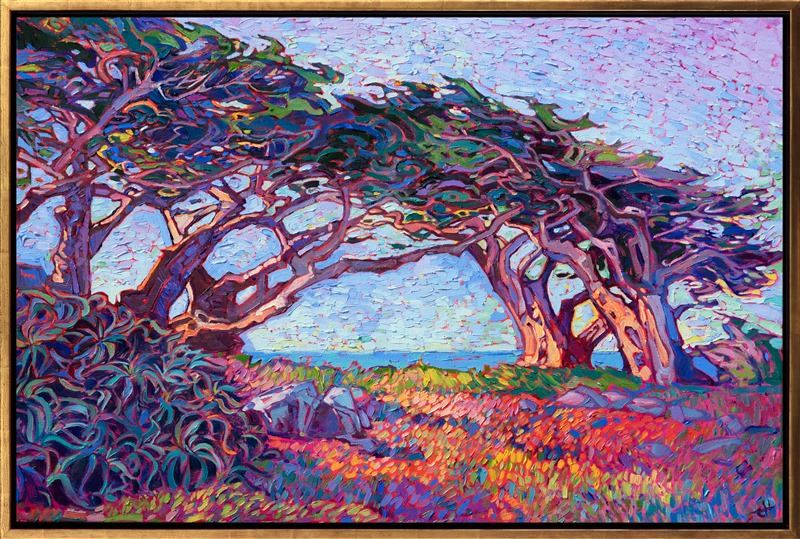 View Erin Hanson's collection of cypress tree paintings here.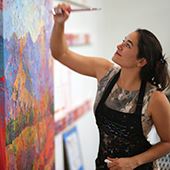 ERIN HANSON has been painting in oils since she was 8 years old. As a young artist, she worked at a mural studio creating 40-foot-tall paintings on canvas, while selling art commissions on the side. After getting a degree in Bioengineering from UC Berkeley, Erin became a rock climber at Red Rock Canyon, Nevada. Inspired by the colorful scenery she was climbing, she decided to paint one painting every week for the rest of her life. She has stuck to that decision ever since, becoming one of the most prolific artists in history. Erin Hanson's style is known as "Open Impressionism" and is now taught in art schools worldwide. With thousands of collectors eagerly anticipating her work and millions of followers online, Hanson has become an iconic, driving force in the rebirth of contemporary impressionism.

---
---