Erin Hanson on Her Petite Works
"Petite paintings are the jewels of Open Impressionism". - Erin Hanson
Saturday, October 8, 2022
I have been painting landscapes since I was a young girl, getting my inspiration from backpacking and camping trips around southern California. Growing up in noisy, smoggy, and concrete-lined Los Angeles, these childhood escapes into the quiet, wide-open spaces of nature had a profound effect on me, and I still find nature to be the most beautiful and inspiring subject I can paint.

After graduating from college with a degree in bioengineering, I decided not to pursue a career in a laboratory, and instead, I moved to Nevada and became an avid rock climber. This was the first time I had seen Red Rock landscape in person, and I was so inspired by the vivid colors and stark beauty of the desert that I made a decision to create one painting every week, just to see where my art would take me. I have stuck to that decision ever since, and in the past 15 years I have created almost 3,000 paintings, and through this process, I have developed a unique style of painting in oils that I call "Open Impressionism."

My chunky, abstract painting style developed from painting nothing but rocks for two years. I loved the rocks I was climbing, and their sharp contrasts, dark outlines, and distinct planes of color were characteristics I emulated in my work. To capture these aspects of rock, I developed a technique in which I pre-mixed my entire palette of colors and then applied thick brush strokes of paint to the canvas without layering or blending. This gave a spontaneous, textural look to my paintings that appealed to me and captured the vivacity of the desert as I saw it.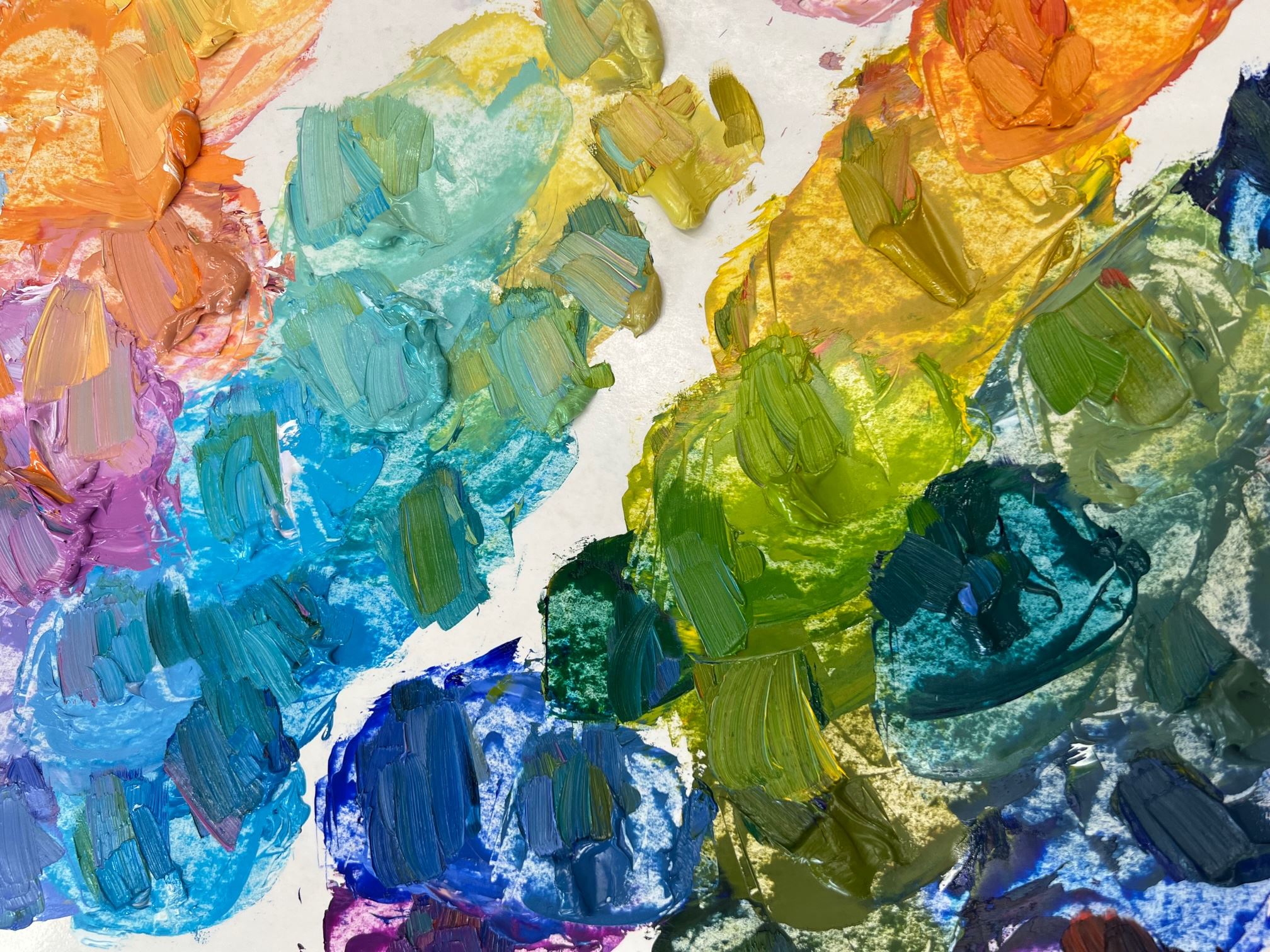 When I moved back to California a few years later, I began painting the rolling hills and curving lines of oak trees I found in Paso Robles and other rural areas. I applied my chunky/rocky painting technique to these curving lines, and I found that the "squared-off" brush strokes that worked so well to capture desert rocks also worked well to capture trees and hills and gave my work a unique aspect that set it apart from other artists' work.

I began creating "petite" paintings as little studies to reference when painting a larger piece. Oftentimes, I found I loved these little painting sketches better than the finished paintings. The sketches were looser and more confident than the finished paintings; I was able to capture an entire vast landscape with only a few dozen brushstrokes that seemed to magically fall in the exact correct position. After a few years of painting these sketches, I started painting these small works deliberately, and The Petite Collection was born. Now I find a particular joy in creating small paintings. It is an exciting challenge to simplify a complicated landscape and find one or two elements to focus on in a petite composition. I am more willing to experiment and find new ways to combine color and shape when I am painting a petite. I find this refinement of technique then spills over into my larger paintings, and I grow more confident in my color choices and brushstroke placement.

Petite paintings are the jewels of Open Impressionism. I hope you enjoy their scintillating colors and light.

Erin Hanson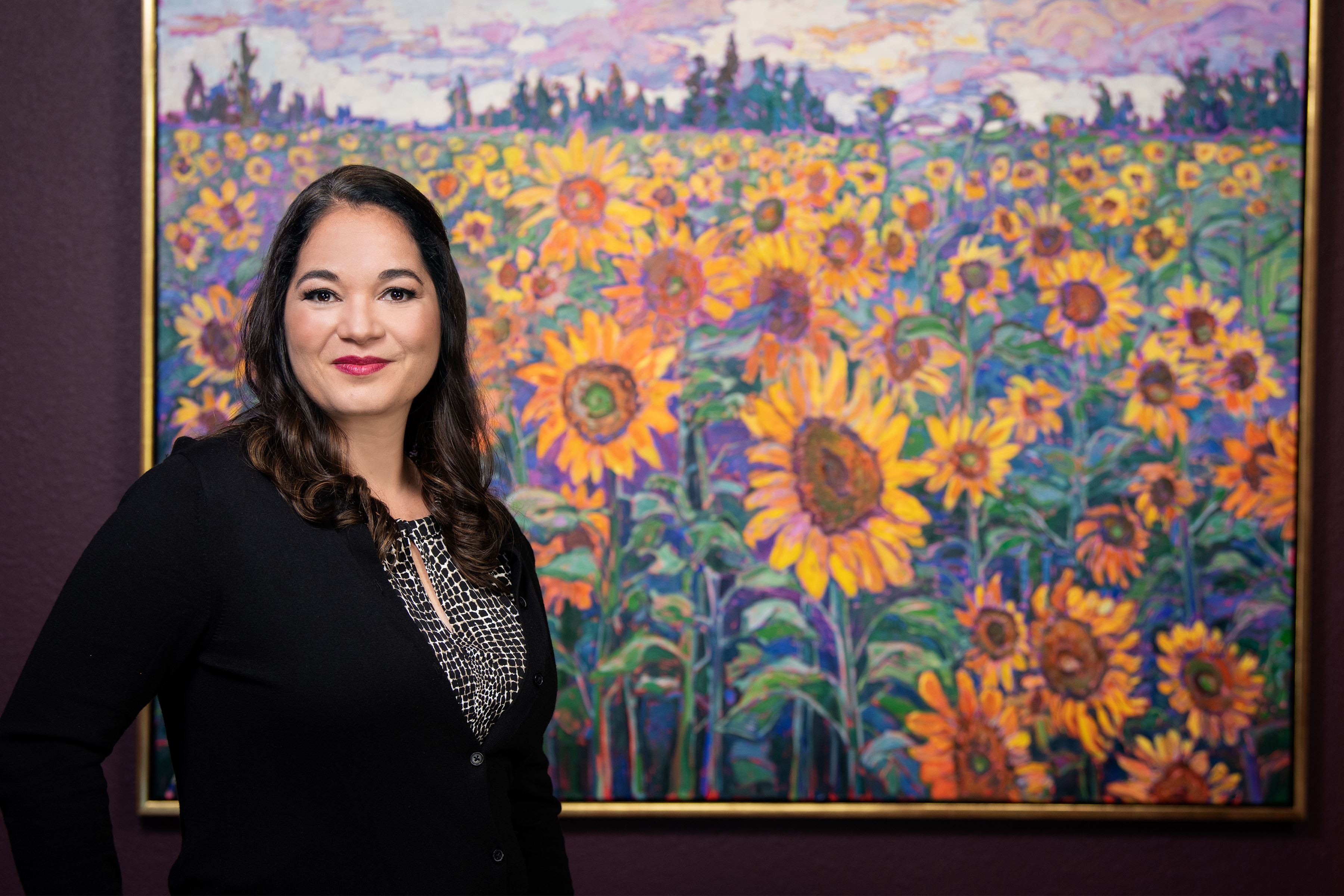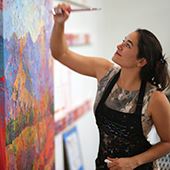 ERIN HANSON is a life-long painter, beginning her study of oils as a young child. Her passion for natural beauty is seen in her work as she transforms vistas familiar and rare into stunning interpretations of bold color, playful rhythms, and raw emotional impact. Her frequent forays into National Parks and other havens of nature include backpacking expeditions, rock climbing, and photo safaris. Hanson's unique painting style has become known as Open Impressionism, which is now taught in art schools around the world. With thousands of collectors eagerly anticipating her work and millions of followers online, Hanson has become an iconic, driving force in the rebirth of contemporary impressionism, and she is quickly recognized as a prolific, modern master.

---
---