Enjoy the World and Art in the New Year!
Spend the New Year Engaging with Art
Sunday, December 31, 2017
We know you have a long list of new year's resolutions you are hoping to accomplish in 2018. Here at The Erin Hanson Gallery, we have one more resolution for you to examine and (hopefully) achieve this year. That is, we hope you will open yourself up to the impact that art can have on your life.
Art can bring so much joy to the viewer; it can quench a thirst in one's soul like few other things in the world. However, it takes some time and energy to engage with a piece, whether it be a painting, a statue, a photograph, or some other type of art. So, this year, we'd like you to follow the steps below when attending a viewing or heading to a museum. Our hope is that this systematic approach to viewing art will bring you joy in the new year.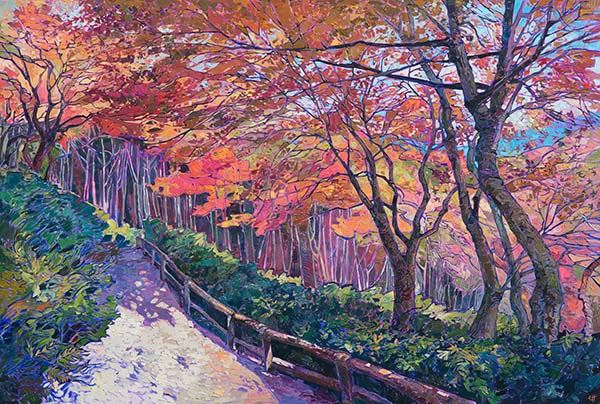 Maple Path by Erin Hanson
How to Engage with Art
1. When you attend a show or enjoy art in a museum, try walking through a set area (say, half of the room) briskly. Allow your eyes to wander through the space, skimming over each piece. If one piece arrests your attention particularly, stop and enjoy it, then move on.
2. Once you have walked through the room, go back to the first piece that caught your eye. Walk as close to it as you can, enjoying the elements and observing it as an abstract. Then move about five yards from the piece, watching as the elements meld together and become a cohesive whole.
2A. As you view the piece up close and then far away, take a moment to acknowledge any feelings the art evokes. You may become curious about a particular play of light or splash of color. Explore everything that brings you joy or causes emotion to well up inside.
Be sure to repeat these two steps on any other pieces that arrested your attention.
3. If there is a piece that you can't get out of your head, take some time with it. Sit on a bench or stand and examine the play of light across the painting, observe the colors, allow any motion depicted to roll over you. Take time to enjoy the piece as a whole as well as any elements that you find particularly stunning.
4. Finally, if you enjoy a specific artist or piece of art, don't just buy a print or painting. Engage with the artist herself if you can and buy a book about the artist. Discover the inspiration that created the piece you love so much.
Exploring art is a beautiful way to find joy, experience deep emotion, and fall in love with beauty. Make 2018 a year filled with these elements, and enjoy the new year!
The Erin Hanson Gallery
9705 Carroll Centre Road
San Diego, CA 92126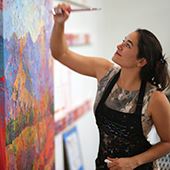 ERIN HANSON is a life-long painter, beginning her study of oils as a young child. Her passion for natural beauty is seen in her work as she transforms vistas familiar and rare into stunning interpretations of bold color, playful rhythms, and raw emotional impact. Her frequent forays into National Parks and other havens of nature include backpacking expeditions, rock climbing, and photo safaris. Hanson's unique painting style has become known as Open Impressionism, which is now taught in art schools around the world. With thousands of collectors eagerly anticipating her work and millions of followers online, Hanson has become an iconic, driving force in the rebirth of contemporary impressionism, and she is quickly recognized as a prolific, modern master.

---
---