California Artist Featured in National Park Centennial Exhibit
Impressionist Erin Hanson celebrates 100 years of park preservation at the St. George Art Museum
Monday, December 7, 2015
St. George, Utah: Erin Hanson's Painted Parks collection of landscapes will be displayed in the Main Gallery of the St. George Art Museum from January 16, 2016 through May 28, 2016. Hanson's exhibition kicks off the museum's 2016 NATIONAL PARKS: UNITING AMERICA: 100 Years on Common Ground event. The Erin Hanson Gallery will be donating 10% of any exhibition sales towards the preservation of Zion National Park. The St. George Art Museum is located at 47 East 200 North, St. George, UT 84770. For more information, visit www.sgartmuseum.org.
The St. George Art Museum continues its celebration of the centennial with a year-long exhibit "100 Years on Common Ground," referring to the common ground of our National Parks. Erin Hanson's show will be followed with a 3-part juried all media exhibit open to artists 16 years of age or older.
The National Parks Service was entrusted with the preservation of America's National Parks in 1916, a century of service. More than 400 parks and locations across the nation share a rich cultural history with over 275 million visitors annually.
"The National Park Service preserves unimpaired the natural and cultural resources and values of the National Park System for the enjoyment, education, and inspiration of this and future generations. The Park Service cooperates with partners to extend the benefits of natural and cultural resource conservation and outdoor recreation throughout this country and the world." (www.nps.gov/aboutus/index.htm)
California native Erin Hanson is already well known for her signature wet-on-wet impasto technique, "Open-Impressionism." Hanson's ability to capture the grandeur, beauty and natural grace of America's protected landscapes has led to an increasing popularity among impressionist collectors. An expanded Erin Hanson Gallery opens its doors in Los Angeles, CA on November 14, 2015.
Current paintings featuring National Parks include Arches National Park, Joshua National Park, Zion National Park, Cedar Breaks National Park and Glacier National Park, among others.
Hanson's plein-air style of painting was inspired by masters such as Vincent van Gogh, Claude Monet and Edgar Payne. A life-long painter, she combined her graduate studies of Bioengineering, two decades of artistic talent and her rock climbing skills into a formidable collection of impressionist paintings. "National Parks are a treasure we can't afford to neglect," stated the petite artist. "My park landscapes are more than artistic expressions; they are an invitation to enjoy, protect and preserve these amazing natural resources for future generations."
The Erin Hanson Gallery is proud to donate 10% of any proceeds from the sale of Ms. Hanson's exhibited contemporary impressionist paintings towards the preservation of Zion National Park.
The St. George Art Museum, a restored 1930's sugar beet warehouse, is situated in St. George's Historic District. The museum features a number of local events in addition to the year-long National Parks series of events in 2016.
For further information, please contact Amy Hanson. (323) 384-4593 or amy@erinhanson.com.
Article by Daniel Trevor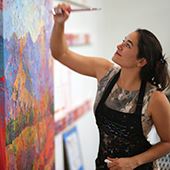 ERIN HANSON has been painting in oils since she was 8 years old. As a young artist, she worked at a mural studio creating 40-foot-tall paintings on canvas, while selling art commissions on the side. After getting a degree in Bioengineering from UC Berkeley, Erin became a rock climber at Red Rock Canyon, Nevada. Inspired by the colorful scenery she was climbing, she decided to paint one painting every week for the rest of her life. She has stuck to that decision ever since, becoming one of the most prolific artists in history. Erin Hanson's style is known as "Open Impressionism" and is now taught in art schools worldwide. With thousands of collectors eagerly anticipating her work and millions of followers online, Hanson has become an iconic, driving force in the rebirth of contemporary impressionism.

---
---