Following in the Footsteps of Early California Painters
The long tradition of California Impressionists
Saturday, July 15, 2023

The early California painters William Wendt, Edgar Payne, Granville Redmond, Carl Oscar Borg, and others carried forward the tradition of the impressionists into California scenery and landscapes of the Wild West.
I have loved every painting I have ever seen of Edgar Payne, and his works make me want to jump in my van and head back out to the Colorado Plateau to explore Arches, Monument Valley, and Canyon de Chelly just one more time. When I first saw with my own eyes the twisted cypress trees and aquamarine waters of Monterey and Carmel, I understood why the Early California painters loved this landscape so much.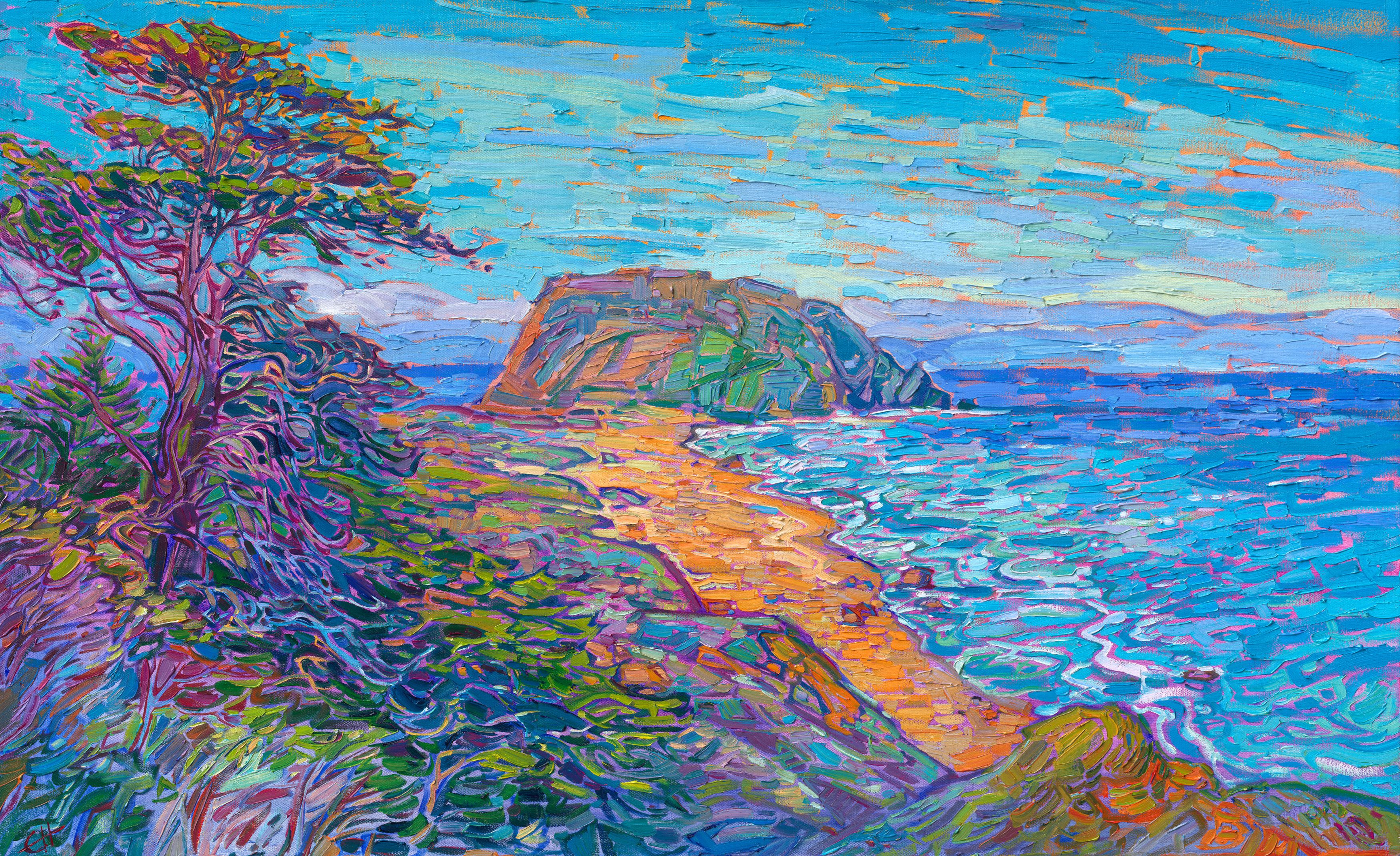 Point Sur Vista by Erin Hanson, 2023
The softly rising mists, abstract trees, colorful boulders, and buttery soft light make this landscape irresistible. I have since painted one hundred and fifty paintings of this region. I even had a gallery in Carmel-by-the-Sea for a few years (until I consolidated back to my home base in Oregon).
I have explored the nooks and crannies of the rugged coastline between Big Sur and Monterey many times. Once, I waited an entire week for the fog to clear so I could get some good photos of the cypress trees during the golden hour. However, even these foggy days yielded their own beauty. (And I learned that when it is 120 degrees inland, the heat sucks the fog over the shore, so the coastline never sees a blue sky.)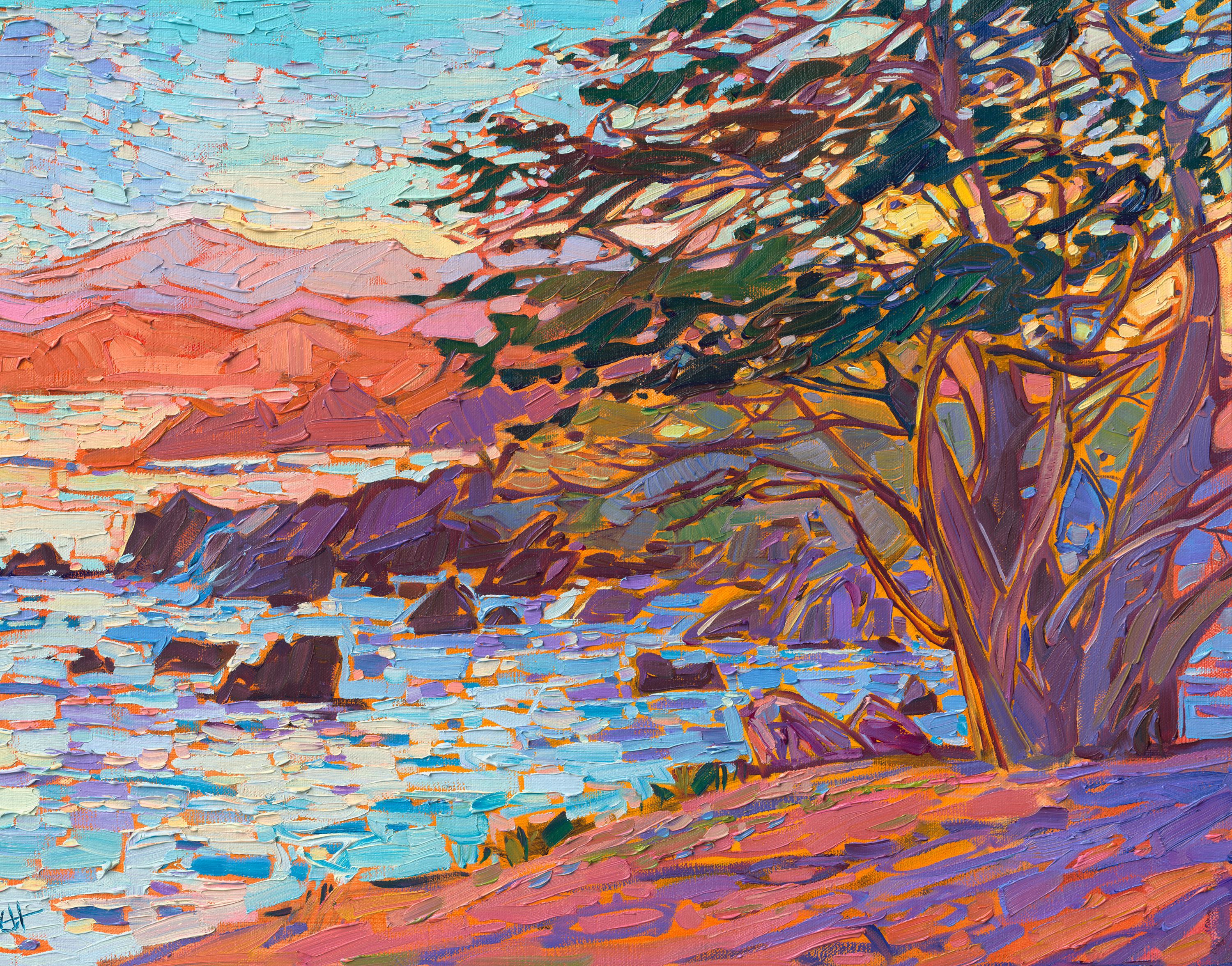 Cypress at Carmel by Erin Hanson, 2023
What brings me back to this region over and over, year after year, to capture the beauty of this particular stretch of coastline? It is the same reason I might ever paint a subject more than once: there is something in the landscape, some fleeting hue of color, some transient combination of light and shadow, the sun suddenly coming out between the clouds and illuminating just one rock on the distant shore, that gets my heart pumping and gets me excited all over again to paint, to make my paints recreate that fleeting beauty - like I had never painted it before.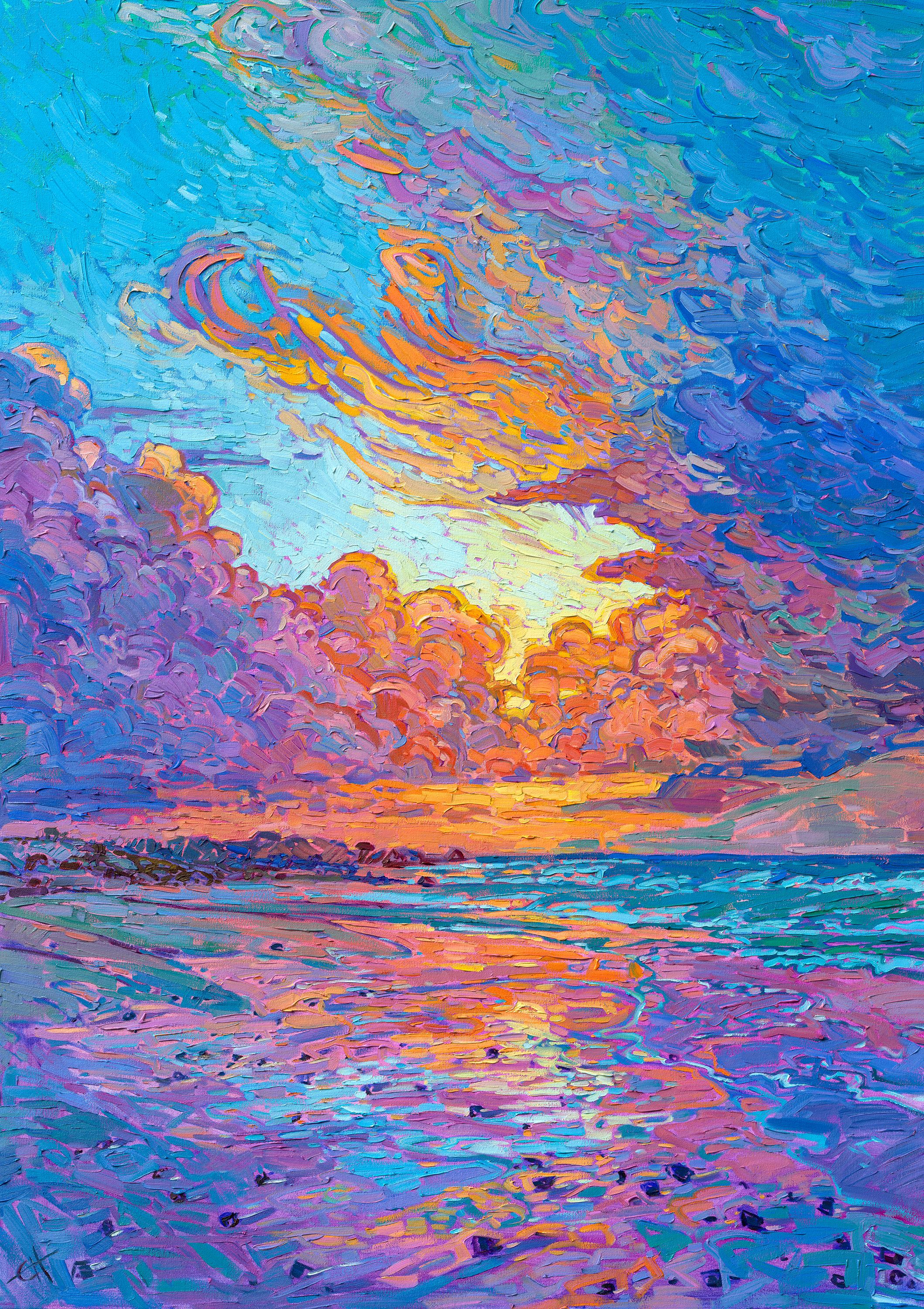 Reflections of Color by Erin Hanson, 2023
Who knows, maybe this is why Monet painted lily ponds and haystacks over and over and why van Gogh painted irises and sunflowers again and again.
Article by Erin Hanson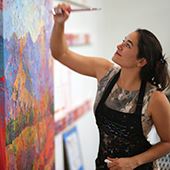 ERIN HANSON has been painting in oils since she was 8 years old. As a young artist, she worked at a mural studio creating 40-foot-tall paintings on canvas, while selling art commissions on the side. After getting a degree in Bioengineering from UC Berkeley, Erin became a rock climber at Red Rock Canyon, Nevada. Inspired by the colorful scenery she was climbing, she decided to paint one painting every week for the rest of her life. She has stuck to that decision ever since, becoming one of the most prolific artists in history. Erin Hanson's style is known as "Open Impressionism" and is now taught in art schools worldwide. With thousands of collectors eagerly anticipating her work and millions of followers online, Hanson has become an iconic, driving force in the rebirth of contemporary impressionism.

---
---