The Modernization of Impressionism
A Look at Impressionism and its Influence on Erin Hanson's "Open Impressionism"
Thursday, October 19, 2017
Since its inception, Impressionism has been an expression of independence from the constraints the world has placed upon art. Van Gogh, Monet, Degas, and the others who helped create this art form were seeking to break away from traditional art and dared to see the world differently. This theme has carried on from the origins of Impressionism in the late 1800's into the present.
When the world was able to be perfectly duplicated in photographic form, painters were freed from precise depiction of the existing world and were able to explore the idea of presenting the world in new and exciting ways. Because of this, each Impressionist painter displays the world from a different aspect than his or her fellow Impressionist painter. For example, if you compare the works of Renoir and Pissarro, you will see both very different subjects and a contrasting exploration of light and color.


Left:
Picking Peas
Camille Pissarro, 1887

Right:
Luncheon of the Boating Party
Pierre-Auguste Renoir, 1882

Modern Impressionism focuses on traditional Impressionist themes such as loose, spontaneous brush work, examining the interaction of light and shadow, and employing vibrant colors. Contemporary approaches like Erin Hanson's Open Impressionism, however, apply new techniques like Hanson's long brush strokes that are applied without layering or Hanson's utilization of dynamic color.
Additionally, the subject matter of Impressionist painters has changed over the years. Many early Impressionist pieces focused on natural landscapes, cityscapes and often incorporated human life or manmade objects. Monet's famous Impression, Sunrise depicts boats sailing through the ocean as the red sun rises behind them, breaking through the morning mist.
Impression, Sunrise
Claude Monet, 1874
This focus shifted with the emergence of the California Impressionists and The Group of Seven. This was an era when much of the world was in the midst of major industrial and economic transition in the decades immediately following the turn of the century. The famed Canadian painters mainly chose to depict the wilds of Canada and the California Impressionists painted scenes from Monterey and Santa Barbara. These paintings of natural beauty, with the absence of man-made objects, revived both Impressionism as a style and renewed international interest in what natural beauty had to offer. Artists like Tom Thompson, Arthur Lismer, and Frank Johnston inspired and made possible the likes of Erin Hanson to depict the natural beauty of this continent in her now signature "Open Impressionism" style.

Left:
Summer Day
Tom Thomson, 1915

Right:
Diego Sky
Erin Hanson, 2017
The evolution of Impressionism as an art form shows that this iconic movement has been revived in the contemporary art world and it continues to influence a new generation of painters. Erin Hanson is one such artist and she is making her contribution to the style in the modern day with Open Impressionism. We hope you will explore this approach in her portfolio here and at her gallery in San Diego.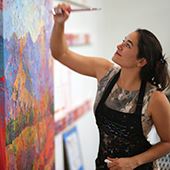 ERIN HANSON has been painting in oils since she was 8 years old. As a young artist, she worked at a mural studio creating 40-foot-tall paintings on canvas, while selling art commissions on the side. After getting a degree in Bioengineering from UC Berkeley, Erin became a rock climber at Red Rock Canyon, Nevada. Inspired by the colorful scenery she was climbing, she decided to paint one painting every week for the rest of her life. She has stuck to that decision ever since, becoming one of the most prolific artists in history. Erin Hanson's style is known as "Open Impressionism" and is now taught in art schools worldwide. With thousands of collectors eagerly anticipating her work and millions of followers online, Hanson has become an iconic, driving force in the rebirth of contemporary impressionism.

---
---