What is an Open Impressionism Frame?
Wednesday, May 31, 2017
About Open Impressionism Frames
The contemporary impressionist oil paintings by Erin Hanson are framed in a unique style of frame called Open Impressionism frames. This style of frame was personally designed by Erin Hanson as the ideal complement to her works. These frames are inspired by classic carves and silhouettes of American Impressionist frames. Just as Hanson's works are a bridge between classic impressionism and contemporary expressionism, these frames are likewise a blend of the classic and contemporary. These frames will look beautiful in both traditional and modern interiors.
What makes an Open Impressionism frame so unique? These moldings are specially designed to support a painting without touching the sides of the canvas. This makes the painting appear to float within the frame. Since Hanson's paintings are so thickly textured, it is beneficial to let the whole canvas be seen uncovered. A traditional frame would cover the surface of the painting by 1/2" on each edge, interferring with the intended motion of the brush strokes. In an Open Impressionist frame, you will not lose a single expression of brush stroke by the artist.
The Open Impressionism frames are hand carved from hardwood molding by skilled artisans in the US. The delicate patterns and curves that decorate the corners of the moldings are the perfect accompaniment to the curving brush strokes of a Hanson oil painting. Once the frames have been carved, they are then coated with a clay ground that subtly change the color of the gold leaf when applied on top. The different clay colors are chosen to complement the underpainting color of a specific Hanson painting. The genuine 23-karat gold leaf, painstakingly applied by hand on the top surface of the frame, has a subtle gleam that brings to life the colors in the oil painting.
Each frame is one-of-a-kind, a work of art in itself, and the perfect way to present your valued Hanson original.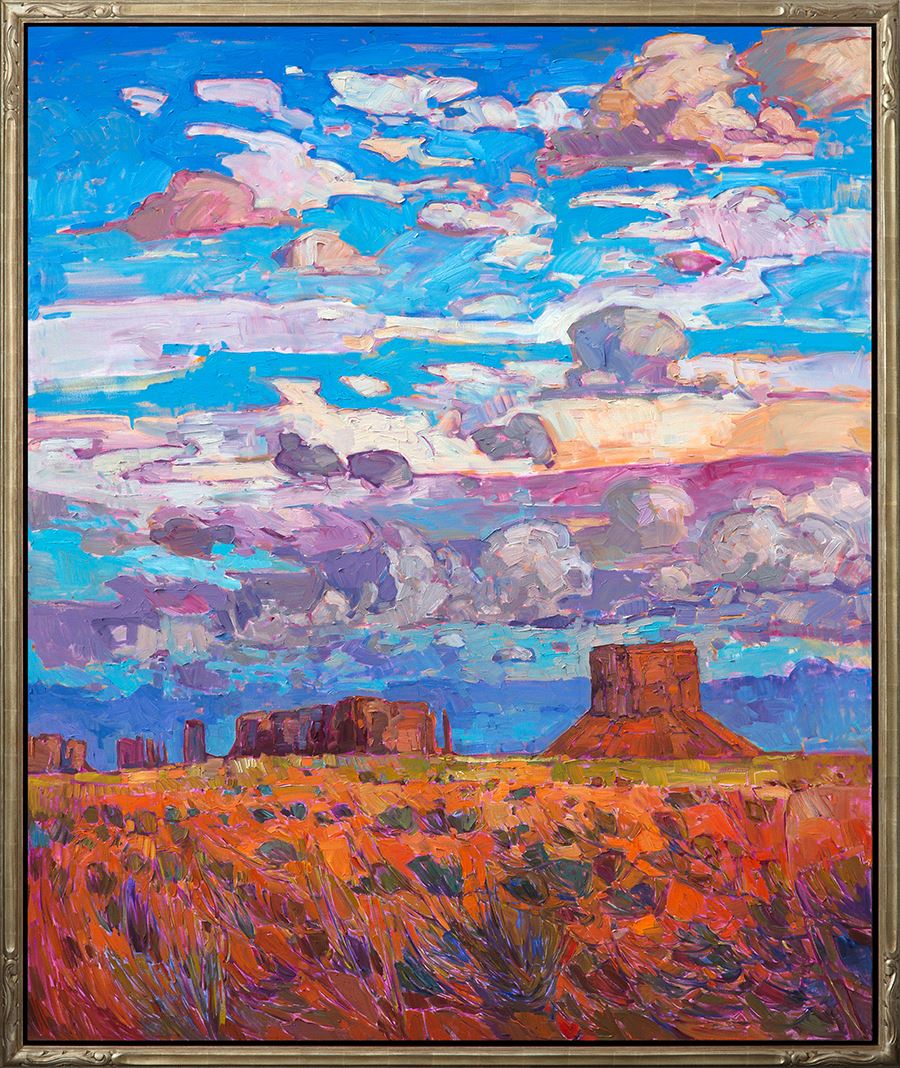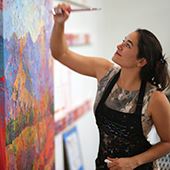 ERIN HANSON has been painting in oils since she was 8 years old. As a young artist, she worked at a mural studio creating 40-foot-tall paintings on canvas, while selling art commissions on the side. After getting a degree in Bioengineering from UC Berkeley, Erin became a rock climber at Red Rock Canyon, Nevada. Inspired by the colorful scenery she was climbing, she decided to paint one painting every week for the rest of her life. She has stuck to that decision ever since, becoming one of the most prolific artists in history. Erin Hanson's style is known as "Open Impressionism" and is now taught in art schools worldwide. With thousands of collectors eagerly anticipating her work and millions of followers online, Hanson has become an iconic, driving force in the rebirth of contemporary impressionism.

---
---