Inside Erin Hanson's Petite Works
small works, BIG IMPACT
Saturday, October 8, 2022
Hanson's petite paintings are small-sized but powerful compositions painted in her signature Open Impressionism style. Petites range in size from 6 x 6 inches to 20 x 24 inches. The subjects of these paintings vary widely, including both minute still-lifes and vast views of national parks. A petite painting can focus on details that might be missed in a larger painting, such as a single Joshua tree silhouetted against a sunset sky, the view through a few tangled limbs of a winter-bare oak, or a few water lilies floating on an azure pond.

In her petite paintings, Hanson captures a simplified composition with the quintessential vibrant colors and side-by-side brushstrokes essential to Open Impressionism. She searches for abstractions in the natural landscape that will lend themselves well to a small canvas.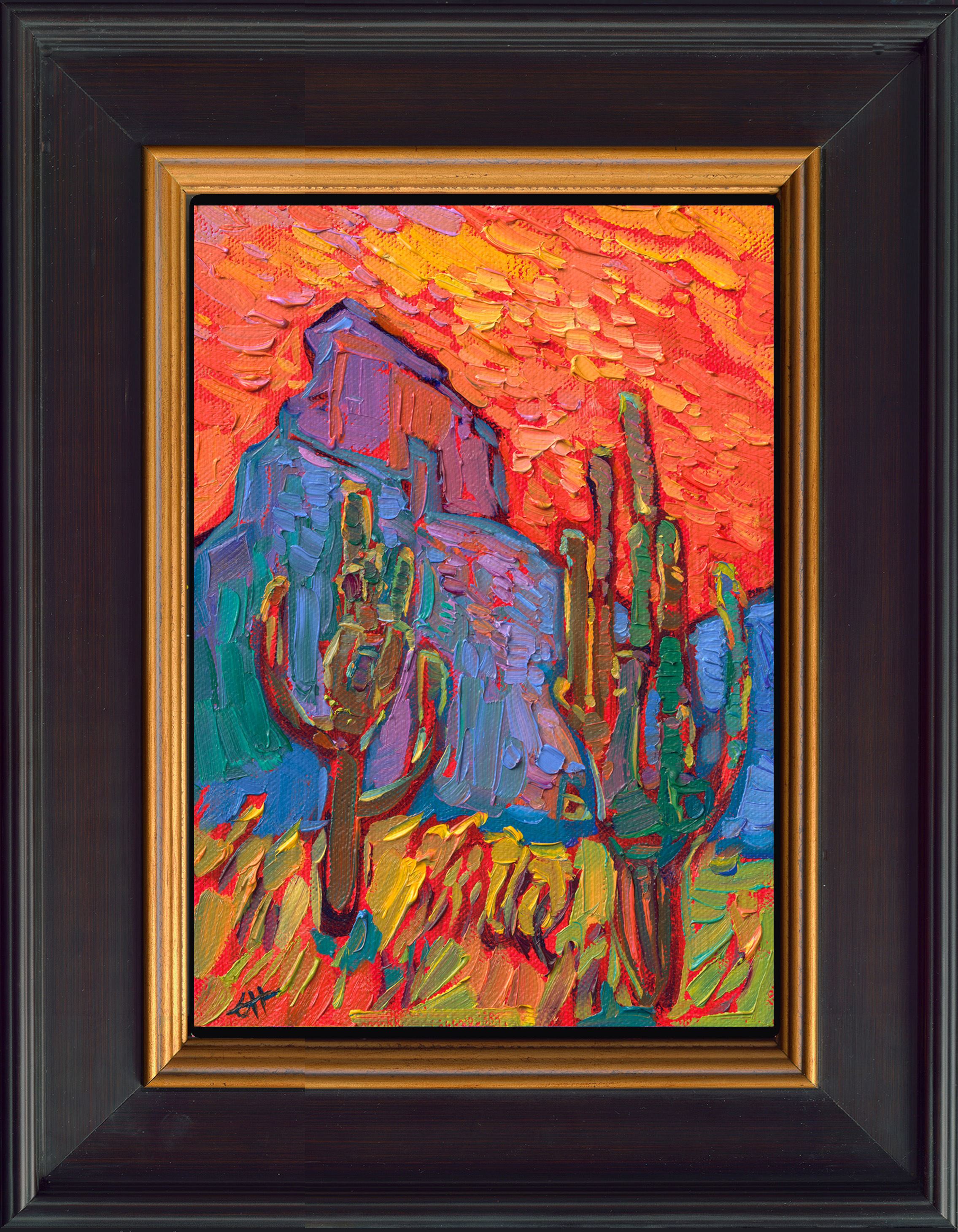 Saguaro Peak, 7 x 5 inches
Erin Hanson
2022

Erin Hanson says, "I look for unique compositions and intriguing contrasts in nature. I can get inspired by something as simple as a line of overgrown grass catching the last rays of the sun, the unique bends of an oak branch, or the pattern of light and shadow filtering down through a grove of trees. When I get ready to paint, I try to focus on just one simple message in the painting, like the brilliance of a certain hue of color, a single tree standing alone on the edge of the Grand Canyon, or the abstract shapes of the sky seen between crisscrossing branches."

One cannot discuss Erin Hanson's petite works without talking about Open Impressionism. Erin Hanson developed this contemporary impressionist style during her mission to capture the beauty of the western United States with brush and canvas. During her extensive career, in which she has painted and sold over 3,000 oil paintings, her style has evolved into a deceptively simple application of minimal brushstrokes, focusing on the clean, pure colors she finds in nature.

You could describe Open Impressionism as a blend of classic impressionism and modern expressionism, with a dash of plein air style. There are a few elements that make Open Impressionism unique.

Unlike traditional oil painters, Hanson does not build up the painting layer by layer; instead, she lays her paint in thick strokes side by side without overlapping, and she works to get each brushstroke "right the first time." The distinct, separated brushstrokes give her paintings a mosaic or stained-glass appearance, but the paintings are not static: they have a rhythm and movement created by long brushstrokes interspersed with smaller, staccato strokes. Hanson uses a brightly-colored underpainting as the ground in her paintings, and this underpainting peeks out between the brushstrokes, creating outlines and color contrasts from beneath the paint.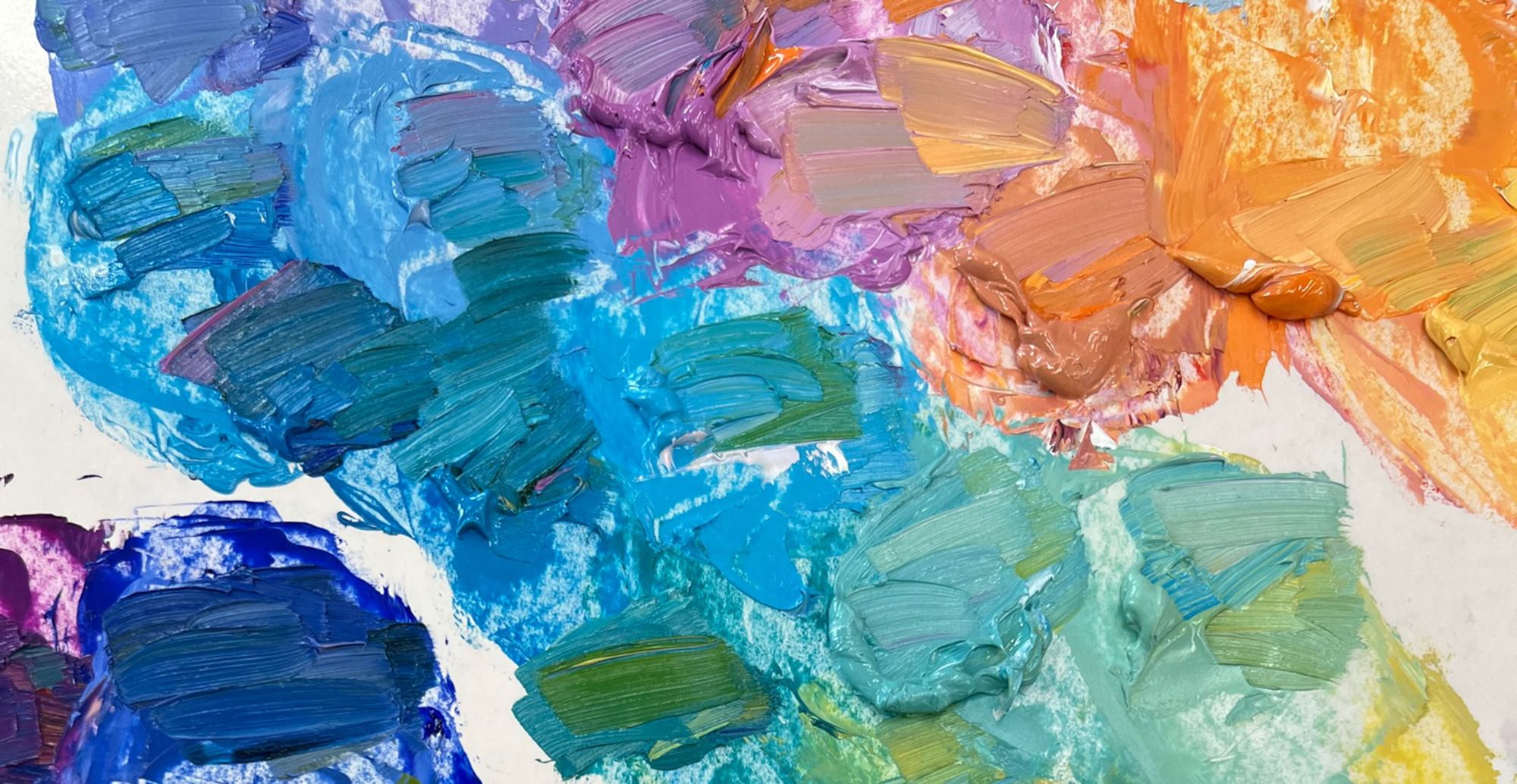 Hanson uses a limited palette of only five pigments to create vivid, un-muddied colors that ignite the imagination. Starting with pure pigments on the outside of the color wheel to begin her palette, she mixes her own custom hues rather than buying premixed pigments. For example, instead of buying a premixed tube of Payne's Gray, she mixes her own gray with alizarin, viridian, and white, making it warmer as needed with a dash of cadmium yellow light. Using a limited palette, Hanson can create thousands of color variations without worrying about her colors clashing or getting muddy.
Open Impressionism continues the work of impressionists and post-impressionists like Monet and van Gogh into the modern day. Hanson uses a blend of expressionist and impressionist techniques to interpret her subjects, such as the expressionist technique of making abstract color choices to communicate emotion. Her pieces are not a true-to-life representation of a landscape; instead, she attempts to recapture how she felt listening to the breeze rustling through the grass, feeling salty ocean air in her lungs, or watching changing shafts of light radiate from behind the clouds. Open Impressionist paintings work to encapsulate a moment in time, along with the sense of movement, the feelings, and the sensations that the artist felt right in that instant. Like other impressionist paintings, Hanson's work appears more abstract when viewed up close and "goes into focus" when seen from a few feet away.

Developed after Hanson graduated college, Open Impressionism is the culmination of years of painting, experimenting, and exploring art theory. Erin Hanson spent her formative years creating art, learning about art history, and developing an understanding of color. Since her youth, she has followed her father's advice to create daily sketches from life. Even while attending college to gain a degree in bioengineering, she continued to paint and draw constantly. After graduation, she discovered rock climbing and continued exploring the nation's stunning natural spaces from high vantage points only attained by the most adventurous.

It was during one of these rock climbing excursions that Open Impressionism was formed. While painting the rocks she was climbing, Hanson discovered that utilizing pure, unmuddied pigment and side-by-side brushwork in an expressionist, blocky style allowed her to capture the red rocks on canvas.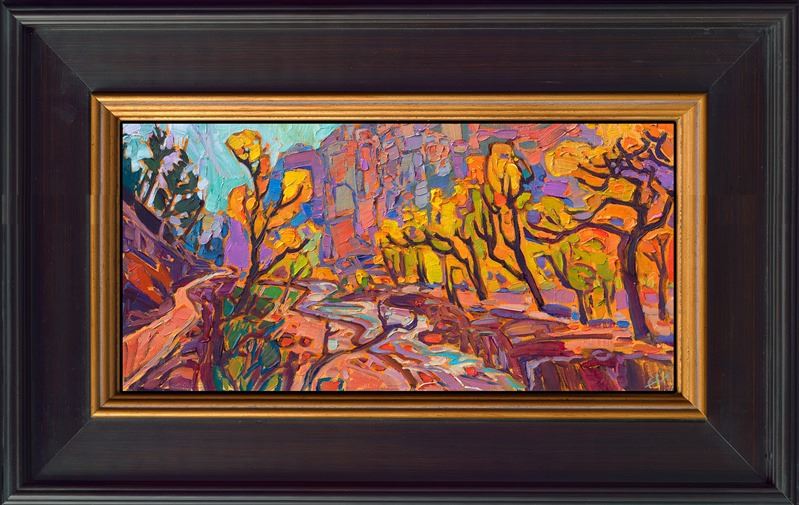 Zion Colors, 8 x 16 inches
Erin Hanson
2022

Her early works mainly depict the vivid hues found in red rock country. As she worked to capture the spirit of these massive, brilliant landscapes, she found it necessary to create her own impressionist style, which she dubbed "Open Impressionism."

She has never looked back.

Hanson continued to paint and travel year after year, exhibiting her work at art festivals, fairs, and galleries. It was during this early period that she discovered the joy and excitement of painting small works.

Here is How it Happened:
As part of her creative process, Hanson often made small sketches in oil before she tackled a larger painting. These sketches showed her what would or would not work in a larger painting, and they were invaluable when painting the final, unlayered composition. Since Hanson never made changes to her paintings while creating them (a hallmark of her technique), she had to work out in advance exactly where she would place the paint. Additionally, an oil sketch provided Hanson with color palette ideas and was essential to her process of premixing her palette before beginning the final work.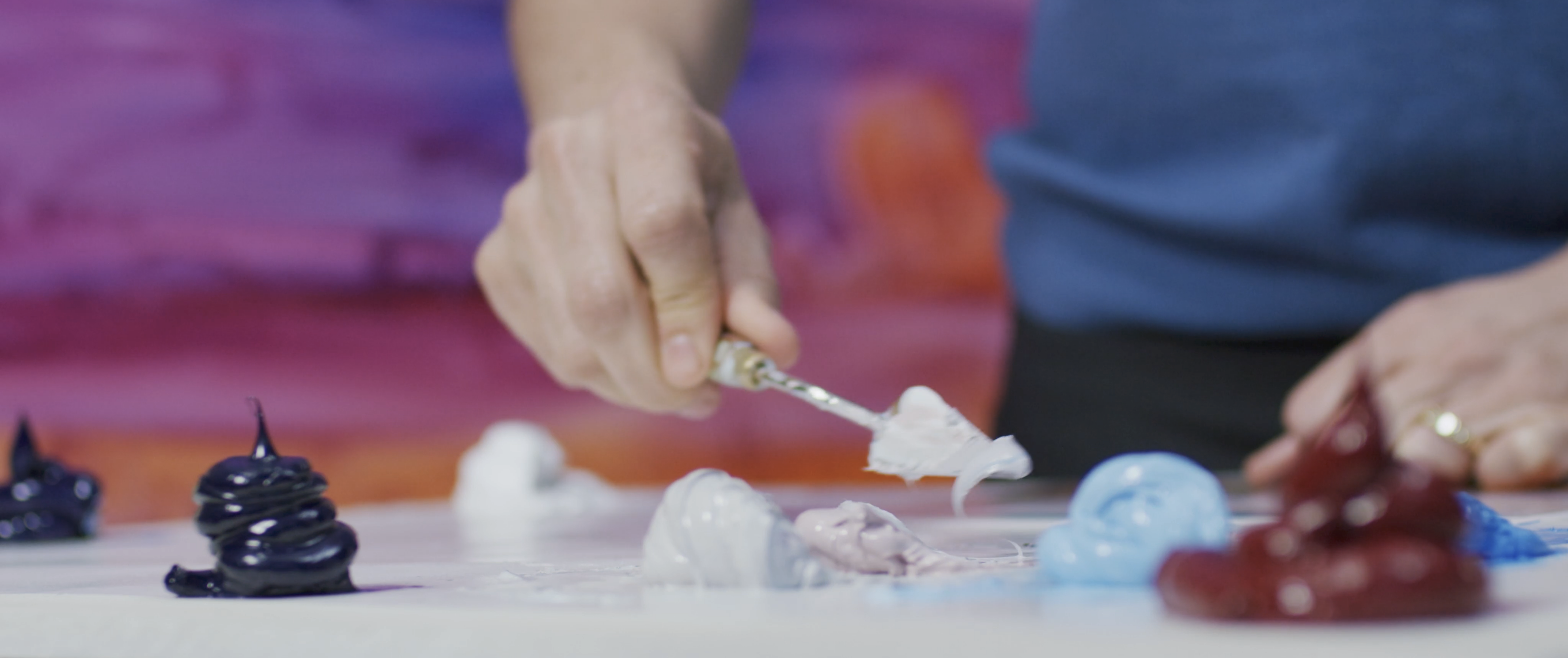 Sometimes, when experimenting within the framework of a sketch, Hanson would hit upon a composition that looked better as a miniature painting than as a larger work. At first, she filed this information in the back of her mind and continued sketching and painting large pieces. After discovering that she often liked the loose sketches better than the tighter, finished works, Hanson began to create small-scale paintings in earnest. In 2017, she put on her first "Petite Show" just before the holidays, showcasing 20 paintings under 20 inches. The Petite Show was such a success that Hanson began the tradition of annual petite collection releases every holiday season.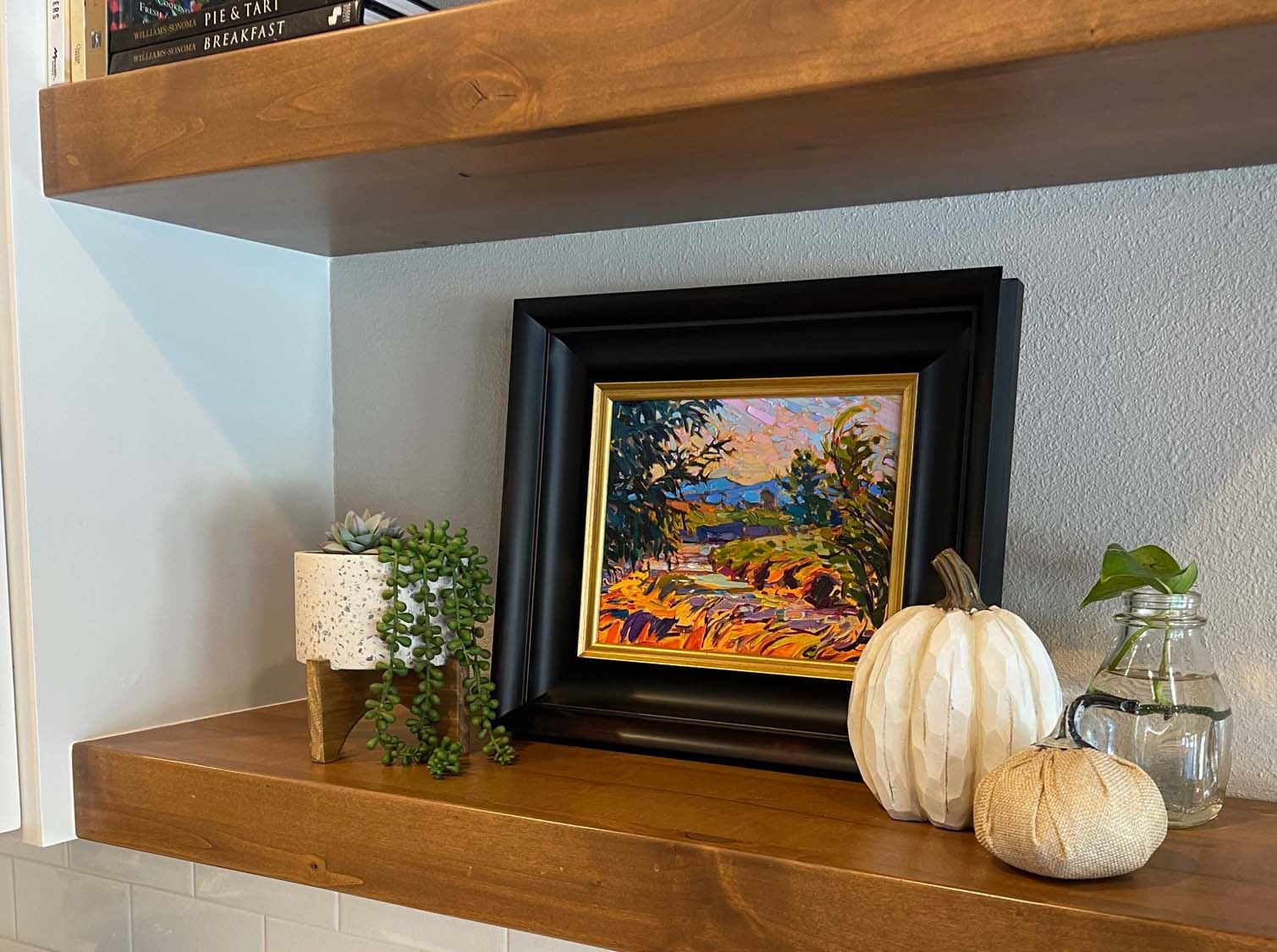 Capturing a vast scene on a small canvas is a challenge that Hanson relishes. The tiny paintings do not have any extraneous brushstrokes, and the color palette must be perfect for capturing the depth and light changes in a panoramic landscape. Hanson's petite paintings, which began as sketches, are now well-thought-out compositions that are both simple and powerful. Hanson's petites are now an essential part of the Open Impressionism movement.

The miniature works are rare and extraordinary works of art, each tiny painting as full of vibrancy and movement as her larger works. These pieces present the same variety of subjects found in her large works: everything from national parks to florals depicted in oil on canvas. Hanson uses her Open Impressionist technique to paint these small-scale works and stays true to this style to ensure every painting glimmers with color. The results are small gems that bring unexpected beauty and light to any area in which they are displayed.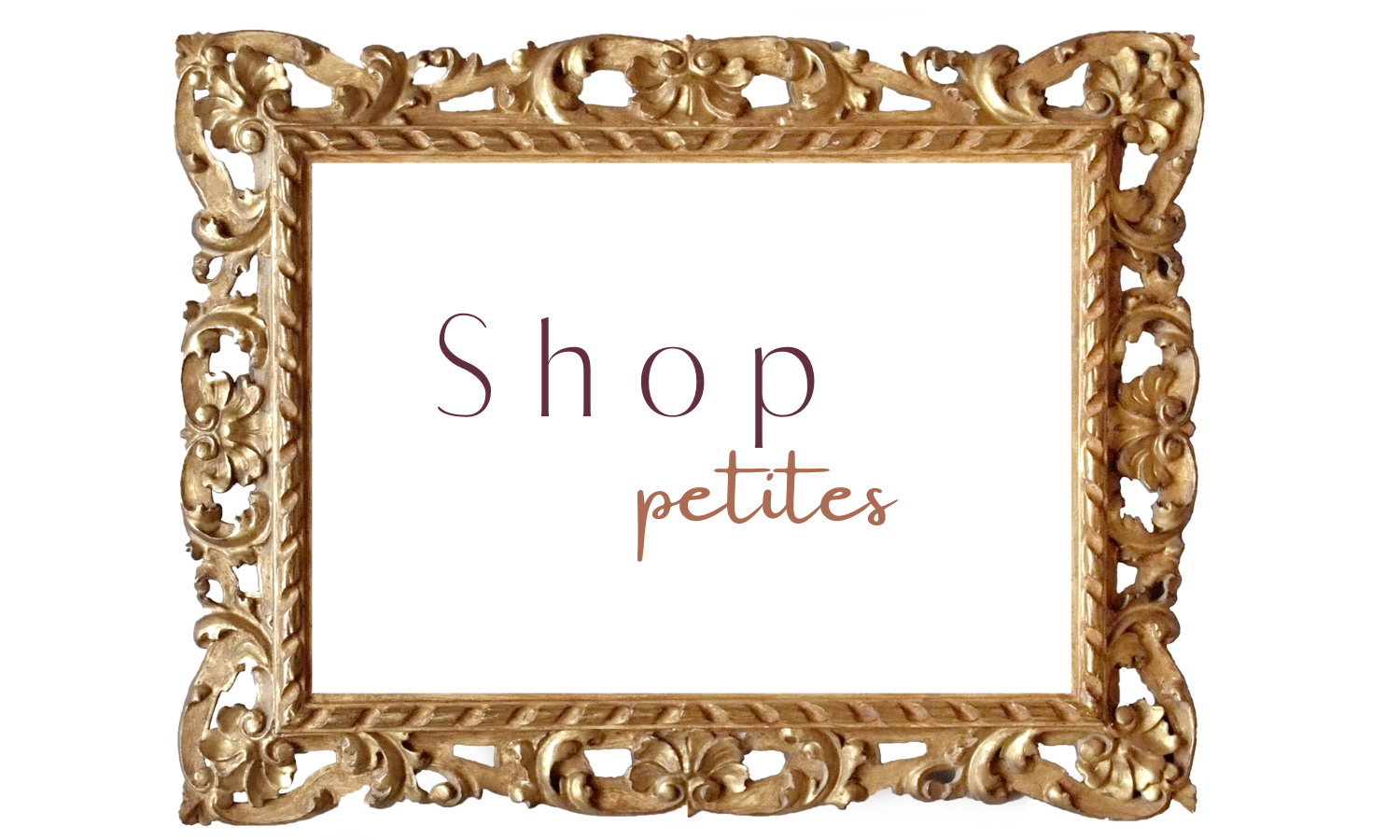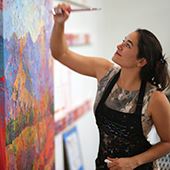 ERIN HANSON has been painting in oils since she was 8 years old. As a young artist, she worked at a mural studio creating 40-foot-tall paintings on canvas, while selling art commissions on the side. After getting a degree in Bioengineering from UC Berkeley, Erin became a rock climber at Red Rock Canyon, Nevada. Inspired by the colorful scenery she was climbing, she decided to paint one painting every week for the rest of her life. She has stuck to that decision ever since, becoming one of the most prolific artists in history. Erin Hanson's style is known as "Open Impressionism" and is now taught in art schools worldwide. With thousands of collectors eagerly anticipating her work and millions of followers online, Hanson has become an iconic, driving force in the rebirth of contemporary impressionism.

---
---