Winter Painting in Color
Winter through the Lens of Impressionism
Thursday, February 9, 2023
A winter painting brings to mind long blue shadows across milky white snow, white-capped peaks, and frozen lakes. Erin Hanson's "Open Impressionism" winter paintings capture remote landscapes and national parks in their stark winter beauty.
Have you ever thought about heading to a national park during winter? How about California wine country? Erin Hanson has spent years traveling across the country during all seasons so that you can enjoy beautiful artwork and perhaps become inspired to visit treasured locations that you may not have considered off-season.
In this article, we share ten locations that Hanson visited for some winter painting. We invite you to enter the vistas shared below. Perhaps they will inspire your next cold-weather excursion!


Winter
in C O L O R
Bryce Canyon National Park
Visiting a national park in the winter can be tricky. The weather might close a portion or all of the park. But, if you stay in a city like St. George, UT, surrounded by parks like Bryce Canyon, The Grand Canyon, Zion, and others, you have a great chance of enjoying the beautiful hoodoos located within Bryce Canyon National Park. Erin often starts her travels from St. George to gain up-to-the-minute information on her favorite parks and determine which to visit and when. This type of flexibility makes her wintertime painting possible. The painting below was inspired by a chilly 17-degree day spent hiking on winding trails covered in fresh snowfall, among the voodoos of Bryce Canyon.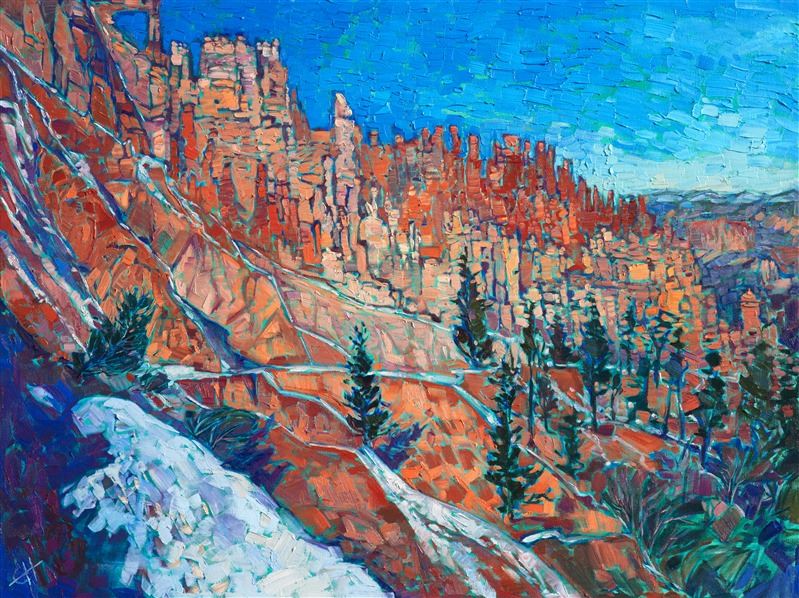 Winter Bryce by Erin Hanson
Grand Canyon National Park
Of course, the Grand Canyon is a classic American national park that every person should visit at least once. If you can visit more than once, try a winter visit! The snow, crisp air, and significantly fewer tourists bring a meditative quiet to the ordinarily busy park that must be experienced to be understood. A winter painting of the Grand Canyon captures pure white snow against the rich cadmium hues of red, orange, and yellow. The painting below was inspired by a visit to a completed deserted North Rim, late one November day.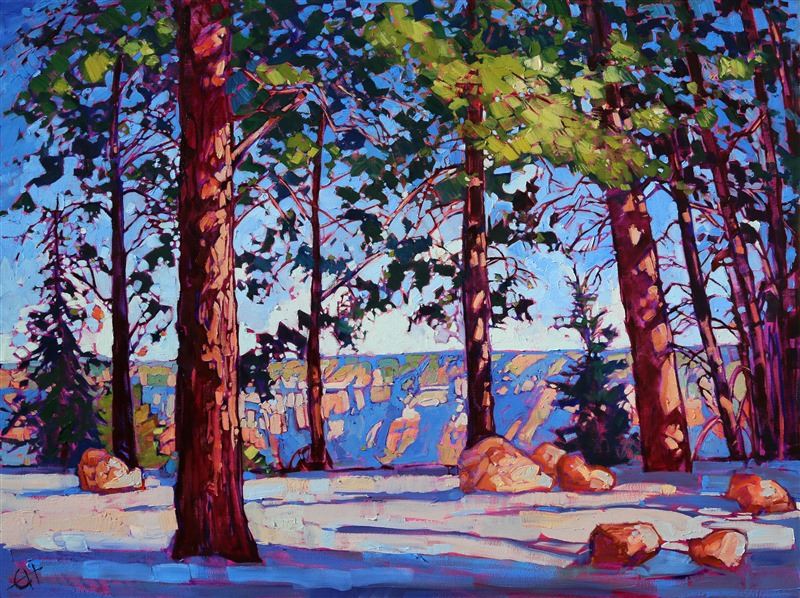 Northern Rim by Erin Hanson
Arches National Park
The impressive arches, fins, pinnacles, and balanced rocks of Arches take on a new tone in the winter months. The clear, cold air changes the intensity of the color desert scape, making the area perfect for winter painting. It's a sight that must be seen to be believed.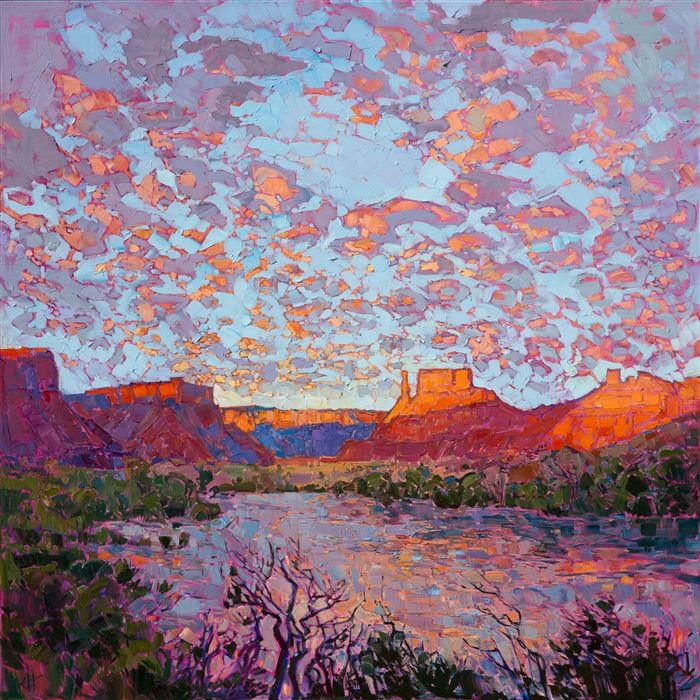 North of Arches by Erin Hanson

Zion National Park
Hanson has painted Zion National Park more than any other national park. Her winter paintings of the park showcase snowy Utah weather against the incredible red rocks for which Zion is famed. The stunning cliffs of Zion form natural lookout points that are beautiful during every season. The winter painting below was inspired by a 5-day backpacking trip across Zion National Park, the last 10 miles of which were hiked out in 8 inches of fresh snowfall.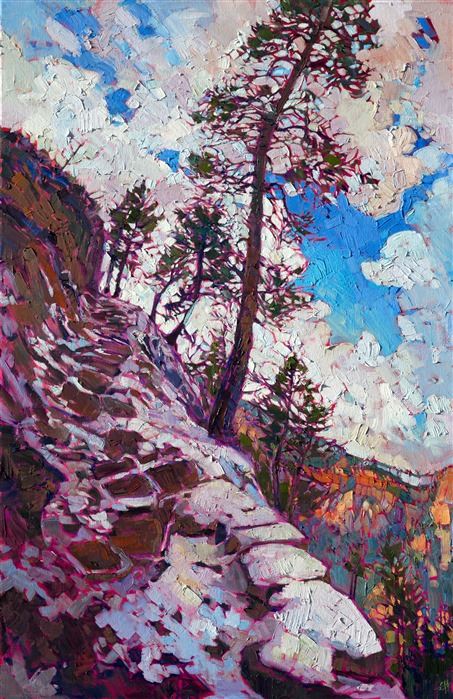 First Snow by Erin Hanson
Carmel Valley
Carmel Valley is a beautiful, rustic community in Monterey filled with wineries, countryside, spas, and more. Hanson painted this area and other parts of wine country in winter to showcase how seasons may change, but nature's beauty remains. In the winter, the rolling hills of northern California are filled with beautiful neutral tones of pale gold, lavender, and burnt umber.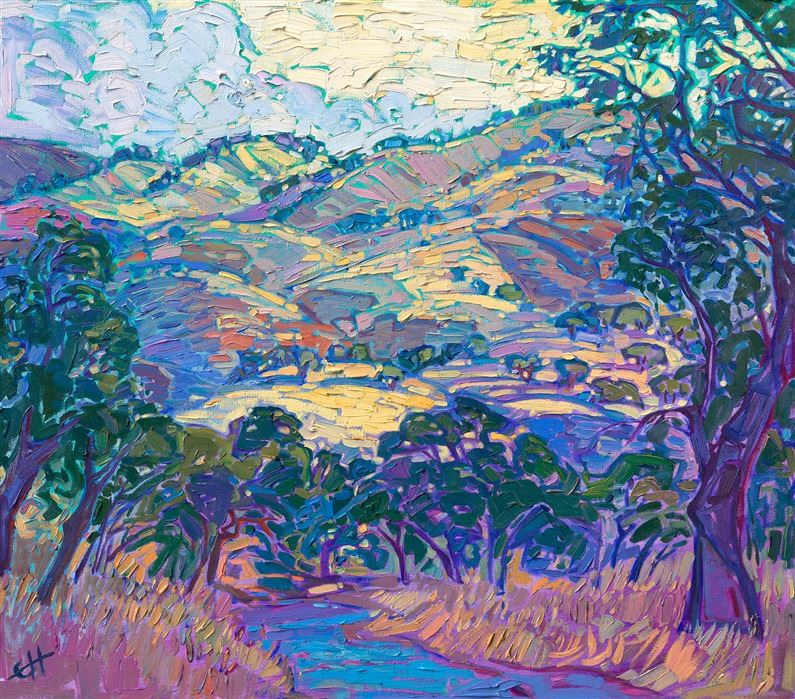 Winter Hills by Erin Hanson
Paso Robles
Paso Robles is a popular destination in California's wine country, filled with rolling hills, wineries, olive groves, and parks. Visiting this area in any season is a delight. Hanson has painted the region many times, and her art hangs in the Adelaida Vineyard tasting room and The Allegretto Hotel. A winter painting of Paso Robles captures the landscape in dormancy, golden grass waiting for spring, and empty vines shorn of their leaves.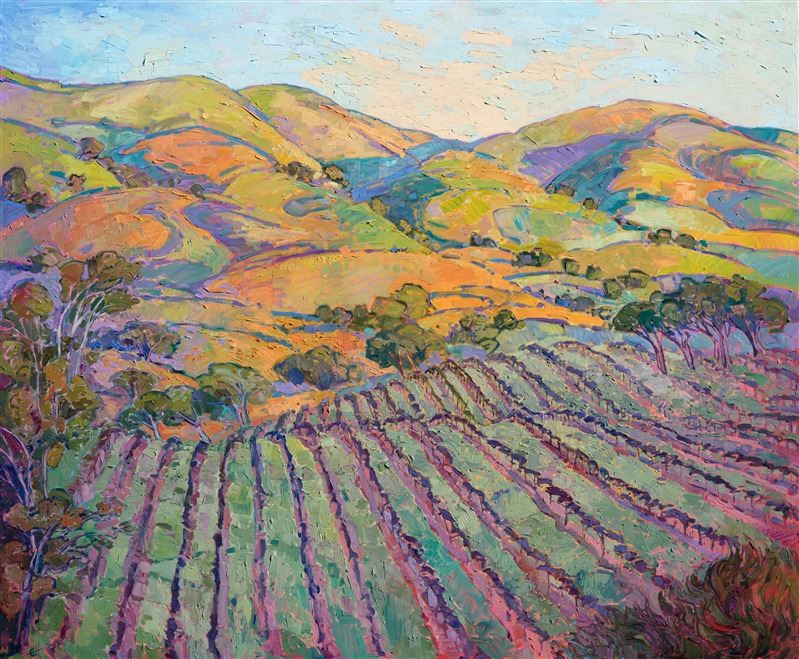 Winter Vineyards by Erin Hanson
Glacier National Park
Montana is a beautiful place to visit for a winter getaway. Not only can you enjoy the magnificence of Glacier, but there is also skiing, snowboarding, snowshoeing, cycling, sleighs, shopping, and more for anyone who enjoys a snowy day. Whitefish, the unofficial gateway to Glacier National Park, is a perfect place to stay if you enjoy the cooler seasons. Hanson visited Whitefish and Glacier on a winter painting expedition and brought back beautiful scenes from the snowy countryside.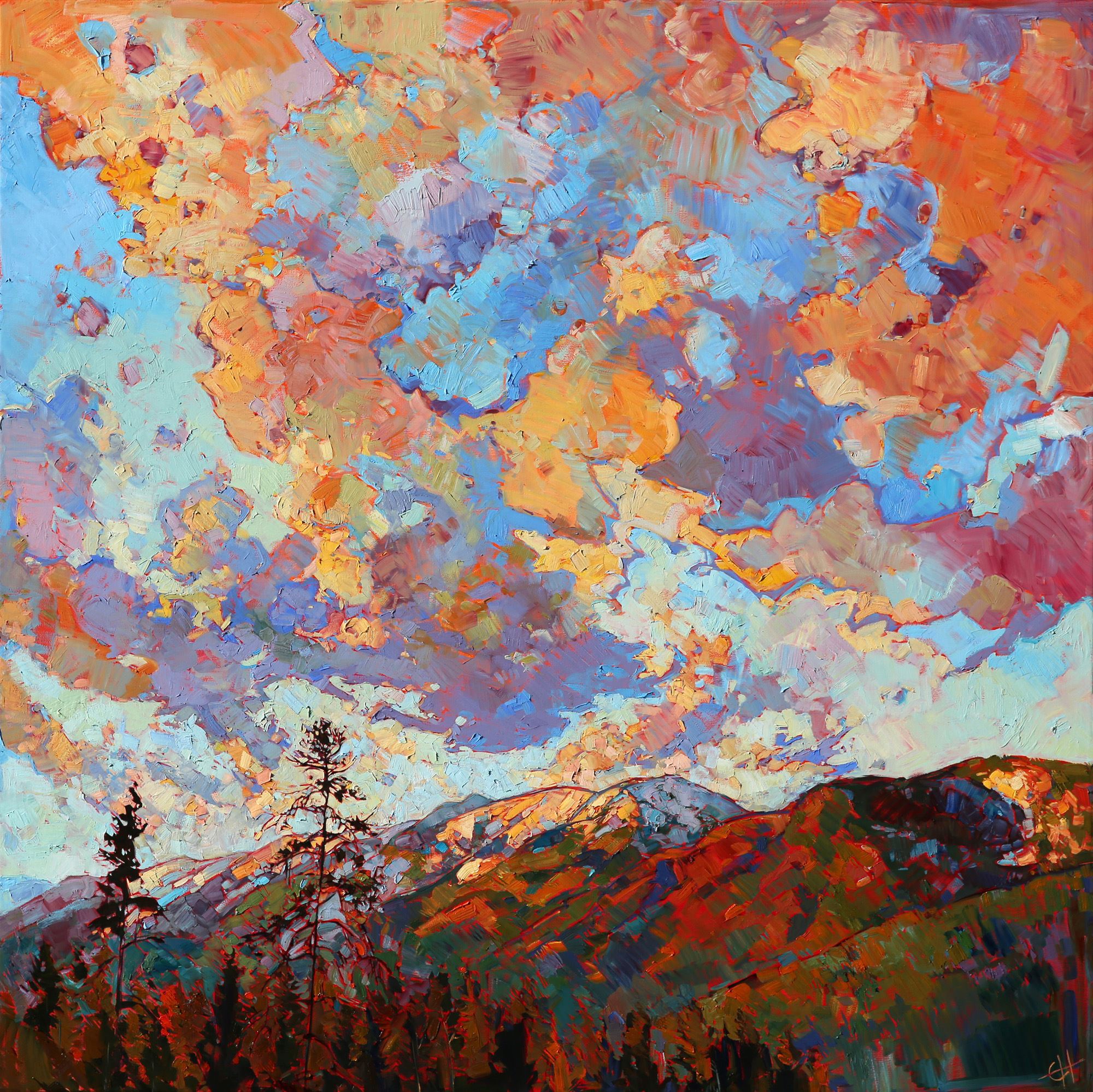 Over the Crest by Erin Hanson

Yosemite National Park
Visiting Yosemite National Park in the off-season can be tricky, but it can be gratifying if you catch the park at the right time or make a reservation. Not only will you find classic Yosemite views like Half Dome, but if you're hoping for an extended winter vacation, you can also make the trek to explore more of the Sierra Nevada Mountain Range. Hanson has painted many scenes of the Sierra Nevadas, including those viewed from Yosemite.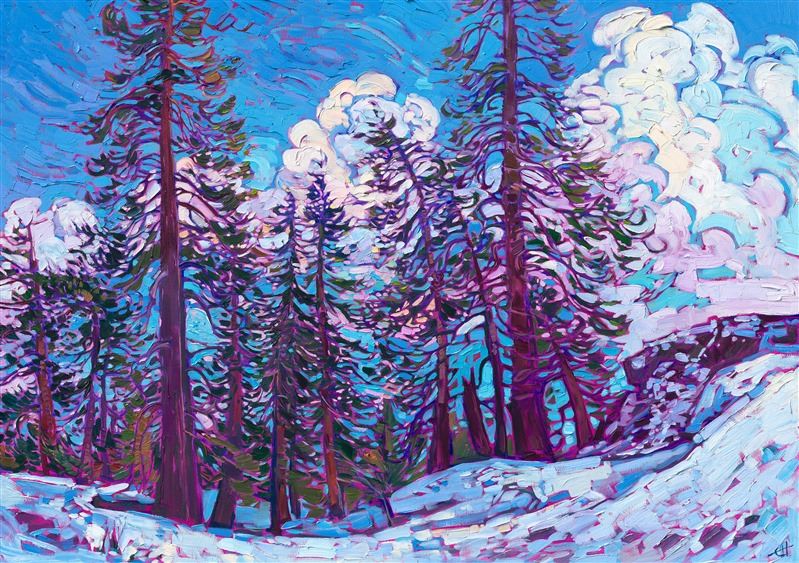 Sierra Snows by Erin Hanson

White Mountains
New Hampshire's White Mountains are definitely not white in October - they are colored in crisp shades of green, rust, amber, and gold. Watching the leaves fall from the multi-colored trees and breathing in the crisp, near-freezing air; this is the best time of winter -- just before it begins!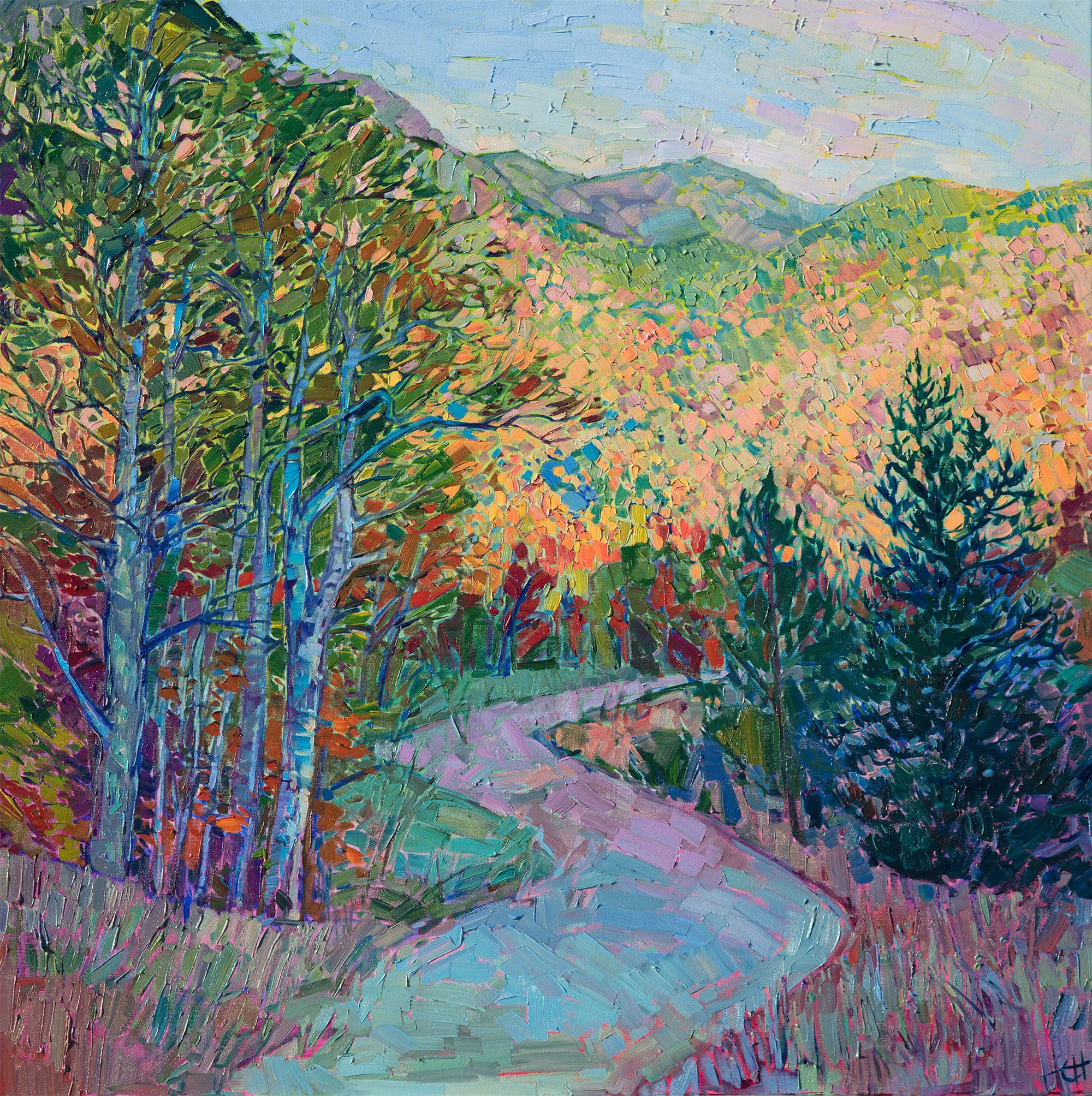 White Mountains Road by Erin Hanson

Willamette Valley, OR
Last but not least, Erin is inspired to create winter paintings around her home base -- in the heart of Oregon wine country. Winter in the Willamette Valley is cold, but not overwhelmingly so. The wine region is filled with vineyards, spas, hot springs, and more. It's located near skiing in Mount Hood and Haystack Rock on the Oregon Coast.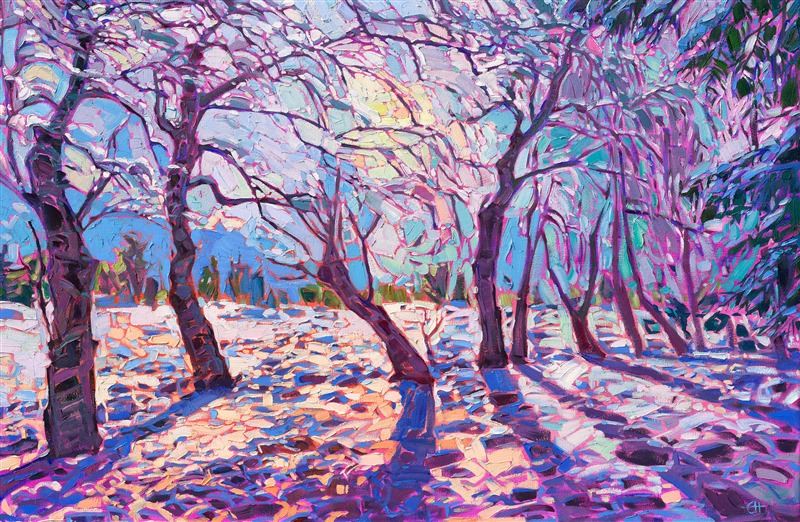 Winter Light by Erin Hanson
Stepping through Hanson's winter landscape paintings is much like making a brief visit to the area. One can feel the crisp air, hear the shush of snow falling, and smell the loamy earth waiting below its snowy blanket.
View more winter landscapes here to get additional inspiration for your next winter adventure.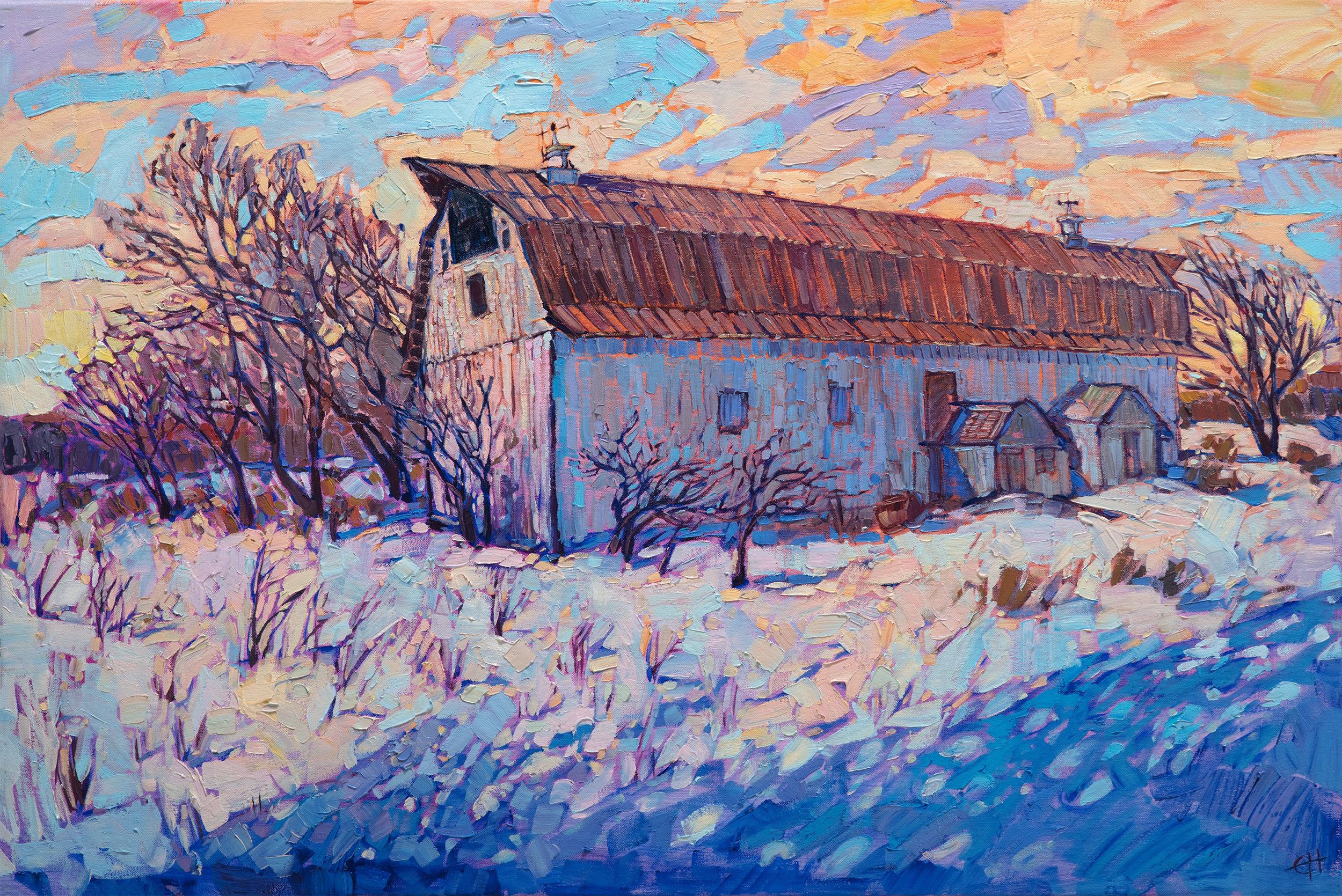 Winter Barn, 2018, by Erin Hanson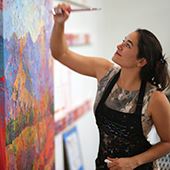 ERIN HANSON has been painting in oils since she was 8 years old. As a young artist, she worked at a mural studio creating 40-foot-tall paintings on canvas, while selling art commissions on the side. After getting a degree in Bioengineering from UC Berkeley, Erin became a rock climber at Red Rock Canyon, Nevada. Inspired by the colorful scenery she was climbing, she decided to paint one painting every week for the rest of her life. She has stuck to that decision ever since, becoming one of the most prolific artists in history. Erin Hanson's style is known as "Open Impressionism" and is now taught in art schools worldwide. With thousands of collectors eagerly anticipating her work and millions of followers online, Hanson has become an iconic, driving force in the rebirth of contemporary impressionism.

---
---