New Arizona Gallery will Focus on the Colors of the West
Visitors Can Expect a Visual Feast of Color and Texture
Thursday, October 13, 2022
[APRIL 2023 The Erin Hanson Gallery, Scottsdale has relocated operations to McMinnville, Oregon]
Erin was recently interviewed by Modern Luxury Magazine Scottsdale about her newest gallery in the heart of Old Town. We thought her fans and collectors would enjoy a look at what Erin had to say. Keep an eye out for the Scottsdale December issue of Modern Luxury for more!

Why did you choose to open your newest location in Old Town?

I have adored painting the landscapes of the southwest since I began rock climbing in the Mojave Desert and Red Rock Canyon.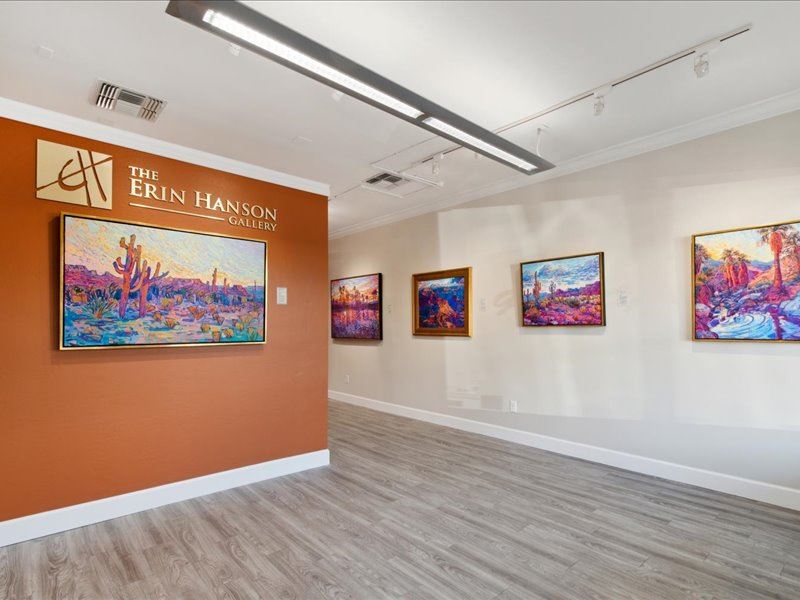 Since then, I've spent 15 years exploring the Sonoran desert and hiking into the far reaches of the Wild West. The rich colors, dramatic mountains, and unique contrasts of the desert are incredibly inspiring and visually stimulating to me. Some of my favorite places to paint are Saguaro National Park, Canyon de Chelly, Sedona, and the Grand Canyon wilderness. I have showcased at the Scottsdale Art Festival in the past and was impressed by the arts community on Main Street. It is rare to find so many quality galleries in such close proximity. I have thought for years that it would be wonderful to have a gallery in Scottsdale where I could focus on my western works and have an outlet to express my love of jagged rocks and prickly Saguaros.

What pieces of work are you most excited to share with Scottsdale at your gallery? Why?

I am most excited to bring "Saguaro Sky" and "Grand Canyon Light." Both are extra-large oil paintings that I recently completed. "Saguaro Sky" captures the best of the Sonoran desert: an epic sunset, stately Saguaro, and distant mountain peaks that are varying shades of bright blue. "Grand Canyon Light" captures the early dawn light and the variegated colors of rock from the rim all the way to the canyon floor, where you can see the winding turquoise waters of the Colorado River.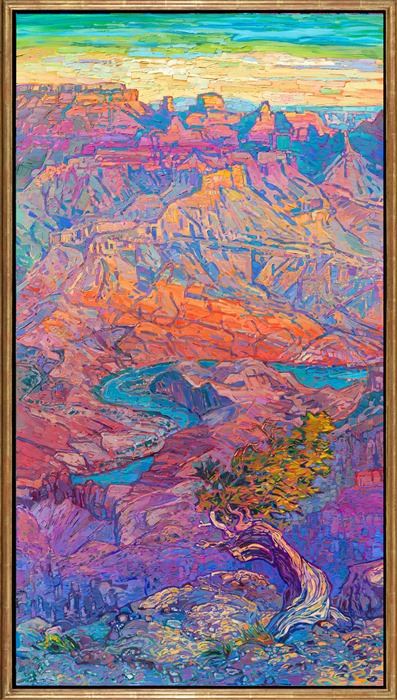 Grand Canyon Light, 2022
Erin Hanson

What do you hope visitors gain from coming to your gallery?

So much of Arizona is wild color. I hope that visitors will come and experience Arizona's landscapes through the lens of impressionism at my gallery. I guarantee they will see the landscapes they love painted in a way they have never seen them captured before.

What sets this gallery apart from your other two galleries in Carmel-By-The-Sea and Oregon?

Each of my three galleries has a different focus, based on their respective surrounding landscapes. In my Oregon gallery, I focus on the rolling vineyards and epic fall colors of the Willamette wine country. In Carmel-by-the-Sea, I present my works of Monterey cypress trees and coastal views from Highway 1. In my new Scottsdale gallery, I will focus on the unique color palette and western landscapes of the Arizona desert and the Colorado Plateau.

What does it mean for you to be hailed as the "alchemist of color"? How does this inspire your work as an artist?

I constantly strive to capture the brilliant colors I see in nature. I just finished a day of autumn leaf-peeping over here in the Blue Ridge Mountains in North Carolina. My creative senses are saturated with the most vibrant cadmium colors I have ever seen. Now my job as an impressionist painter is to somehow recapture those vibrant oranges, reds, and yellows onto my canvas with only a limited palette of 5 colors and a brush as my tools. I have experimented for 15 years to figure out the best ways to make color come alive on my canvas and capture those moments of beauty I discover.

What inspired you to dedicate yourself to painting one painting a week for the rest of your life? How long have you been pursuing this, and how has this mission been for you?

When I was a child, my father told me that in order to become a good painter, I should start with drawing 5 sketches from life every day (he was a musician and understood the value of practice, practice, practice.) When I started painting landscapes in oil in my 20s, I decided that if I wanted to master my craft, I had better start doing one painting a week. I have stuck to that decision ever since, for the past 15 years.

By creating one painting a week, I have been able to experiment to my heart's content, and the end result was a painting style very different from traditional oil painting. I developed a system that allows me to create vibrant, saturated colors that never get muddy. I pre-mix my entire palette and plan out the full painting in my head before I ever pick up a brush. This allows me to confidently place thickly textured brushstrokes side by side without layering over overlapping. This keeps the color and the texture fresh and alive and is the best way I know how to recapture the landscapes I love.

Don't Miss the Scottsdale ArtWalk every Thursday night!


Location Details:
The Erin Hanson Gallery
NOW in OREGON Wine Country

(480) 336-2864
info@erinhanson.com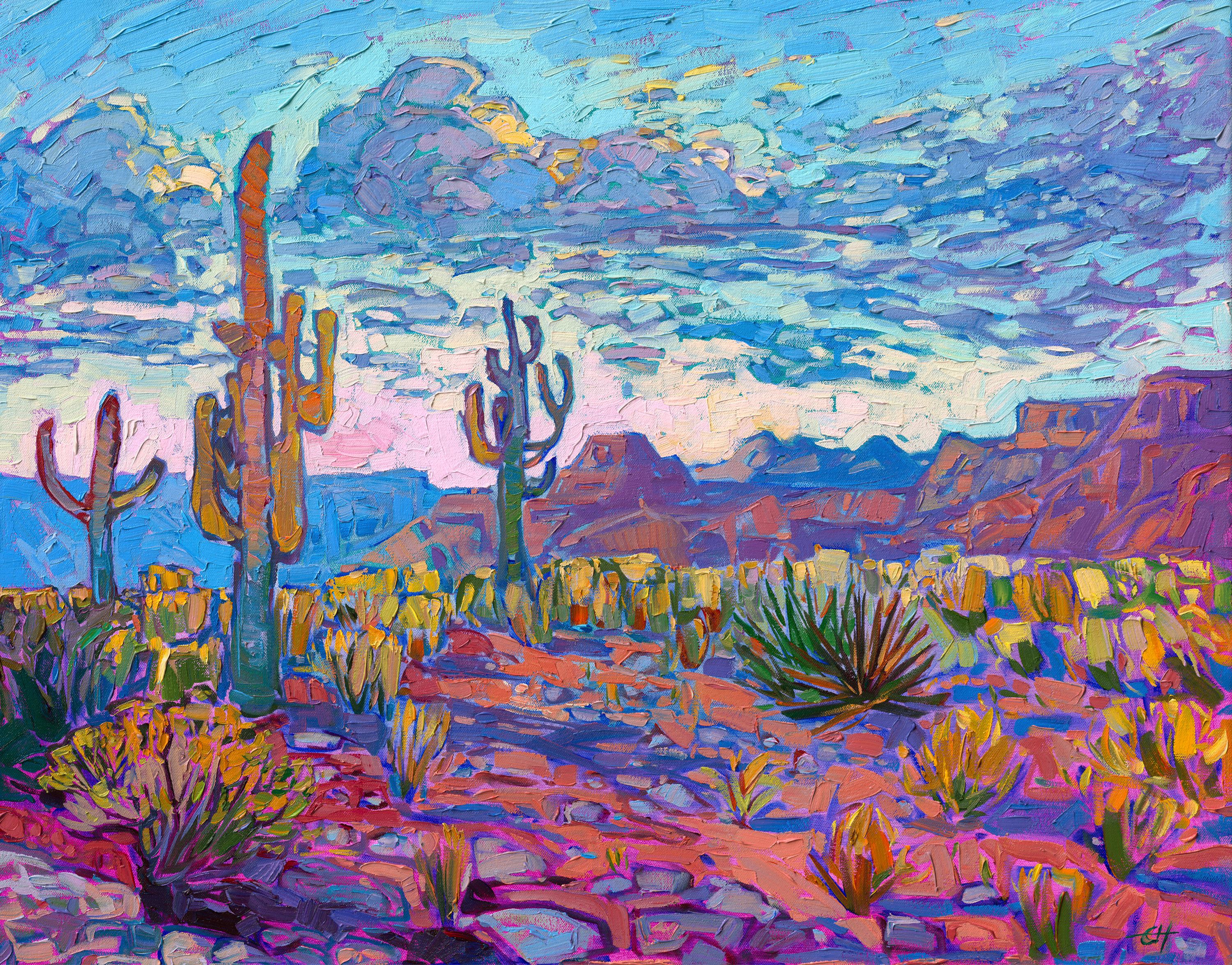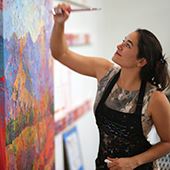 ERIN HANSON has been painting in oils since she was 8 years old. As a young artist, she worked at a mural studio creating 40-foot-tall paintings on canvas, while selling art commissions on the side. After getting a degree in Bioengineering from UC Berkeley, Erin became a rock climber at Red Rock Canyon, Nevada. Inspired by the colorful scenery she was climbing, she decided to paint one painting every week for the rest of her life. She has stuck to that decision ever since, becoming one of the most prolific artists in history. Erin Hanson's style is known as "Open Impressionism" and is now taught in art schools worldwide. With thousands of collectors eagerly anticipating her work and millions of followers online, Hanson has become an iconic, driving force in the rebirth of contemporary impressionism.

---
---