When to Stop Painting
A Note from Erin Hanson
Friday, January 14, 2022
[Interview with Erin Hanson from 2019]
One of the questions I get asked most is, "How do you know when to stop painting?"
After painting over 2,000 oil paintings in the past 13 years, I have developed an innate sense of when a painting is complete. Over and over in my painting career, I have experienced that a painting reaches a "peak" of excellence, and the more I fuss with the painting after that moment, the worse the painting gets. I talk to artists all the time who complain about their paintings getting muddy and overworked. So, I know I am not the only one who has experienced this.
I can't tell you how many times I have picked up the brush again after I had already decided the painting was complete, just to place just one more brush stroke... only to regret it afterward as a mistake.
So, how do I know when a painting is complete? I paint until the work has attained the emotional response I was aiming for, and then I stop. I use enough technical expertise adequate to produce an emotional impact from the painting.
Continuing on the painting past this point, past the point of achieving the communication I set out to create, will only degrade the communication and make it foggy. I want my paintings to be clean, crisp, and joyous -- like I just picked up a brush and painted the whole thing without a pause.
When I reach this point in my paintings, I sign my initials at the bottom, and I have a firm policy to never touch the painting again after the initials are placed. This self-control takes trust in myself, gained from years of experience, as well as a healthy dose of cheerful insouciance.
Would you like to see the results of this policy? View my portfolio.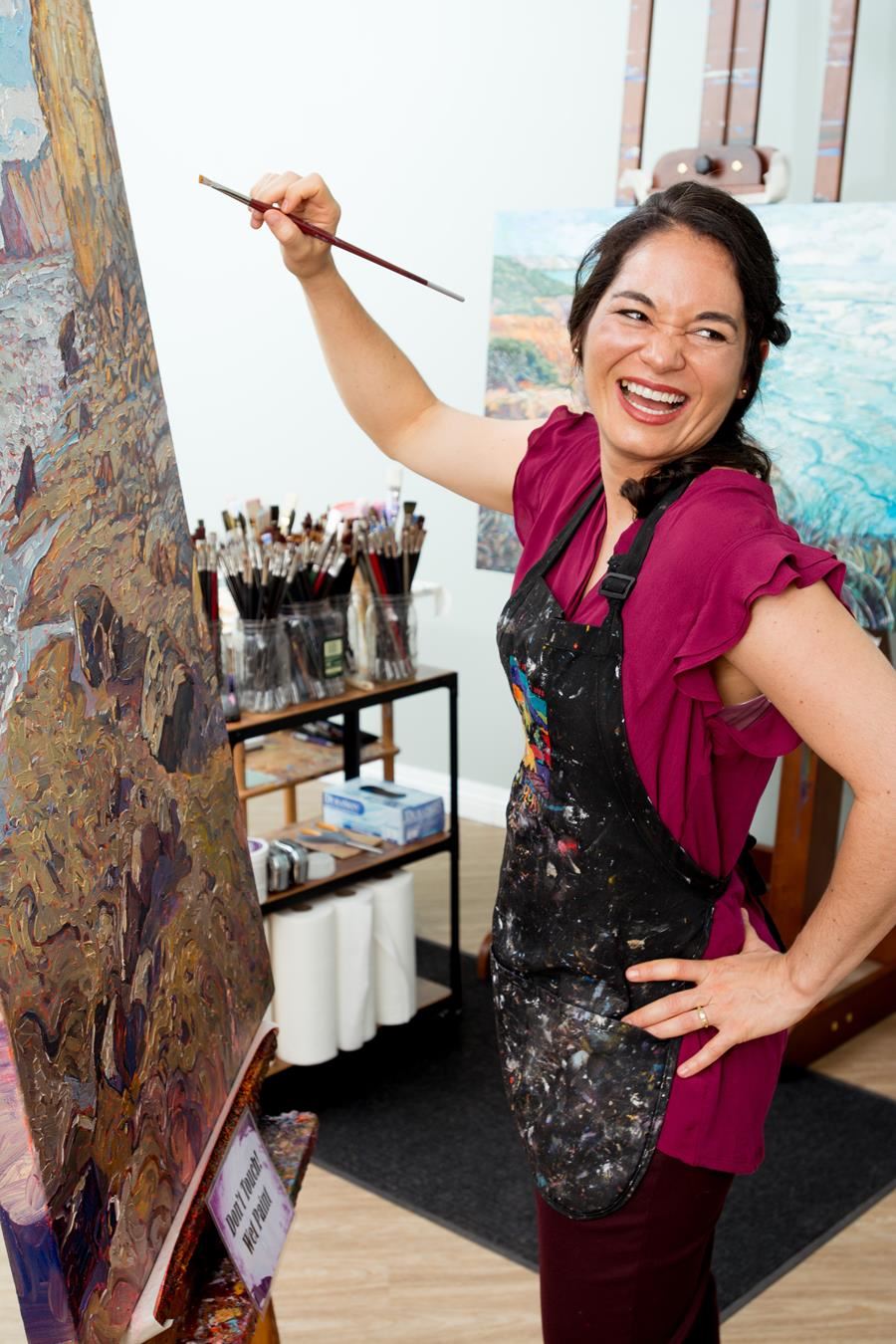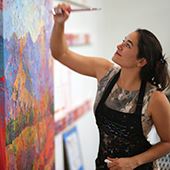 ERIN HANSON has been painting in oils since she was 8 years old. As a young artist, she worked at a mural studio creating 40-foot-tall paintings on canvas, while selling art commissions on the side. After getting a degree in Bioengineering from UC Berkeley, Erin became a rock climber at Red Rock Canyon, Nevada. Inspired by the colorful scenery she was climbing, she decided to paint one painting every week for the rest of her life. She has stuck to that decision ever since, becoming one of the most prolific artists in history. Erin Hanson's style is known as "Open Impressionism" and is now taught in art schools worldwide. With thousands of collectors eagerly anticipating her work and millions of followers online, Hanson has become an iconic, driving force in the rebirth of contemporary impressionism.

---
---