The Erin Hanson Gallery showcases the artwork of American impressionist Erin Hanson. Her bold and vivacious oil paintings focus on natural landscapes inspired by national parks, desert landscapes, wine country, and coastal regions.
Visit Erin Hanson's art studio and fine art gallery located in Oregon wine country. Get a behind-the-scenes tour of her football-field-long gallery facilities and 3D printing operation.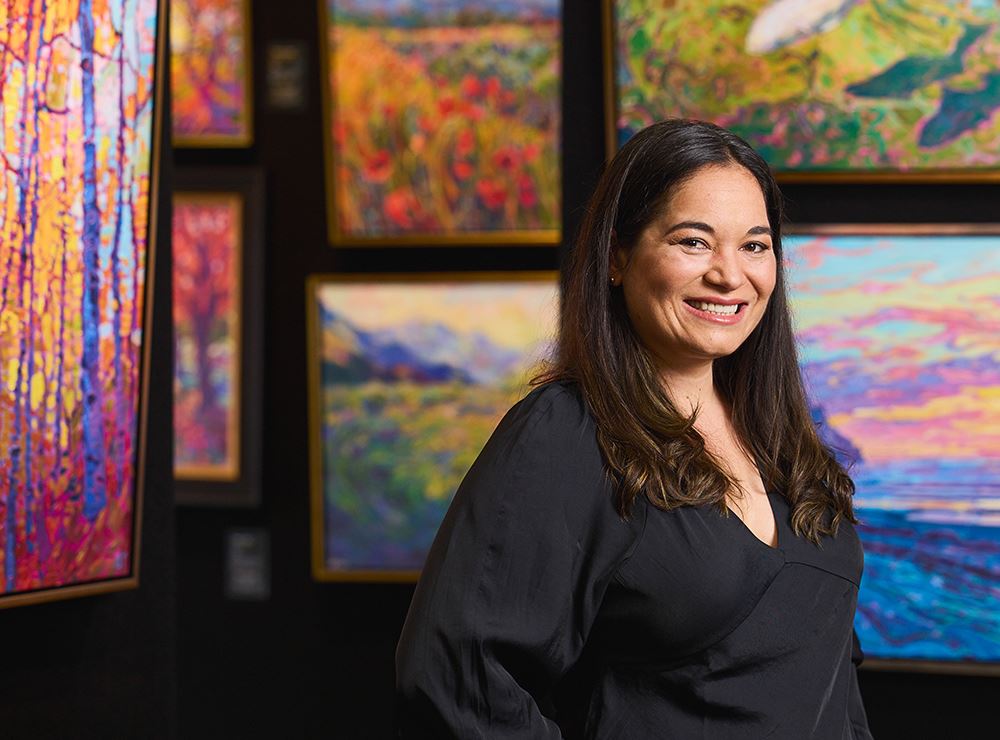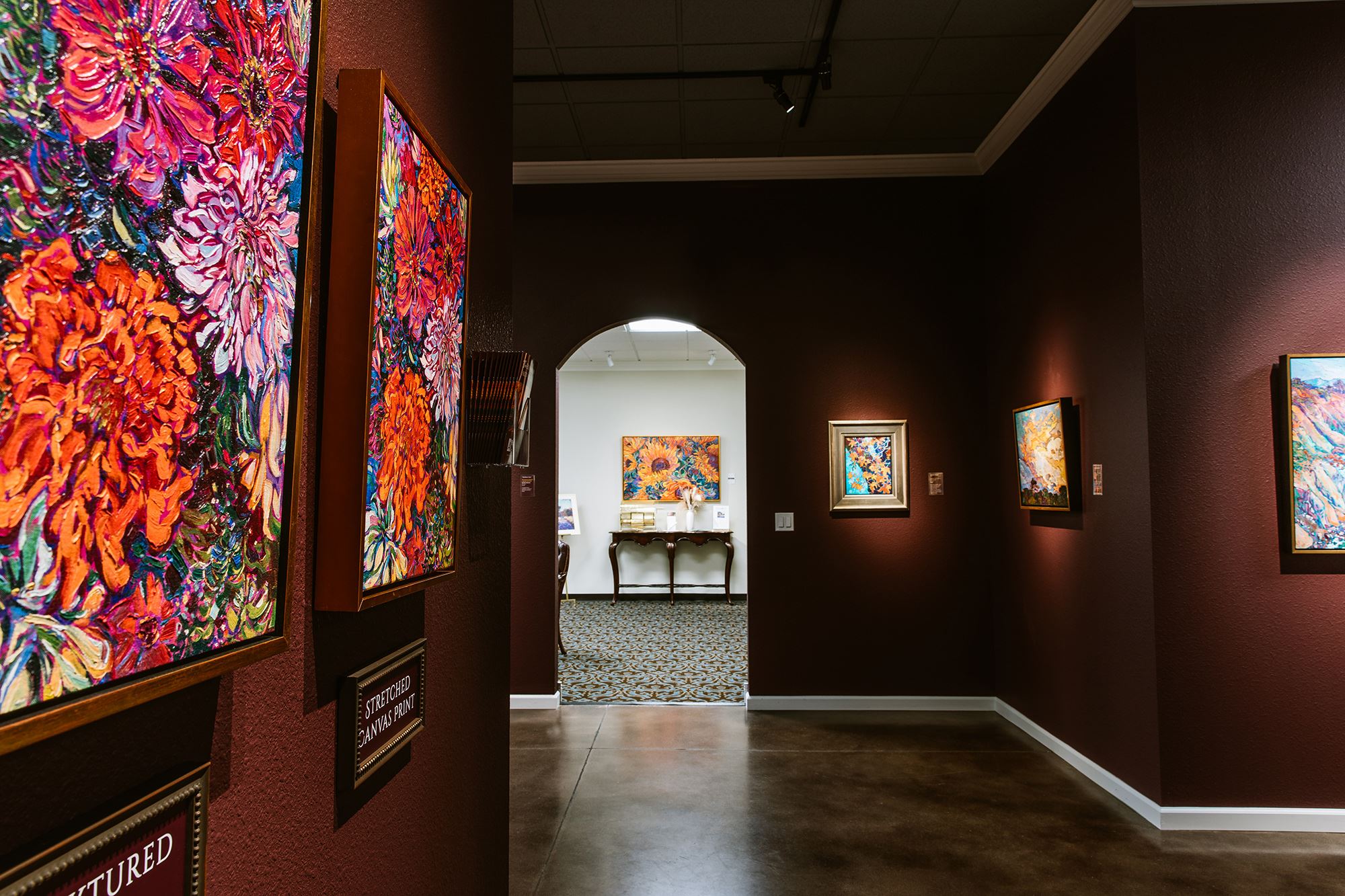 The Erin Hanson Gallery is based in an expansive, 18,000-square-foot warehouse in McMinnville, Oregon, in the heart of Oregon wine country (about an hour southwest of the Portland International Airport.)
The Erin Hanson Gallery in McMinnville is open to walk-in visitors. We would love to see you and give you a tour of Erin's studio and the facilities.
Visitors can tour the showroom gallery, gift shop, Erin Hanson's art studio, the book department, and our 3D scanning and fine art printing facilities. All Erin Hanson prints, textured replicas, and canvas giclees are made here at The Erin Hanson Gallery and ship worldwide. <Read More>

Gallery Events
We host an open house every 2nd Saturday of the month, with complimentary wine and refreshments for visitors. Please contact the gallery to see when Erin's next live painting demonstration will be. We also host Erin Hanson's collection releases a few times every year, including Erin's annual Petite Show during the holiday season.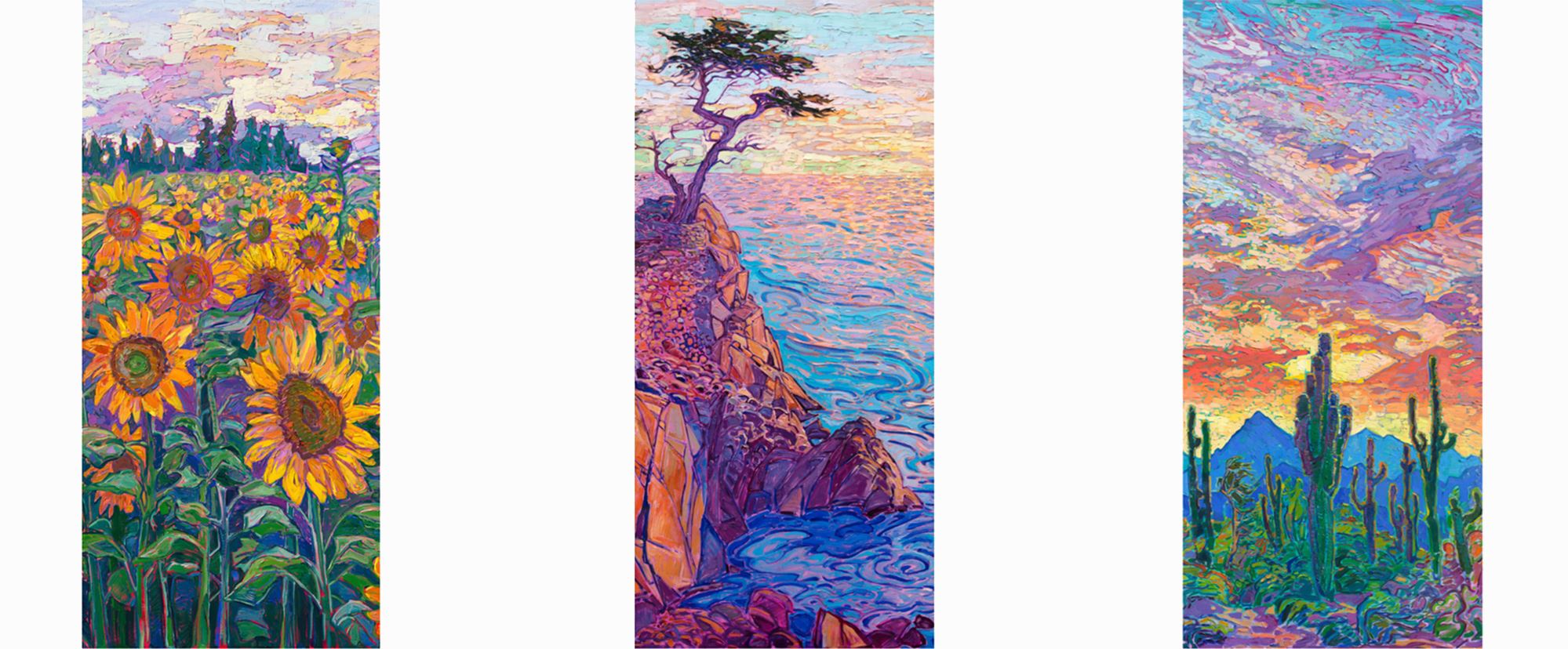 About ERIN HANSON
A blend of modern expressionism and classic impressionism, Erin Hanson's colorful and unique landscape paintings bring new life to the contemporary art scene.
Erin Hanson is a lifelong painter, having begun her practice of oil painting at eight years old. Following her graduation from UC Berkeley in 2003, Hanson decided to pursue her artistic passion full-time and made a pact with herself to create one painting every week to hone her skill and fluency in oils. She has never broken this promise and has since emerged as one of the most prolific and recognized landscape painters of our time.
Galvanized by the beautiful scenery encountered while rock climbing in the high desert country of the American Southwest. Hanson's initial métier was focused on depicting the dramatic vistas of this region. In 2010, a trip to Paso Robles began her love affair with the lyrical beauty of California's wine regions, which later spread to embrace the diverse landscapes of Texas, the Northwest, and further locales such as Kyoto, Japan.
Hanson is the pioneer of Open Impressionism, a unique style of her own that blends elements of classic Impressionism with modern Expressionism. Her oil paintings have garnered international critical acclaim and often sell before the paint is even dry.
<Click to Learn More>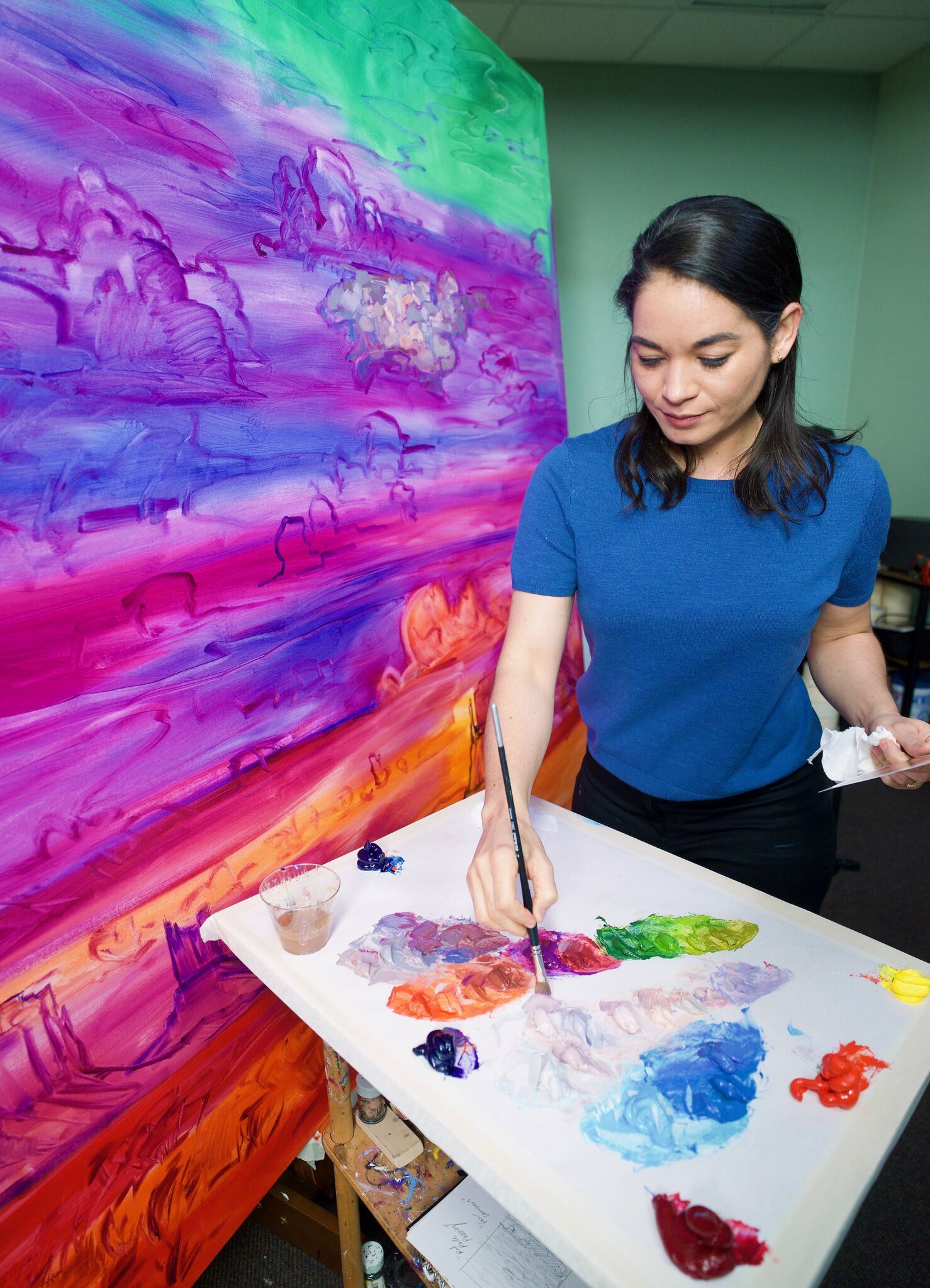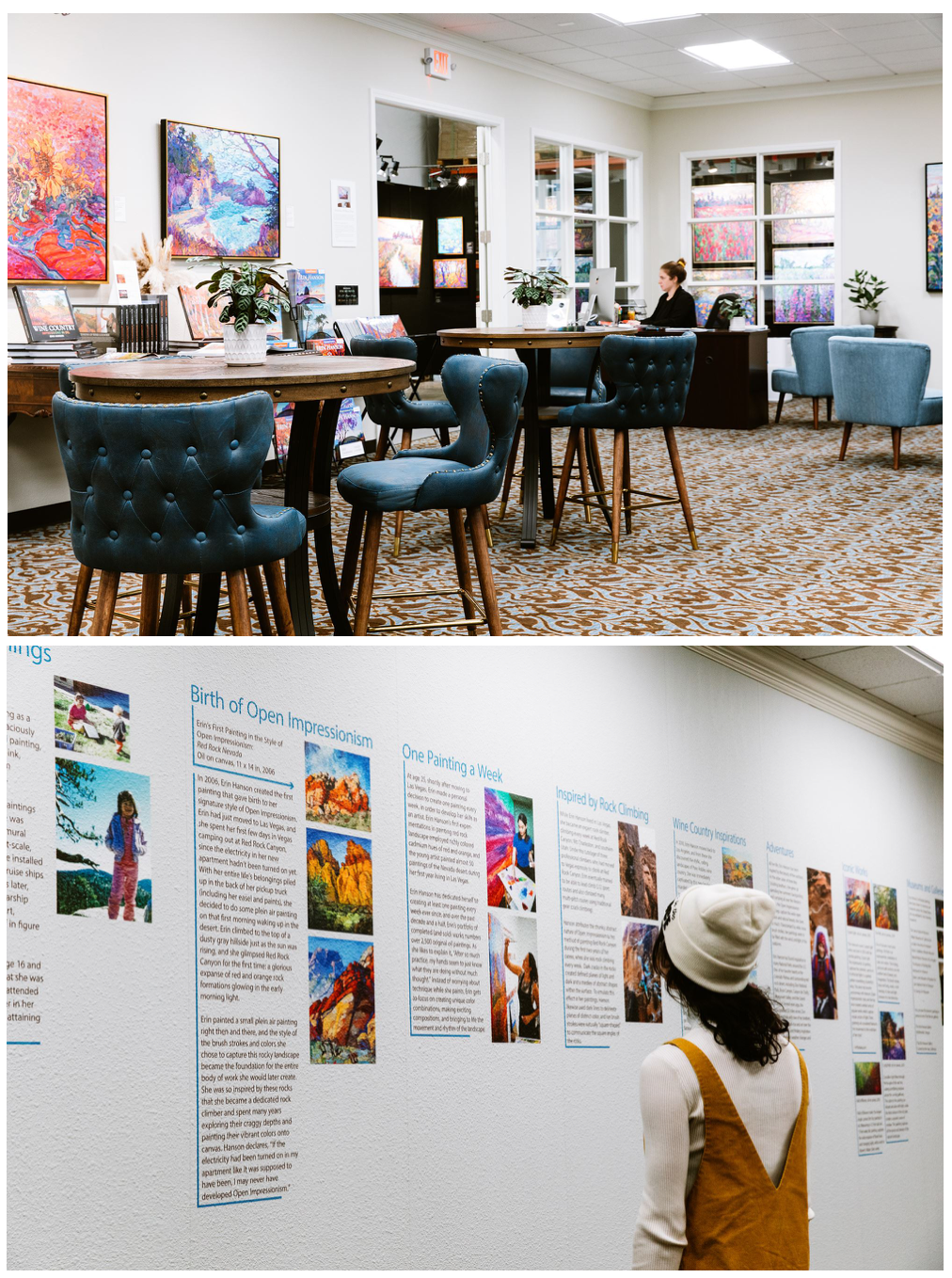 Tour the McMinnville Gallery

Did you know that The Erin Hanson Gallery in McMinnville was built so that Erin Hanson can control the quality of every print we sell? It's a remarkable setup - and one that we encourage visitors to tour when they come to experience Erin's paintings in person.

We know that not everyone can make the visit to Oregon, so we've recreated a gallery and warehouse tour for you here!

<CLICK to EXPLORE>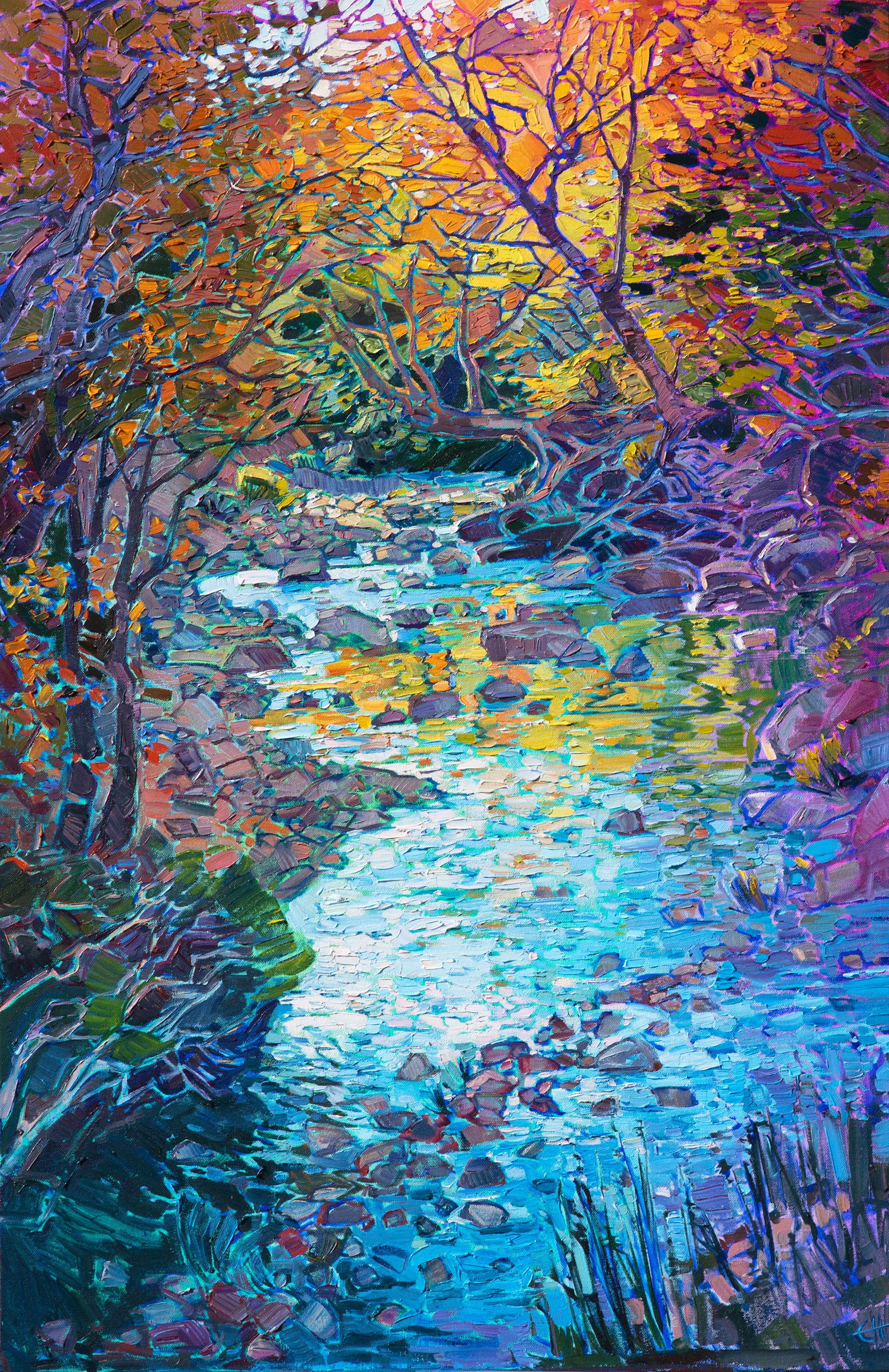 Discover a Modern Style of Impressionism
In the spirit of Monet, van Gogh, and other artistic pioneers, Erin Hanson emerges as a true master of Impressionism, fusing tradition with innovation. With her ingenious style, Open Impressionism, she harnesses the very essence of colors, using them as a conduit for evoking profound emotions. Through the skillful use of textured oil paint strokes, she conjures an enchanting sense of movement that brings her canvases to life. With each bold stroke of thick oil paint, she orchestrates a symphony of movement, breathing life into her masterpieces. The intricately separated brushwork she employs creates a mesmerizing stained glass effect, capturing the dance of crystalline light in every corner of her canvas. Erin Hanson's artistic journey celebrates the boundless beauty of the natural world, kindling joy and inspiration in the hearts of the masses.