Purchasing Prints
Wednesday, September 19, 2018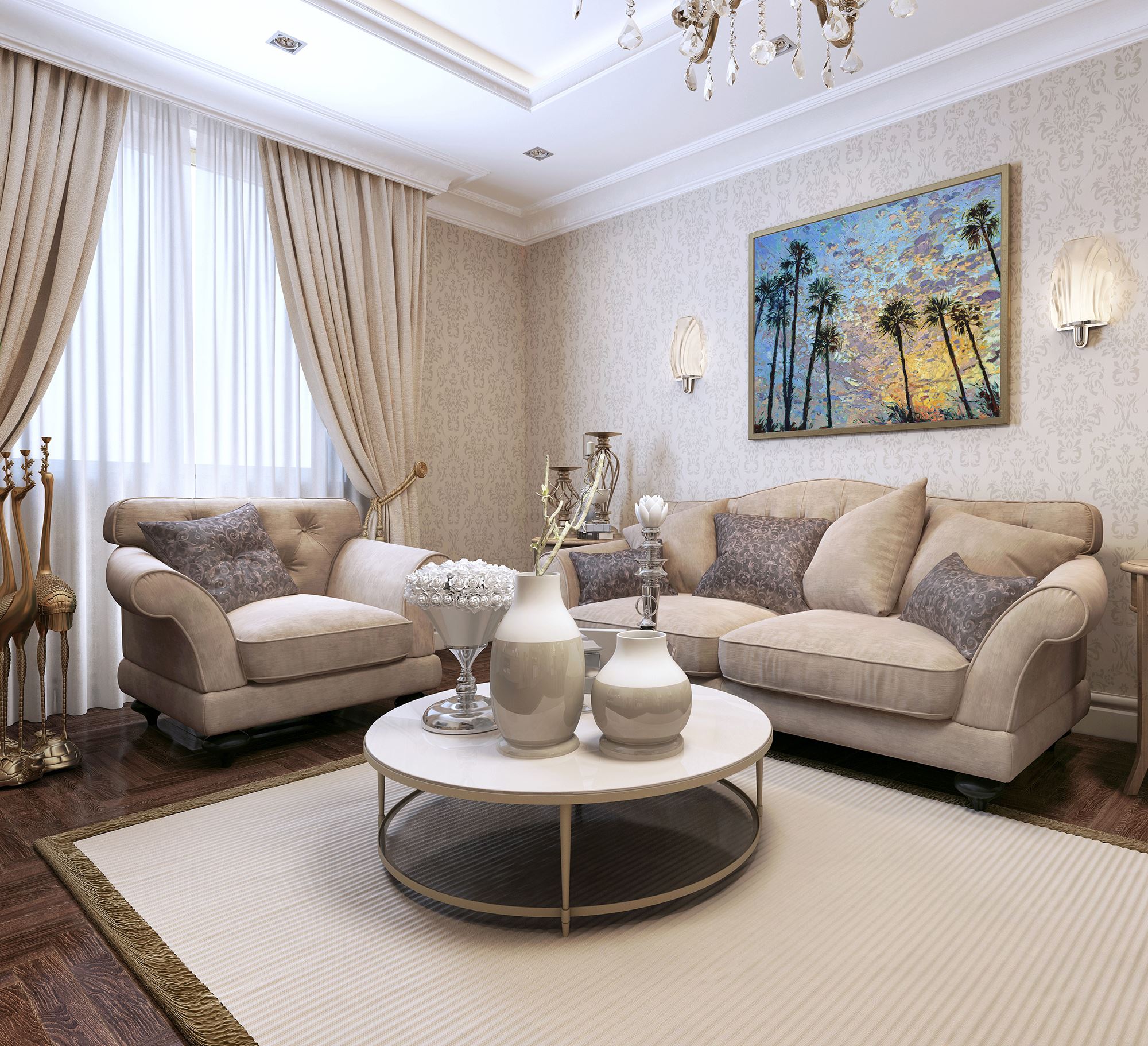 Open Impressionism
Open Impressionism is a new style and movement that has sparked a fresh enthusiasm for impressionism and natural beauty in the contemporary art world. Developed by Erin Hanson, Open Impressionism is now taught in art schools and colleges around the world. With half a million views online every week and over a hundred thousand followers on social media, Hanson's images continue to inspire and influence the way artists view the world.


About Erin Hanson Prints
Erin Hanson offers fine art prints directly to her fans and collectors, at www.erinhansonprints.com. Hanson experimented with many print media and decided on the print options that most closely capture the look of her originals. All her prints are created on canvas, with a medium-gloss finish that looks like a lightly varnished painting. These stretched canvas prints do not need to be framed behind glass; they are best displayed in a floater frame.
Erin Hanson personally photographs each one of her paintings to ensure accurate color representation. Colors may vary slightly from what you see on a computer screen, but the colors are accurate when viewed on an iPhone.
Hanson's prints are not embellished, so there is only the illusion of texture, as captured in the photograph. The optical illusion is strong, and many can't tell they are looking at a print, even when standing only a few inches away. The same photograph you see on the screen is the photograph used to create the canvas print.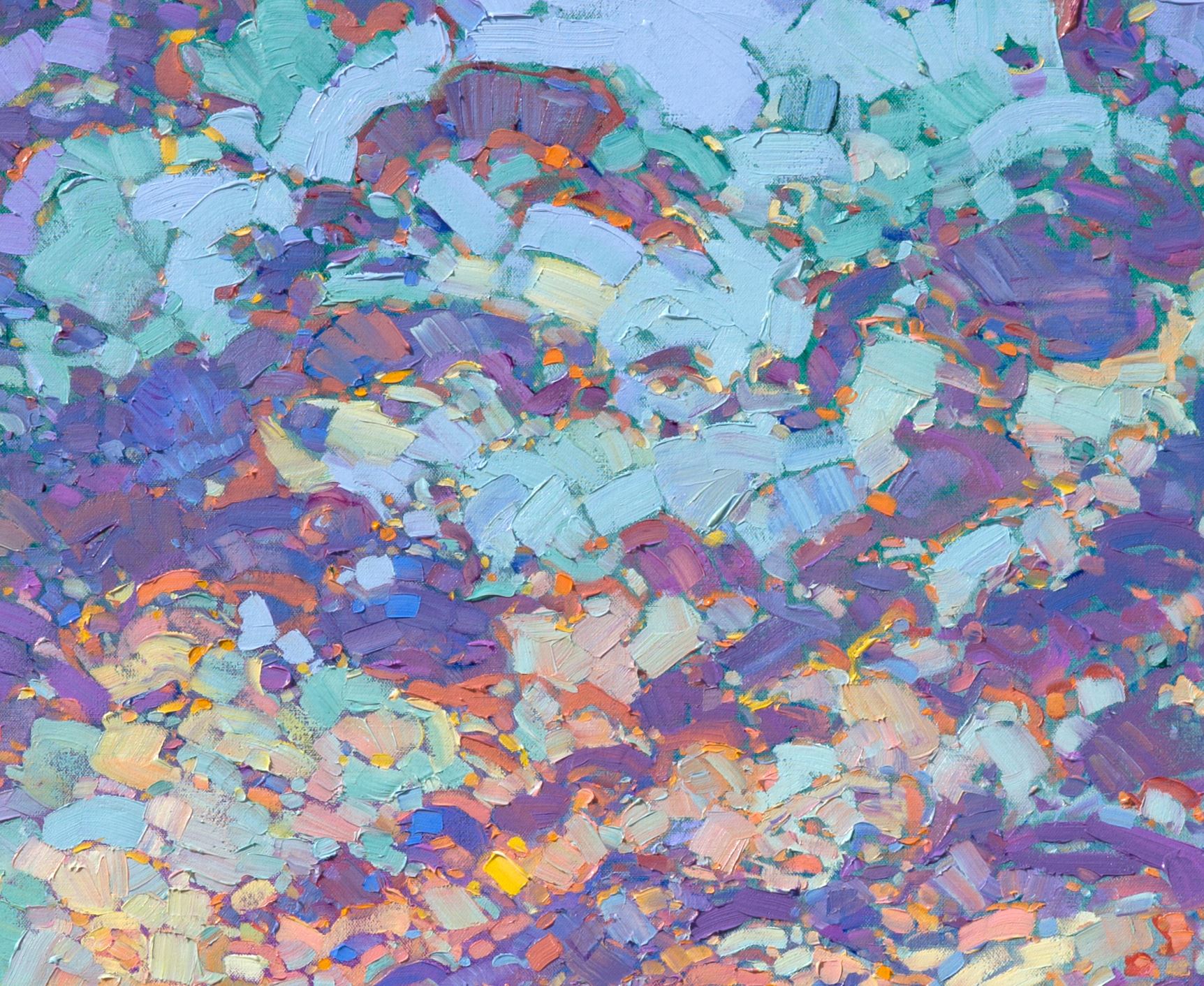 Custom Print Options
Every Erin Hanson print is custom made to order, based on the size and frame of your choosing. We offer a variety of sizes on the website, and we offer custom sizes as well. Just let us know what you need and we can create it for you.
We offer several colors of floater frames, pictured below.

You can also purchase the print unframed, or as a canvas roll. When you order the print unframed, the sides of the canvas will be printed black. Hanson does not print using "mirror wrap" edges, since this distorts the image when viewed from the side. The black-printed edges create a clean edge when the print is framed in a floating frame.
Please note, the frame adds 1.5" to the dimension of the print.
Erin Hanson's open edition prints are not hand-signed, but the replica of the signature can always be seen in the corner of the print. For hand-signed prints, please take a look at our limited edition prints.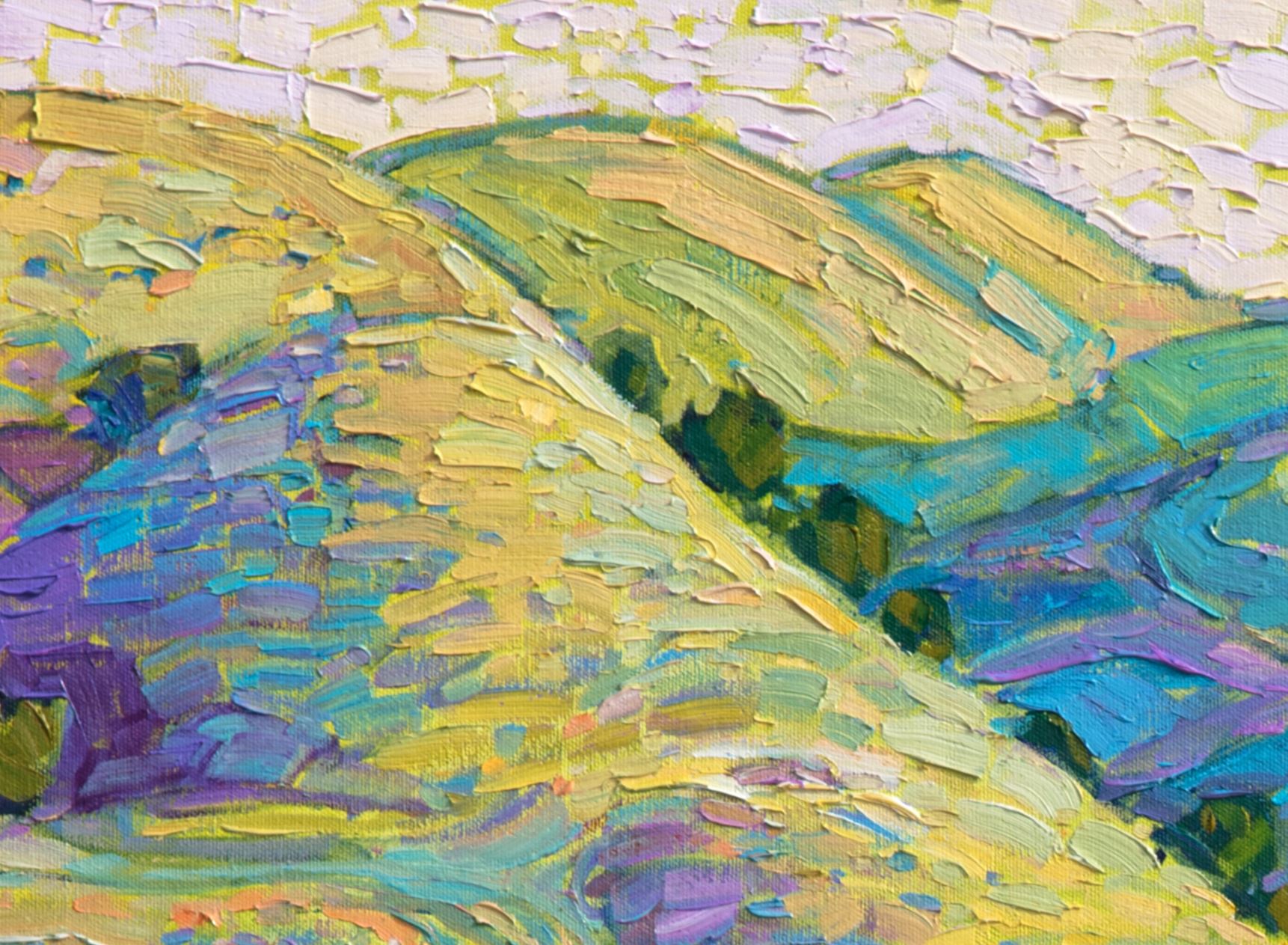 Limited Edition Prints
If you want an extra-special Erin Hanson print, you might be interested in our limited edition prints. We only offer a selected few paintings as limited edition prints. Each painting is special for some reason, like the painting that had the most views on social media over a 5-year period, or the painting that made the cover of one of Erin's books. Take a look at this blog to discover which prints were selected and why!
EH (Erin Hanson) Limited Edition prints are created in the same dimensions as the original oil painting, so the brush strokes are exactly the same in the original. Erin hand-signs and numbers each print with a brush dipped in gold enamel paint. You also receive a Certificate of Authenticity with your print (also signed by the artist.) Each print edition is limited to a run of 200 prints.
Because Erin Hanson has to personally sign these prints, please allow an additional week for processing. You should receive your limited edition print within 3 to 4 weeks.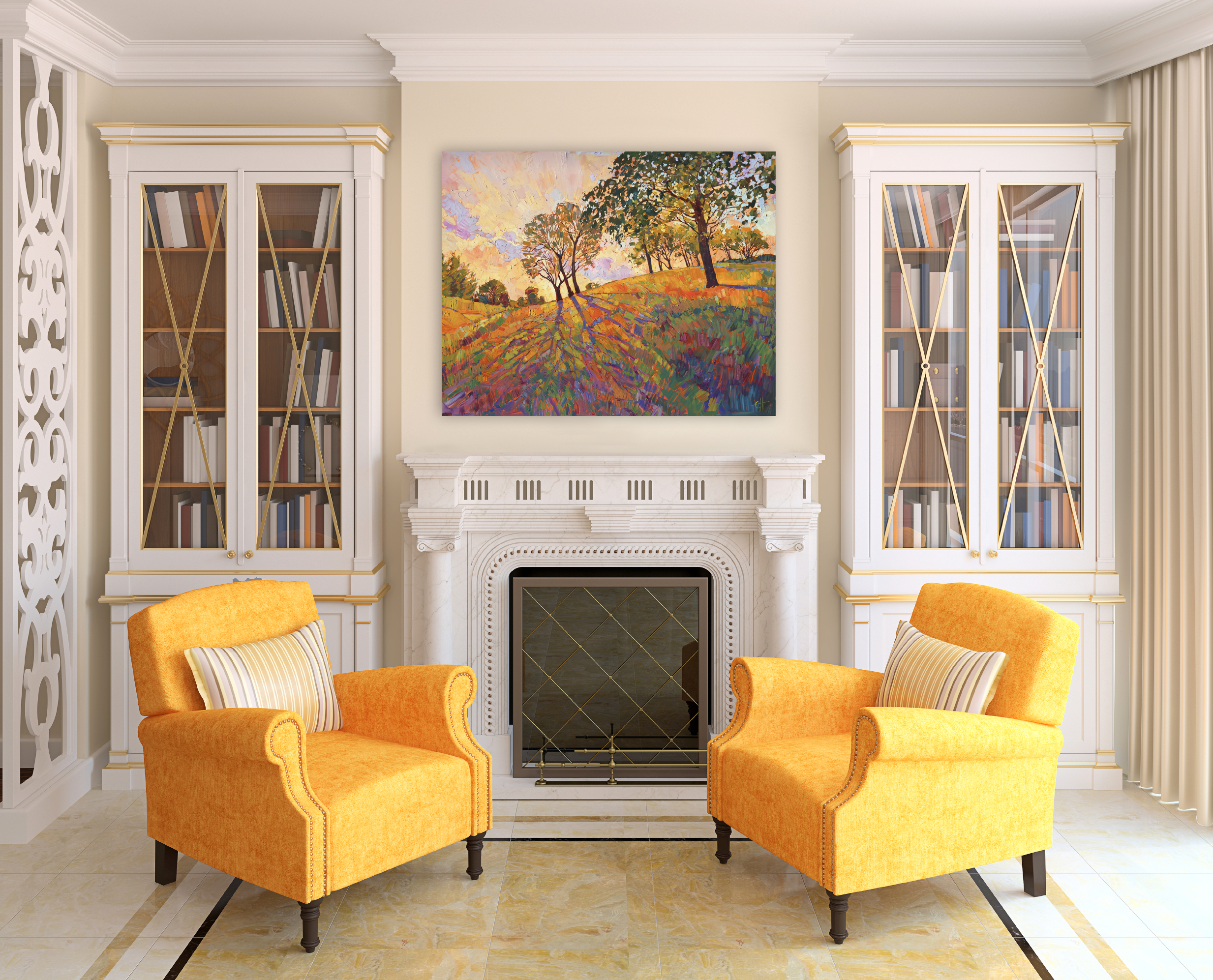 Shipping Prints
Your print will be safely packed in a cardboard box and shipped via FedEx. We will email you the tracking number when it is ready. We do not require a signature upon delivery, so if you need a signature required, please let us know.
Prints delivered to the United States usually arrive within 2 weeks. We recommend shipping prints rolled when delivering overseas, to save on shipping costs.

Return Policy
Every Erin Hanson canvas print is made to order. We offer a 30-day exchange policy, where you can return the print for any reason within 30 days, and we will send you a different print as a replacement. If you wish to exchange your print, you are responsible for paying the return shipping, and the print must arrive in good condition for an exchange to be processed. We do not offer refunds on prints.

Exchanges can be sent to:
The Erin Hanson Gallery
9705 Carroll Centre Road, Suite 102
San Diego, CA 92126

If your print arrives damaged in any way, please email prints@erinhanson.com, and a replacement will be sent to you immediately.

Caring for Your Print
Erin Hanson prints are created using the finest archival inks available. There is also a UV semi-gloss coating protecting the surface of the print. Like any print, you want to keep the surface away from direct sunlight. If your print gets dirty, you can wipe it gently using a lightly damped microfiber cloth.


Customer Service
You can reach us 7 days a week at The Erin Hanson Gallery if you have questions about your order. Call (858) 324-4644 to speak with Amy Jensen, or email us at prints@erinhanson.com.
We accomodate custom order requests, so please don't hesitate to ask!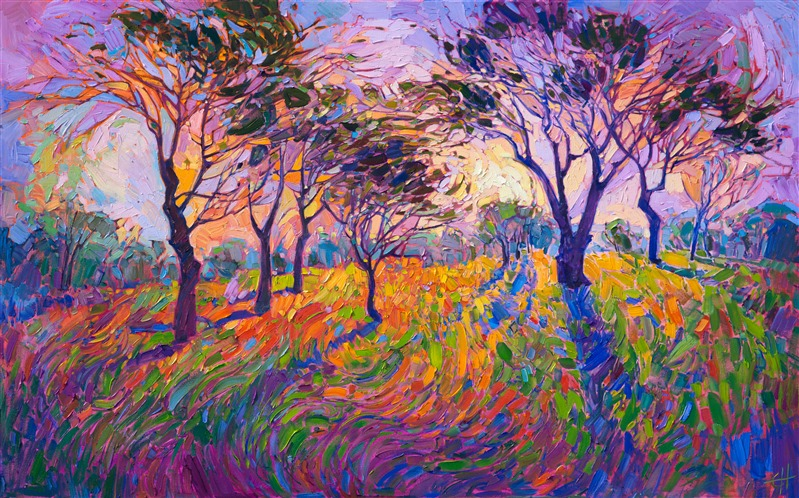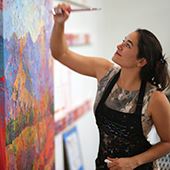 ERIN HANSON has been painting in oils since she was 8 years old. As a young artist, she worked at a mural studio creating 40-foot-tall paintings on canvas, while selling art commissions on the side. After getting a degree in Bioengineering from UC Berkeley, Erin became a rock climber at Red Rock Canyon, Nevada. Inspired by the colorful scenery she was climbing, she decided to paint one painting every week for the rest of her life. She has stuck to that decision ever since, becoming one of the most prolific artists in history. Erin Hanson's style is known as "Open Impressionism" and is now taught in art schools worldwide. With thousands of collectors eagerly anticipating her work and millions of followers online, Hanson has become an iconic, driving force in the rebirth of contemporary impressionism.

---
---