Commissions
HOW TO COMMISSION AN OIL PAINTING

Erin Hanson can capture the beauty of the outdoors in a custom painting for your home. Erin's impressionistic works capture nature's magical light and vibrant colors. Do you want to commemorate a landscape that has special meaning for you? Perhaps you want to capture your travel adventures in an impressionist painting that will rekindle fond memories. An Erin Hanson original oil painting is something to treasure for a lifetime and pass on for generations.
To start the commission process, email us some photos you have taken of the location you wish Erin to paint. We can start a dialog about what size painting you want, what colors you love, and what type of frame you want. Your photos need not be spectacular -- Erin can create magic from ordinary phone snapshots.
The next step is to submit a commission proposal to Erin Hanson to see if she wants to take on the project. You have no obligation up front, and no deposit is required. The commission proposal includes the agreed-upon price for the commission, which is payable in full only if you love the finished painting.
Erin does not re-create past paintings nor use her other works as references. When painting commissions, Erin works from photos her clients provide or she will use photos she has taken in the field. With her Open Impressionism technique, she can turn nearly any photo into an impressionist masterpiece that is alive with color, depth, and motion.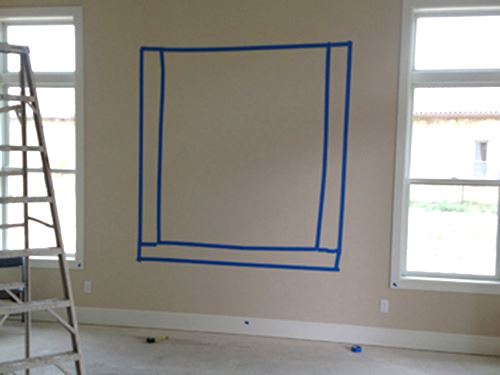 What Size Painting?
Try using masking tape to decide what size painting would work best in your home. Walk around your space and see the wall from different angles. Where will you primarily be when enjoying your new artwork? Remember to incorporate the size of a frame. Erin likes to frame her work in burnished gold or silver floater frames that add 2" to the dimensions of the painting itself.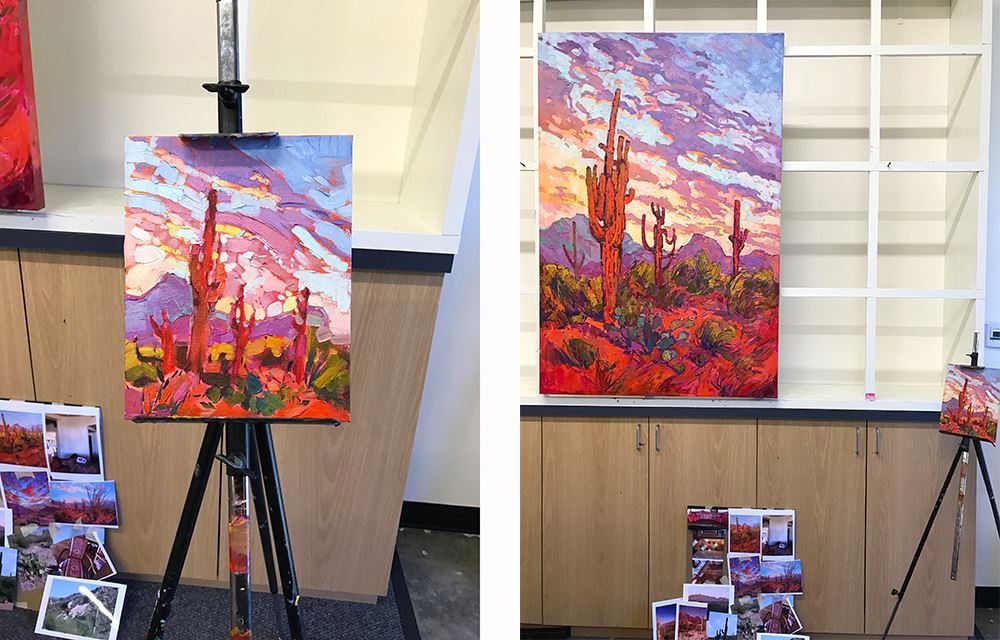 Painting Sketch
Erin Hanson will often create a commission sketch for you to approve before beginning the commission. The sketch may be a pencil sketch or a painted sketch, depending on the commission.

Examples
SCROLL DOWN FOR COMMISSION EXAMPLES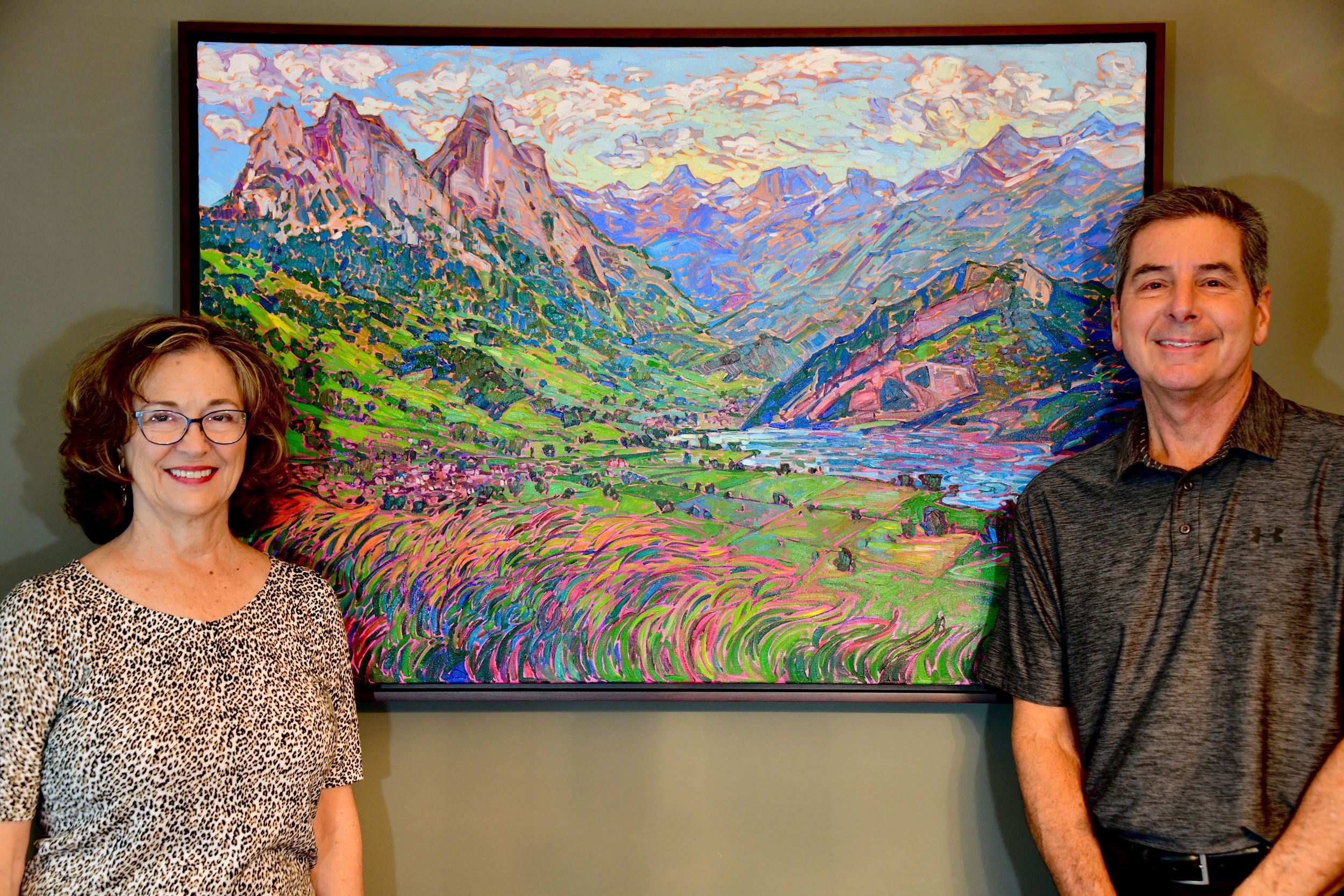 A Commission Steeped in Family History
"As a teenager, my family was stationed overseas in Europe. We traced our roots back to a small village in Switzerland named Steinen. We located our family crest carved into the posts of the town's courthouse, indicating our ancestors as one of the original founding families of the village many centuries earlier. Fifty years later, my wife and I traveled back to Switzerland in order for her to also experience the area and its intrinsic beauty.

"Photographs just didn't seem adequate to memorialize the scene of this small, quaint Swiss settlement. We decided to send numerous photos of Steinen to Erin Hanson, whose artwork we own and whose style we admire. Erin undertook a commission and drafted a small painted sketch for our review. She actively solicited our feedback and suggestions regarding content and landform accuracy since she was painting from a compilation of images. Following our approval, she proceeded in her unique style to convey this beautiful setting to canvas with the village, lake, landmarks and meadows, and the majestic Alps as the backdrop. It is a special piece of artwork that has so much meaning to our family and which will be an heirloom for future generations." - J.&A.S.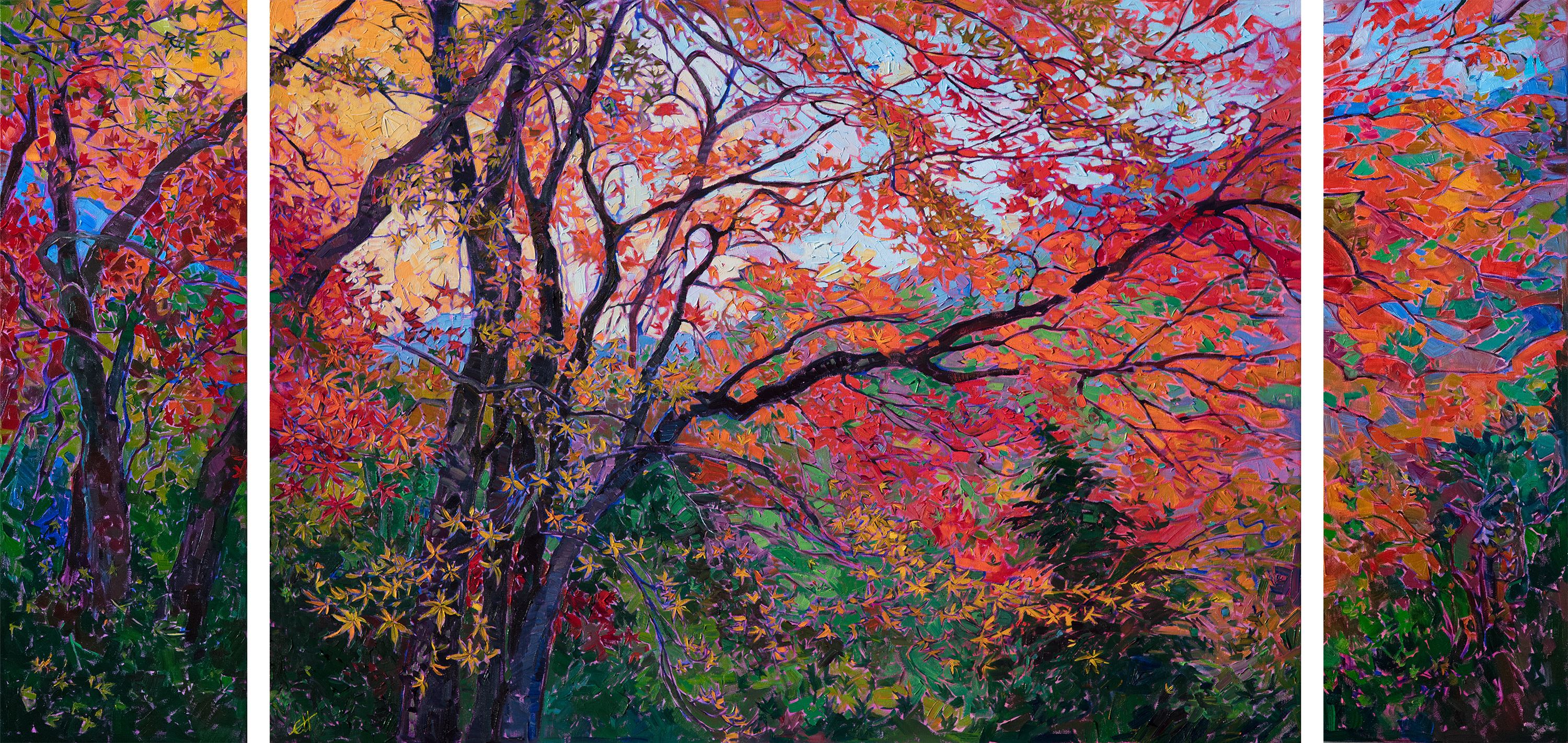 Painting Too Small?
Are you in love with a painting, but it is too small for your wall? In this commission example, Erin took an existing painting, Dance of Autumn, and made it longer by adding two side panels, turning the painting into a triptych. (She has actually done this with several other pieces as well!) Fortunately, Erin is a master at color-matching, and she was able to flawlessly match the colors in the original piece.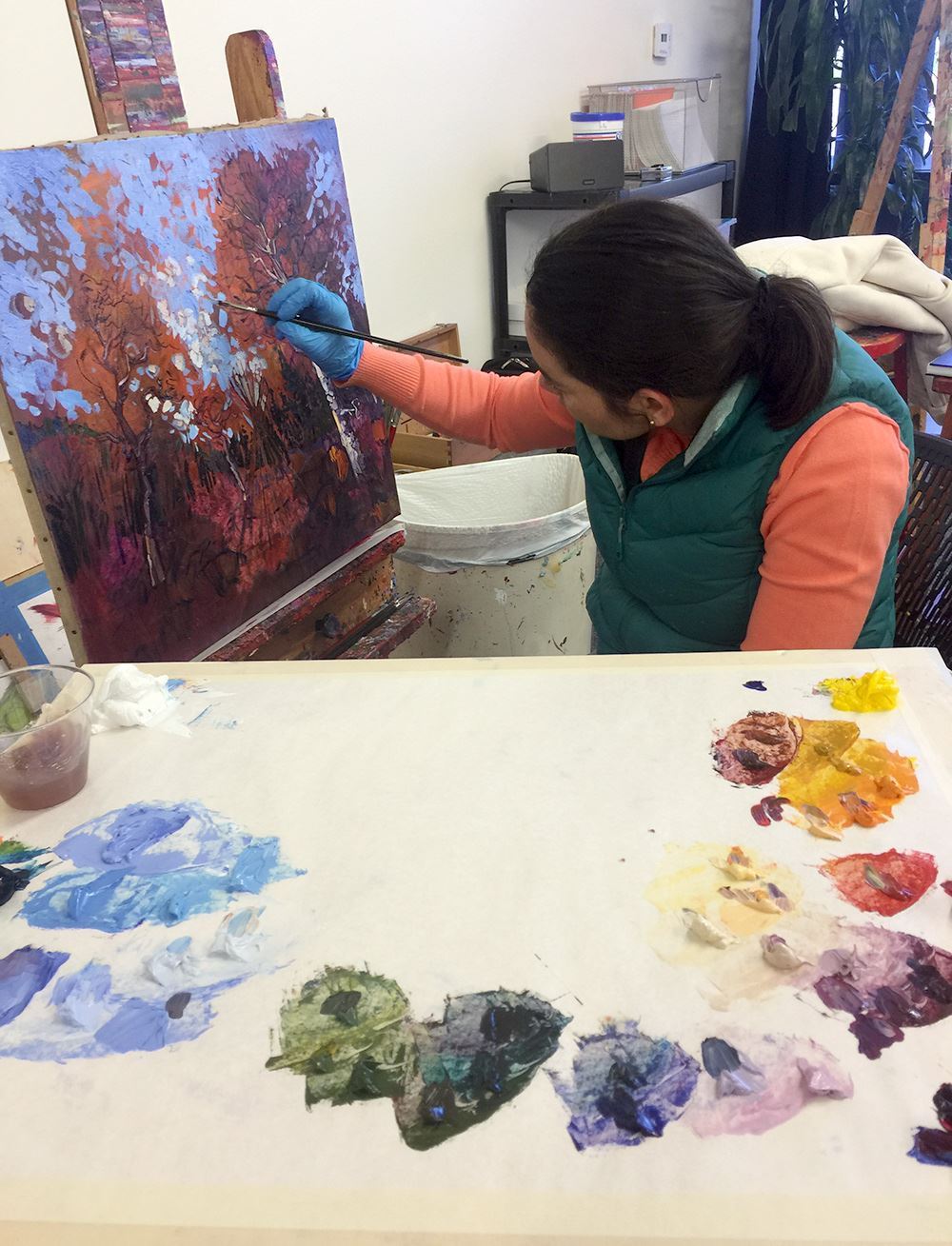 A Hidden Painting
Erin was once approached via email with the subject line, "The craziest request that you have had to date." The customer had inherited a WW2-era painting that he had never liked; however, he wanted to keep the painting for sentimental reasons. He thought Erin could paint over the canvas and keep the old painting hidden underneath.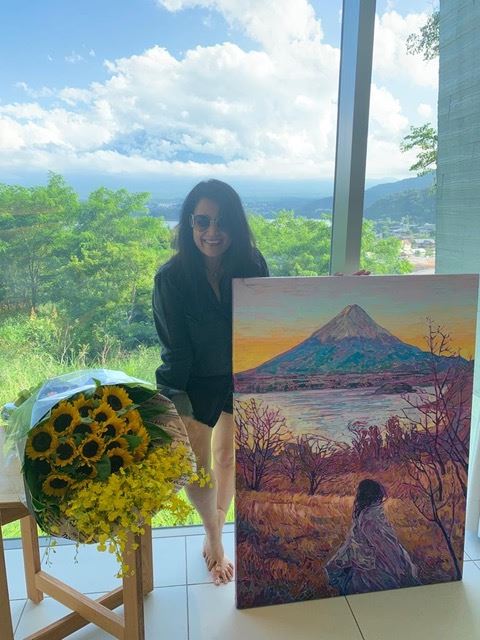 A Memorable Birthday Gift
Recently Erin finished a commission of Mt. Fuji, Japan. The collector came to her with a sweet and inspiring story: the painting would be a gift for his wife for their 50th wedding anniversary. Many years earlier, they had spent a memorable vacation on Lake Kawachugi, across from Mt. Fuji. After they had arrived, they waited all day to see the famous mountain, but the thick fog prevented them from seeing across the lake. Finally, early the next morning, the fog cleared, and the sun rose across a bright, crisp vista. The husband woke up his wife, and she came out onto the balcony wrapped in a sheet. Together they watched the sun rise over the distant volcano. It was a spiritual moment they never forgot.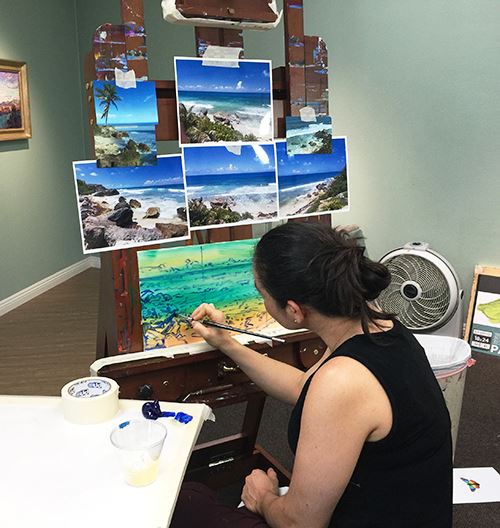 Reference Photos
Feel free to share an abundance of photos with Erin for her to use as references. Erin can combine photos, shift elements like flowers and trees around, remove people or buildings, etc. Erin often uses several photos to create the perfect composition that will capture the dramatic beauty of the landscape.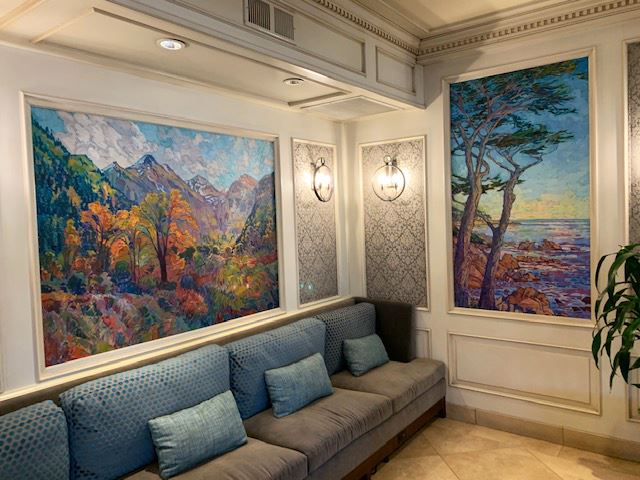 Wallpaper Oil Paintings
Erin Hanson was commissioned to create three large oil paintings for a new Ayres hotel in Seal Beach. The challenge: the paintings had to be painted on rolled canvas and applied like wallpaper directly onto the wall. The interior designer was replacing existing murals that had been painted directly onto the wall and were framed with pieces of molding nailed into the wall itself. The installation was successful, and the result was beautiful!