Erin Hanson's Painted Parks at the St. George Art Museum
National Park Service's Centennial Celebration in Art
Thursday, January 14, 2016
"And this, our life exempt from public haunt, finds tongues in trees,
books in running brooks, sermons in stones, and good in everything.
"One touch of nature makes the whole world kin."
William Shakespeare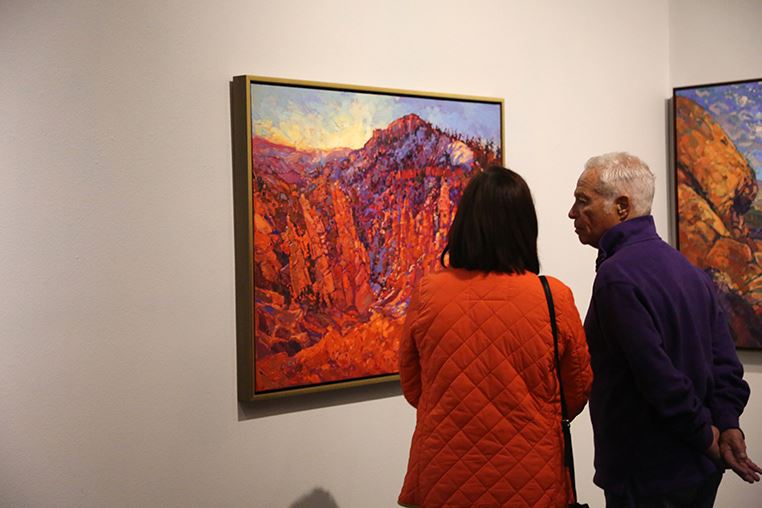 "This collection of oil paintings is drawn exclusively from rock climbing,
hiking, and backpacking trips I have done throughout the Western states.
I plan several trips every year to explore and re-explore my favorite parks,
including Joshua Tree, Zion, Bryce, Cedar Breaks, Canyon de Chelly,
Monument Valley, Arches, Canyonlands, and all the beautiful Parks in between.
No matter how many times I have been to a park, when I wake up in the campground
or in a bivy sack in a backcountry camping spot, I feel a complete
sense of joy and overwhelming awe of my surroundings.
I get back from each trip with thousands of photos that I use to try to
re-capture these moments of peace and beauty on the canvas."
Erin Hanson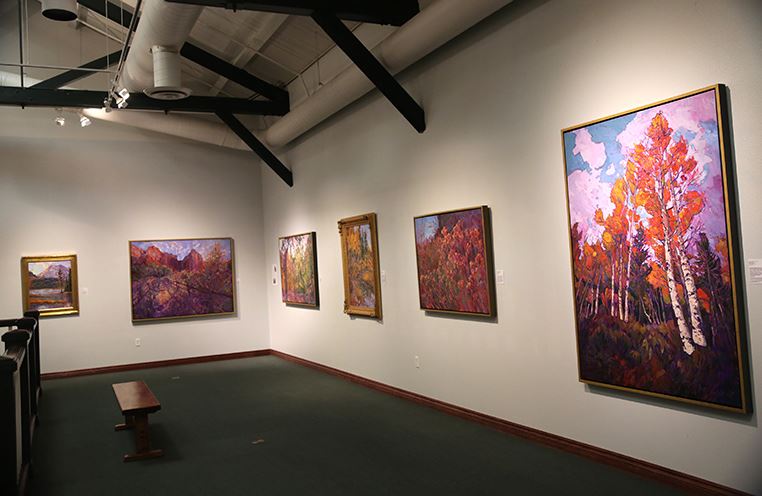 Erin Hanson's Painted Parks
January 16th - May 28th, 2016
10% of all painting sales will be donated to Zion National Park.

St. George Art Museum
200 North 47 East
St. George, Utah 84770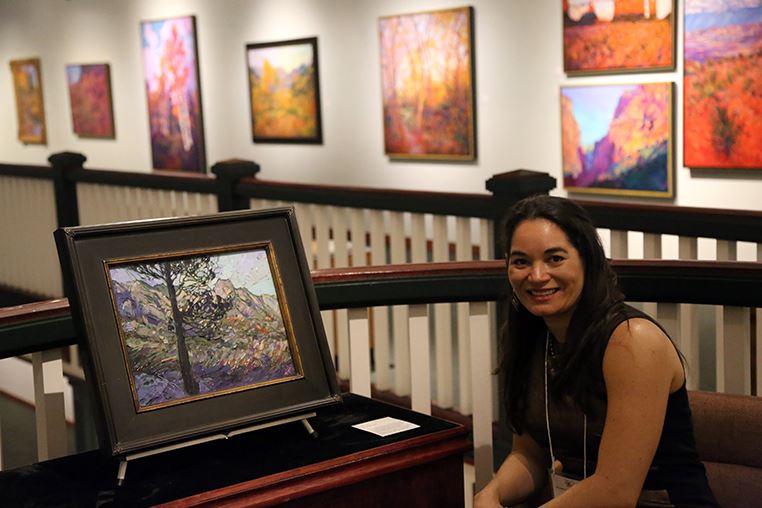 "I have always considered landscapes to be the most beautiful thing
I could paint, from stark mountain peaks to dramatic canyons to sunlight
glittering through trees. Exploring these landscapes for a few days'
backpacking or camping trip would be something I would plan for months
in advance, and as soon as it was over I would
eagerly begin planning the next escape."
Erin Hanson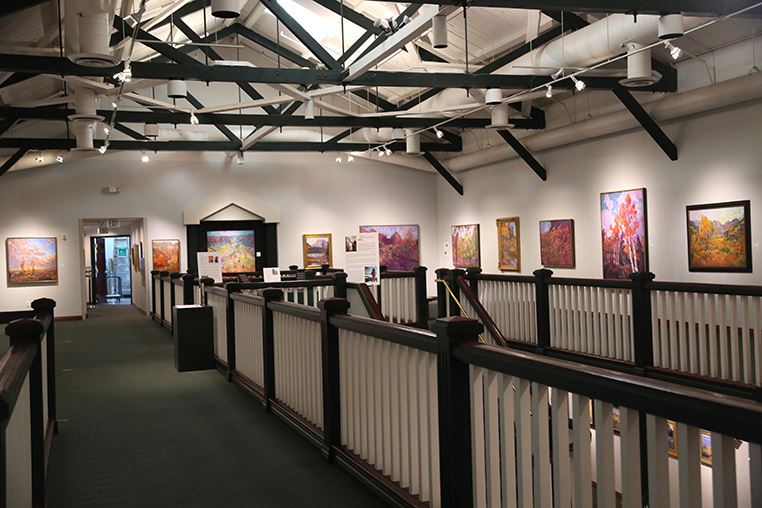 "I have always enjoyed the physical exertion that let me attain amazing
mountain heights and views that only the most adventurous could achieve."
Erin Hanson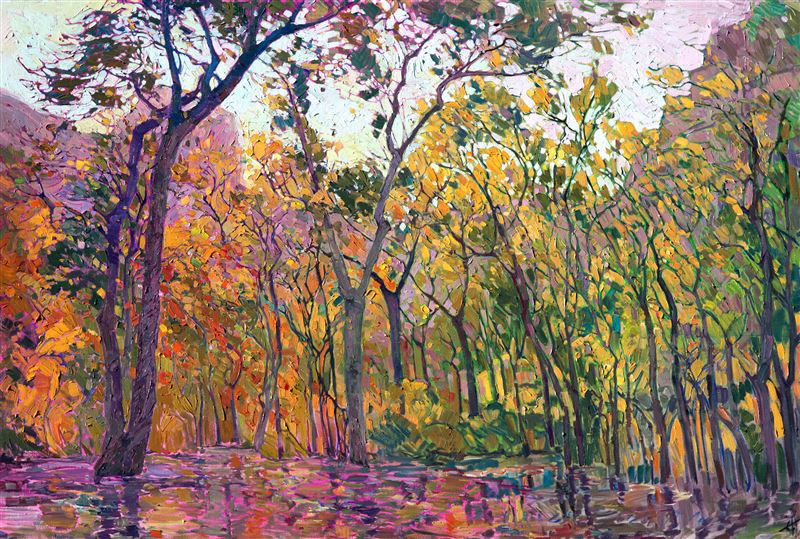 For Additional Exhibition Information Visit:
https://www.erinhanson.com/Event/ErinHansonMuseumShow2016

The National Park Service turns 100 on August 25, 2016! The Centennial will kick off a second century of stewardship of America's national parks by engaging communities through recreation, conservation, and historic preservation programs. Join the celebration to explore, learn, discover, be inspired, or simply have fun in over 400 national parks.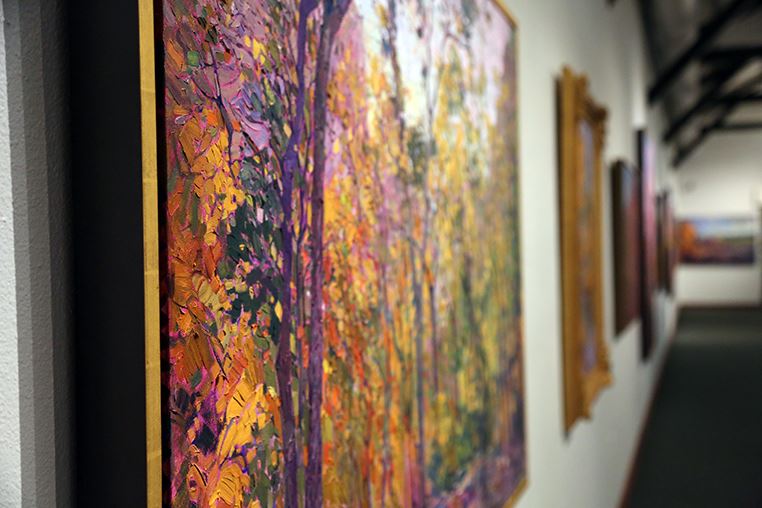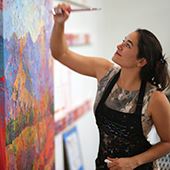 ERIN HANSON has been painting in oils since she was 8 years old. As a young artist, she worked at a mural studio creating 40-foot-tall paintings on canvas, while selling art commissions on the side. After getting a degree in Bioengineering from UC Berkeley, Erin became a rock climber at Red Rock Canyon, Nevada. Inspired by the colorful scenery she was climbing, she decided to paint one painting every week for the rest of her life. She has stuck to that decision ever since, becoming one of the most prolific artists in history. Erin Hanson's style is known as "Open Impressionism" and is now taught in art schools worldwide. With thousands of collectors eagerly anticipating her work and millions of followers online, Hanson has become an iconic, driving force in the rebirth of contemporary impressionism.

---
---