A 10-Year Retrospective of Open Impressionism
Open Impressionism: The Works of Erin Hanson
Sunday, November 26, 2017
Erin Hanson (b. 1981) is one of the most important living Impressionists of our time. This retrospective is the first comprehensive presentation of Hanson's career. Organized by the Goddard Center for Fine Arts, this exhibition features a selection of never-before exhibited works from her personal collection as well as paintings highlighting her prolific output over the past decade and a half. The exhibition will be on display for the 2018 winter season.
The exhibition includes some of the very first Open Impressionism paintings, as well as several mid-career paintings and B-sides that demonstrate the development and refinement of Open Impressionism. A room will be dedicated to Hanson's earliest Open Impressionistic paintings, on loan from the artist's private collection.
Open Impressionism is a new style and movement which has sparked a new enthusiasm for contemporary Impressionism. Erin Hanson's best-known works include Crystal Light, Field of Blooms and The Path.
Goddard Center for Visual and Performing Arts
401 1st Ave SW
Ardmore, OK 73401

Opening Reception: Saturday, January 13th, 2018
Exhibition: January 9th – February 22nd, 2018
For More Information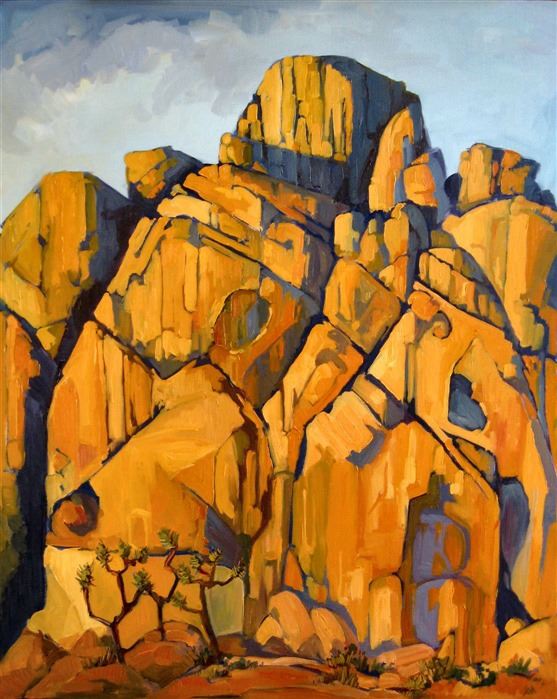 Joshua Trees, oil on canvas by Erin Hanson, 2009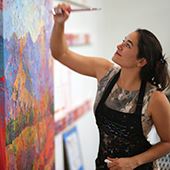 ERIN HANSON has been painting in oils since she was 8 years old. As a young artist, she worked at a mural studio creating 40-foot-tall paintings on canvas, while selling art commissions on the side. After getting a degree in Bioengineering from UC Berkeley, Erin became a rock climber at Red Rock Canyon, Nevada. Inspired by the colorful scenery she was climbing, she decided to paint one painting every week for the rest of her life. She has stuck to that decision ever since, becoming one of the most prolific artists in history. Erin Hanson's style is known as "Open Impressionism" and is now taught in art schools worldwide. With thousands of collectors eagerly anticipating her work and millions of followers online, Hanson has become an iconic, driving force in the rebirth of contemporary impressionism.

---
---