Desert in Color is Awarded Best in Show
Cowgirl Up! Recognizes Erin Hanson's Work
Monday, August 26, 2019
Erin Hanson was proud to participate in the Desert Caballeros Western Museum's Cowgirl Up! 2019 exhibition. Every year, this museum shines a light on the many incredible female artists working in the American West.
This year, Erin exhibited alongside over fifty fellow women artists who shared their work in a variety of mediums. She presented three works in this exhibit: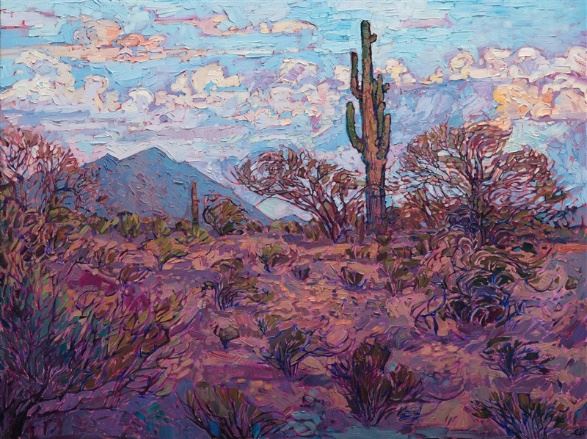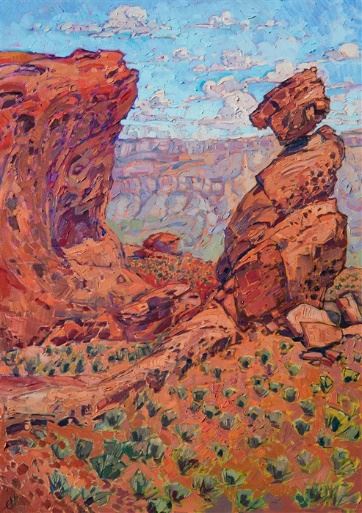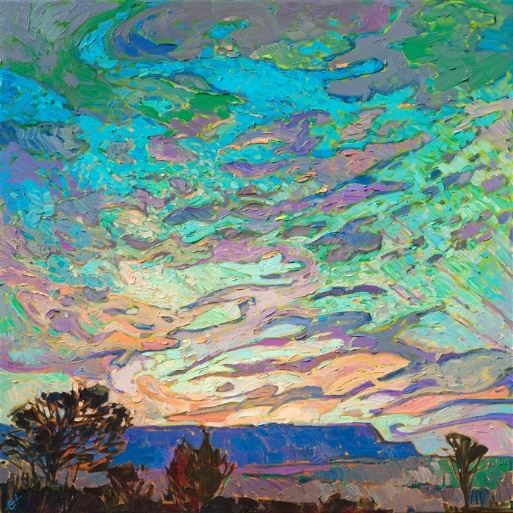 Each landscape painting shares a vision of the American West in different lights and locations. The color, composition, and texture are created with Hanson's signature open impressionist style, using precise brushstrokes and thick oil paint.
Of the three paintings, Desert in Color was chosen by the judges at Cowgirl Up! for special recognition. This piece was awarded "Best in Show" for the intriguing use of continuous, flowing brushstrokes, layered and textured paint, and the vibrantly colored clouds.
All three paintings were displayed at the Cowgirl Up! Art from the Other Half of the West Exhibition and Sale from March 29th through May 12th, 2019. They have now returned to our gallery or to the respective collectors.
All remaining pieces that have not been acquired are currently on display at The Erin Hanson Gallery here in San Diego, CA. We hope you will have a chance to view these paintings in person. Click here to make an appointment – or join us during our walk-in hours: Weds-Sat, 10 AM – 6 PM.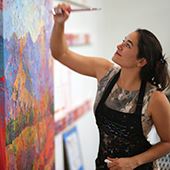 ERIN HANSON has been painting in oils since she was 8 years old. As a young artist, she worked at a mural studio creating 40-foot-tall paintings on canvas, while selling art commissions on the side. After getting a degree in Bioengineering from UC Berkeley, Erin became a rock climber at Red Rock Canyon, Nevada. Inspired by the colorful scenery she was climbing, she decided to paint one painting every week for the rest of her life. She has stuck to that decision ever since, becoming one of the most prolific artists in history. Erin Hanson's style is known as "Open Impressionism" and is now taught in art schools worldwide. With thousands of collectors eagerly anticipating her work and millions of followers online, Hanson has become an iconic, driving force in the rebirth of contemporary impressionism.

---
---