Cowgirl Up! Awards Erin Hanson Best in Painting
"North Canyon" Wins First Place
Saturday, April 14, 2018
The annual exhibition Cowgirl Up!, presented by Desert Caballeros Western Museum, showcases the brightest female Western artists of our time. Each year, Western-focused artists working in any medium present their work in an exhibition spanning from the end of March through mid-May. This event and exhibition brings artists, collectors, and enthusiasts together in a celebration of the American West.

While every style is celebrated in the Cowgirl Up! exhibition and show, there are specific categories in which the various artists can be awarded special recognition. This year, we are honored to announce that Erin Hanson won "First Place Two Dimensional on Canvas" for her painting North Canyon.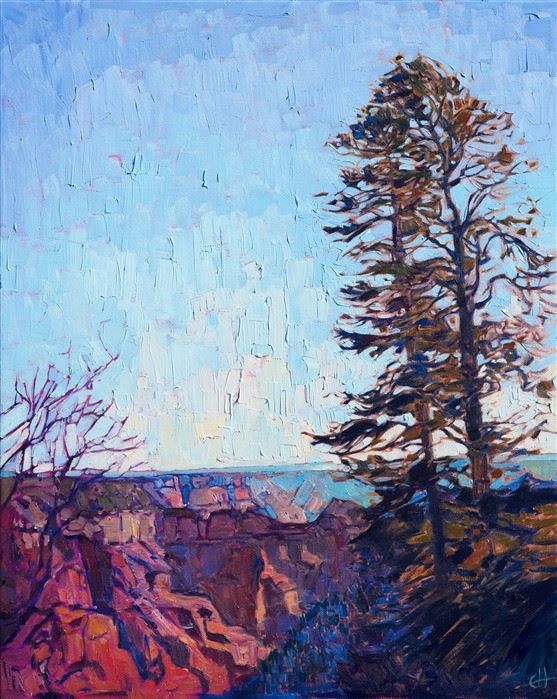 North Canyon by Erin Hanson

This piece, which was also included in the exhibition Open Impressionism: The Works of Erin Hanson at The Goddard Center in Ardmore, OK, depicts an area of the Grand Canyon that holds a special place in Hanson's heart. As she describes it:

"I love the silence in the winter, when you can stand all alone at the edge of the rim, surrounded by vast, quiet beauty in every direction. This painting captures the transient light of early dawn."

Erin was honored to receive recognition for this piece during the esteemed Cowgirl Up! exhibition. As the Desert Caballeros Western Museum notes, Cowgirl Up! is first and foremost an exhibition, showcasing the entire body of work all in one location, throughout the duration of the show. We hope that sharing Erin Hanson's unique perspective of the Western U.S. with other artists, patrons, curators, and collectors brings light and joy to the lives of all who view her work.

If you would like to enjoy more of Erin Hanson's unique Open Impressionist style, take a look at her portfolio or view the works in person at The Erin Hanson Gallery.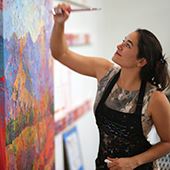 ERIN HANSON has been painting in oils since she was 8 years old. As a young artist, she worked at a mural studio creating 40-foot-tall paintings on canvas, while selling art commissions on the side. After getting a degree in Bioengineering from UC Berkeley, Erin became a rock climber at Red Rock Canyon, Nevada. Inspired by the colorful scenery she was climbing, she decided to paint one painting every week for the rest of her life. She has stuck to that decision ever since, becoming one of the most prolific artists in history. Erin Hanson's style is known as "Open Impressionism" and is now taught in art schools worldwide. With thousands of collectors eagerly anticipating her work and millions of followers online, Hanson has become an iconic, driving force in the rebirth of contemporary impressionism.

---
---