Five Reasons Art Collectors Love 3D Textured Replicas
Explore affordable art replicas that look like the original painting
Thursday, June 1, 2023
After ten years of offering untextured giclee prints and canvas prints of her works, Erin Hanson thought she had reached the pinnacle of art reproduction. In 2021, however, she discovered the world of 3D scanning and printing, and she has since pushed the envelope of fine art reproduction and created a new type of textured art reproduction that is truly the next best thing to an original oil painting. Her new 3D Textured Replicas faithfully capture both the detailed texture and vibrant colors of her oil paintings.


Five Reasons
Why Collectors Love
3D Textured Replicas
Before we start, you can find a full description here of how 3D Textured Replicas are photographed at multiple angles, how software measures the shadows cast by each tiny ridge and brushstroke, and how a topographical map is produced to create a 3D Textured Replica. While many art collectors are interested in how the proverbial sausage is made, understanding the fascinating technology behind 3D scanning and printing is not WHY art lovers adore Erin Hanson's 3D Textured Replicas.
Collectors of her signature 3D Textured Replicas now count in the hundreds.


1. 3D Textured Replicas look almost identical to an original painting.
One of the most exciting things about a 3D textured replica is that it looks almost identical to the original. While a flat canvas print can duplicate a painting's wild color and incredible beauty, a 3D Textured Replica is produced with layers upon layers of texture, bringing the work to life as the artist intended.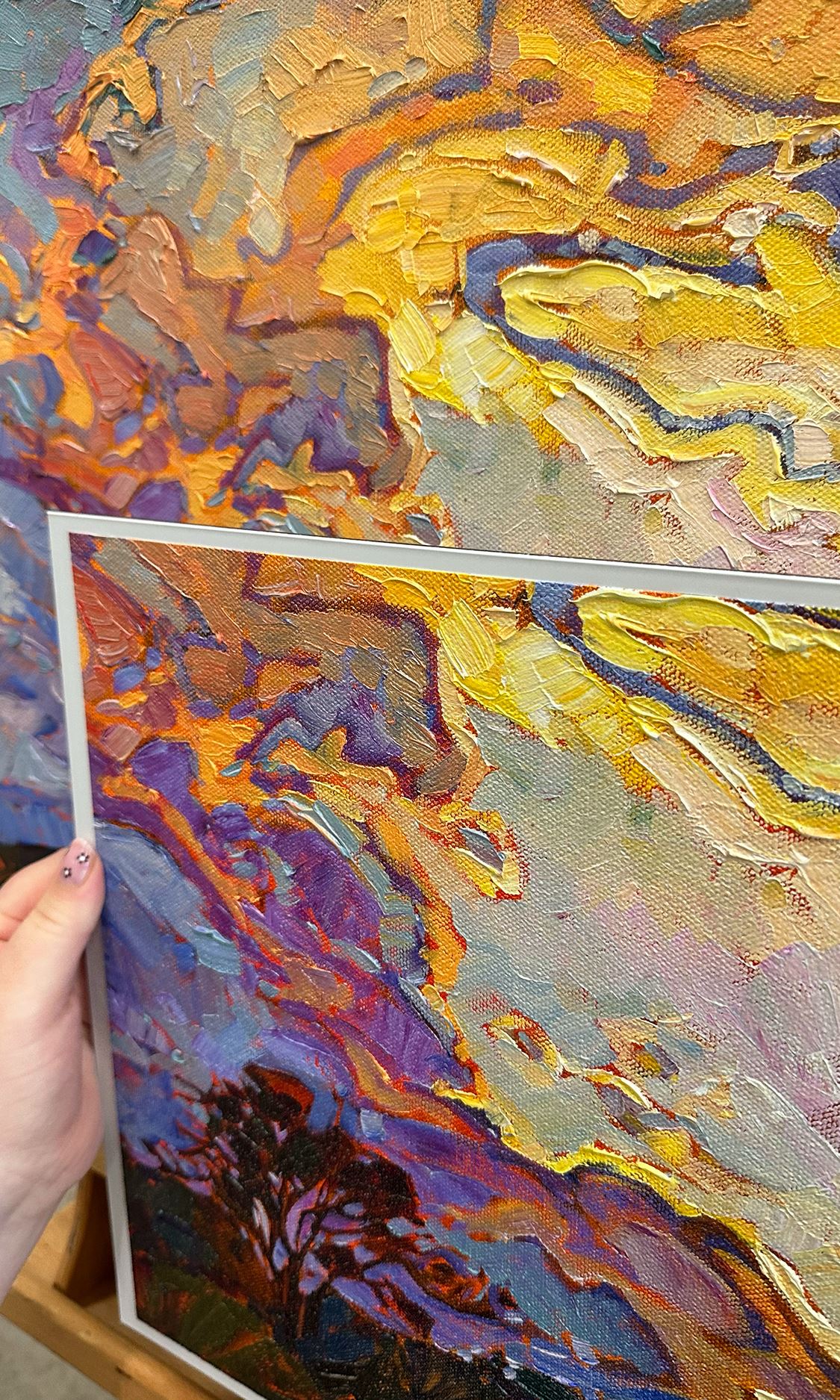 3D Textured Replica (bottom) compared with the original oil painting (top), Erin Hanson's Sherbet Horizon
2. 3D Textured Replicas are offered at an affordable price.
Not everyone can afford an original painting or fill their entire home with original art, much as they may wish to! With 3D Textured Replicas, art lovers on a budget or art collectors decorating their homes can afford to splurge and buy several larger reproductions - instead of one original. Even those with a massive budget can use replicas to decorate areas of their home where they may want to avoid placing an original painting -- like the bathroom or in a rental -- where an original might get damaged or stolen. Additionally, one can afford a large work, whereas an art aficionado may have only been able to afford a petite painting previously.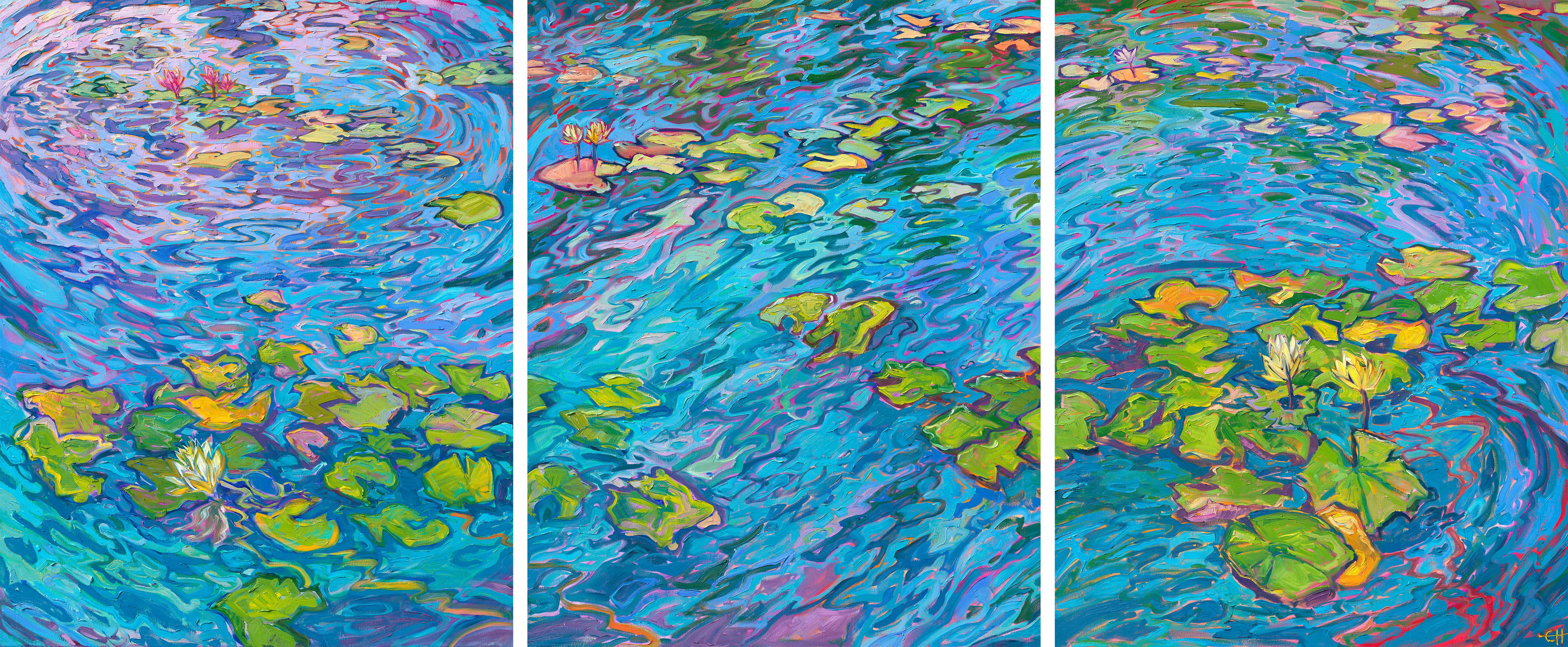 3D Textured replica of Erin Hanson's Lilies in Triptych

3. These replicas have wonderful movement and texture.
3D Textured Replicas are 3D printed to duplicate the exact texture of an original work. This means light interacts with the layers and casts shadows, creating movement when light hits the piece.
Additionally, while an oil painting should not be touched as your fingers will damage the delicate oils in the paints, a 3D Textured Replica is made with UV-cured acrylic-style (plastic) ink. Collectors can take the opportunity to run their fingers over the replica, feeling every groove and brushstroke. It is immensely satisfying and a delightful sensory experience to feel the texture and movement in a piece.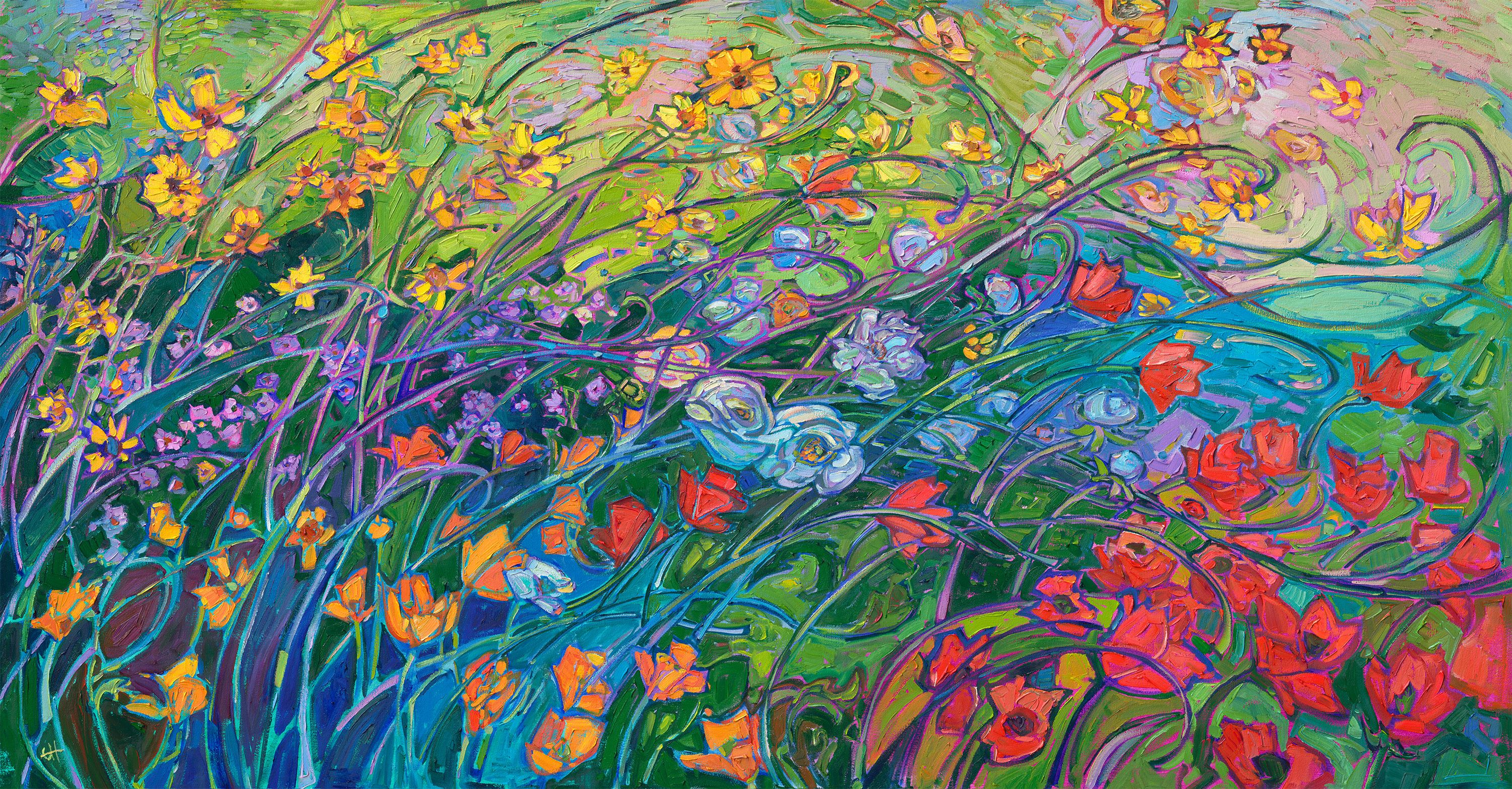 3D Textured Replica of Erin Hanson's Flowing Spring

4. Collectors can bring beloved artworks already sold into their homes or offices.
Half of Erin Hanson's originals sell before they have fully dried. This makes collecting her original artwork a challenge. However, with 3D Textured Replicas, one can bring a beloved piece into their home and enjoy the work with the same movement and texture that the artist intended.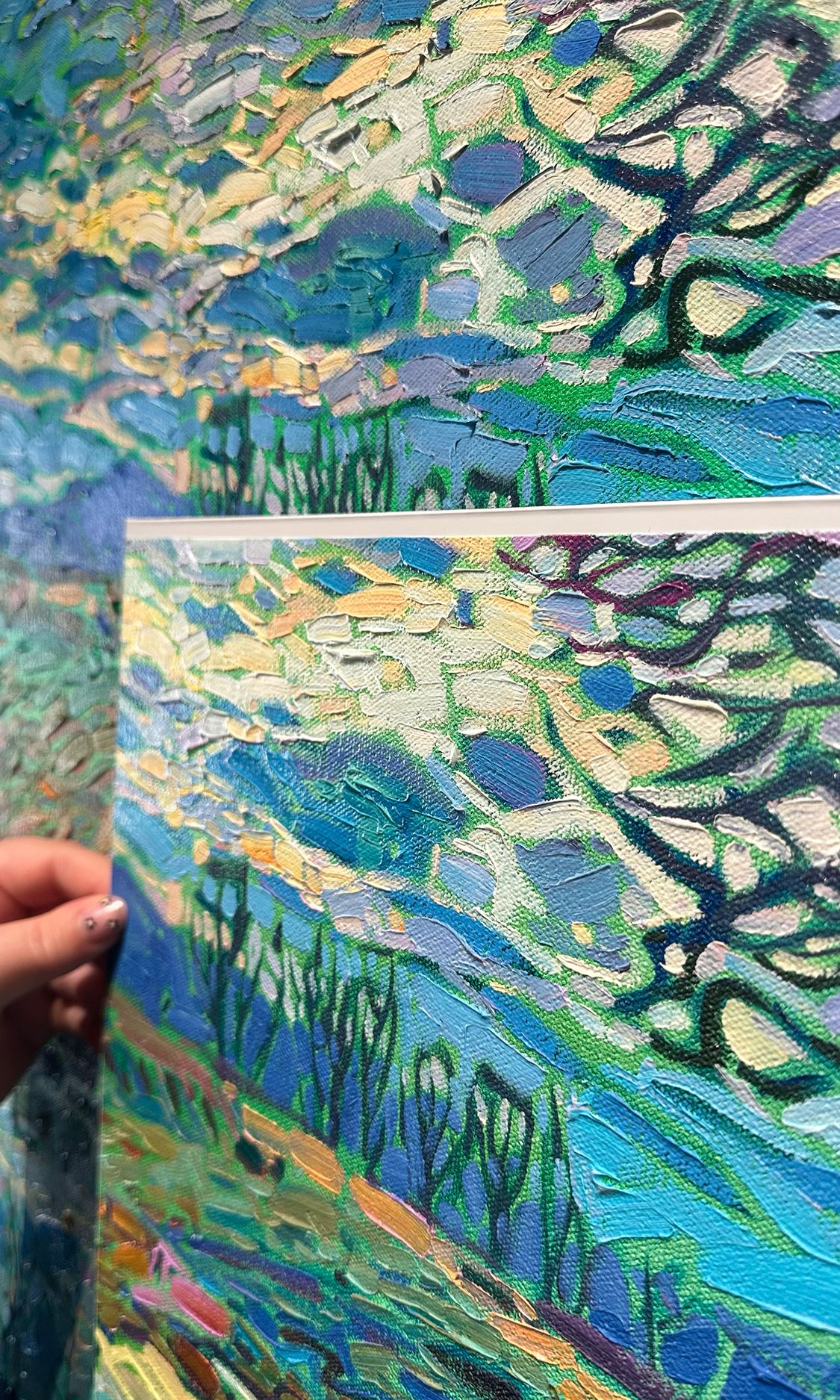 3D Textured Replica (bottom) compared with the original oil painting (top), Erin Hanson's January Reflections.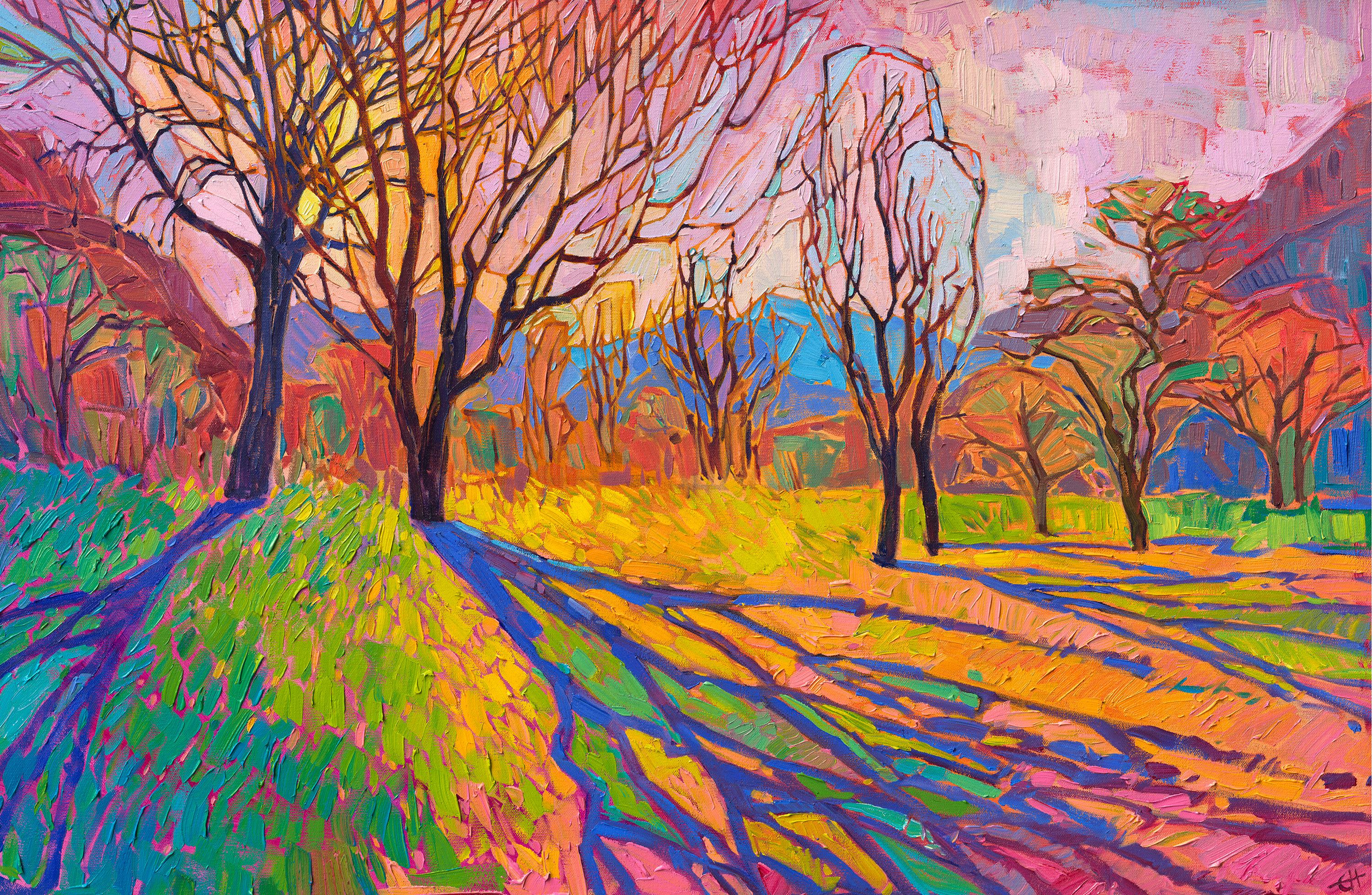 3D Textured Replica of Erin Hanson's Crystal Autumn
5. Collectors can decorate their second home, vacation home, guest house, or office with their favorite artworks.
When collectors have a favorite piece, they want to see it everywhere. At their home, in the office, perhaps in a second home or a yacht. 3D Textured Replicas make that possible, as one can buy the original for their home collection and a replica or two for other locations. An art collector never needs to be without their favorite artwork.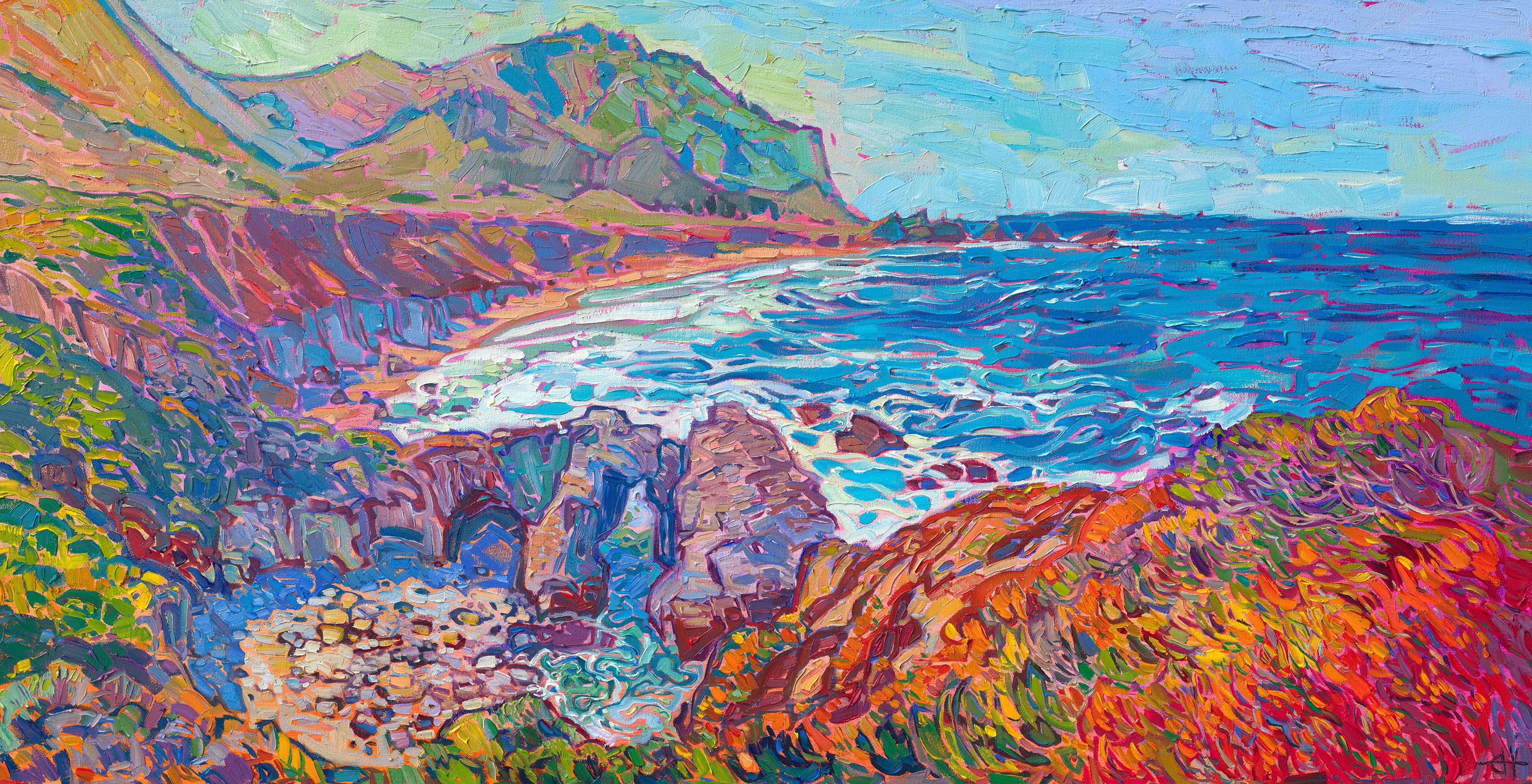 3D Textured Replica of Erin Hanson's Garrapata Beach
Would you like to explore the many 3D Textured Replicas now available? Browse through Erin Hanson's portfolio here.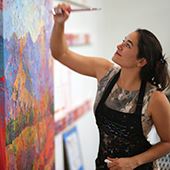 ERIN HANSON has been painting in oils since she was 8 years old. As a young artist, she worked at a mural studio creating 40-foot-tall paintings on canvas, while selling art commissions on the side. After getting a degree in Bioengineering from UC Berkeley, Erin became a rock climber at Red Rock Canyon, Nevada. Inspired by the colorful scenery she was climbing, she decided to paint one painting every week for the rest of her life. She has stuck to that decision ever since, becoming one of the most prolific artists in history. Erin Hanson's style is known as "Open Impressionism" and is now taught in art schools worldwide. With thousands of collectors eagerly anticipating her work and millions of followers online, Hanson has become an iconic, driving force in the rebirth of contemporary impressionism.

---
---