Erin Hanson: Amica's 2022 Thanksgiving Artist
Unveiling "Maple Lights"
Saturday, November 12, 2022

Erin Hanson has been selected as Amica Mutual Insurance Company's 2022 Thanksgiving card artist. Hanson's oil painting, Maple Lights, was featured on a Thanksgiving-themed holiday card that was mailed to 800,000 subscribers. Amica also released a digital version of the card that features beautiful classical music paired with an autumnal poem by Margaret Melozzi.

VIEW: Thanksgiving E-card

In the interview below, Hanson looks at how her musician parents instilled the importance of practice and patience in honing her abilities as an artist. The first segment of the music is a clip of Hanson's parents playing Georg Phillipp Telemann's canonic sonata.
VIEW: Full interview with Erin Hanson
The Amica team shares Hanson's passion for beautiful artwork, and they have found a way to merge art with the love of family and the holiday spirit of Thanksgiving. In their corporate headquarters in Providence, Rhode Island, Amica showcases a gallery of every original painting that has been featured on their Thanskgiving card for the past 52 years.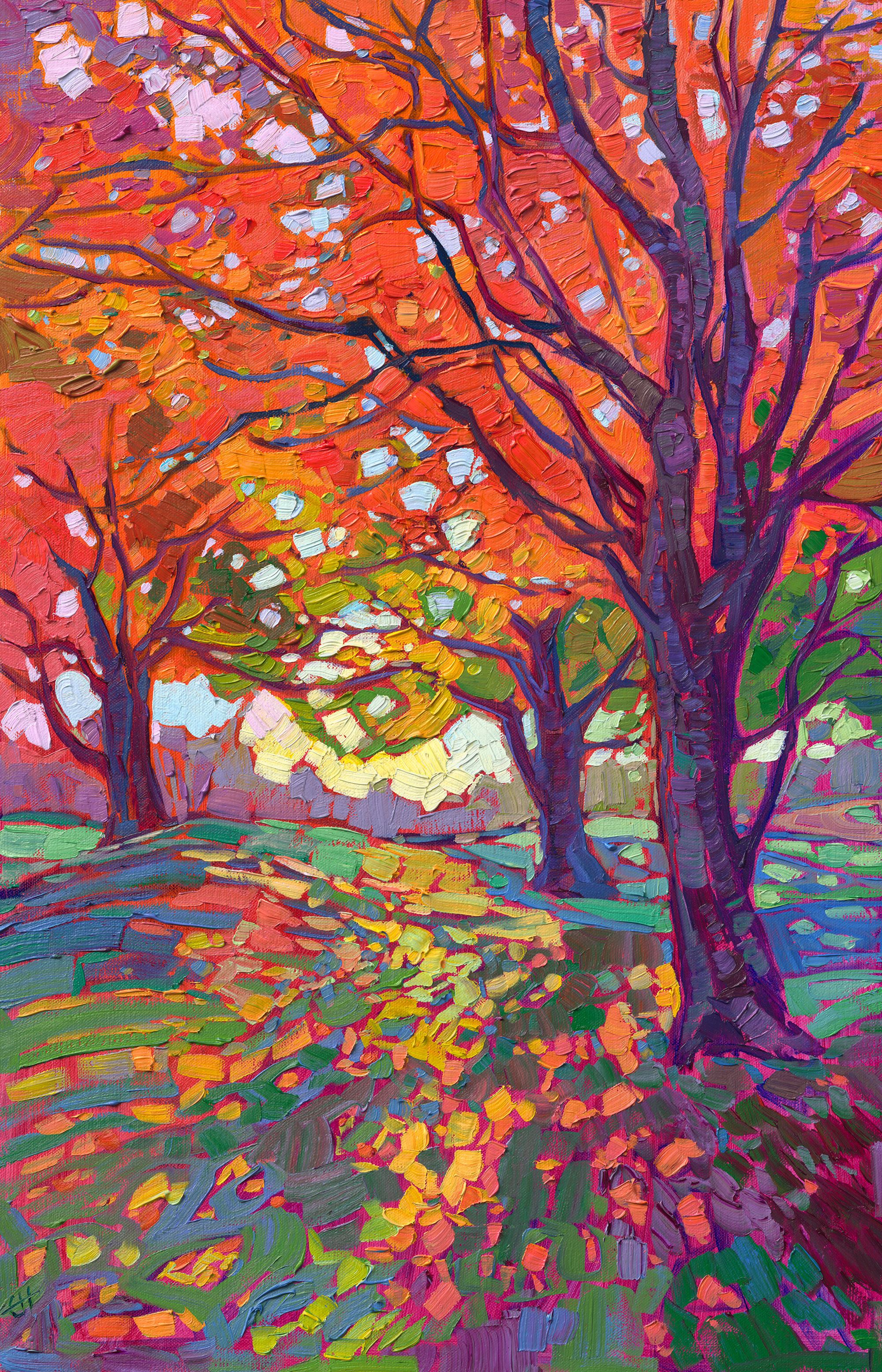 Maple Lights by Erin Hanson
About Maple Lights
Erin Hanson explains her inspiration behind Maple Lights in her interview with Amica. Here, she reveals that Maple Lights was inspired by the lovely maples that dot her Oregon property. Trees have always influenced Hanson's landscape art, and watching the sun's progress as it sets behind her trees brings her daily joy and inspiration. This painting captures the last rays of the sun shooting through the trees, showcasing the contrast of light and shadows against crimson autumnal leaves.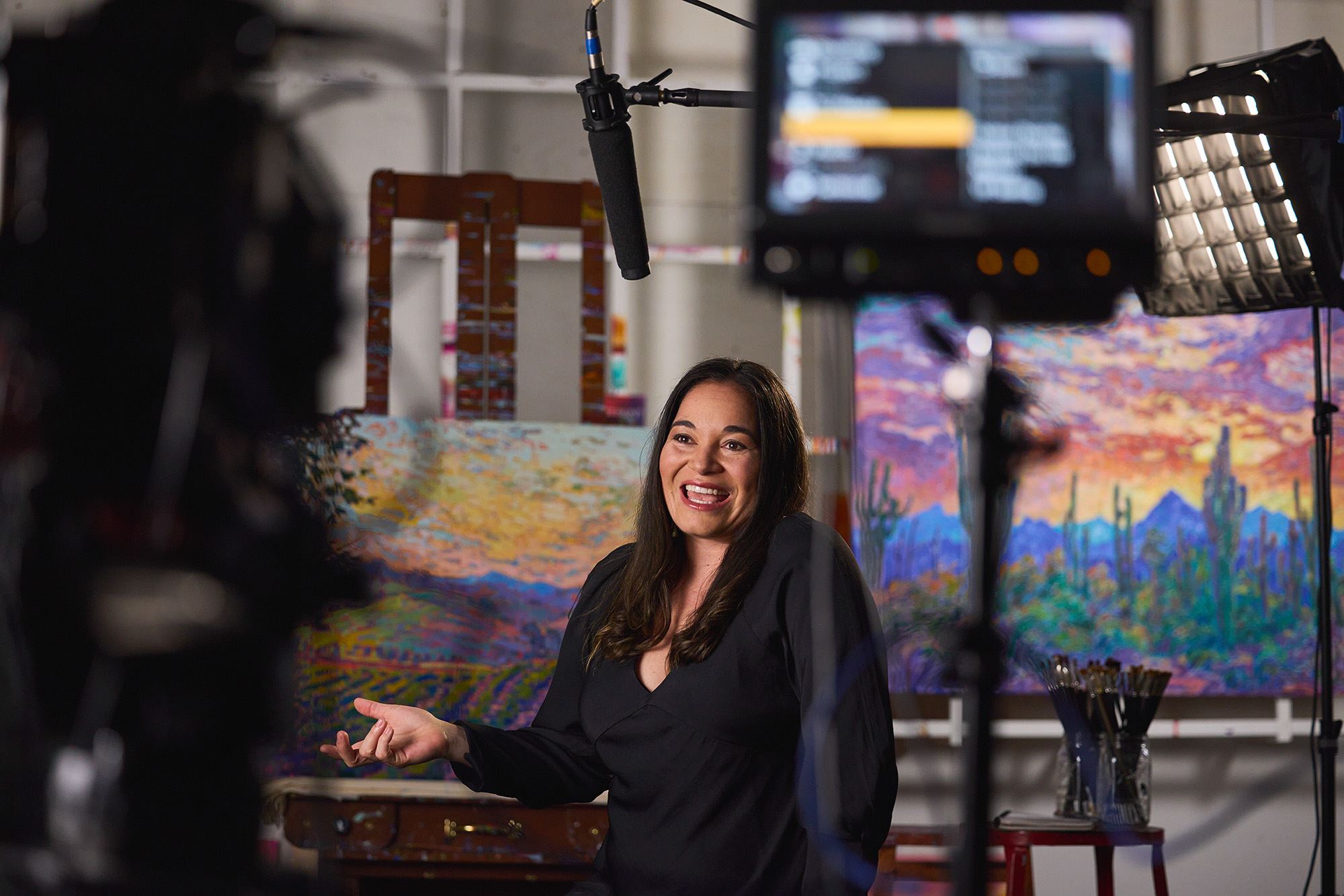 VIEW: Erin Hanson on the inspiration behind Maple Lights

Unveiling Maple Lights
Hanson joined the Amica staff at their Rhode Island headquarters this November to unveil her painting and share a little about what makes Thanksgiving special to her.
Hanson loves spending time with her family and appreciates the reconnection and joy that Thanksgiving brings. Not only is the autumn season an inspiration to her often-red-hued palette, but the time spent in the kitchen and around the table sharing good food, telling stories, and connecting with loved ones has always held a special place in her heart.

Practice, Guts, and Gumption
How Erin Hanson Became a Professional Painter
Hanson elaborated on her journey to becoming a professional artist, sharing that she even noted on her school application at six years old that she wanted to be "an artist, a dancer, and a scientist." Her parents, both talented musicians, encouraged her to create art every day so that she could grow and learn as a painter.
Erin Hanson on her path to becoming the artist you see today. from Erin Hanson on Vimeo.
Throughout the years, Erin Hanson relentlessly pursued her art with the passion and persistence of an entrepreneur. Though she got a degree in bioengineering, she could not replace her art with a laboratory. Instead, she moved to Las Vegas and challenged herself to paint Nevada's red rocks and desertscapes. It was while climbing and exploring these beautiful desert vistas that Erin decided to create one painting a week, to see where her art would take her.
After painting fifty or so paintings over the course of a year (2005-2006), Hanson attended her first art festival to explore the business side of her career - and sold six paintings during that first exhibition. This was when she discovered she could defy the odds and truly make a living as an artist.
Since that first art fair years ago, Hanson has created a unique style of her own, which she calls Open Impressionism. Her work often has a mosaic quality, produced by her desire to capture fleeting moments of light with her paintbrush. To do this, she premixes her palette by using only five colors per painting and works with a wide brush, wet-on-wet. Her goal as she paints is to avoid layering so that the underpainting peaks through, giving the stained glass look, which is her trademark.
Hanson is honored to have her work featured by Amica and is delighted that her favorite holiday will be recognized in autumnal color with one of her paintings.
If you want to see more of Hanson's work, visit her online gallery -- or visit McMinnville, OR to explore one of the Erin Hanson Galleries in person.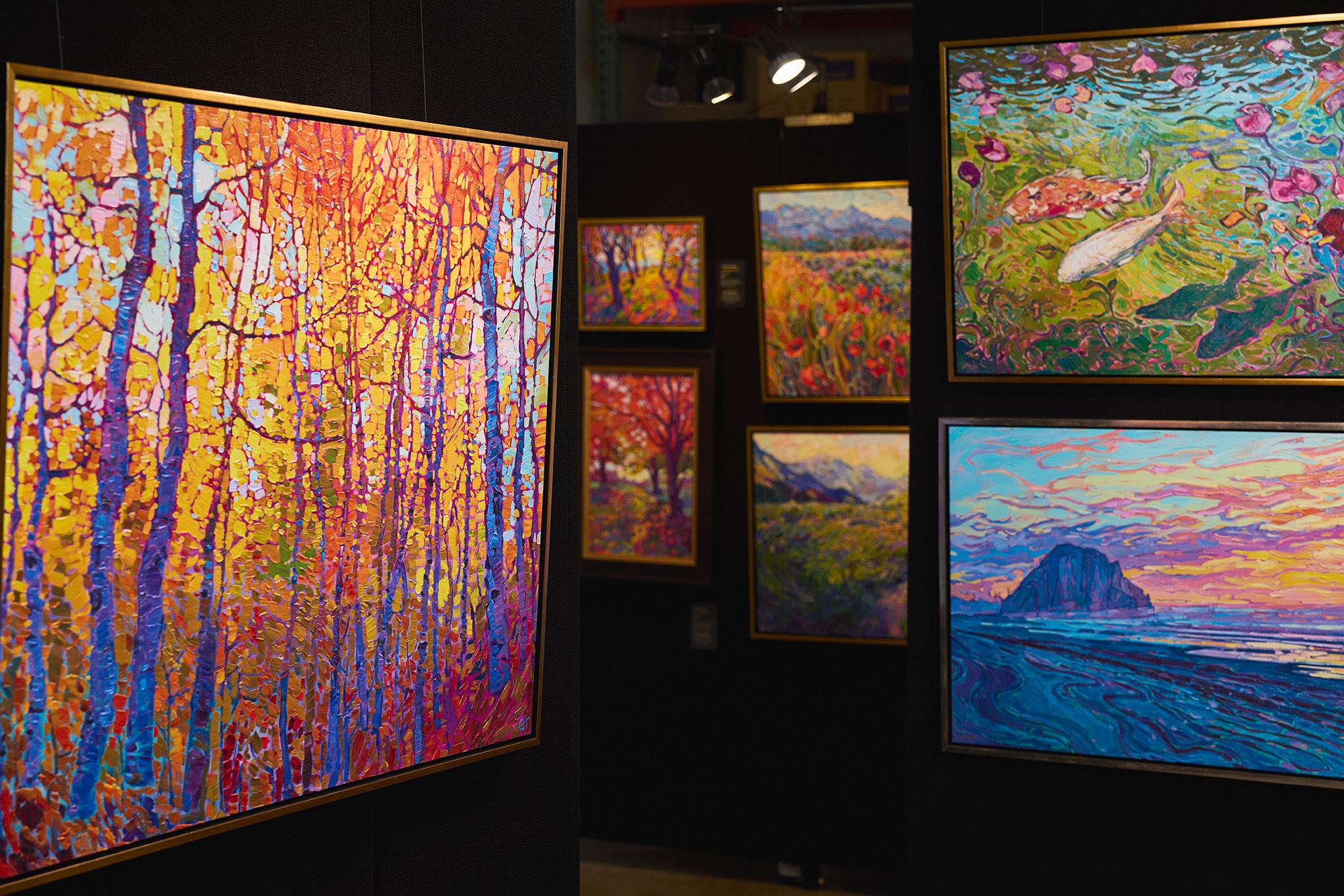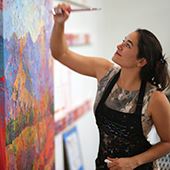 ERIN HANSON has been painting in oils since she was 8 years old. As a young artist, she worked at a mural studio creating 40-foot-tall paintings on canvas, while selling art commissions on the side. After getting a degree in Bioengineering from UC Berkeley, Erin became a rock climber at Red Rock Canyon, Nevada. Inspired by the colorful scenery she was climbing, she decided to paint one painting every week for the rest of her life. She has stuck to that decision ever since, becoming one of the most prolific artists in history. Erin Hanson's style is known as "Open Impressionism" and is now taught in art schools worldwide. With thousands of collectors eagerly anticipating her work and millions of followers online, Hanson has become an iconic, driving force in the rebirth of contemporary impressionism.

---
---