Announcing: A Revolutionary New Fine Art Print
Erin Hanson 3D Textured Replicas
Monday, September 21, 2020
In response to a growing demand for textured prints, we are proud to announce a new product that faithfully reproduces the texture of Erin's original oil paintings. "Erin Hanson 3D Textured Replicas" are created using cutting-edge, 3-dimensional scanning technology and multi-layered printing to capture the actual brush strokes and texture of the original.
Erin Hanson's new 3D Textured Replicas are the most realistic reproduction of her original oil paintings available. Erin Hanson is the first artist to pioneer and launch state-of-the-art reproductions using German and Swiss 3D mapping and printing science.
For the first time, you will be able to feel every brushstroke while enjoying the luminous color of her originals, in a limited edition textured print.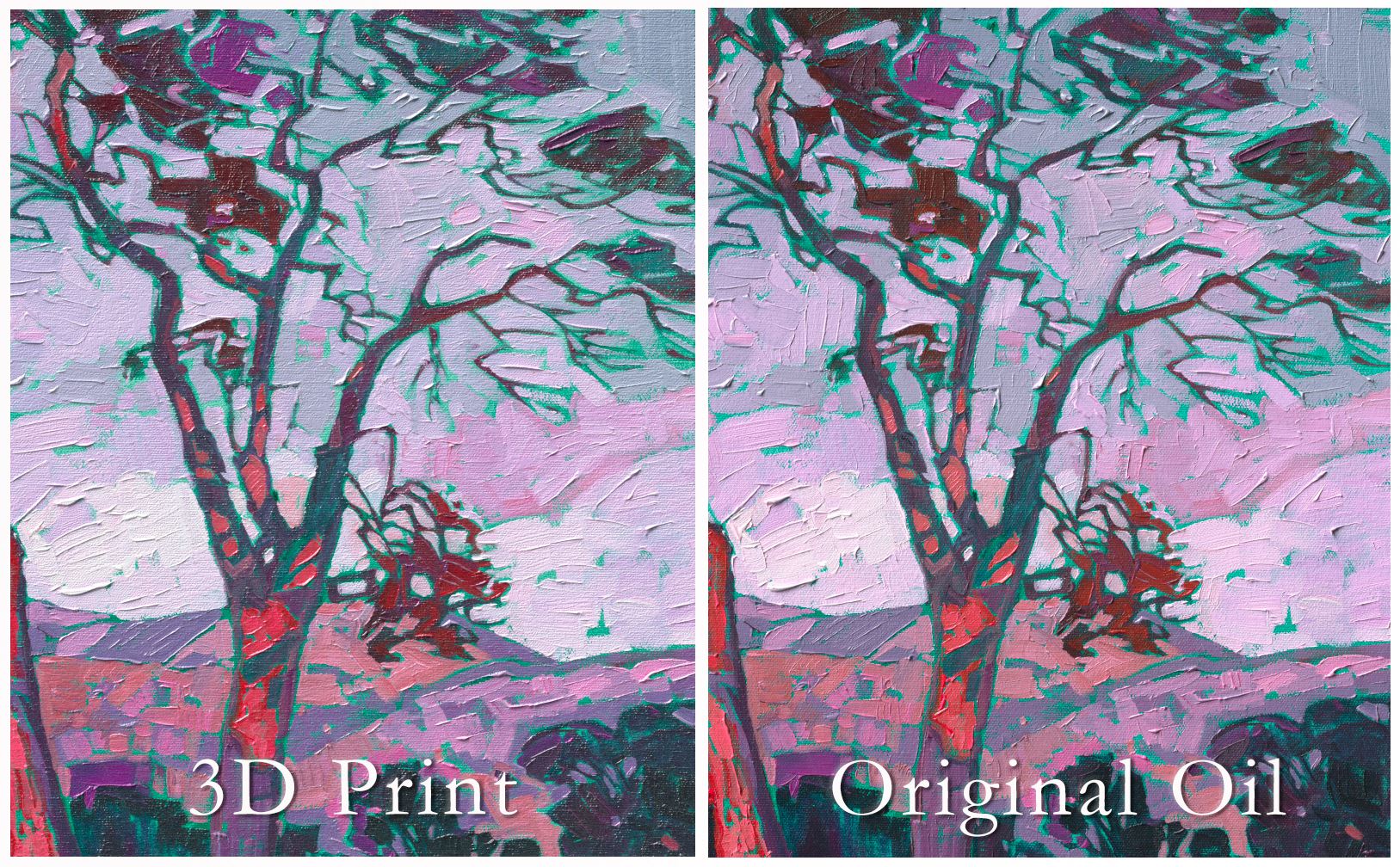 Questions and Answers
Exactly how are Erin's 3D Textured Replicas created?
The Erin Hanson Gallery recently purchased a large-format Cruse scanner that was custom-made for us in Germany. This huge machine takes up an entire room, and it scans paintings face-up, so nothing ever touches the surface of the painting. The scanner creates a detailed 3-D model of the painting using repetitive scans and 5 different angles of light.
The scanner software then creates a 3-dimensional, topographical map of the painting. Next, this 3D model is sliced into very thin layers, only 0.15 mm thick. These slices are then sent to our 3D printer, and the layers are printed using UV-cured ink that slowly builds up texture, micro-layer by micro-layer. After 12 to 15 or more layers, the texture of the print accurately matches the texture of the original oil painting.
There are only two printers in the world that are on the cutting-edge of 3D print technology in the field of fine art reproduction: Canon and SwissQ. Both printers use 7 colors of ink (CMYK plus 3 additional colors) for incredible color reproduction. This ink can be built up layer-by-layer because each layer is instantly cured to a hard finish using UV light. Many layers applied in this way can create textures up to 2 cm tall. Even the texture of the canvas is captured and reproduced in these replicas!
Cruse's business manager Martin Paffrath commented, "While the whole world is talking about the possibilities that the latest technology offers, there is one artist in San Diego who is already doing it. When we first had contact with Erin Hanson in March of this year [2020], none of us would have thought that she would become a pioneer in printing 3D art reproduction in this short time. We are very proud our Scanner is a part of the workflow used to make such realistic reproductions of her amazing paintings."
How is the texture created?
Unlike other "3D prints" that are on the market right now (which spray clear texture over the print, creating a computerized embellishment over the color layer), Erin Hanson's 3D Textured Replicas have the color printed on top of the texture layer. In other words, the texture layers are built up until there is a white 3D model of the painting. Then, the final layer of full-color ink is applied, which sits on top of the 3D model. A final layer of varnish is added, making the replica look even more like an original oil painting, while also providing a layer of UV protection to the ink.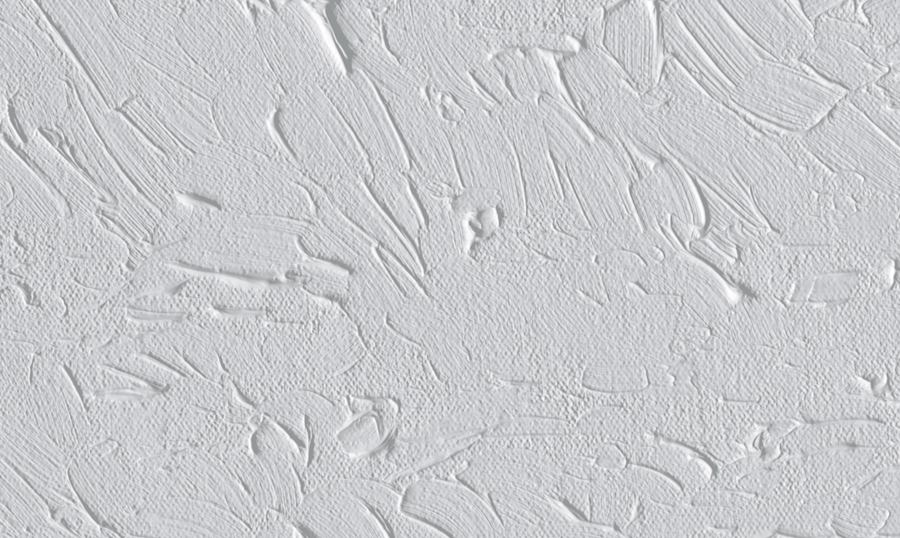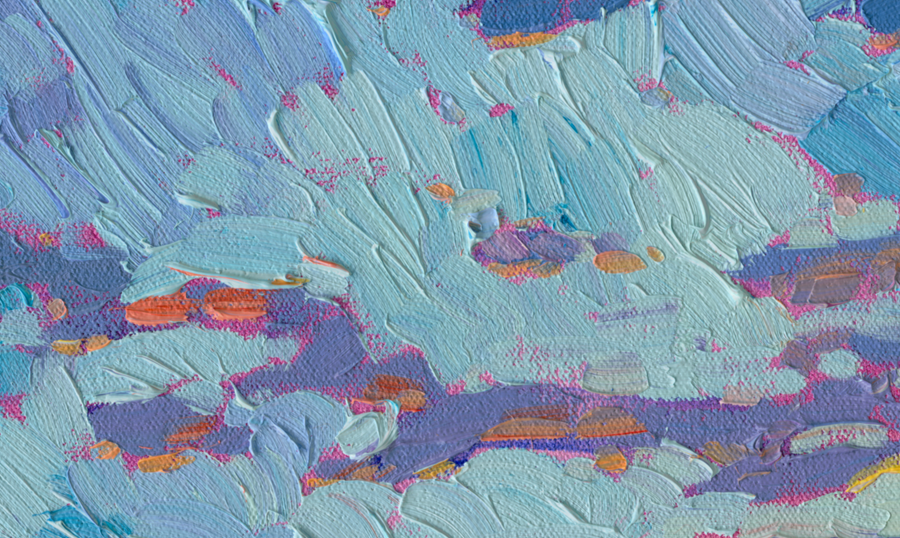 Above: Close-up of white 3D model, and then how it looks with the final color layer applied. (Click images to enlarge.)

How is the color created?
Erin Hanson's new scanner captures her original paintings in 48-bit color. For comparison, Photoshop usually processes images in 8-bit color from a Canon 5D digital camera - so the scanner captures 6 times more color information than a high-end SLR camera.
The new, state-of-the-art printers we are using are able to print a much wider color gamut than standard CMYK inkjet printers, because they use an additional 3 colors that allow the printers to reproduce vibrant purples, oranges, and reds.
Here is a comparison of the new scanner images we are capturing (left) vs. the high-res images we were getting before using a Canon 5D Mark III 50-megapixel camera (right), which was Canon's highest resolution SLR camera purchased a year ago.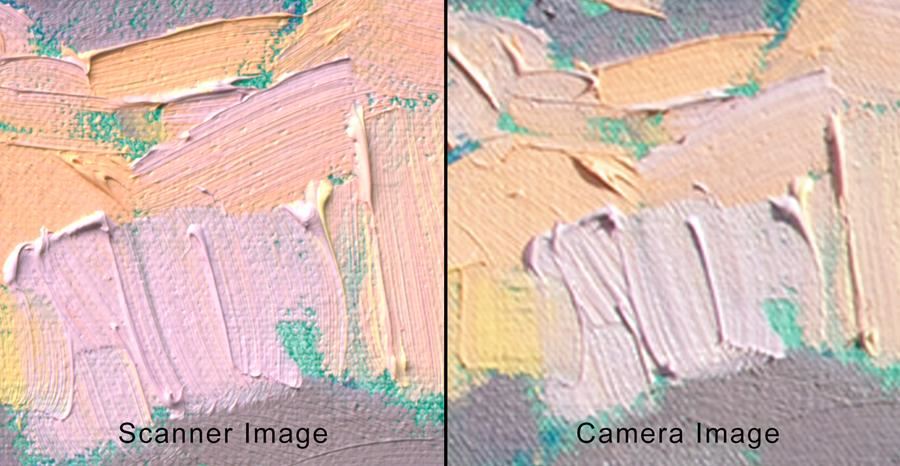 You can see the greater number of colors that are being captured,
as well as the amazing resolution. (click to enlarge)

Will these replicas be limited editions?
We are offering both limited edition and open edition replicas of Erin Hanson's paintings. The limited edition replicas are offered in the same framing options we use for her original oil paintings. These prints are limited to an edition of 100, and they are hand-signed and numbered by the artist in gold enamel, and you receive an accompanying Certificate of Authenticity.
The open edition 3D Textured Replicas are un-signed and are offered in the same frames as our stretched canvas prints.
Which Erin Hanson paintings will be made available as 3D Textured Replicas?
You can see the currently available pieces here. We are only able to offer 3D Textured Replicas for paintings that we have been able to scan. In the future, most of Erin's new paintings will be made available as 3D Textured Replicas.
What sizes are being offered?
Each 3D Textured Replica is offered in the same dimensions as the original oil painting, and we also have one size 25% smaller and one size 25% larger than the original. We cannot offer other sizes, since the texture of the brush strokes starts to get distorted when too small or too large in comparison with the original.
What frames do you offer for 3D Textured Replicas?
Our 3D Textured Replicas are printed onto Dibond (aluminum panels with a foam core center). Erin recommends framing these pieces in her custom-made "EH Frames," which are the same frames she uses for her original oil paintings. The EH Frame has a 23kt antiqued gold top and dark brown sides with a pebbled texture. We also offer contemporary white or black floater frames, and plein air style frames.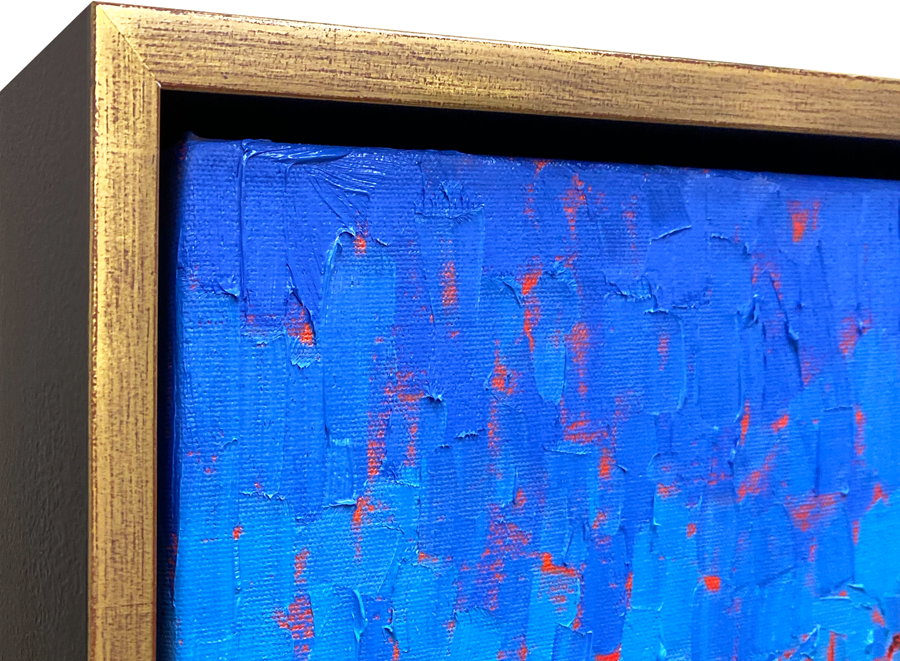 How much do Limited Edition 3D Textured Replicas cost?
The price for limited edition 3D Textured Replicas ranges from $1,000 to $8,000 for most sizes. For example, a 20x24 replica is currently valued at $2,000. A 30x40 replica is valued at $3,300, and a 48x60 replica is valued at $9,300 (which includes freight crating and shipping.) The open edition prints are approximately 30% cheaper than the limited editions.
Please click here for our current price guide.
How do these 3D Textured Replicas compare to canvas prints?
Erin is using the same scanner to create a whole new level of quality for her 2D canvas prints. Here is an example of a canvas print that is only printed in 2-dimensions, but as you can see there is a beautiful illusion of texture: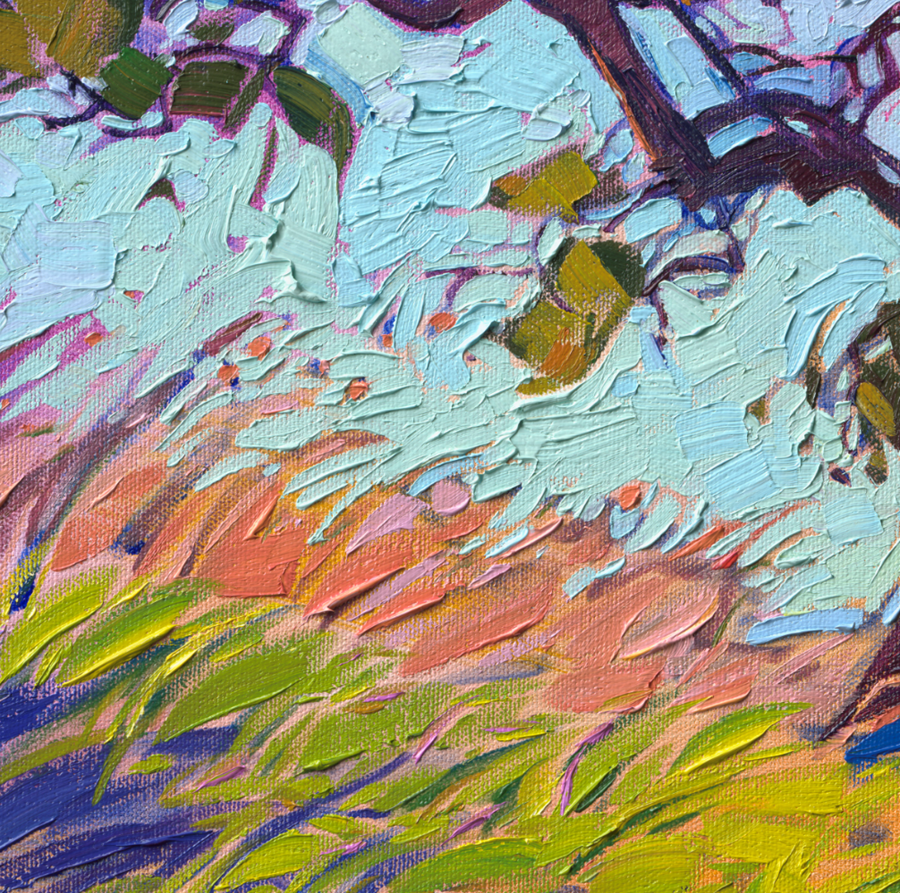 The most common thing we hear when people see Erin's flat canvas prints in person is "Wow - I thought it was a real painting!"
The new 3D Textured Replicas will have the same color that you are seeing in the 2D canvas prints, but they will be printed onto a 3D model of the painting.
How do the 3D prints compare to original oil paintings?
From a few feet away, Erin's 3D Textured Replicas look almost identical to the original oil painting. With your face up close, you can see the brush strokes aren't as sharp as the real thing, and you can see some of the pixelation of the ink. The original has the genuine painted Erin Hanson signature, while the print has a shiny gold enamel signature and the limited edition number in one corner.
Looking at a print and a painting side by side, the original oil painting glows with internal luminosity and changes constantly depending on the angle and the lighting it is viewed in; the print looks more like an acrylic painting.
An original oil painting is truly a one-of-a-kind creation that has a physical and spiritual connection to the artist. The 3D Textured Replicas cannot capture this essence of an original oil painting, although it is undeniably the closest reproduction that modern technology can offer.
What is the future of 3D printing?
As 3D printing technology continues to advance over the coming years, there may come a time when it becomes impossible to differentiate between a print and an original. There are rumors of a company that has managed to make a 3D replica of a van Gogh painting that has the museum curators stumped when trying to determine which is the print and which is the original.
In looking forward to the future, decades from now, with the possibility of black-market copies that can be passed off as original oil paintings, Erin Hanson is planning to start embedding a tiny RFID chip (Radio Frequency Identification) behind the signature of every original oil painting. Collectors will be able to bring their painting into The Erin Hanson Gallery to have their painting scanned and validated as an original Erin Hanson painting.
Will 3D printing affect the value of original oil paintings?
As more and more art lovers purchase 2D canvas prints and 3D textured prints of Erin's work, the original oil paintings will continue to increase in value. Already the price of Erin Hanson's originals has increased exponentially over the past 20 years, and the value of her original oil paintings will continue to increase as more and more fans of impressionism discover Erin's work.
If you are a collector of original artwork yourself, you know the value of original paintings. Making high-quality reproductions widely available to art lovers who cannot afford original paintings will only increase the world's appreciation of fine art, increase the demand for impressionism, and thereby increase the value of Erin Hanson's original oil paintings.
Take the example of "Starry Night" by van Gogh. Which do you think would sell for more at auction, "Starry Night" or the lesser known but still beautiful "View of Arles with Orchards"? Since millions of prints have been sold of "Starry Night" (not to mention countless umbrellas, cell phone covers, tote bags, shower curtains, and journal covers), "Starry Night" has become one of the most recognizable paintings in existence, and its value is currently estimated at over 100 million dollars.
Another way of looking at artwork value is to examine how many collectors buy an artist's work. The more collectors there are, the more demand for that artist's work. This increases the value of the originals. By selling 3D Textured Replicas of Erin Hanson originals, there are more collectors who are interested in buying her paintings, which increases their value.
Selling prints of an original increases its notoriety and, therefore, its value. The more people who own a reproduction of a painting, such as Erin's work "The Path," the rarer the original becomes, and the desire and the demand for the original increases radically.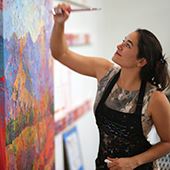 ERIN HANSON has been painting in oils since she was 8 years old. As a young artist, she worked at a mural studio creating 40-foot-tall paintings on canvas, while selling art commissions on the side. After getting a degree in Bioengineering from UC Berkeley, Erin became a rock climber at Red Rock Canyon, Nevada. Inspired by the colorful scenery she was climbing, she decided to paint one painting every week for the rest of her life. She has stuck to that decision ever since, becoming one of the most prolific artists in history. Erin Hanson's style is known as "Open Impressionism" and is now taught in art schools worldwide. With thousands of collectors eagerly anticipating her work and millions of followers online, Hanson has become an iconic, driving force in the rebirth of contemporary impressionism.

---
---