Curator Ken Ratner on Erin Hanson's Painted Parks Collection
NATIONAL PARKS: UNITING AMERICA: 100 Years of Common Ground
Thursday, November 26, 2015
Erin Hanson's paintings command attention. You cannot help being struck by the artist's vibrant, bold and colorful compositions that exude life. She transforms the landscape of the West - rolling hills and valleys, mountain lakes, rugged coastline, and National Parks (more about that in a moment) - into an abstract mosaic of color. Her love of the outdoors is evident in her beautiful and skillfully composed pictures.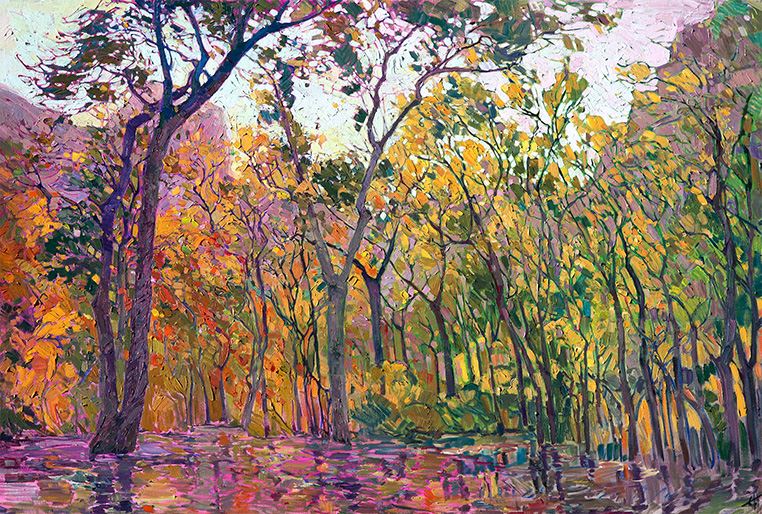 In 2012, while forming a collection of contemporary western art, I came across the work of Erin Hanson. I had been looking to purchase modernist pictures to add to my collection that would later travel to 4 museums in the exhibit known as A Feeling of Humanity. I became captivated by what I saw. Her paintings pulsated with energy and color, and were so beautifully textured. They evoked a sense of immediacy, and a feeling of freshness. There was also great depth of feeling in her pictures that I found particularly appealing. I am pleased that many people had the opportunity to experience firsthand Hanson's unique vision of the American West in this Feeling of Humanity exhibit.
Museum visitors will yet again have the chance to see and experience Hanson's work at the St. George Art Museum in Utah from January through May of 2016. This catalogue, Erin Hanson's Painted Parks, produced in conjunction with the St. George exhibit, gives us a look at some of her superb pictures of our National Parks. These paintings are intensely personal statements by the artist, and allow us to gaze into her world. Traveling often to the National Parks, Hanson studies and interprets the shapes and forms, the ever-changing light, shadows and color, and records what is meaningful to her.
Hanson's style of painting has been influenced by, among others, the German Expressionists, the Group of Seven, and the Masters of California Impressionism. Yet, her work is very original. We see the influence of the Group of Seven, and in particular, Tom Thomson, in Woods of Gold, At the Lodge, and Crystal Cottonwoods. Hanson's vibrant and energetic brushstrokes in these well-executed pictures lend a sculptural effect, and the treatment of light is splendid. What is particularly impressive in her work is her use of color. Colors are arranged with much though process, and there is technical brilliance. The influence of Edgar Payne can be seen in her brushstrokes in the sky in Desert Dawn, and on the cliffs in Angels Landing. Hanson has great expertise in painting descending and ascending views. Examples of her skill in painting such scenes can be found in Canyon Color, awash in brilliant hues, and Cedar Breaks, as if painted from ground level. As with many of her pictures, these two resonate in your mind.
In the last few years, Hanson's palette has grown brighter and is more expressive. The thickly applied paint stokes she uses without layering, a process dubbed as Open-Impressionism, lends a sculptural effect to her work. The multitude of colors that she now uses seem to dance throughout the canvas.
The pictures you are seeing in Erin Hanson's Painted Parks catalogue are the culmination of her mature work. Enjoy!
Ken Ratner, Curator and Collector
The exhibit will be hanging from January 16th until May 28th, 2016.
St. George Art Museum | 200 North 47 East, St. George, UT | (435) 627-4525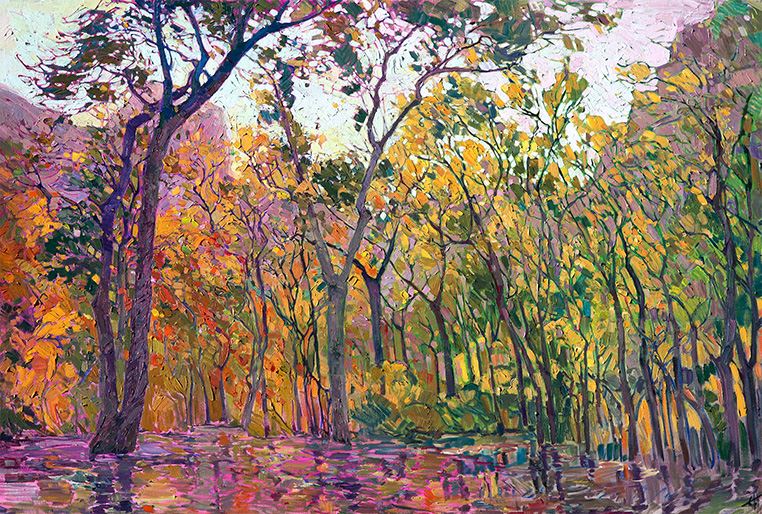 At the Lodge, oil on canvas, 2015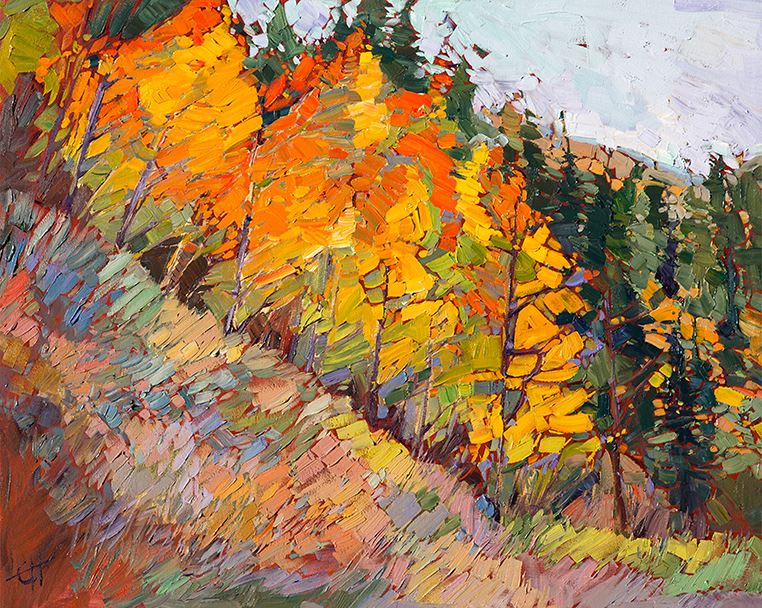 Woods of Gold, oil on canvas and 24kt gold leaf, 2015

Crystal Cotonwoods, oil on canvas, 2015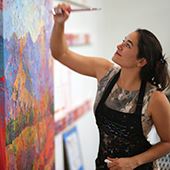 ERIN HANSON has been painting in oils since she was 8 years old. As a young artist, she worked at a mural studio creating 40-foot-tall paintings on canvas, while selling art commissions on the side. After getting a degree in Bioengineering from UC Berkeley, Erin became a rock climber at Red Rock Canyon, Nevada. Inspired by the colorful scenery she was climbing, she decided to paint one painting every week for the rest of her life. She has stuck to that decision ever since, becoming one of the most prolific artists in history. Erin Hanson's style is known as "Open Impressionism" and is now taught in art schools worldwide. With thousands of collectors eagerly anticipating her work and millions of followers online, Hanson has become an iconic, driving force in the rebirth of contemporary impressionism.

---
---