Where to View Impressionism in Southern California
Southern California Art Scene | Impressionism Stands Strong
Tuesday, February 23, 2016
California is predominately known for its ultra-modern and deeply abstract artwork, which is surprising given its roots in the famed California Impressionism movement. Within the 163,696 square-miles that comprise this sprawling and diverse state are some of the nation's most important museums, galleries and art collections. Thankfully impressionism is alive and well. You just have to know where to look.

Norton Simon | Pasadena, California
From Courbet to Cezanne, visit this Pasadena gem for exciting exhibitions and an impressive permanent collection.

Huntington Art Museum | San Marino, California
During the only West Coast stop on a national tour, The Huntington's presentation of "The Artist's Garden: American Impressionism and the Garden Movement, 1887–1920" showcases a hand-picked selection of 17 paintings from the exhibition that originated at the Pennsylvania Academy of the Fine Arts.

The J. Paul Getty Museum | Pacific Palisades, California
Always on view, the Museum's collection of European paintings, sculpture, and decorative arts is arranged roughly by era and the artist's nationality in galleries that span all four pavilions at the Getty Center. Artists in the permanent collection include van Gogh, Poussin, Cézanne, and Liebermann.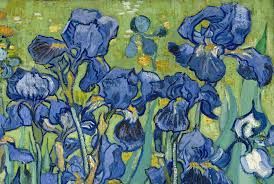 LACMA | Downtown Los Angeles
Among the museum's strengths are its holdings of Asian art, Latin American art, ranging from pre-Columbian masterpieces to works by leading modern and contemporary artists; and Islamic art, of which LACMA hosts one of the most significant collections in the world. (Pictured: Irises by van Gogh)

George Stern Fine Art | West Hollywood, California
George Stern Fine Arts specializes in California Impressionism and American Scene painting. With a large inventory of the finest examples of paintings from 1880 through 1940, and beyond.

Hammer Museum | Los Angeles
The Armand Hammer Collection provides an impressive overview of the major movements of nineteenth-century French art, with significant examples of realism, orientalism, the Barbizon school, impressionism, postimpressionism, pointillism, and symbolism by artists such as Claude Monet, Gustave Moreau, Camille Pissarro, and Henri de Toulouse-Lautrec.

The Autry in Griffith Park | Griffith Park, Los Angeles
View works from the likes of Maynard Dixon, Jean Mannheim, and Edgar Payne during their California Impressionism Exhibition running September 12, 2015–October 2016.

The San Diego Museum of Art | Balboa Park, San Diego
From the Renaissance and Baroque eras to Impressionism and Post-Impressionism; from modern and contemporary art to sculpture and photography; and from Oceania to the Americas, The San Diego Museum of Art has a strong commitment to building the collection and providing a bridge between the new areas of focus and existing collection strengths.

Pasadena Museum of California Art | Pasadena, California
A non-collecting museum, keep an eye out for exhibitions featuring respected artists. Past exhibitions vary from William Wendt to painter and printmaker William S. Rice.

Irvine Museum of Art | The University of California Irvine, California
Dedicated to the preservation and display of California art of the Impressionist Period (1890-1930), The Irvine Museum Collection is embracing a principal role in the education and furtherance of this beautiful and important regional variant of American Impressionism.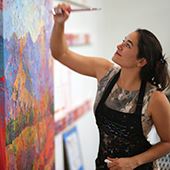 ERIN HANSON has been painting in oils since she was 8 years old. As a young artist, she worked at a mural studio creating 40-foot-tall paintings on canvas, while selling art commissions on the side. After getting a degree in Bioengineering from UC Berkeley, Erin became a rock climber at Red Rock Canyon, Nevada. Inspired by the colorful scenery she was climbing, she decided to paint one painting every week for the rest of her life. She has stuck to that decision ever since, becoming one of the most prolific artists in history. Erin Hanson's style is known as "Open Impressionism" and is now taught in art schools worldwide. With thousands of collectors eagerly anticipating her work and millions of followers online, Hanson has become an iconic, driving force in the rebirth of contemporary impressionism.

---
---