A Study in Orange: The Orange Collection by Erin Hanson
Erin Hanson's Orange Collection
Friday, September 16, 2016
ORANGE: the vibrant color which reflects joyous, bountiful energy. This color holds a peculiar fascination both for its many psychological effects and the challenge of utilizing it in modern impressionism. Erin Hanson has given herself the challenge of creating unique impressionist paintings with orange as the predominant color. From orange rock deserts to flaming sunsets to tangerine flowers, The Orange Show captures the creativity, determination, adventure, and fascination this unique color represents.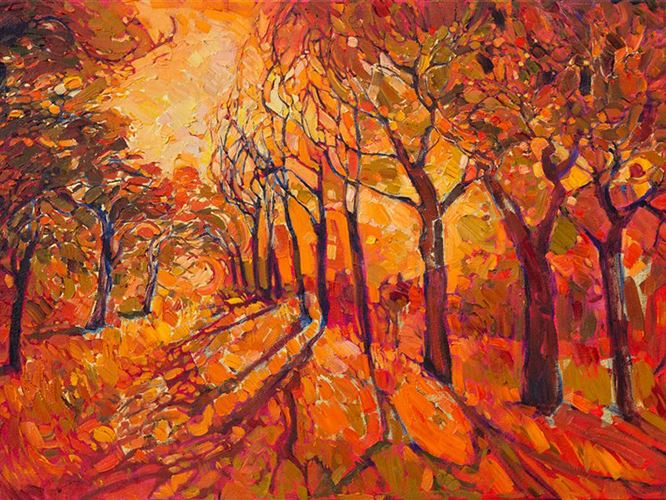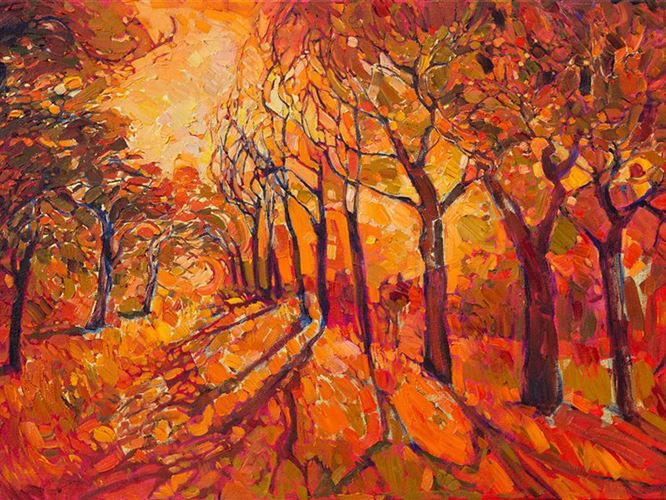 Gilded Path by Erin Hanson
Hanson's collection is not the first of its type. Picasso famously themed his works by color in selections culminating in his blue and rose periods. The Orange Collection takes inspiration from this, color field, and color theory. Hanson utilizes orange combinations in each painting to develop the warmth of orange and bring a dynamic feel to each and every painting. There are both still life paintings as well as landscapes included in the collection, the oranges in each painting meticulously placed to impart depth and texture to the overall communication. The subject of each painting is dynamically and vibrantly brought to life with each deliberate stroke of Hanson's brush.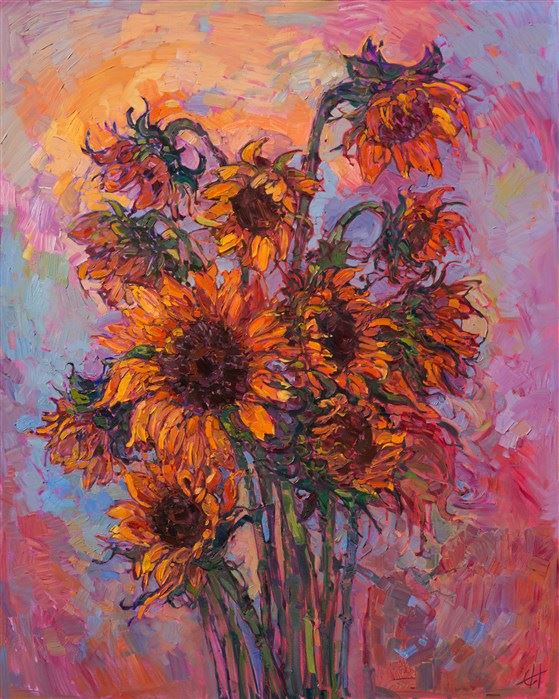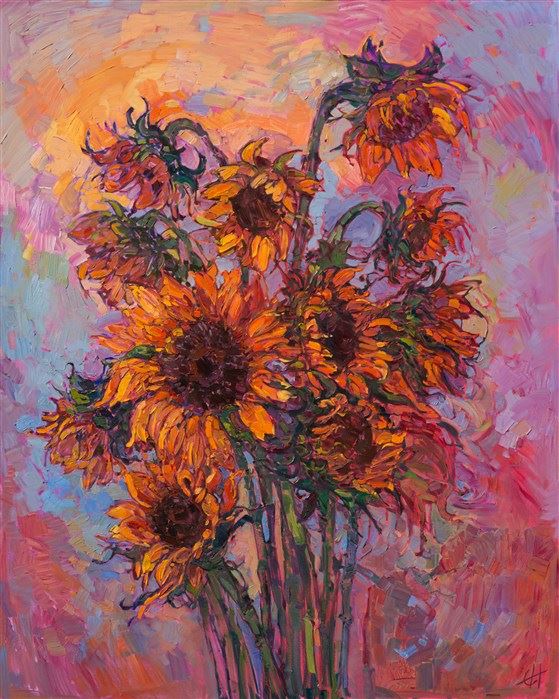 Sunflowers in Orange by Erin Hanson
Some paintings are thoroughly infused with shades of orange, running the spectrum from deep gold to fiery orange. Other paintings feature just a splash of orange, creating a depth that would be unattainable with another color.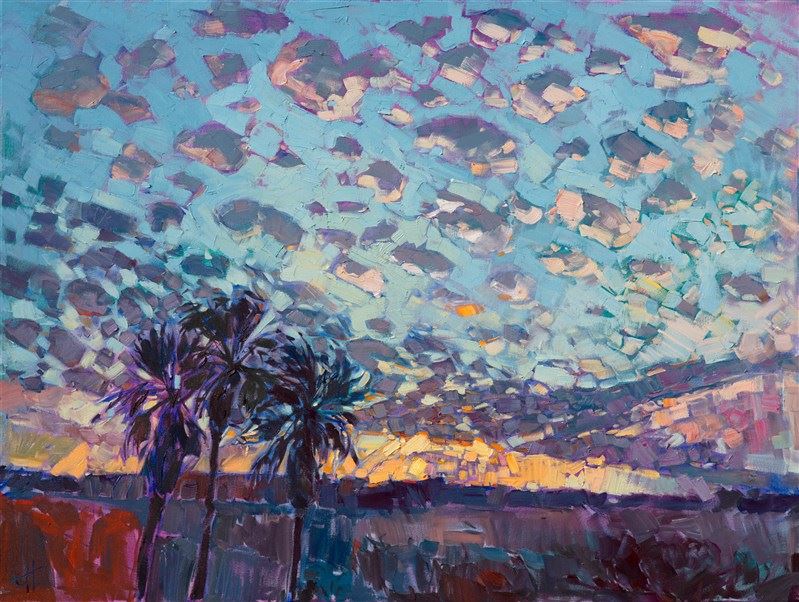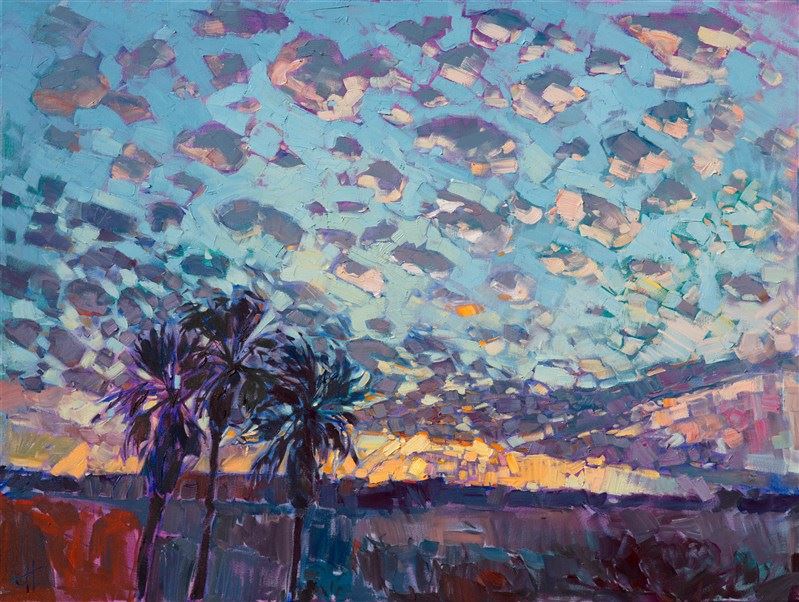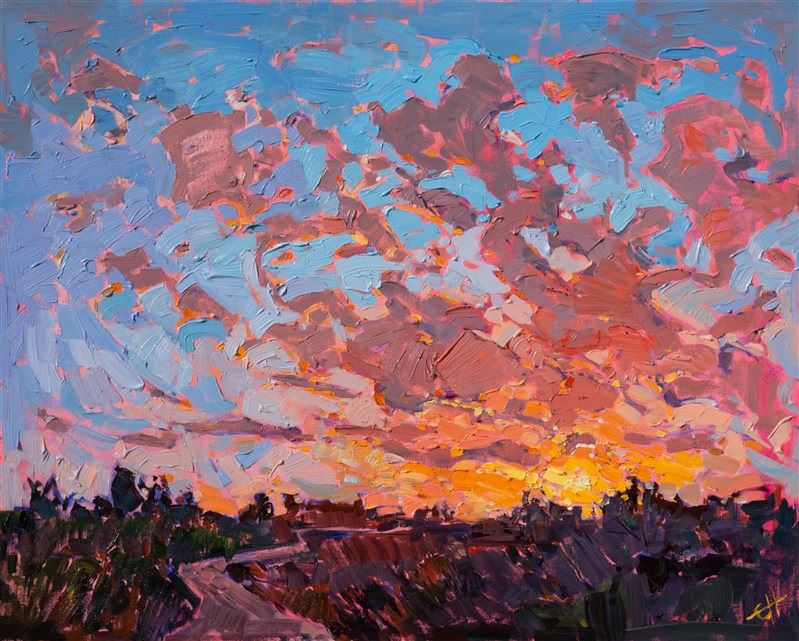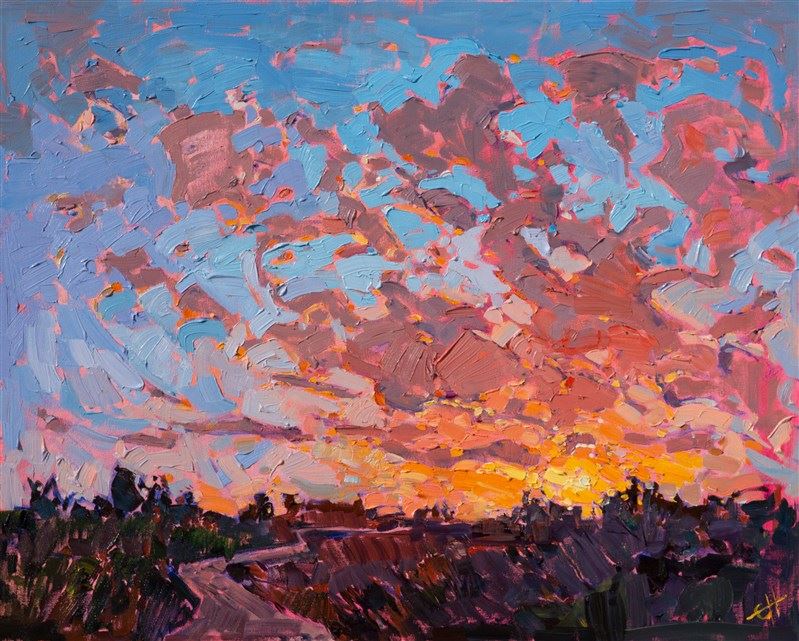 Streak of Orange by Erin Hanson
Winter Orange by Erin Hanson
Several of Hanson's paintings celebrate orange and juxtapose the heat of this color with cool azure or graphite. With Hanson's expert brushstrokes and her hand-mixed colors, every viewer at the Orange Show will have their senses titillated by this incredible collection. Join us at The Erin Hanson Gallery from October 1st through 28th to witness this unique compilation of orange modern impressionism. If you simply cannot wait to see the collection, click here to enjoy the pieces online.
Erin Hanson: The Orange Show | The Orange Collection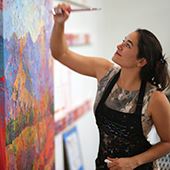 ERIN HANSON has been painting in oils since she was 8 years old. As a young artist, she worked at a mural studio creating 40-foot-tall paintings on canvas, while selling art commissions on the side. After getting a degree in Bioengineering from UC Berkeley, Erin became a rock climber at Red Rock Canyon, Nevada. Inspired by the colorful scenery she was climbing, she decided to paint one painting every week for the rest of her life. She has stuck to that decision ever since, becoming one of the most prolific artists in history. Erin Hanson's style is known as "Open Impressionism" and is now taught in art schools worldwide. With thousands of collectors eagerly anticipating her work and millions of followers online, Hanson has become an iconic, driving force in the rebirth of contemporary impressionism.

---
---