Los Angeles Gallery Opens to a Full House

Art Fans Flock to View Erin Hanson's New North East Los Angeles Art Gallery

The gallery was abuzz with excited collectors and fans as they took in Hanson's newest impressionistic landscape pieces and got a chance to share the evening with the delighted artist. The Gallery Opening also featured live music by The Happiness Band, a popular Los Angeles based Jazz band. All are invited to visit the gallery during open hours or book a tour to experience this visionary master's works first hand.

Read More →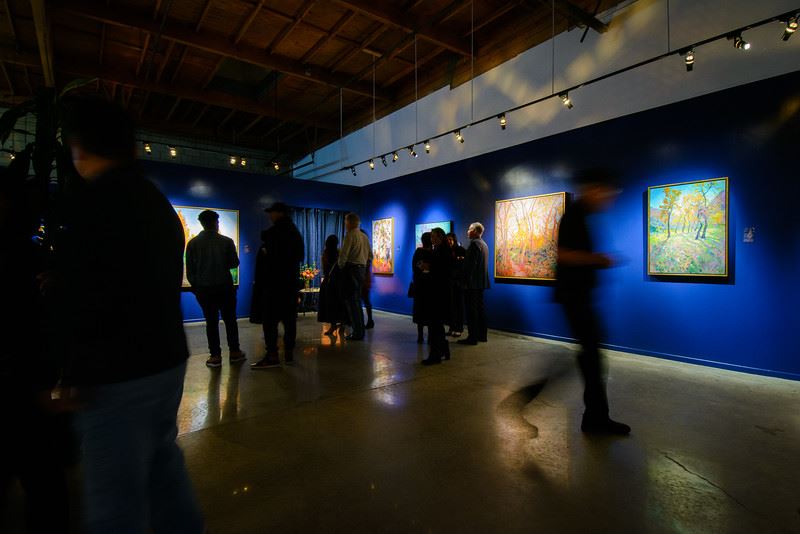 Los Angeles Gallery Opens to a Full House
Art Fans Flock to View Erin Hanson's New North East Los Angeles Art Gallery
The gallery was abuzz with excited collectors and fans as they took in Hanson's newest impressionistic landscape pieces and got a chance to share the evening with the delighted artist. The Gallery Opening also featured live music by The Happiness Band, a popular Los Angeles based Jazz band. All are invited to visit the gallery during open hours or book a tour to experience this visionary master's works first hand.
Read More →

Erin Hanson is a life-long painter, beginning her study of oil painting at eight years old. As a teenager, she worked in a mural studio creating paintings for restaurants and casinos around the world. A graduate of UC Berkeley, Hanson studied Bioengineering while continuing to pursue her artistic passion.
Inspired by rock climbing Red Rock Canyon and the southern California desert, Hanson has since spent almost a decade painting the dramatic scenery of Utah, Nevada, Arizona and California. Erin Hanson has created a unique style of her own, bringing elements of classic impressionism together with modern expressionism and adding a dash of "plein-air style." Her oil paintings stand out in a crowd, bringing a fresh new look to contemporary Western landscapes.