The Erin Hanson Gallery showcases the bold and vivacious oil paintings of San Diego-based artist Erin Hanson. A blend of modern expressionism and classic impressionism, Hanson's colorful and unique landscape paintings bring new life to the contemporary art scene. Hanson's works are collected by art museums and private collectors across the world.
The Erin Hanson Gallery is located in central San Diego, off Miramar Road, in San Diego's design district. We are open to the public Wednesday – Sunday, 10am to 6pm. Please to arrange a private viewing of Erin's works.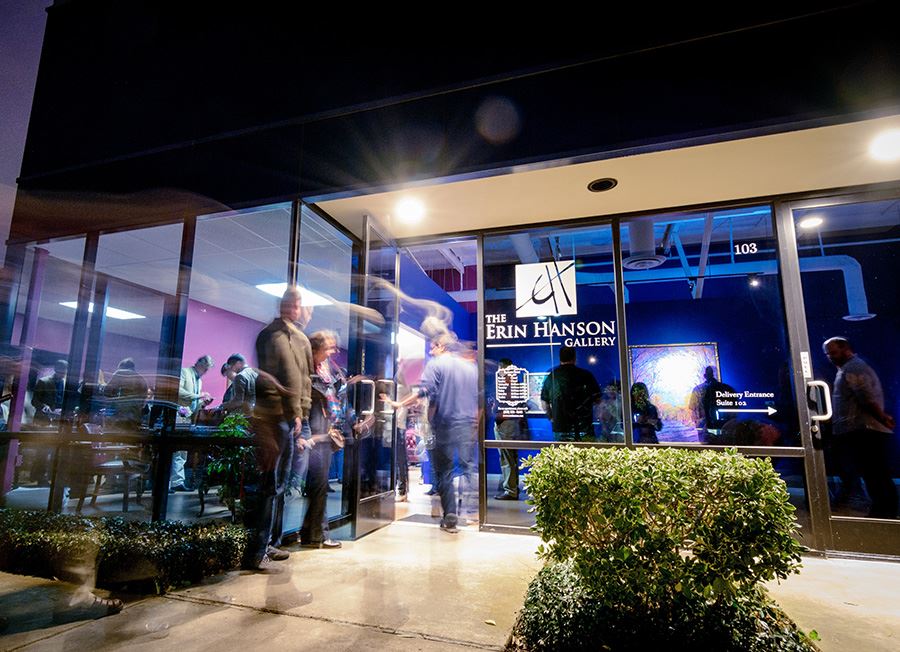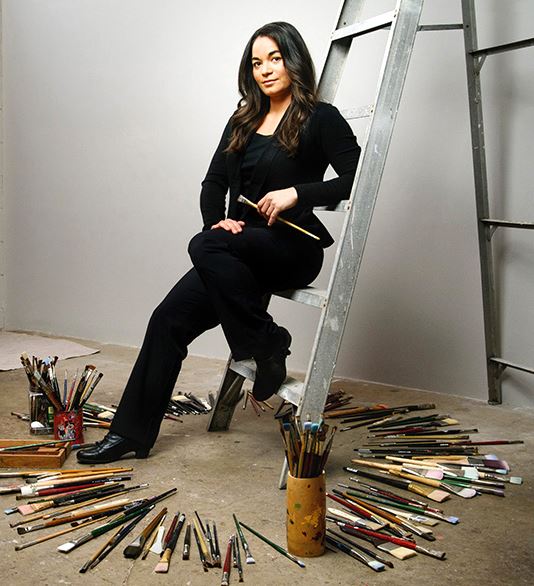 Subscribe to the Artist Newsletter
Join the new Erin Hanson artist newsletter for weekly updates on new paintings, upcoming events, videos, and more! Get behind the canvas and into the artist's mind with these insider-only articles written by the artist.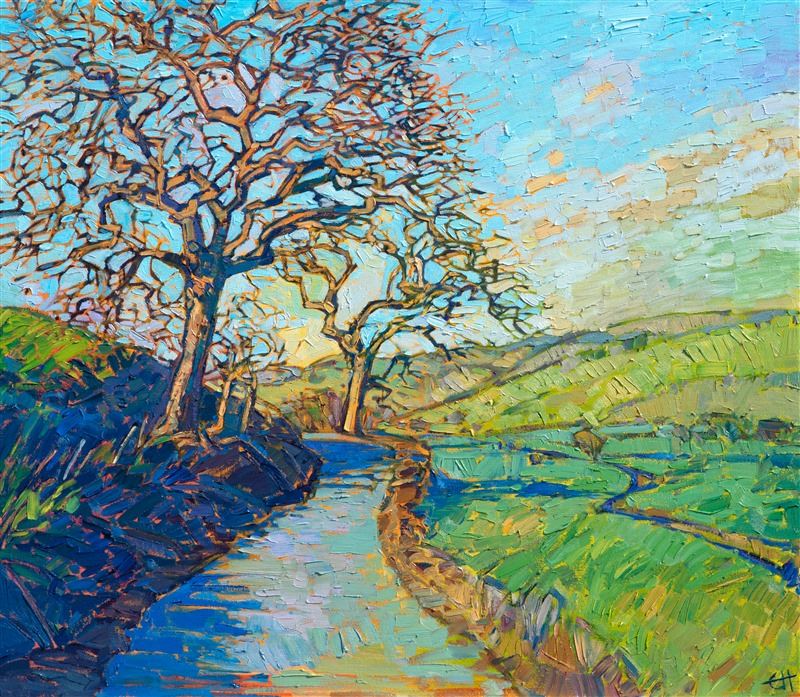 What is Open Impressionism?
Open Impressionism is a new style and movement that has sparked a fresh enthusiasm for contemporary impressionism. Developed by Erin Hanson, Open Impressionism is now taught in art schools and colleges across the world. With half a million views online every week, Hanson's images continue to influence the way new artists view the world.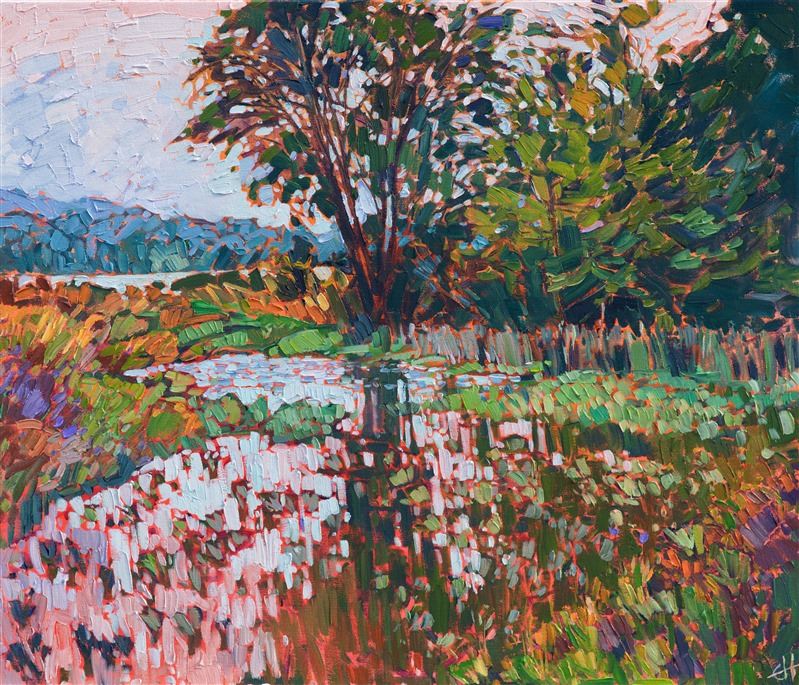 Fresh from the Easel
"Water Dance"
Oil on canvas, by Erin Hanson
28 x 24 in
Sparkling reflections of Northwest color dance across the water in this painting of northern Washington state. The wet marsh is filled with a multitude of textures and greenery, which form a beautiful mosaic of color across the canvas.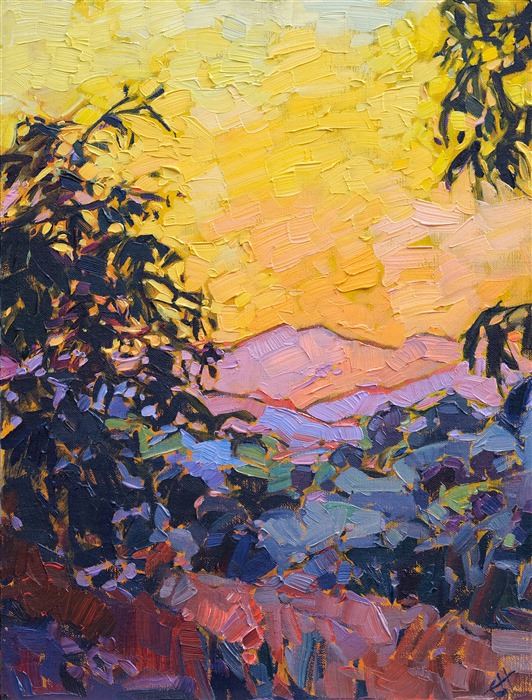 The Petite Collection
Visit the "Petite Collection" page to view Erin's smaller works under 20 inches. These collectible paintings arrive beautifully framed and ready to hang.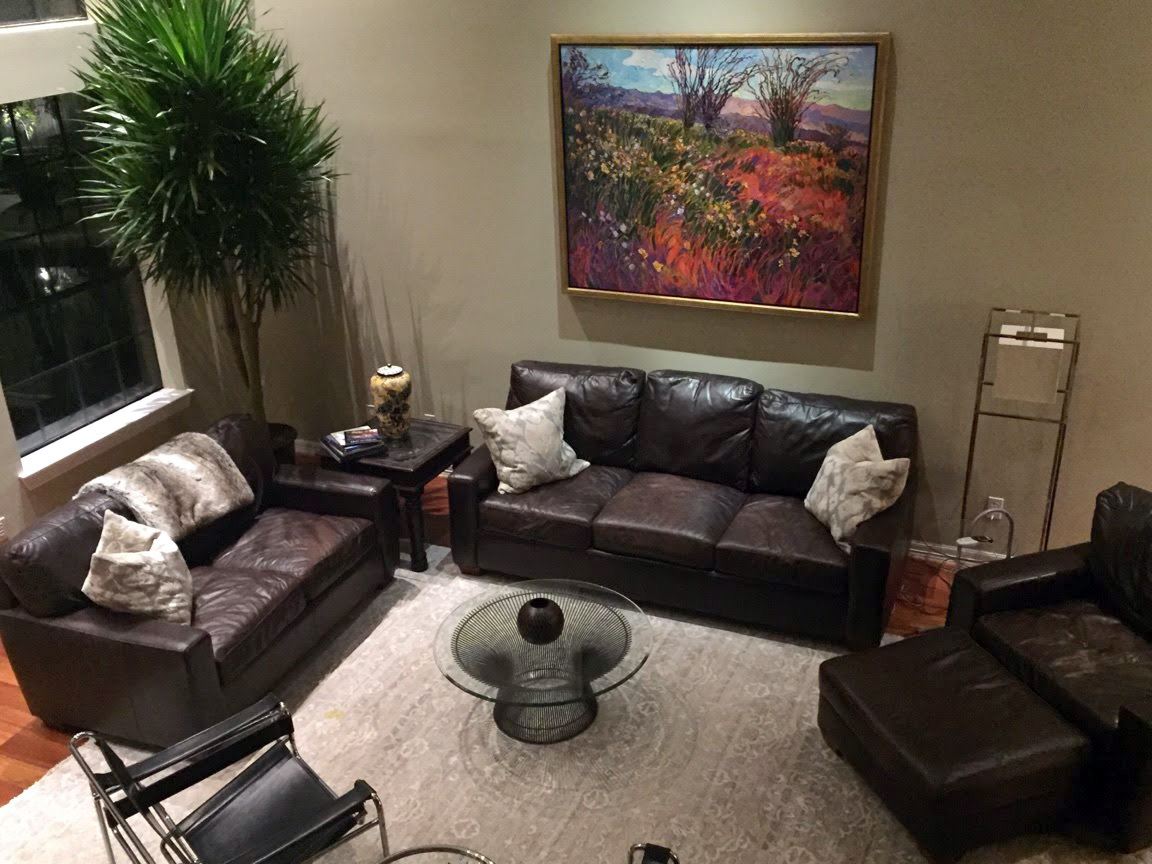 Collector Testimonials
Read feedback and reviews from Erin Hanson's fans and collectors. See how Erin Hanson paintings are beautifully displayed in collector's homes across the world.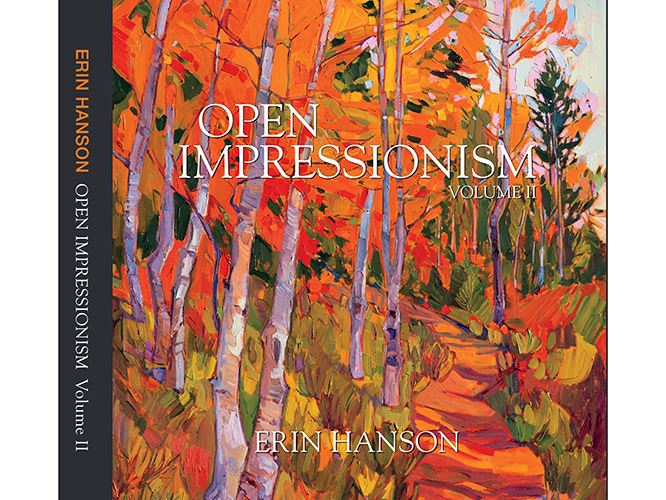 Open Impressionism: Volume 2
Erin Hanson has developed a unique style of painting known as Open Impressionism. This coffee table book shows the progression of Erin's style over 300 pages of full-color images. Explore the beautiful landscapes and sun-drenched colors of the West through the eyes of contemporary impressionist Erin Hanson, and experience the evolution of Open Impressionism.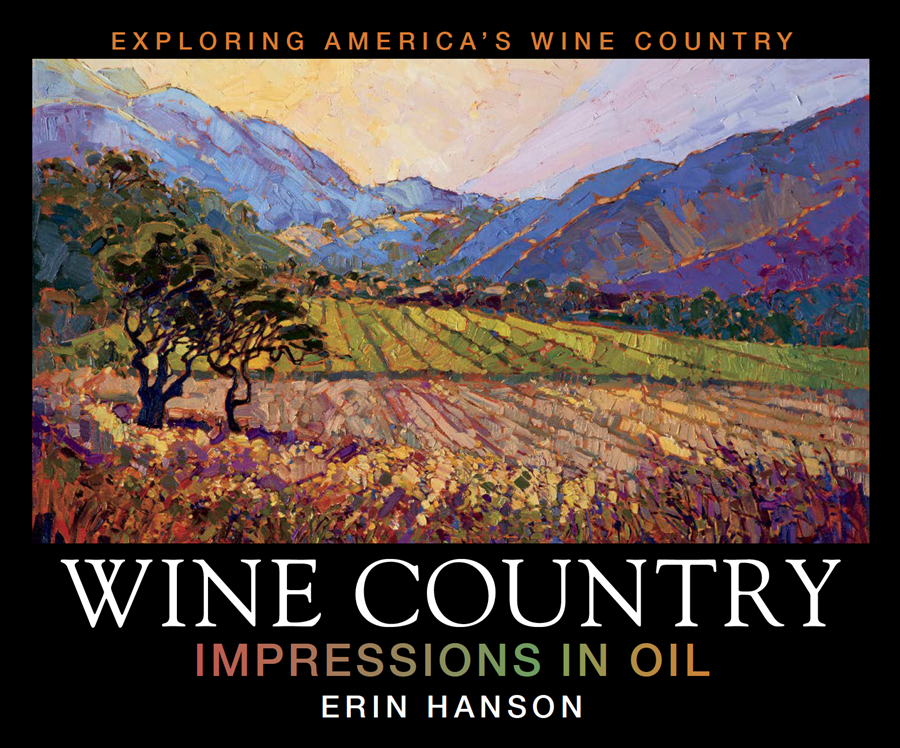 New Wine Country Book – Now Available!
Wine Country: Impressions in Oil
NEW RELEASE: This is an updated version of the book California Wine Country that was published in 2014. The new book is 100 pages longer and includes new wine country paintings from the past 4 years. Wine Country: Impressions in Oil also includes paintings inspired from viticultural regions all around the U.S., including Texas, Oregon, and the east coast.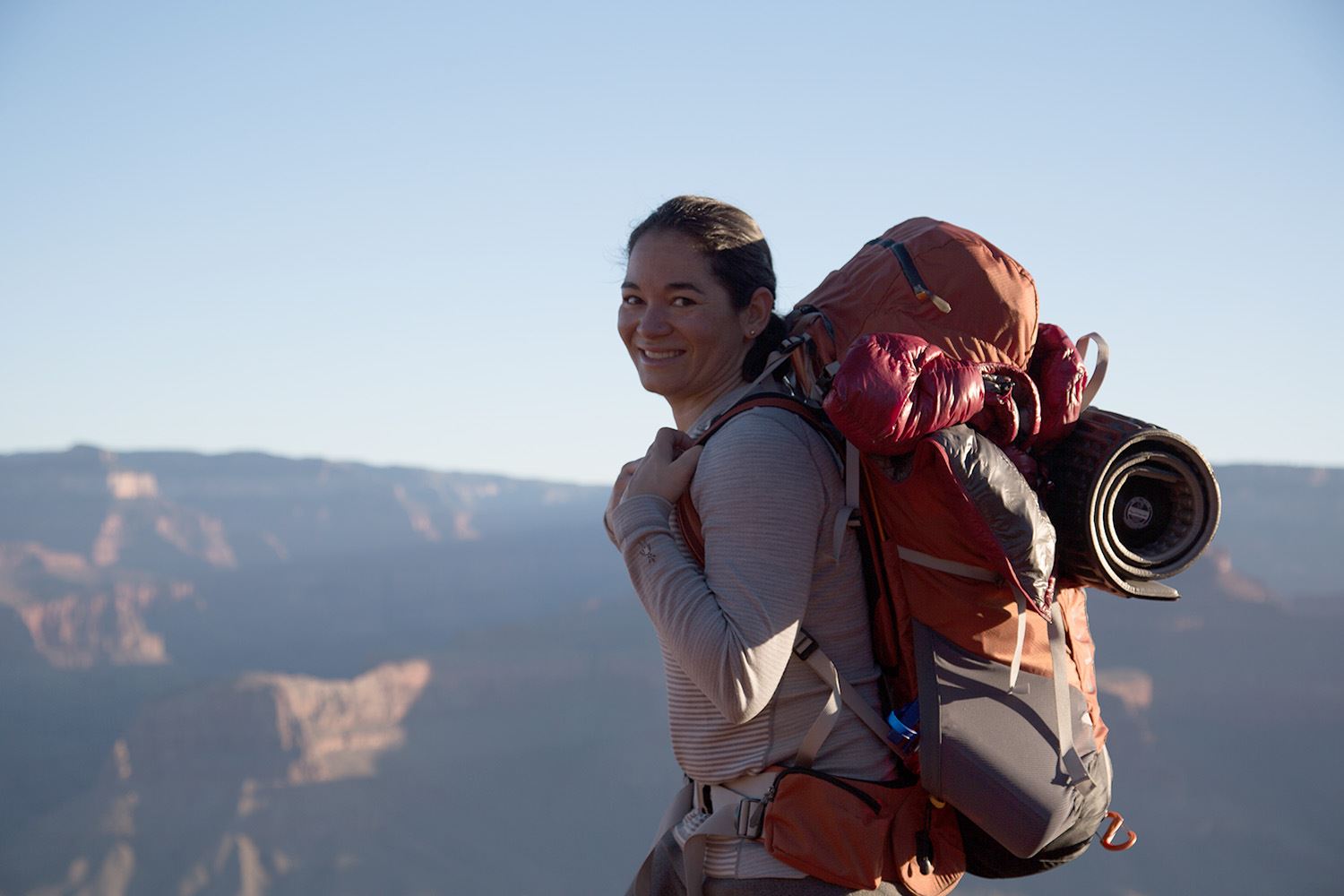 Erin Hanson Blog
Visit Erin's blog for a wealth of articles written by Erin Hanson and guest authors including biographies, interviews, adventure stories, in-depth painting looks, interior design tips, events and collection releases, news articles, and much more!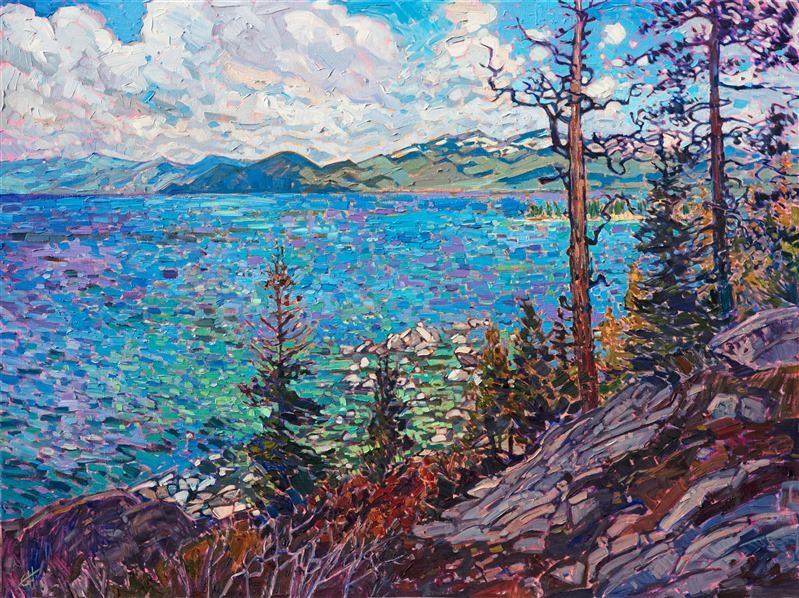 Featured Painting Collection
Visit the "Northern Color Collection" to view Erin's newest paintings that were inspired by the high peaks, pine trees, and alpine lakes of Oregon, Washington, Montana, and Utah.
Click here to see all of Erin's painting collections.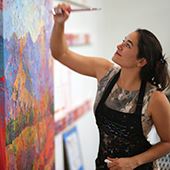 ERIN HANSON is a life-long painter, beginning her study of oils as a young child. Her passion for natural beauty is seen in her work as she transforms vistas familiar and rare into stunning interpretations of bold color, playful rhythms and raw emotional impact. Her frequent forays into National Parks and other recesses of nature include backpacking expeditions, rock climbing, and photo safaris. Hanson's unique painting style has become known as Open Impressionism, with hundreds of collectors eagerly anticipating her work. As an iconic, driving force in the rebirth of contemporary impressionism, Hanson is quickly recognized as a prolific, modern master.