How Should I Frame My Original Oil Painting?
Framing Ideas for Gallery-Depth Paintings
Monday, June 16, 2014
Original oil paintings that are painted on gallery-depth canvas look beautiful hanging directly on the wall without a frame, especially if the painting is continued around the edges of the canvas, creating a three-dimensional illusion as you view the painting from the side.
To set off a gallery-depth oil painting, while still preserving some of this three-dimensional effect, you can use a floater frame. Floater frames come in many different colors and finishes which can set off colors within the painting or complement the furniture in the room. Here is an example of a painting that was framed in a metallic pewter floater frame to match the metallic accents on the fireplace.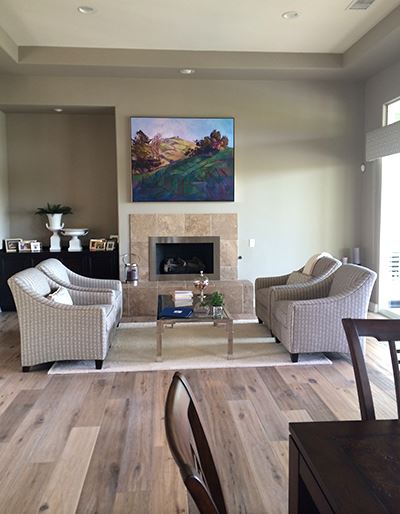 To set off a gallery-depth oil painting, while still preserving this three-dimensional effect, you can use a floater frame.

A floater frame is a cost-effective style of molding to create an elegantly modern look to your artwork. Most frame moldings are designed for 3/4"-deep canvases (in frame lingo, this is called a 3/4" rabbet.) A gallery-depth canvas is at least 1-1/2" deep (sometimes 2" or 2-1/2" deep.) The selection of moldings with a deeper rabbet is both slim and costly. The floater frame is already designed for a deeper canvas, and you can even order them online from specialty websites such as www.metroframe.com.
Here is another example (below) of a floater frame used as a contrast line around the painting, separating it from the butter-yellow wall color.
Whether or not you decide to frame your gallery-wrap oil painting, it will be a beautiful and eye-catching addition to your room, bringing in a breath of color that is a joy to design around.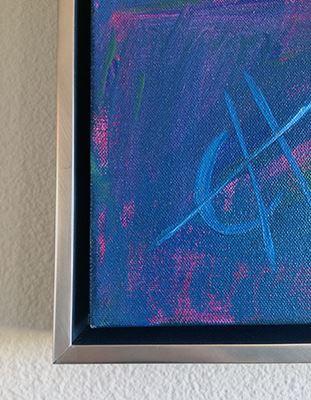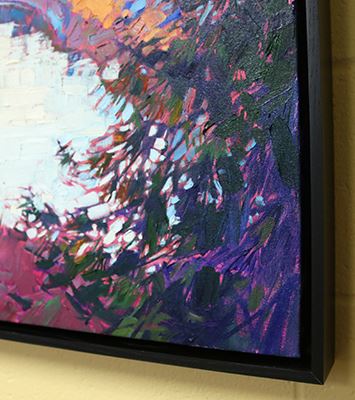 Gallery-wrapped painting without a frame: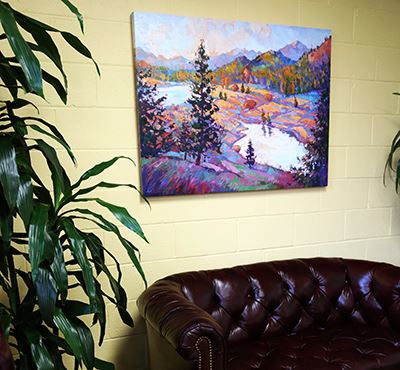 The same painting in a floater frame: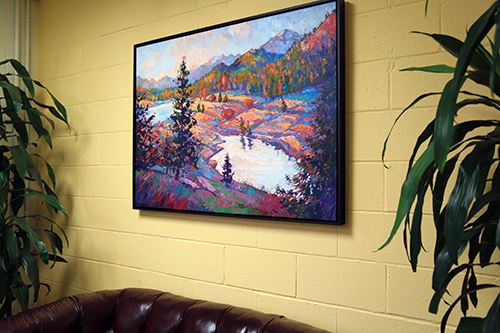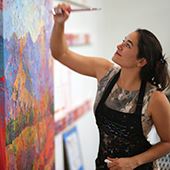 ERIN HANSON is a life-long painter, beginning her study of oils as a young child. Her passion for natural beauty is seen in her work as she transforms vistas familiar and rare into stunning interpretations of bold color, playful rhythms, and raw emotional impact. Her frequent forays into National Parks and other havens of nature include backpacking expeditions, rock climbing, and photo safaris. Hanson's unique painting style has become known as Open Impressionism, which is now taught in art schools around the world. With thousands of collectors eagerly anticipating her work and millions of followers online, Hanson has become an iconic, driving force in the rebirth of contemporary impressionism, and she is quickly recognized as a prolific, modern master.

---
---