Blog
Framing Options
Framing an Erin Hanson Original Oil Painting
Friday, October 13, 2017
I have experimented with many framing options over the years: a decade ago I taught myself how to use a miter saw and joining tools, and I was making my own frames out of fine cherry wood molding. I have framed my work in simple floater frames, traditional plein air frames, and elaborate baroque frames. I have hung many paintings without any frame at all, letting the artistically-finished edges stand un-covered for a more contemporary look.
A few years ago I developed a new style of frame that I call an "open impressionist frame," which you can see on the painting above. I like this frame because it is a beautiful blend of the contemporary and the traditional, as I consider my painting style to be as well.
I want to give you a brief overview of the framing options I offer for my original oil paintings, which you can see by scrolling down. However you decide you want to frame your painting, I will help to make sure the color and style complements your original work of art. Framing is always included without extra charge when you buy an original oil painting.
Open Impressionist Frames
I designed this frame to be a blend of the classic and the contemporary. This is a floater frame, which means the painting floats inside the frame and lets you experience every brush stroke on the surface of the painting. There is a small gap around the edge of the painting that lets you see a bit of the painted edge. Each frame is hand-carved by a master craftsman and finished with a corner pattern inspired by the Taos School, Early California, and American Impressionist frames. The frames are then gilded with 23kt yellow gold or 22kt champagne gold. Using different colors of clay as the ground beneath the gold leaf, I am able to create a range of gold hues.
Each open impressionist frame is choosen to complement the colors and pattern of the original oil painting. I can also order a custom frame just for you, depending on your preferences.
The EH Gold Floater Frame
This simple, uncarved floater frame was very popular with my collectors, until I used up every last bit of molding from the only supplier in the U.S. I then decided to have my own molding manufactured, and as of now I am again offering this style of framing for my paintings.
The EH Gold Floater is finished on the top with antiqued 23kt gold leaf. The face of the frame is 1/2" wide, and the sides of the frame are finished in pebbled black enamel. This frame is classy and modern.
Unframed
Many collectors prefer to hang their paintings unframed against a white wall or on an accent wall that complements the colors in the painting. In this example, the whole wall is acting as a frame to the painting.
Since I always paint the sides of my canvases (which are 1-1/2" deep) as a continuation of the painting, you get to experience a neat illusion and three dimensional effect as you approach the painting from the side.
Triptychs should be hung unframed, 1-2" apart, since a frame would add a hard line that would distracting from the painting.
Traditional Frames
Traditional frames are designed for canvases that are 3/4" deep. They come in a variety of gold, black or wooden finishes. These frames can be custom ordered for you upon request. Any of my deep canvases can be re-stretched onto 3/4" stretcher bars.
Frames for Petite Paintings
I offer several types of frames for my petite paintings under 20". My petite paintings are all done on linen board or 3/4" stretched canvas.
I can frame your petite painting in a hand-carved and gilded frame, in a standard plein air frame, or in a black and gold frame (the three examples pictured here.)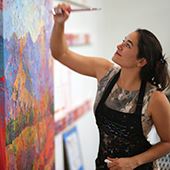 ERIN HANSON is a life-long painter, beginning her study of oils as a young child. Her passion for natural beauty is seen in her work as she transforms vistas familiar and rare into stunning interpretations of bold color, playful rhythms and raw emotional impact. Her frequent forays into National Parks and other recesses of nature include backpacking expeditions, rock climbing, and photo safaris. Hanson's unique painting style has become known as Open Impressionism, with hundreds of collectors eagerly anticipating her work. As an iconic, driving force in the rebirth of contemporary impressionism, Hanson is quickly recognized as a prolific, modern master.

Subscribe to the weekly newsletter for insider artist updates!
---
---