Let's Review: Artist Erin Hanson's Work Charms at La Jolla Library
Saturday, December 13, 2014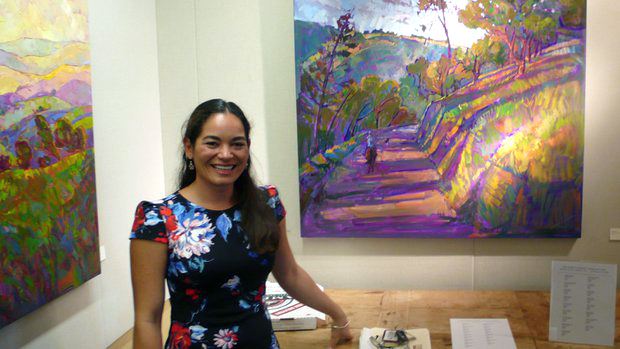 There were a lot of happy folks at the La Jolla Library Art Gallery Nov. 16 for the opening of "The Colors of California," and that's because the walls of the gallery were filled with the emotionally rich and vibrantly colorful California landscapes of Erin Hanson.
The paintings put stars in everybody's eyes. On top of that, Hanson charmed everyone in the house with her big smile and effervescent personality. This is the first time the Library Art Gallery has had a one-person show and Hanson proved more than worthy of the honor.
"Patricia Jasper Clark and I discovered her at the La Jolla Festival of the Arts this spring," said Arlene Powers, co-chair of the library art committee. "We were both so taken by her work that we decided to ask her if she would be willing to show in our gallery.
"We usually like to feature a group exhibit so we can support as many local artists as possible, but we felt strongly that this time Hanson could carry the whole exhibition — her work just seems to show a love affair with California."
Co-chair Jasper Clark added, "There just seems to be something organic from inside trying to be born in her paintings."
Hanson said she paints in a studio in Glendale from landscape photographs she's taken. "But, I'm an outdoor girl," she said, explaining she grew up in an Eagle Scout family, camping, hiking and rock climbing. She is different from other landscape painters because of the vivid colors she uses — purple trees and blue rocks.
Hanson does not thin her paints nor practice layering. She uses an enormous amount of thick paint for each work, which is applied with passion. She's a hard worker, too. She paid her own way through a private high school and UC Berkeley.
These days she paints about 10 hours a day, seven days a week, while listening to audio books — science fiction and the classics. "I have listened to Ray Bradbury's 'Martian Chronicles' a dozen times or more, and all of Charles Dickens' works," she boasts.
It all adds up to a new style of painting Hanson calls "Open Impressionism" — a combination of impressionism and expressionism, with a bit of the abstract thrown in, and a big invitation to the viewer to participate in the creation of the work by way of their imagination. "I have always wanted to be a Van Gogh or a Monet," she laughed.
Hanson's paintings work. From across the room, they reach out to you with colorful clarity. Up close, her sea of strokes offer a completely different experience than what's seen from afar, as does each stop at a different distance of viewing.
Hanson grew up in La Canada, the daughter of a computer programmer and a teacher. She said TV-viewing was not allowed at home, so everyone read a lot and played a musical instrument, except Hanson. She focused on drawing and painting, but with the same attention to the importance of practice known to musicians.
As a youngster, she often painted alongside adults who warned her not to try and make a living out of art. Consequently, she ended up studying engineering at UC Berkeley. However, she found that working in the field was not as satisfying as studying it.
After graduation, she sold warehouse items on eBay for eight years, after which she had enough resources to turn her attention back to painting full-time.
"My goal as an artist is to bring the beauty of nature to the viewer," she said. "I want you to see the colors of the land. I want to capture the emotional gradient of the landscape — to dramatize it. Each painting is more of an emotion than a representation. My paintings are an escape from the everyday. They are idealized versions of life."
La Jollan Charles Cornwald said he liked Hanson's "vibrant colors" and Renee Zanzinni agreed. Anita Brynolf (retired after 44 years of teaching art at Mesa College) called Hanson's work "gorgeous — some of the best landscapes I have ever seen."
Dolphin & Hawk Gallery co-owner Tasha Zogo said she was attracted to the abstract element in Hanson's work, while Nina Bernstein, who is studying to be a director at Mesa College's Theater Department said, "Her work makes me so happy."
IF YOU GO: "The Colors of California" is on view during library hours and runs through Jan. 31 in the La Jolla Library's Community Room at 7555 Draper Ave. More at www.ErinHanson.com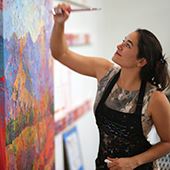 ERIN HANSON has been painting in oils since she was 8 years old. As a young artist, she worked at a mural studio creating 40-foot-tall paintings on canvas, while selling art commissions on the side. After getting a degree in Bioengineering from UC Berkeley, Erin became a rock climber at Red Rock Canyon, Nevada. Inspired by the colorful scenery she was climbing, she decided to paint one painting every week for the rest of her life. She has stuck to that decision ever since, becoming one of the most prolific artists in history. Erin Hanson's style is known as "Open Impressionism" and is now taught in art schools worldwide. With thousands of collectors eagerly anticipating her work and millions of followers online, Hanson has become an iconic, driving force in the rebirth of contemporary impressionism.

---
---