An in-depth look at the painting "Autumn Vineyards"
Sunday, July 14, 2019
I have been painting Paso Robles for 8 years now and it is still one of my favorite places to find inspiration. Although I have spent most of my life in California, growing up in Los Angeles and attending school at Berkeley in northern California, I'd never driven through the coastal wine country regions of central California until many years after I graduated college. I had seen the film "Sideways" and the wine tasting adventure looked like so much fun I just had to experience it for myself. So I ventured into the idyllic landscapes of Paso Robles.
After spending a weekend in wine country, I was hooked. I drove back the next month by myself in my camper van and spent a whole week exploring the winding country roads and rural vineyards of Paso. I was there in the spring, and the vibrant green colors, coastal fogs, and dew-covered hillsides were a joy to behold. In the years that followed, I returned to Paso during the changing seasons every year, each time finding new colors and compositions to inspire a whole new collection of paintings. I love painting the rickety wooden fences, the rows of grape vines, and the ancient oak trees alive with character.
I got involved with Studios on the Park, a local artists co-op and I did shows there every October for many years. I continue to do exhibitions every year with local wineries. Take a look at my event list to find out when I will be showing in Paso Robles next. If you have never been, it is definitely worth a visit! The food is incredible, the town is small and charming, and you will enjoy wine tasting and driving around the rolling hills and vineyards.
In this painting "Autumn Vineyards," I was inspired by a late afternoon drive through the vineyards in western Paso. Oak trees gather along the lines of the hills, catching the warm afternoon light. The golden vines glimmer in colorful autumn hues. The brushstrokes are thick and impressionistic, conveying a sense of movement within the painting.
"Autumn Vineyards" is available to view in person at my gallery in San Diego. The piece has been framed in an antiqued silver floater frame.
Here is a digital "in-room mockup" of the painting, so you can get a sense of the size of the piece (image courtesy of West Elm):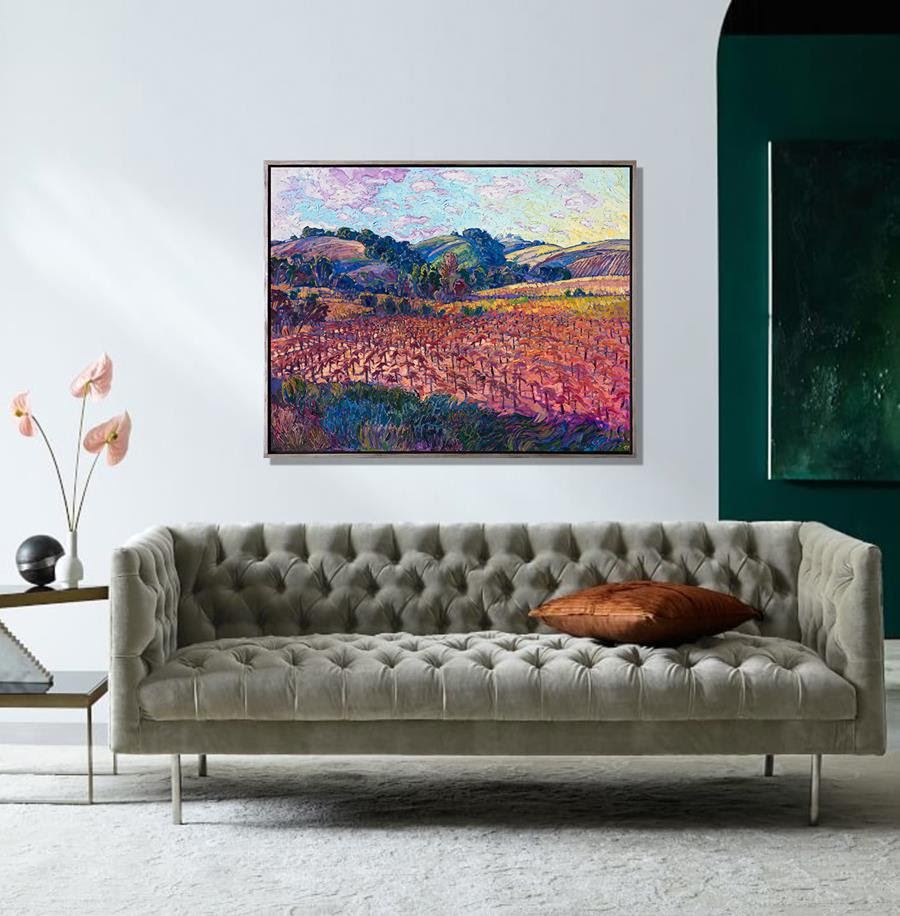 Autumn Vineyards
Oil on canvas, 48 x 38 inches
$20,000

To purchase this painting click here or give call the gallery at (858) 324-4644.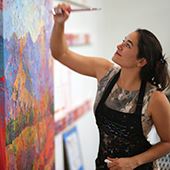 ERIN HANSON is a life-long painter, beginning her study of oils as a young child. Her passion for natural beauty is seen in her work as she transforms vistas familiar and rare into stunning interpretations of bold color, playful rhythms, and raw emotional impact. Her frequent forays into National Parks and other havens of nature include backpacking expeditions, rock climbing, and photo safaris. Hanson's unique painting style has become known as Open Impressionism, which is now taught in art schools around the world. With thousands of collectors eagerly anticipating her work and millions of followers online, Hanson has become an iconic, driving force in the rebirth of contemporary impressionism, and she is quickly recognized as a prolific, modern master.

---
---