Designing with Your Art Collection
An Interview with Evan Millard of Modern Remains
Thursday, December 30, 2021
What got you started in the interior design business? As a young child Legos sparked my interest in design. From an early age I can remember creating hundreds of buildings, homes, and towns from those colorful blocks.
Does artwork play a prominent role in your designs? Artwork plays a prominent role in each of our designs. Whenever possible we incorporate art by local and national artists into each space we design.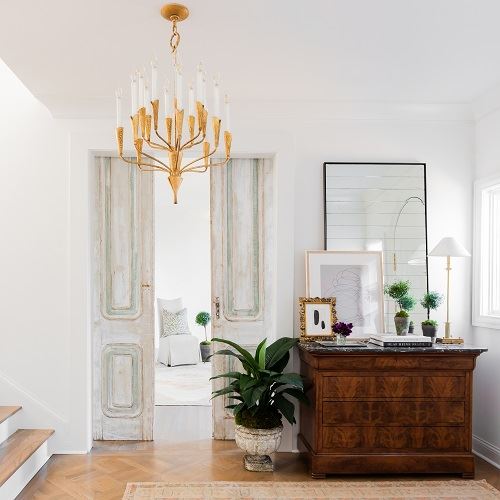 Have you ever designed an entire home around a client's art collection? Yes! A few years ago, we designed a cocktail lounge around a black and white photography collection, with one of the photographs being of Tupac. This design featured layers of lush velvets, jewel-toned lacquer finishes, vintage furniture, and of course that photo of Tupac!
How do you use picture framing to bring artwork into your design space? Typically, I prefer simple, gallery-style frames. I like the work to speak for itself and to be what is immediately seen. If I use a different style of framing, it would be to create a sense of contrast, like using an antique gilt frame with abstract work.
Can you tell me an example/experience of designing around a key piece of artwork? Recently we had the chance to collaborate on a project here in Nashville for House Beautiful. We were inspired by a bouquet of tulips in shades of pinks, reds, and oranges. We commissioned a local artist to design a triptych of floor-to-ceiling abstract panels, which we installed directly onto the wall. From those panels, we took inspiration for the rug, chair upholstery, and tabletop. The finished Breakfast Room was vibrant and full of energy.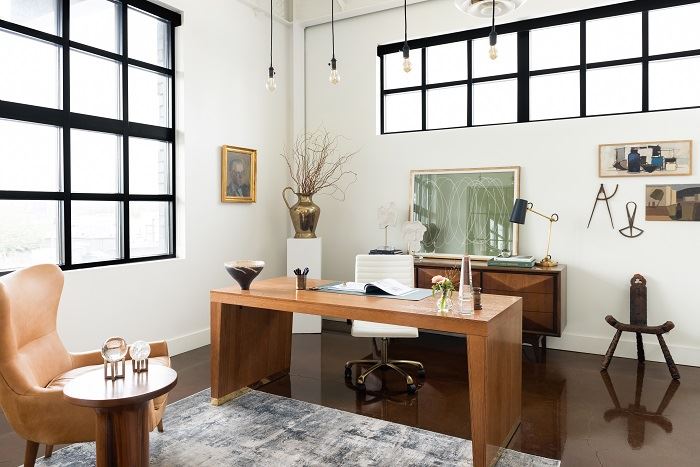 What sort of lighting do you use when hanging artwork in a client's home? I prefer wall-mounted art lights that hover right above the work. Not only do they highlight the work itself but can often be a decorative component on their own and add a special layer of effect.
Do you prefer clusters of smaller paintings or a big statement piece? Personally, I prefer a big statement piece. I recently added a large 30" x 40", watercolor on a silk, vintage Chinese horse to my art collection. It is a statement piece for sure!
How do you collaborate with your client when making artwork choices? The collaboration process with our clients is all about finding out what speaks to them. From our initial consultation with a prospective client, we begin to extract elements of both likes and dislikes which often plays into the process of choosing art for their project.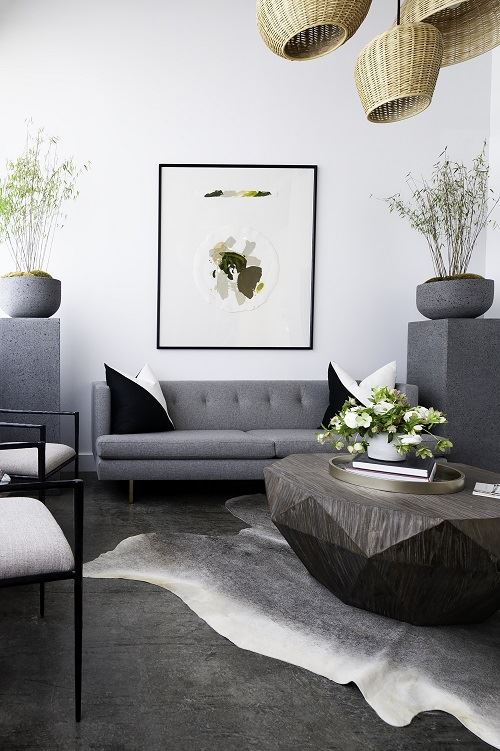 What are your favorite spots in a home to include art elements? I enjoy installing pieces of art in obscure places. I recently purchased a miniature oil painting of a clamshell in an antique frame and placed it in my medicine cabinet. Now, each morning when I open the cabinet, I see this beautiful little painting, and it brings a smile to my face.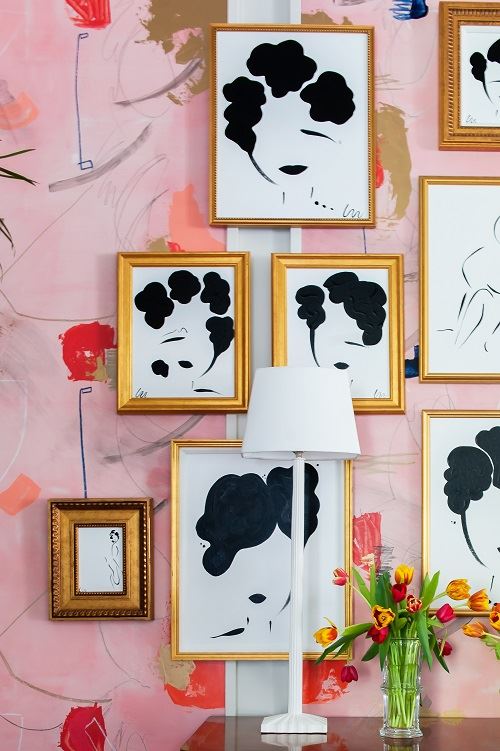 Do you have any tips or tricks about how to tie in a strong piece of artwork with the design elements in the room? Emphasizing strong pieces of art on pedestals and easels really ties them into the overall design of a room. Drawing attention to these art displays adds a sense of "mystery" and "charm."
What's the strangest piece of art you've ever had to design around? A set of three carved stone baby heads might be the strangest piece of art to date!
Interviewee: Evan Millard of Modern Remains @modernremains
Photography by Allison Elefante of Ruby & Peach Photography @rubyandpeachphoto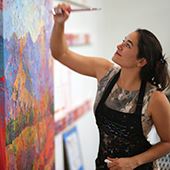 ERIN HANSON has been painting in oils since she was 8 years old. As a young artist, she worked at a mural studio creating 40-foot-tall paintings on canvas, while selling art commissions on the side. After getting a degree in Bioengineering from UC Berkeley, Erin became a rock climber at Red Rock Canyon, Nevada. Inspired by the colorful scenery she was climbing, she decided to paint one painting every week for the rest of her life. She has stuck to that decision ever since, becoming one of the most prolific artists in history. Erin Hanson's style is known as "Open Impressionism" and is now taught in art schools worldwide. With thousands of collectors eagerly anticipating her work and millions of followers online, Hanson has become an iconic, driving force in the rebirth of contemporary impressionism.

---
---