An Ode to Water Lilies
Tuesday, September 14, 2021
The History of Water Lilies

In honor of Erin Hanson's new, expansive water lilies painting, we wanted to take a moment to look back at the rich and colorful history of these luminous blooms. You may be surprised to know that this exotic flower can actually be dated as far back as the Jurassic era (the Amazon Water Lily) and has been peppered throughout human history for thousands of years.

Religious Meaning: In Buddhism and Hinduism, the water lily symbolizes resurrection, due to its nature of closing up at night and reopening in the morning, which simulates a daily spiritual rebirth.

Ancient Times: Water lilies are were an important part of ancient Egyptian culture, and the graceful flowers can be found adorning pillars, stone alters, and many other parts of ancient temples a symbol of the sun and rebirth.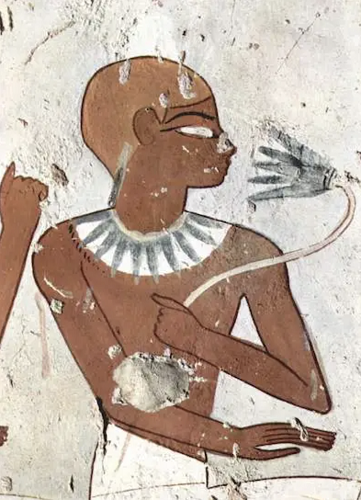 Trade Opens the World to Exotic Beauty: These beautiful, naturally occurring floating flowers are indigenous to East Africa, Southeast Asia, and tropical South America. As international trade opened up it wasn't long before these gorgeous blooms started popping up in large European estates in the late 1700's.

The World Stage Takes Notice: In 1893, ten years after Monet's arrival at Giverny (by then he was already a celebrated artist), he bought the piece of land neighboring his property and built his own water lily ponds. Monet created his own gardens of inspiration, even though his neighbors were opposed due to a fear that his exotic plants would poison the water and the land. His water garden was notably rugged and rural in its landscaping and was inspired by the Japanese gardens that Monet knew well from the prints he collected avidly.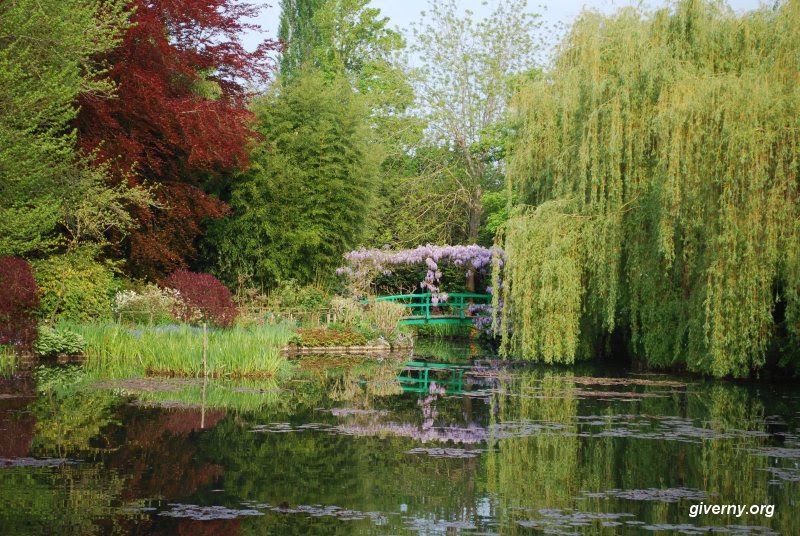 Over his lifetime Monet painted over 250 pieces inspired by water lilies and they have since become some of the most iconic images of Impressionism.

Today, sprawling gardens of water lilies can be found spanning the globe. They can be enjoyed immaculately manicured in the Singapore Botanical Gardens, with a picnic at the Norton Simon Art Museum in Pasadena, California, and in many cases, you find a neighbor with a gently trickling waterfall and lily pond as an artistic element in their backyard.

As art imitates life and life imitates art, Erin discovered the water lily garden at the Norton Simon Museum in Pasadena, California, and was inspired to paint the fascinating specimen for the first time (2016).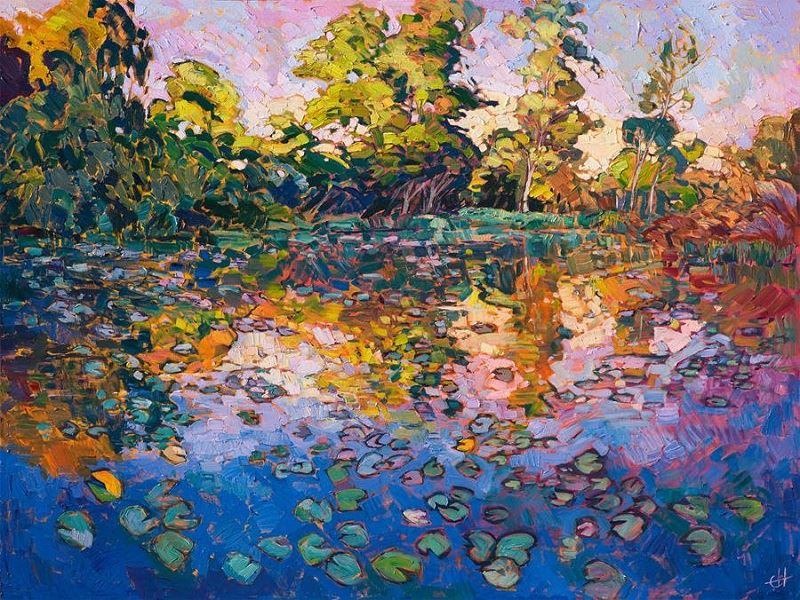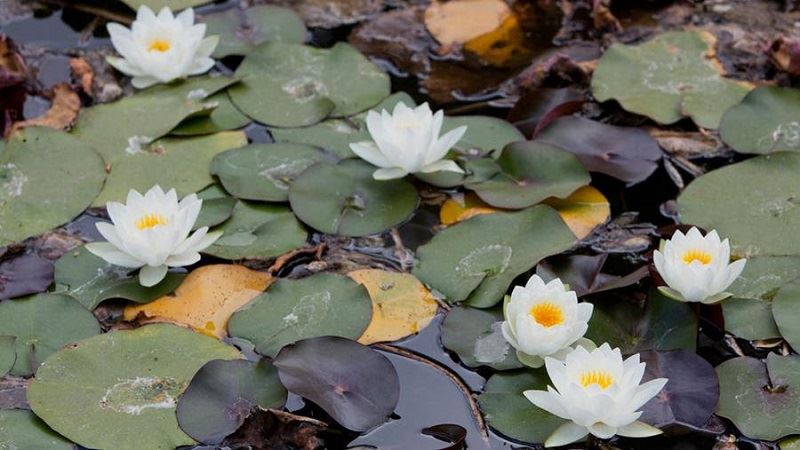 Over the next 5 years, Erin painted many water lily-inspired paintings. She started searching out water lily ponds so that she could explore the contrasting colors and textures of water lilies on a still pond.
I perhaps owe having become a
painter to flowers. - Claude Monet
---

Erin Hanson's
WATER LILIES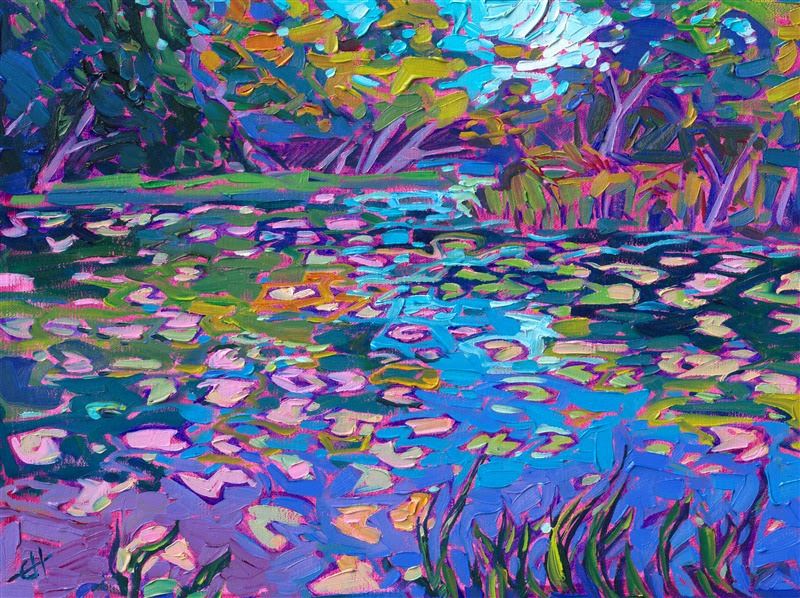 Lily Reflections by Erin Hanson, 2021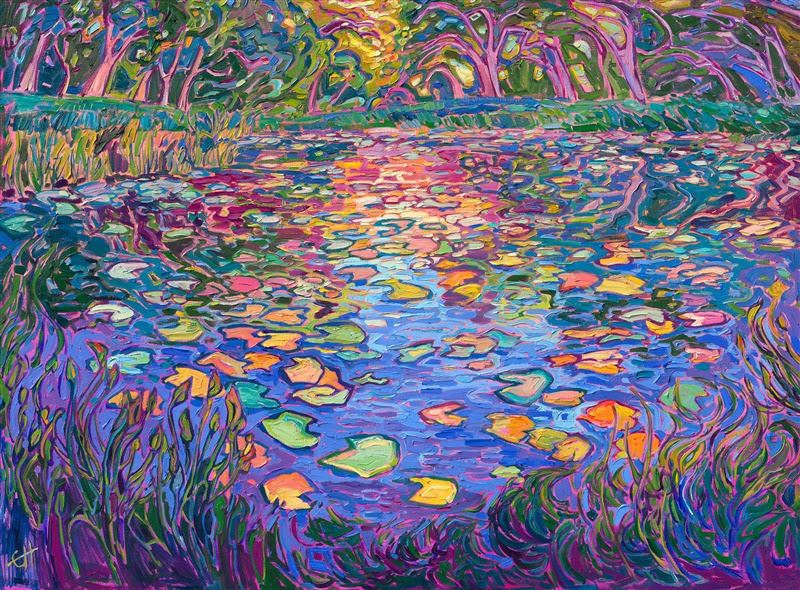 Lilies Reflections by Erin Hanson, 2021
Permanent Collection: Hilbert Museum of California Art
Lilies on Blue by Erin Hanson, 2020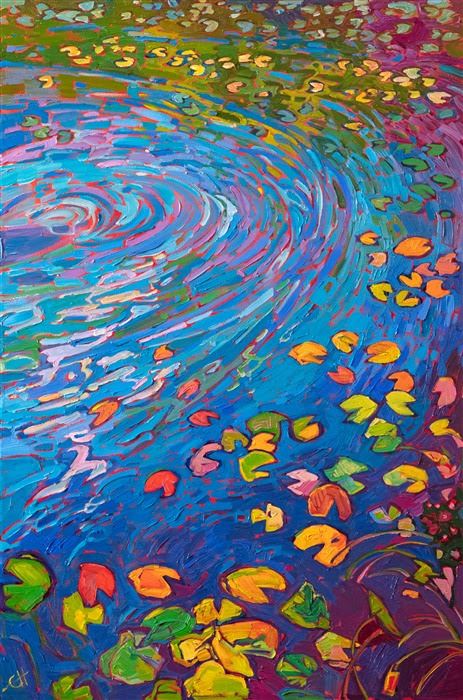 Ripples of Light by Erin Hanson, 2020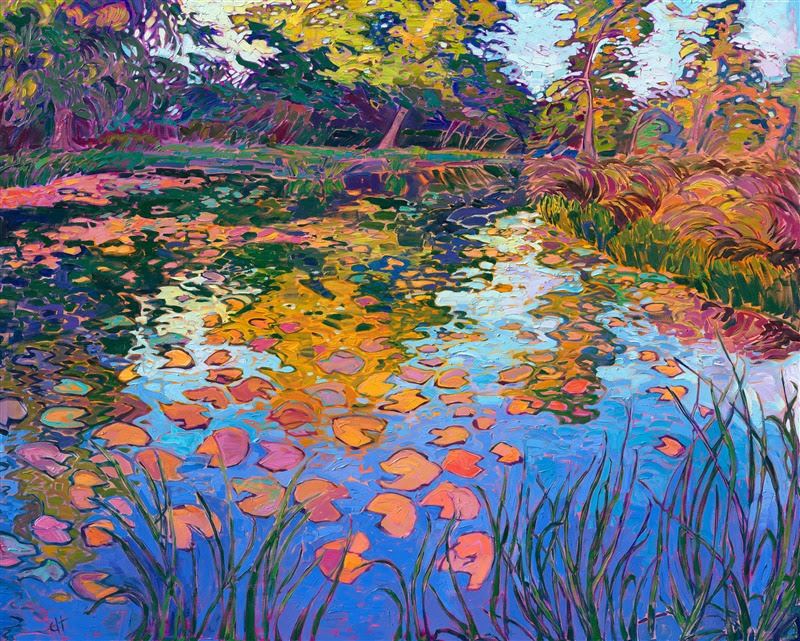 Lilies Impressions by Erin Hanson, 2020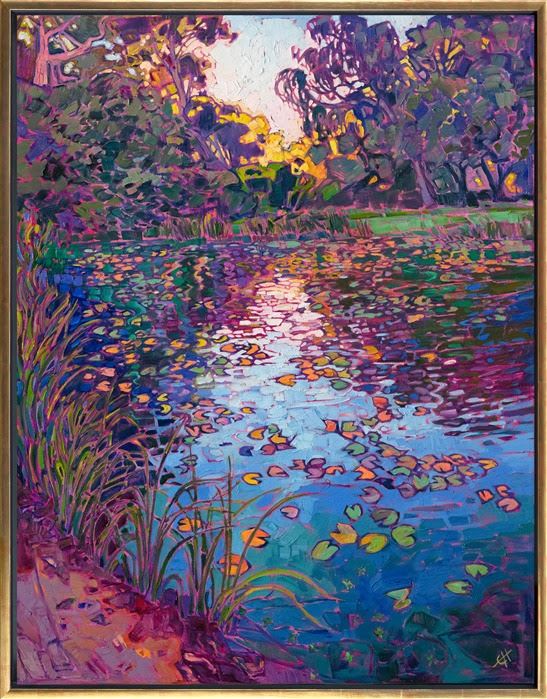 Lilies Reflection by Erin Hanson, 2019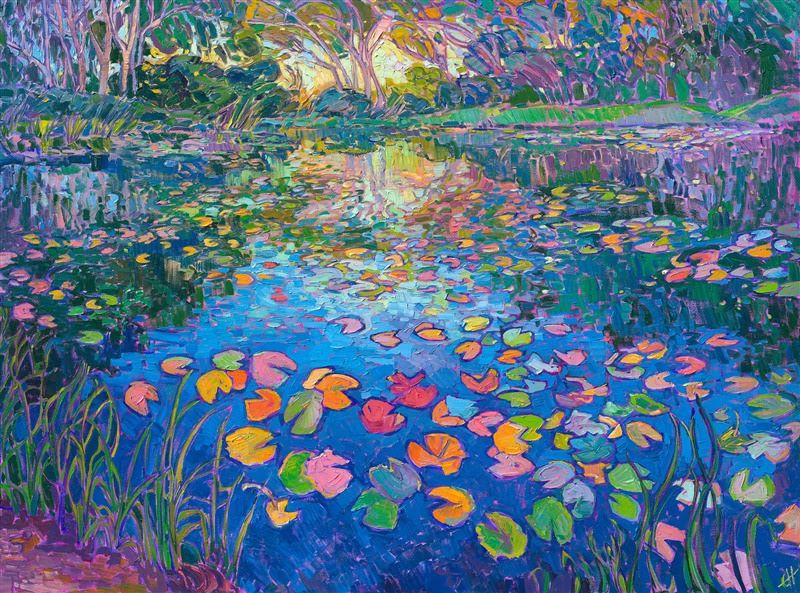 Lilies on the Lake by Erin Hanson, 2019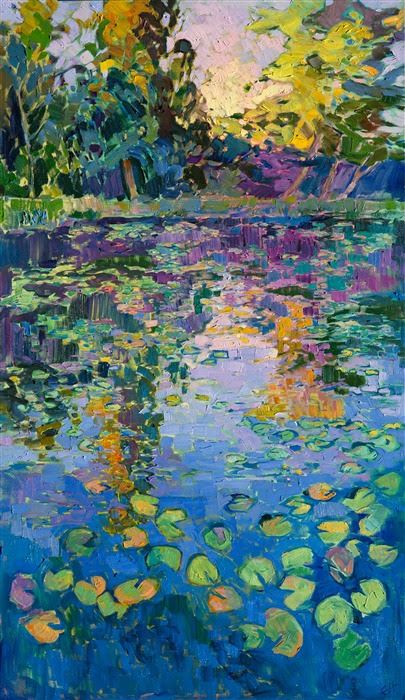 Lilies at Dawn by Erin Hanson, 2016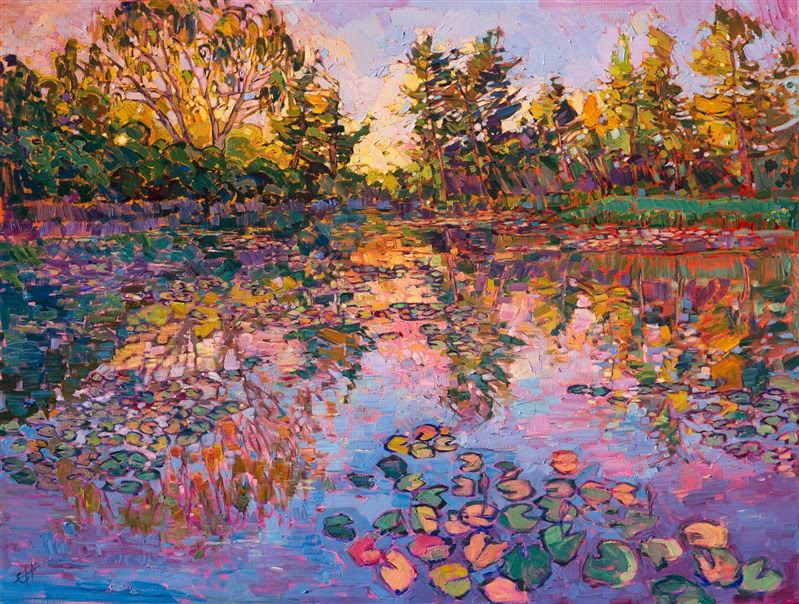 Lilies on the Lake II by Erin Hanson, 2016
Collection of the Allegretto Hotel in Paso Robles, CA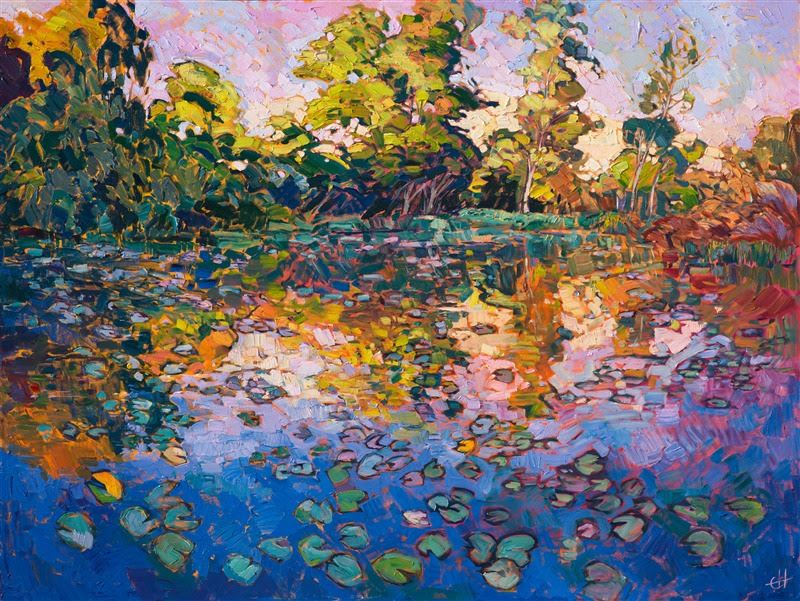 Water Lilies by Erin Hanson, 2016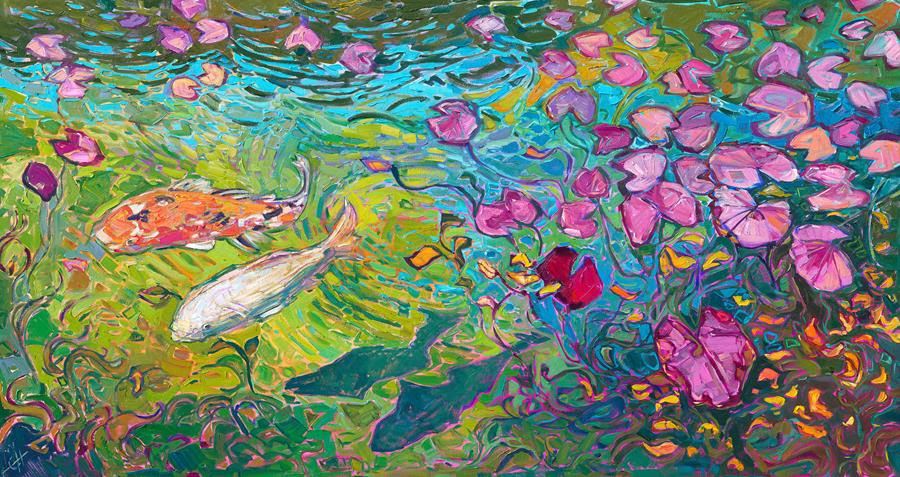 Lilies and Koi by Erin Hanson, 2021
Private commission
Lilies in Triptych by Erin Hanson, 2021
Available for purchase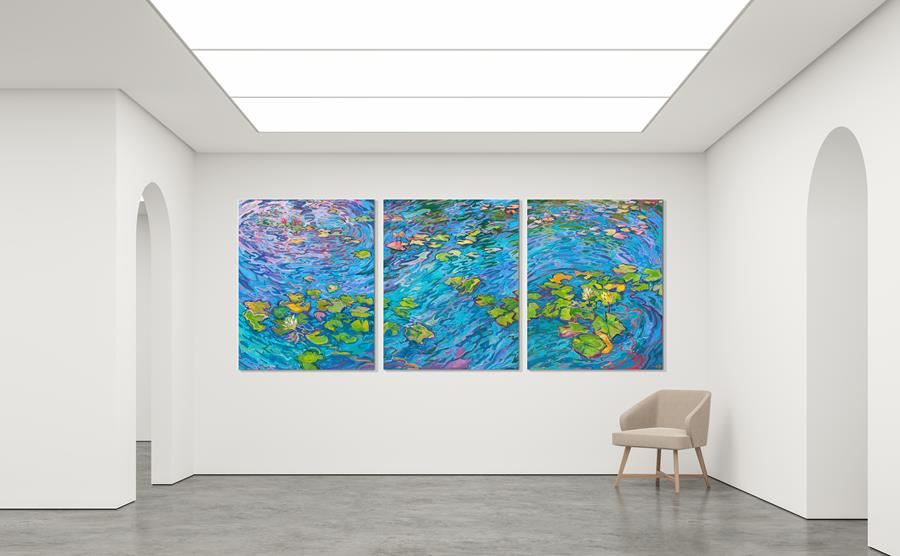 Lilies in Triptych in-room for scale
Enjoy the entire Erin Hanson Water Lilies Collection Here
---

Water Lilies
Around the World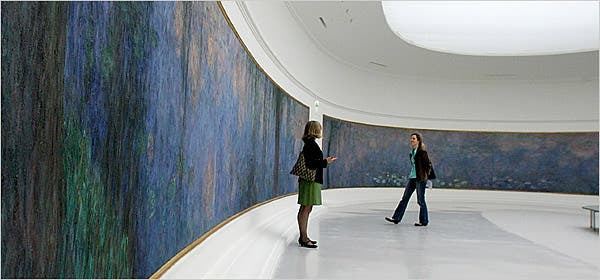 In 1927, the water lilies were set in massive curved panels and installed in two adjoining oval-shaped rooms in Paris' new museum, The Orangerie. The rooms opened in 1927. Some art historians call the Orangerie the world's first "art installation" because the space was designed specifically for Monet's paintings.

A photo of Monet working on Water Lilies (1920)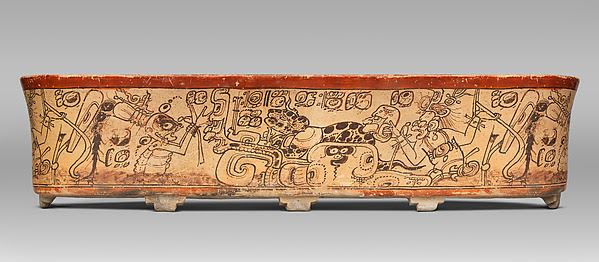 In the middle of this rollout image is the Water Lily Jaguar. It is on a witz (a living mountain) in between a wahy (spirit being) on the left and Chaak on the right. (There's also a serpent that is coming out of the witz.) The vessel was made between 600s AD and 700s AD, either in Mexico or Guatemala. From the Metropolitan Museum of Art.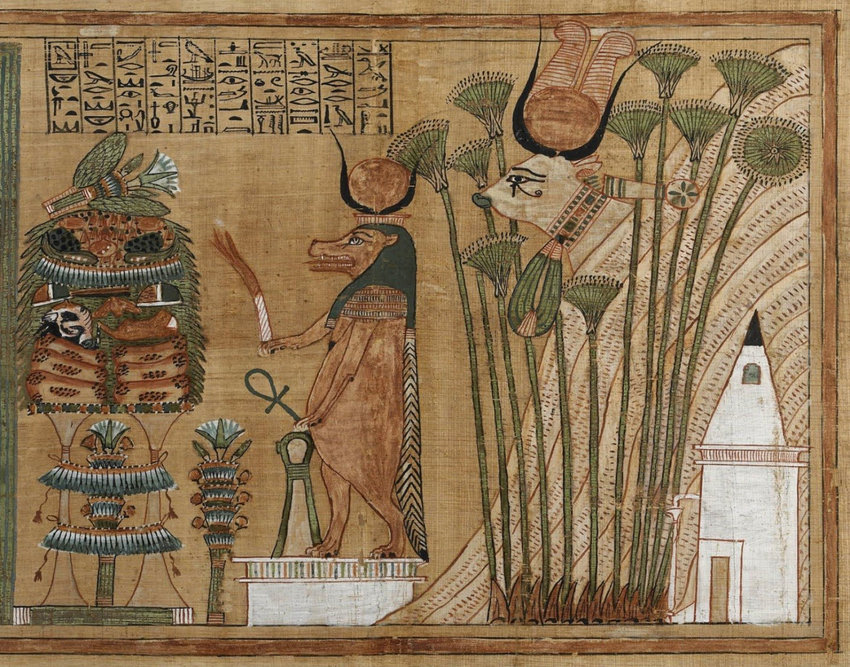 The ancient Egyptian goddess Hathor in the shape of a cow descending into the papyrus marshes from a stylized mountain, and a hippopotamus goddess with lotus/water lily offerings. From the Book of the Dead on the Papyrus of Ani, c. 1250 BCE.
British Museum, London. ©Trustees of the British Museum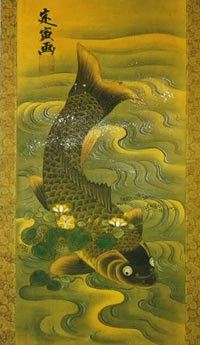 A piece of Japanese art from the 1800s
depicting a Japanese carp and water lilies.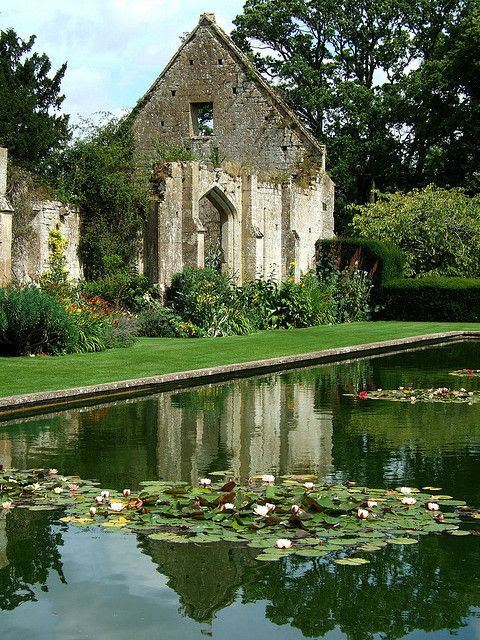 Sudley Castle, in Gloucestershire, England

Sudeley Castle is also the only private castle in England to have a queen buried within its grounds. Visitors can explore the beautifully restored 15th century St Mary's Church where Katherine Parr, the last of Henry VIII's six wives, now lies entombed.
Would you like to see more of Erin Hanson's water lilies? Take a look at the entire collection here.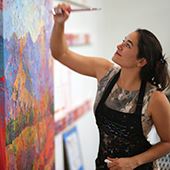 ERIN HANSON has been painting in oils since she was 8 years old. As a young artist, she worked at a mural studio creating 40-foot-tall paintings on canvas, while selling art commissions on the side. After getting a degree in Bioengineering from UC Berkeley, Erin became a rock climber at Red Rock Canyon, Nevada. Inspired by the colorful scenery she was climbing, she decided to paint one painting every week for the rest of her life. She has stuck to that decision ever since, becoming one of the most prolific artists in history. Erin Hanson's style is known as "Open Impressionism" and is now taught in art schools worldwide. With thousands of collectors eagerly anticipating her work and millions of followers online, Hanson has become an iconic, driving force in the rebirth of contemporary impressionism.

---
---