How Erin Hanson's 3D Textured Replicas Are Made
Behind the Scenes
Thursday, September 24, 2020
Erin Hanson has brought the latest in 3D printing to her custom, limited edition print offerings. This new print is a textured replica created using micro-layered 3D modeling and 48-bit color to make the most realistic painting reproductions available today.

How is this done?
Utilizing 3D Scanning Technology
There is a new piece of equipment here at The Erin Hanson Gallery, one you do not often find in an artist's studio. It is our new 3D scanner called the Cruse Synchron Table, 4.0. As you saw in the video, it is enormous - taking up an entire room in the gallery.

This machine's size and complexity are vital to the creation of our new, limited edition, 3D replicas. Here is how it works:

The scanner takes shots of an Erin Hanson original at multiple angles. These shots are incredibly high resolution and capture even the smallest brushstroke, along with the vibrant color of the piece. This information is then shared with the software design studio, where we can instruct the printer to provide the appropriate dimension in paint layering and correct any color differences between the original and the replica. From there, we can print your new, custom, Erin Hanson 3D Textured Replica.

As you can imagine, this process is quite technical.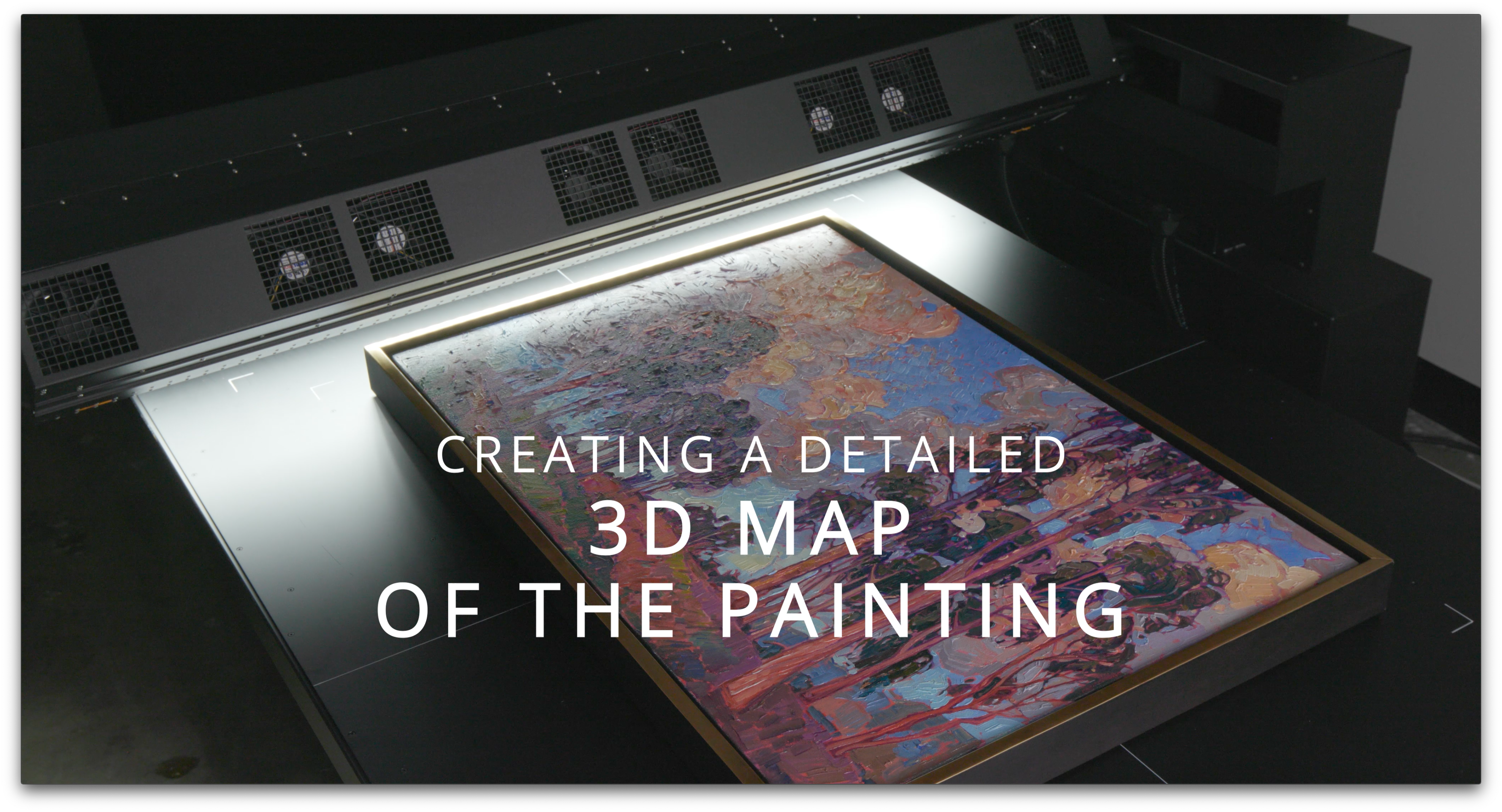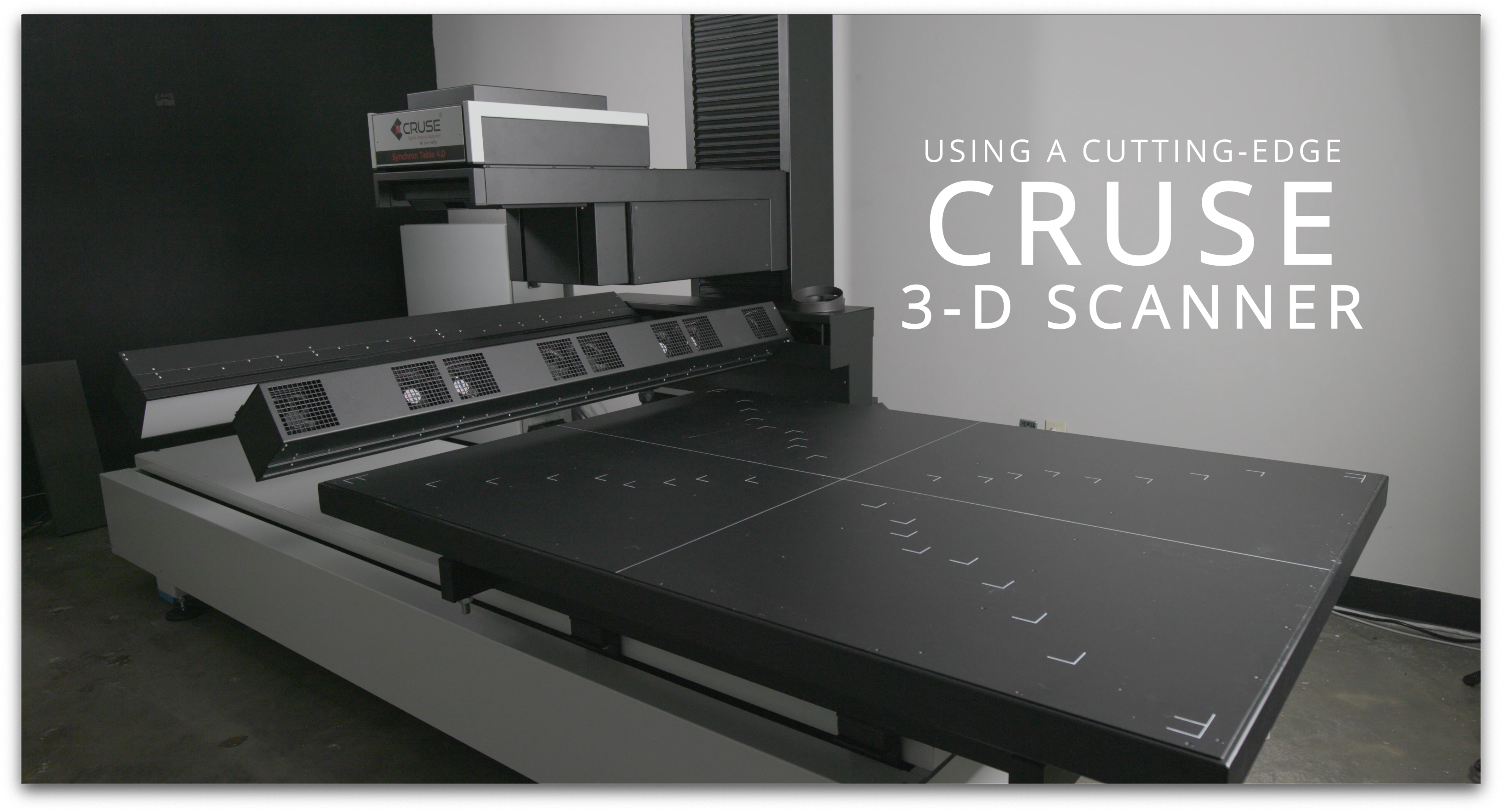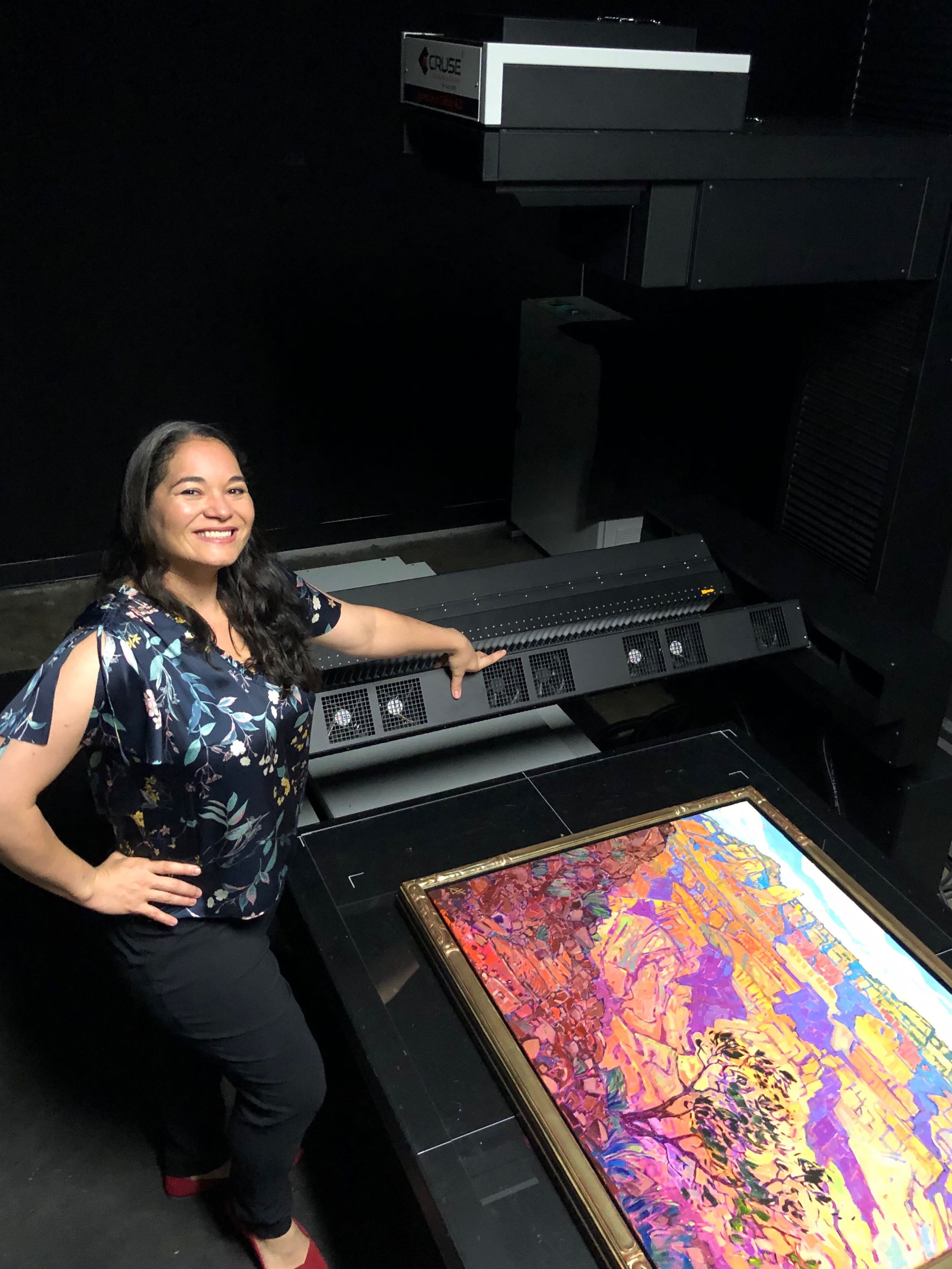 Comparing and Contrasting 3D Textured Replicas with Originals
You may be wondering, "How is a 3D textured replica different from an original painting?"

Many in the art world are asking the same question as this technology becomes more popular. Recently, the Van Gogh museum began printing replicas of Van Gogh's masterworks as an offering to art aficionados. At the same time, The Museum of Natural History has created 3D replicas of dinosaur bones so that visitors can touch and - in some cases - take a bite out of - these true-to-form replicas.

When it comes to the Erin Hanson 3D Textured Replicas, these are certainly the closest to the original that modern technology can possibly replicate. However, each replica can be distinguished from an original painting. Here are a few aspects that set each apart from the other:

1. Erin Hanson 3D replicas are created with plastic-based paints that are cured using UV light. Erin uses natural oil paints to create her original works.

2. There is almost no visible difference when viewing an Erin Hanson 3D Textured Replica against the original painting from a short distance (for example when viewed a few feet back with the pieces hanging on a wall). However, when examined up close, you can see a greater precision in the brush strokes on the original piece, and the paint used on an original has a particular luminosity that can only be found in oils.

3. Erin Hanson 3D textured replicas are offered as limited edition prints (edition of 100), each hand-signed and numbered in gold enamel with an accompanying Certificate of Authenticity. Open edition replicas are available as well.

4. We know that the world of 3D imaging technology will continue to advance. Therefore, Erin is now embedding a tiny RFID chip behind her painted signature on original paintings. This will allow any original artwork to be scanned and validated as an original.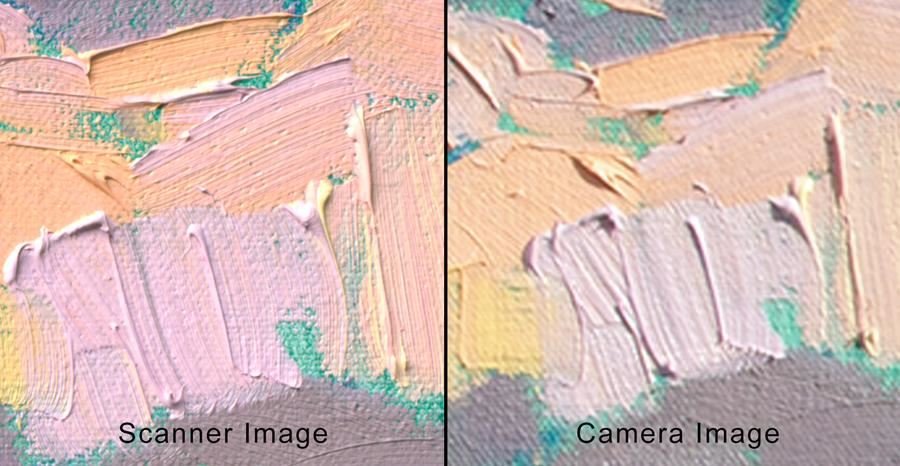 Though there are differences between a 3D textured replica and an original, Erin Hanson oil painting, we have created the replicas to be as true to an original as possible. Here are several aspects that make a 3D replica stand out:

1. Each replica is made of exceptionally durable materials and will last for generations to come.

2. Every one of Erin Hanson's replicas is inspected by the artist. Erin has the final say as to whether this print meets her exacting standards, and she ensures that the 3D textured replica matches her original painting as accurately as possible.

3. We are so confident you will love these 3D textured replicas, that we are offering a 30-day money back guarantee on all prints.

4. The 3D scanner captures 2 times more color information than your standard, high-end camera and partners with a state-of-the-art printer that uses more colors than a standard, CMYK inkjet printer. This allows the vibrant purples, oranges, and reds that are so beloved by collectors to shine through in an Erin Hanson replica. Not only is this scanning and printing method able to provide the textured feel of an original painting, but the color match will be the closest you can possibly get without purchasing an original.

Here at The Erin Hanson Gallery, we are proud to include this incredible new offering to our collectors and fans. Click here to find your Erin Hanson 3D Textured Replica.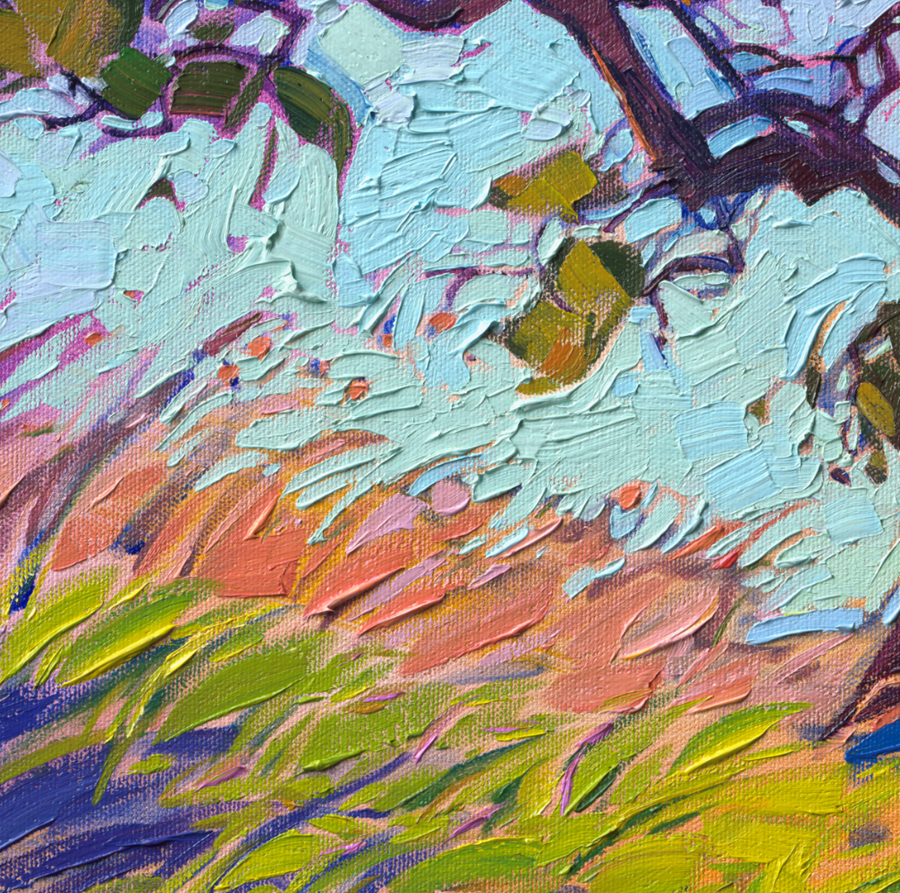 3D Scanning and 2D Canvas Prints
We wanted to share an additional, exciting change that is happening here at The Erin Hanson Gallery. Erin is now using the same 3D scanner to add a new dimension of image capture for her 2D canvas prints. These prints already get a fantastic reception - with many of our happy customers sharing that the piece looks like a real oil painting.

The image and color capture abilities of the 3D scanner increase the quality and beauty of our two-dimensional canvas prints, providing a greater illusion of texture that draws viewers into the piece. We hope you enjoy the stunning quality of every print. You can click here to explore the Erin Hanson canvas prints we have on offer.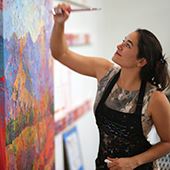 ERIN HANSON has been painting in oils since she was 8 years old. As a young artist, she worked at a mural studio creating 40-foot-tall paintings on canvas, while selling art commissions on the side. After getting a degree in Bioengineering from UC Berkeley, Erin became a rock climber at Red Rock Canyon, Nevada. Inspired by the colorful scenery she was climbing, she decided to paint one painting every week for the rest of her life. She has stuck to that decision ever since, becoming one of the most prolific artists in history. Erin Hanson's style is known as "Open Impressionism" and is now taught in art schools worldwide. With thousands of collectors eagerly anticipating her work and millions of followers online, Hanson has become an iconic, driving force in the rebirth of contemporary impressionism.

---
---