How to Display Art on Your TV
Turn any smart TV into beautiful art like the Samsun Frame TV!
Tuesday, August 22, 2023
There has been much excitement in the art community about turning the big black box that hangs in your living room into a piece of art. The Samsung Frame TV has perfected the look by allowing customers to customize their TV with various frames, with all the art on offer perfectly sized for the TV. Additionally, videos all around Pinterest, Instagram, and YouTube share ideas about how to make your Frame TV look as you intend.
But what if you have a plain ol' smart TV? Can you display digital art on your regular smart TV as well?
The answer is: yes! There are many options for displaying art on a smart TV. In this article, we will explore the Samsung Frame TV as well as other options for displaying art on your smart television.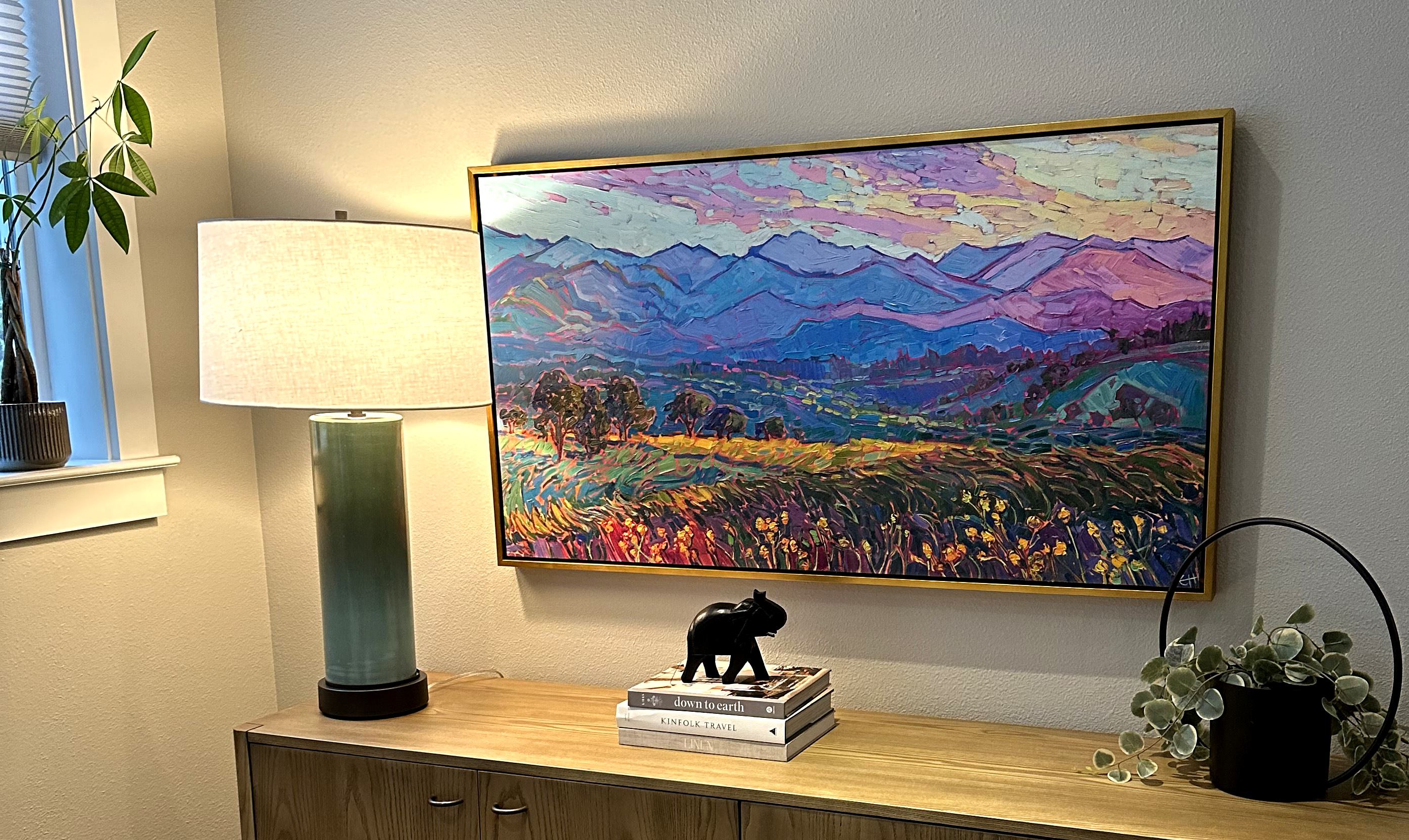 Samsung Frame TV App
The Samsung Frame TV is the current gold standard in displaying art on TV. That is because the television comes framed, and the Samsung Frame TV app makes art easy to select. So, when you press the "power" button to turn off your TV, the Frame TV activates the art app and begins displaying beautiful artwork.
Erin Hanson is now offering art for the Frame TV. You can find the following images directly in the Samsung Frame TV App: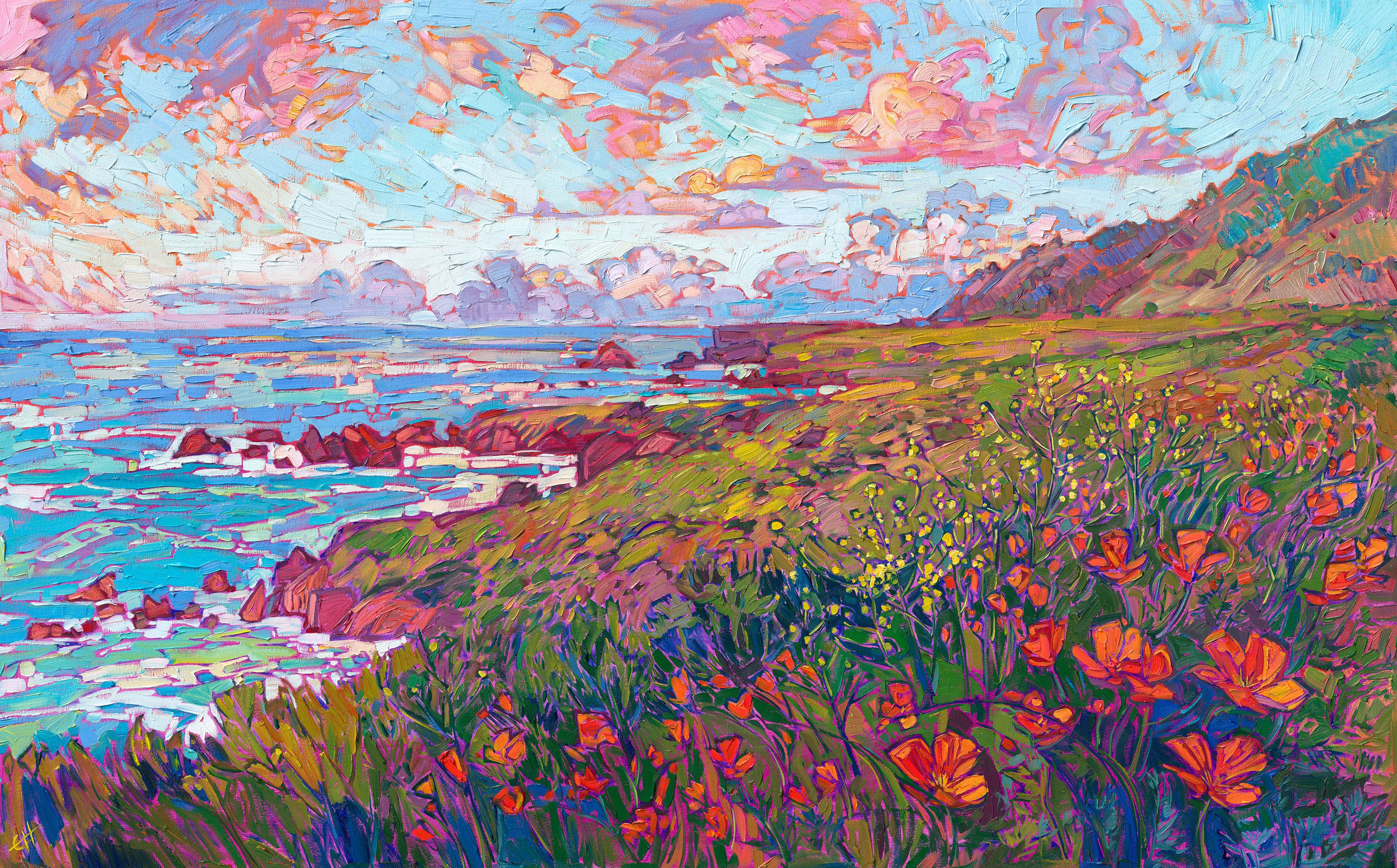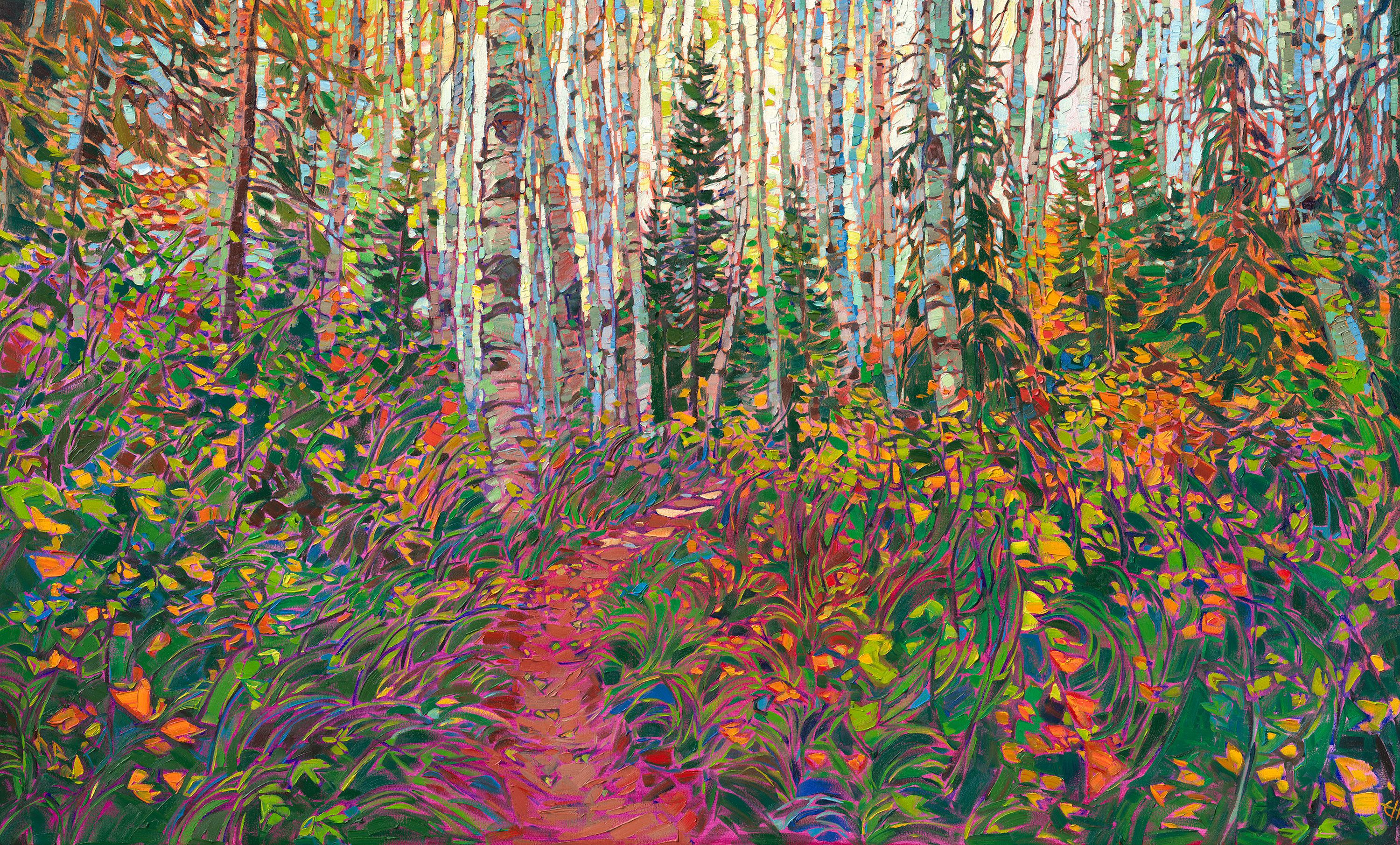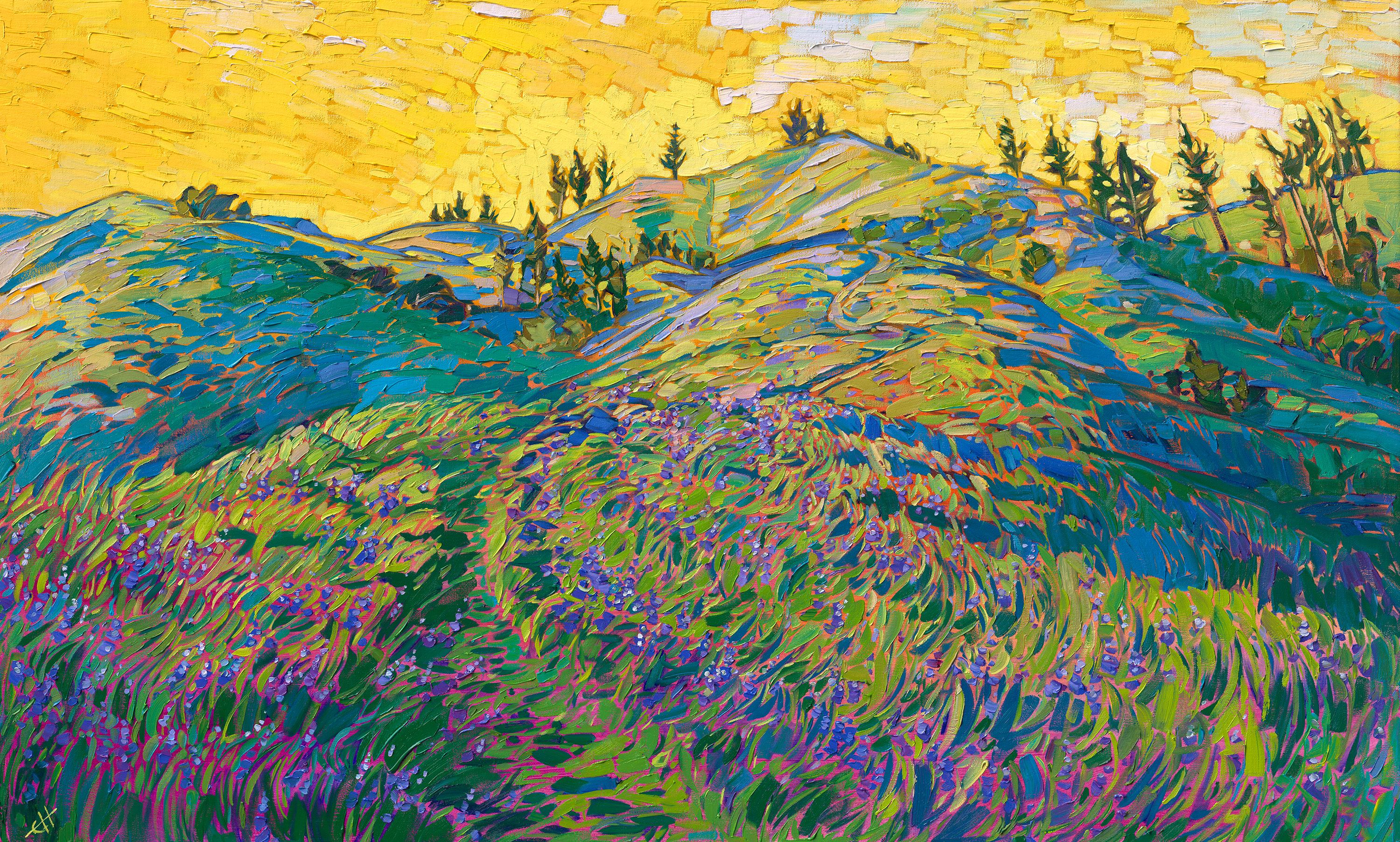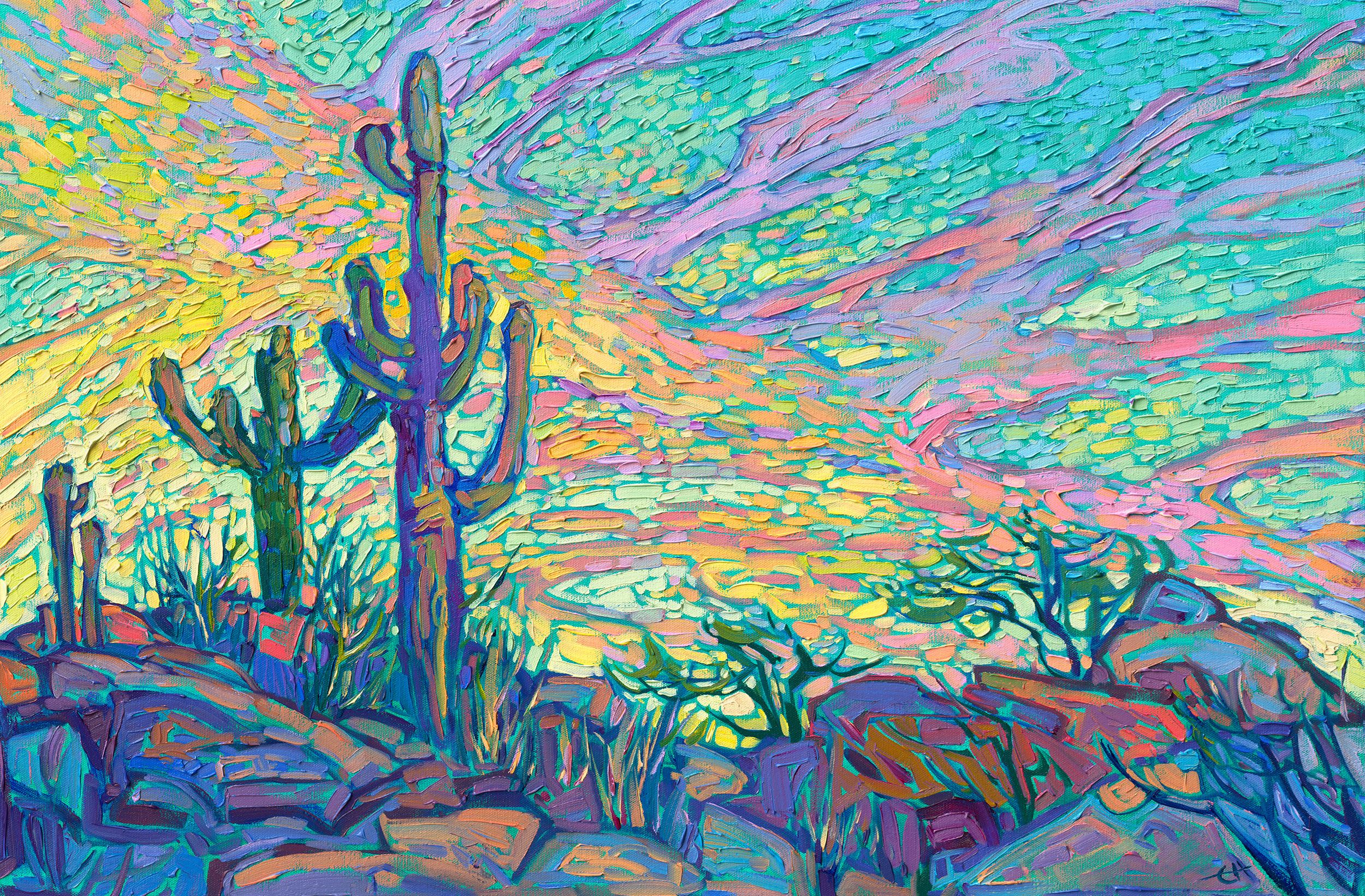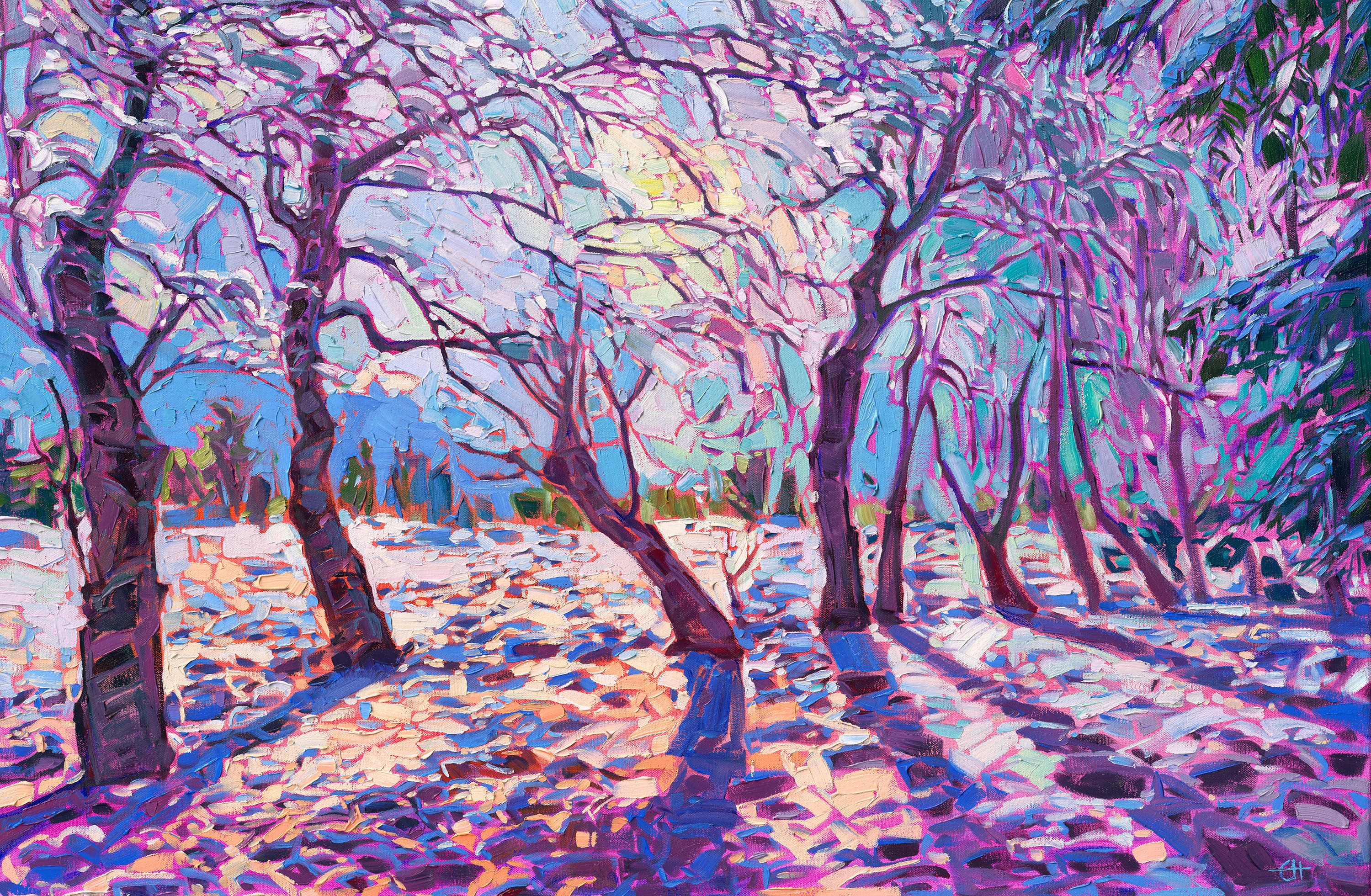 This art is available through the Samsung Collection on your Frame TV.
We also just launched a large selection of additional pieces available directly for download via Etsy.
Displaying Art on Your Smart TV
While the Frame TV is one of the most popular TVs for displaying art, you can display art on any smart TV. Several apps allow you to access your digital art collection - such as the Photo View App for Google Photos or the Prime Photos App on the Fire TV.
However, a USB port is one of the most universal ways to get your digital photo collection to display on a smart television.
Most smart TVs have a USB port, but before you get too excited, go ahead and check to make sure yours has one. If it does not - you can still utilize one of the many apps available for viewing photos. However, a flash drive is one of the simplest ways to transmit digitally downloaded images or your digital photo album on your smart TV.


Five Interior Decoration Tips for Framing Your TV
One topic we commonly see addressed in videos, reels, and images across the internet is various answers to the burning question, "How do I make my Frame TV look like art?"
Of course, the Samsung Frame TV is built to look like a piece of art, but that doesn't mean you have to mount your frame TV or smart TV onto your wall and hope it will match your aesthetic forevermore. Here are five tips to make the art you display on your television look more like a framed painting or print.
1. Use an adjustable or pulldown mount.
You want the art displayed on your TV to accent all the art on your wall, but that may mean that the best placement for a television is not the best for the art.
How do you solve this problem?
Utilize an adjustable or pulldown mount for your TV so that you can place it at the correct angle depending on your use.
For example, if you have a wall of shelves on which you place your art, you can install a pulldown mount so the television can be tucked into the shelves when it displays art and then pull it down when it's time to watch your favorite show. This allows you to have the best of both worlds!
2. Frame your TV to match your aesthetic.
A Samsung Frame TV comes with a customizable bezel that looks just like a frame. But what if the Samsung options don't work with your aesthetic - or you have a standard smart TV? Fortunately, you can still install a frame around your TV.
A few options exist for those who don't want to build a DIY TV frame. First, if you have a Samsung Frame TV, you can buy specialized frames from 3rd party suppliers. These frames work the same as the Samsung frame and are very easy to install.
If you have a smart TV or love a good DIY project, there are many YouTube videos and tutorials on building your own television frame. This will be a much more time-consuming venture than buying a specialized frame, but it will also give you the exact frame you want.
One thing to watch out for in online how-to's is that many don't seem to include a stable way to keep the frame on your TV and instead entirely depend on gravity. If you live somewhere prone to earthquakes or have children, be sure to find a tutorial that includes options for securing your TV frame.
3. Find an unconventional placement for your TV.
We have found some very fun videos and inspirational articles that share unconventional placement ideas for a television. One of our all-time favorite TV mounts is a vintage art easel with a massive base.
Think outside the box when it comes to TV placement. After all, you have turned your TV into a piece of art! Make it a statement.
4. Find fun accents for your interior decoration.
Now that your television is a piece of art, you can decorate it as such. How exciting!
Here are a few ideas for decorating around your TV and accenting the art that it displays:
1. Utilize pretty accents like lamps, succulents, and vases on surrounding shelves or even the entertainment center (if you have one).
2. Place other artworks around your TV to showcase all of the creative works that you love.
3. Place a statue, flowers, or other moveable objects around the pieces as decoration.
4. Go minimalist and utilize the digital art displayed on the TV as the room's main focal point.
5. Showcase your favorite vintage pieces to accent the art.
5. Mount your TV flush with the wall.
Your art is mounted flush with the wall; why not your television? If your TV needs no adjustment, then it may work for you to mount it perfectly flush with the wall. This might require you to remove some of the drywall and mount the TV to a stud - so be sure to get a fully flush mounting done professionally or - if you are adventurous - watch one of the many DIY videos available on the subject.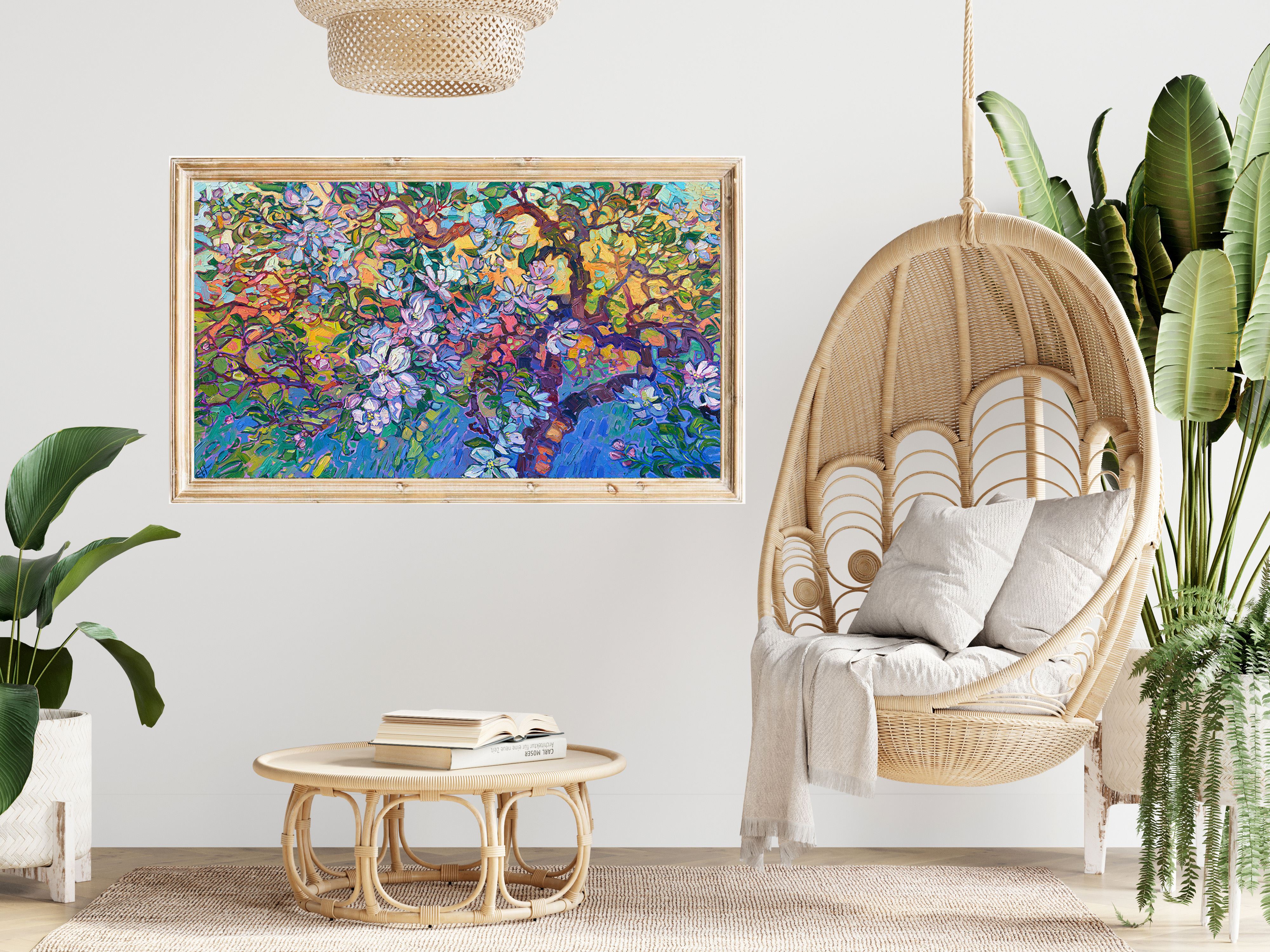 Congratulations on the beautiful art now displayed by your Samsung Frame TV or Smart TV. Keep checking in with Erin Hanson's Etsy page for more digital art, and feel free to contact The Erin Hanson Gallery to share what pieces you'd love to see come available as digital art.
Contact us at amy@erinhanson.com and explore Erin Hanson's original, print, and replica works here.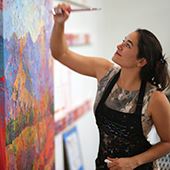 ERIN HANSON has been painting in oils since she was 8 years old. As a young artist, she worked at a mural studio creating 40-foot-tall paintings on canvas, while selling art commissions on the side. After getting a degree in Bioengineering from UC Berkeley, Erin became a rock climber at Red Rock Canyon, Nevada. Inspired by the colorful scenery she was climbing, she decided to paint one painting every week for the rest of her life. She has stuck to that decision ever since, becoming one of the most prolific artists in history. Erin Hanson's style is known as "Open Impressionism" and is now taught in art schools worldwide. With thousands of collectors eagerly anticipating her work and millions of followers online, Hanson has become an iconic, driving force in the rebirth of contemporary impressionism.

---
---