Despite Shutdown, Work Goes on for The Erin Hanson Gallery, Carmel
As Featured in the Carmel Pine Cone
Thursday, April 16, 2020
With so many difficult stories in the news these days, we wanted to include some good news that was published about The Erin Hanson Gallery in The Carmel Pine Cone.
Here is the article in full:
Like every other gallery in town, Carmel's newest art venue has close its doors until the coronavirus crisis passes. But thanks to the internet, The Erin Hanson Gallery is still finding clients. The gallery opened in November on San Carlos between Fifth and Sixth.
"Erin is still painting, and we are still selling," gallery director Miranda Register told The Pine Cone. "We're getting sales through our website, and through our outreach by email and phone. We're feeling very lucky that we are still so busy - we closed in March like everyone else, but we're truckin' along."
The gallery - which carries Hanson's paintings - is one of two the artist owns. She lives in San Diego, where she opened another gallery in 2017.
Although Hanson graduated from UC Berkeley with a bioengineering degree, her love of art and the outdoors led her to become a full-time artist. She has rambled extensively around the country's Four Corners region, and besides hiking and climbing rocks there, she has used her brushes and paints to capture the beauty of the red rock landscapes.
As a painter, Hanson embraces an original style she calls open impressionism. The colors she uses are as vibrant as any you could find in the Utah desert.
"The thick brushstrokes are left to exist as they are placed which preserves every tiny ridge in the paint left by the brush," the painter explained. "The purpose of open impressionism is to capture the true feeling of being outdoors, with each painting more or an emotional work than a photographic representation."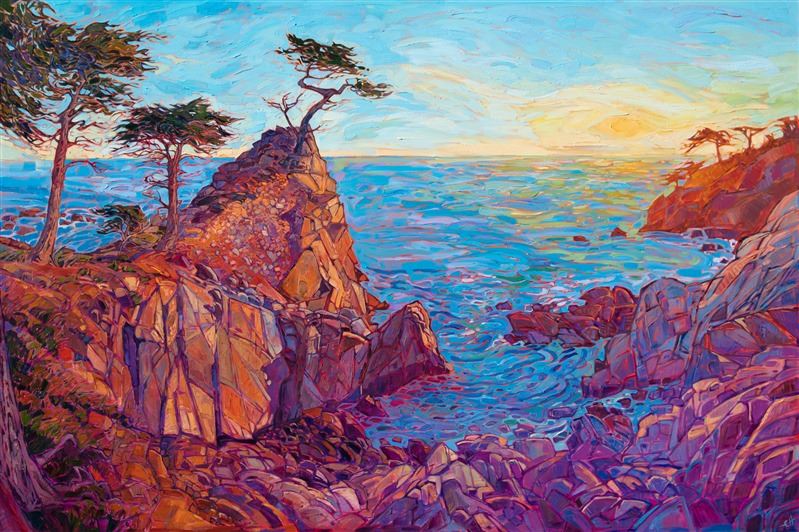 Carmel Waters by Erin Hanson
Comfort for trying times
Hanson believes that people need art now more than ever, which could partly explain why she's so busy.
"I think people are reaching out for beauty and aesthetics for comfort during these times," she said. "Paintings are selling before they even dry on the rack."
In addition to selling paintings online, the gallery continues to use the internet to stay in touch with old clients and meet new ones.
"It's been a really good time to focus on our relationships with new and old collectors through outreach and social media," Register said.
"We have a huge social media presence, and we've raised it since the gallery closed. We have also put more of an emphasis on bringing light and inspiration to those who are stuck at home. We post every day on Instagram, Facebook and Twitter."
For more about the artist and her gallery, visit erinhanson.com or call (831) 574-1782.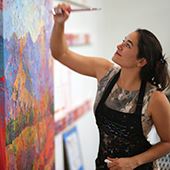 ERIN HANSON has been painting in oils since she was 8 years old. As a young artist, she worked at a mural studio creating 40-foot-tall paintings on canvas, while selling art commissions on the side. After getting a degree in Bioengineering from UC Berkeley, Erin became a rock climber at Red Rock Canyon, Nevada. Inspired by the colorful scenery she was climbing, she decided to paint one painting every week for the rest of her life. She has stuck to that decision ever since, becoming one of the most prolific artists in history. Erin Hanson's style is known as "Open Impressionism" and is now taught in art schools worldwide. With thousands of collectors eagerly anticipating her work and millions of followers online, Hanson has become an iconic, driving force in the rebirth of contemporary impressionism.

---
---