Visit Carmel-by-the-Sea
A Coastal Paradise
Tuesday, August 31, 2021
Nestled in the Monterey Bay between Pebble Beach and Big Sur is the charming coastal town of Carmel-by-the-Sea. Carmel is internationally known for its exquisite art, idyllic views, and distinguished wine. Within one square mile, you will discover five-star restaurants, nearly one hundred art galleries, countless wineries, and the beautiful Carmel Beach.
Carmel was colonized by the Spanish and later incorporated in 1916 as a haven for painters and sculptors. Because of its rich history, Carmel is a city teeming with culture and art. Carmel's fairytale-like ambiance and European flair are sure to bring magic and nuance to your next vacation.
Carmel-by-the-Sea will undoubtedly enchant you with its natural beauty, rich artistic background, and European charm. Roaming in and out of shops and hidden alleyways makes for a romantic seaside adventure. Once you've spent a few days discovering all of Carmel's treasures, be sure to meander up the coast towards Pebble Beach and Monterey, venture into Carmel Valley, or head down the coastal highway to Big Sur. After a visit to the Monterey Peninsula, you'll understand why artists of all mediums have flocked here for over a century.
S T A Y


L'Auberge
L'Auberge is a full-service Relais & Châteaux hotel dating back to 1929. This historic property is laced with European styles and timeless decor, and its Michelin star restaurant L'Aubergine will grace you with one of the best culinary experiences you'll find on the Monterey peninsula.
La Playa
This opulent mansion, built by an artist as a gift to his wife, was transformed into a hotel in 1917. Today La Playa is recognized as a member of The Historic Hotels of America and is sure to put you at ease with its ocean views and lush gardens.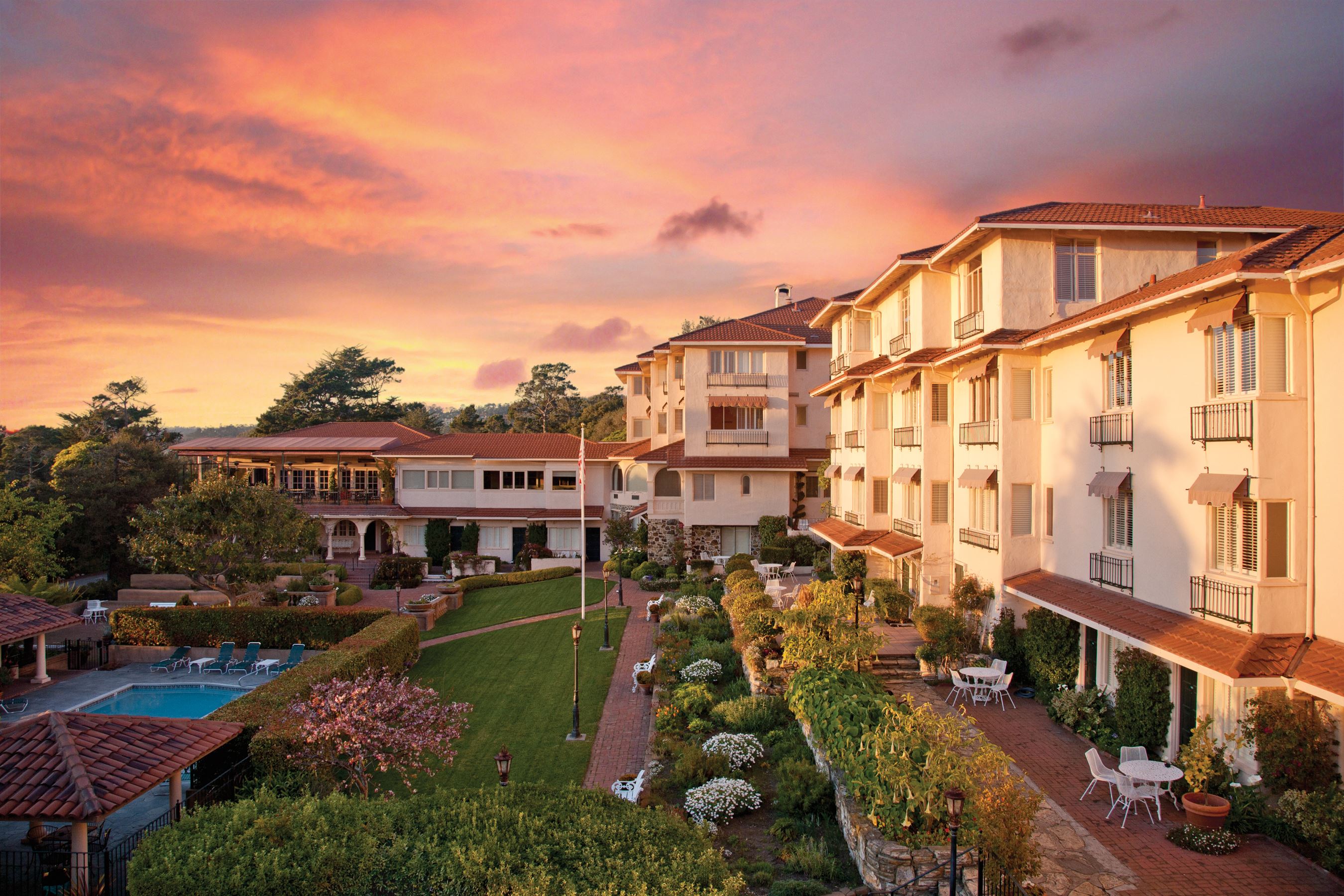 Tradewinds
Tradewinds perfectly blends Asian and Californian influences with its Zen gardens and deluxe spa services. Tradewinds brings ultimate tranquility to its guests and is the ideal place to retreat and recharge.
Cypress Inn
The Cypress Inn is a boutique hotel and a historic landmark in the heart of Carmel-by-the-Sea. This Inn brings charm and hospitality to all, including pets. Doris Day co-owned the Cypress Inn for years and is responsible for making this beautiful inn accommodating to all guests; especially pets of all shapes and sizes.
E A T


Cultura
Cultura celebrates Oaxacan-inspired food and drinks with a beautiful menu and one of California's largest curated selections of traditional Mezcal. Chef-partner John Cox and managing partner Sarah Kabat-Marey had the vision to bring their passion for Oaxacan food and Mezcal to Carmel and they did just that. You can enjoy tasty Oaxaca cuisine inside a charming, historic courtyard in downtown Carmel.
Stationaery
Beginning as a neighborhood restaurant and quickly evolving into a famed eatery and natural wine shop, Stationaery is sure to impress your palate. The Carnazzo family primarily sources foods from local farms and ranches throughout Monterey and Santa Cruz counties, making every dish fresh and flavorful.
Pangea Grill
Pangea Grill offers an exciting, Asian-fusion flare with every bite. Chef-owner Mira Porges not only creates amazing cuisine, but she also exudes incredible hospitality and service that keeps you coming back.
Cottage of Sweets
At the Cottage of Sweets, you will find imported licorices, homemade fudge, and any other candy you can think of. This British-style sweets shop is essential to your Carmel experience.
Carmel Bakery
As Carmel's oldest running retail business, established in 1899, Carmel Bakery is a fun and historic spot to add to your trip. Their hot pretzels and assorted baked goods make for the perfect snack to take down the street to the beach. Carmel Bakery is the perfect icing for an absolutely decadent day out!
A C T I V I T I E S

Walk Carmel Beach.|
The famed Carmel Beach is the town's prized possession. Its pristine white sand sprinkled with storybook cottages and cypress trees set the perfect backdrop for the grand Pacific Ocean. At the northern end of the beach, you will see the famous Pebble Beach golf course perched above. At the southern end stands a beautiful home designed by architectural icon Frank Lloyd Wright. Carmel Beach is also well-known for being very dog-friendly, so make sure to bring your canine companions along for the perfect day at the beach.
Browse art galleries.
Carmel was founded as an art community and continues to be a home for the arts today. You can discover hundreds of world-renowned artists as you browse almost 100 galleries within just a few blocks of each other. Carmel truly is the ultimate destination for art viewing.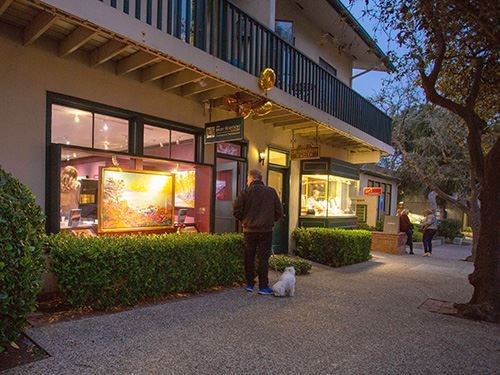 Tour the Carmel Mission.
The Carmel Mission Basilica is the second Spanish mission built in northern California, founded in 1770. Today the mission serves as a Catholic Parish, museum, school, and a shrine to Saint Junipero Serra. A tour of the mission should definitely be on your Carmel bucket list if you are interested in history and sightseeing.
Wine tasting.
Monterey County is primarily known for its spectacular wine region. In downtown Carmel, there are twenty wine tasting rooms representing the wine of Monterey County. Carve out some time to explore the local wine tasting experiences and unwind with the perfect glass at the end of a beautiful day in Carmel.
Visit the Forest Theater.
The Forest Theater is considered the oldest outdoor theater in the west. Founded by Herbert Heron and other local bohemians in 1910, the Forest Theater was intended to provide a space to elevate local creatives and attract artistic minds to the area. After a brief closure due to much-needed refurbishment, the Forest Theater reopened in 2016 and has since housed multiple local productions.
S H O P

Carmel Honey Company
You'll find a variety of different kinds of honey and honey products at Carmel Honey Company. Located in Carmel Plaza, this company was founded and owned by a local senior at Carmel High School. What started as a school project turned into a business in the true entrepreneurial spirit. The owner carries on the educational aspect of the original project by enlightening the public about the importance of saving the bees.
The Cheese Shop
The Cheese Shop is popular around Carmel because of its appetizing offerings, and because they kindly offer samples of the many kinds of cheese they carry. They source hundreds of varieties of cheese from all over the world and also offer wine, meats, and other gourmet foods to pair with their delectable cheeses.
Bittner
Bittner is a retailer of luxury writing goods and accessories sourced internationally. The Bittners work meticulously to bring Carmel the finest pens and paper.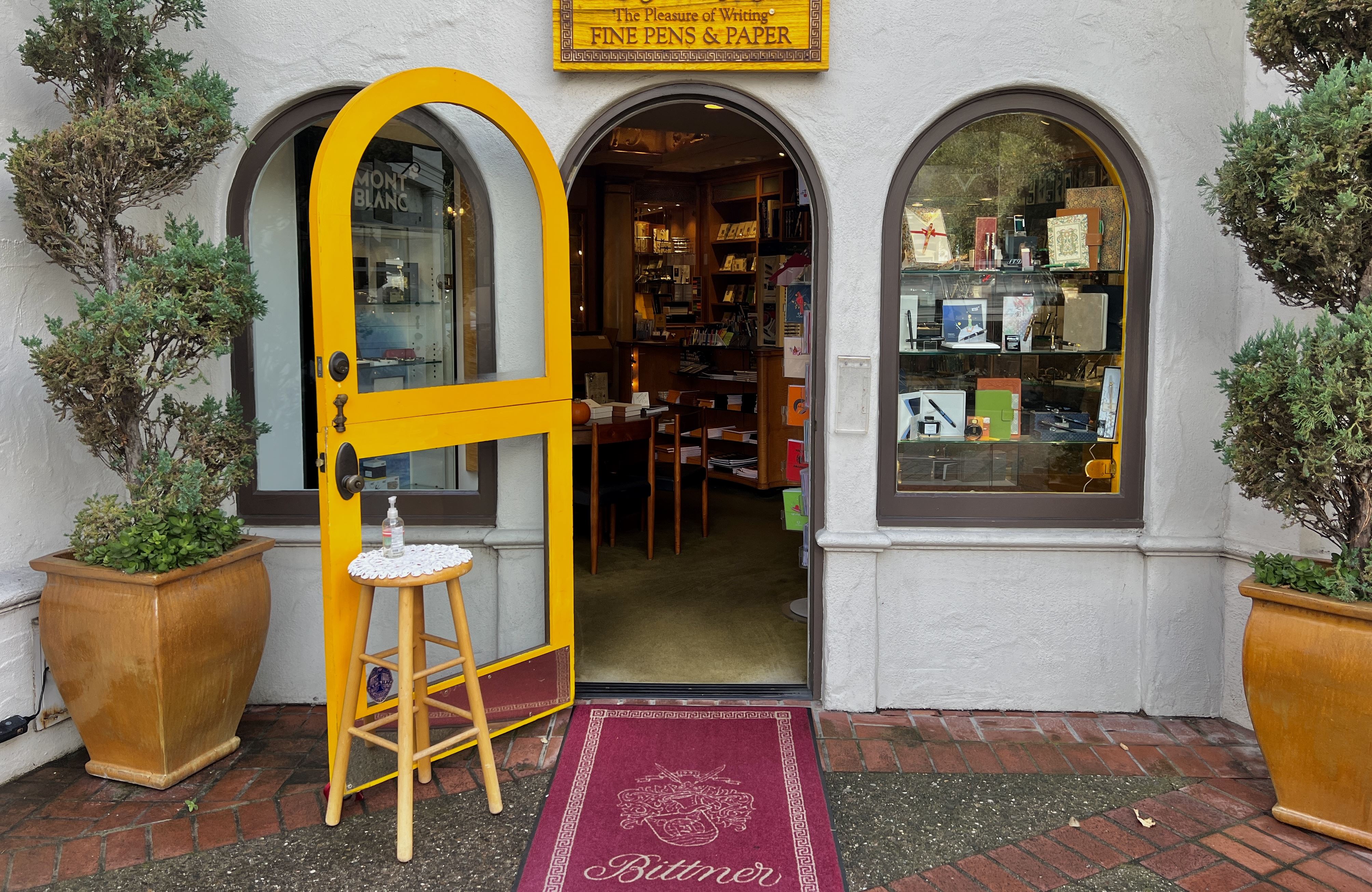 Diggidy Dog
If you are looking to absolutely spoil your pet while in Carmel, you must make a pit stop at Diggidy Dog. This boutique specializes in all the treats, toys, and accessories your four-legged friend could dream of.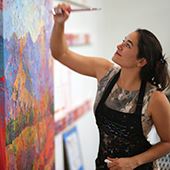 ERIN HANSON has been painting in oils since she was 8 years old. As a young artist, she worked at a mural studio creating 40-foot-tall paintings on canvas, while selling art commissions on the side. After getting a degree in Bioengineering from UC Berkeley, Erin became a rock climber at Red Rock Canyon, Nevada. Inspired by the colorful scenery she was climbing, she decided to paint one painting every week for the rest of her life. She has stuck to that decision ever since, becoming one of the most prolific artists in history. Erin Hanson's style is known as "Open Impressionism" and is now taught in art schools worldwide. With thousands of collectors eagerly anticipating her work and millions of followers online, Hanson has become an iconic, driving force in the rebirth of contemporary impressionism.

---
---