Yellow is a Happy Color
Tuesday, March 2, 2021
Pantone has long been known for its ability to detect and influence color trends that impact every facet of our visual day-to-day lives. Every year Pantone selects two "Colors of the Year," which help furniture, textile, fashion, makeup, and technology designers decide which colors to use in their products. This year the colors are Ultimate Gray and Illuminating Yellow. These chosen colors are a culmination of years of aesthetic fires and misfires and long experience with color creating various emotions, whether pleasant, jarring, soothing, or joyful.
"The union of an enduring Ultimate Gray with the vibrant yellow Illuminating expresses a message of positivity supported by fortitude," Leatrice Eiseman, executive director of the Pantone Color Institute, said in a news release. "Practical and rock-solid but at the same time warming and optimistic, this is a color combination that gives us resilience and hope."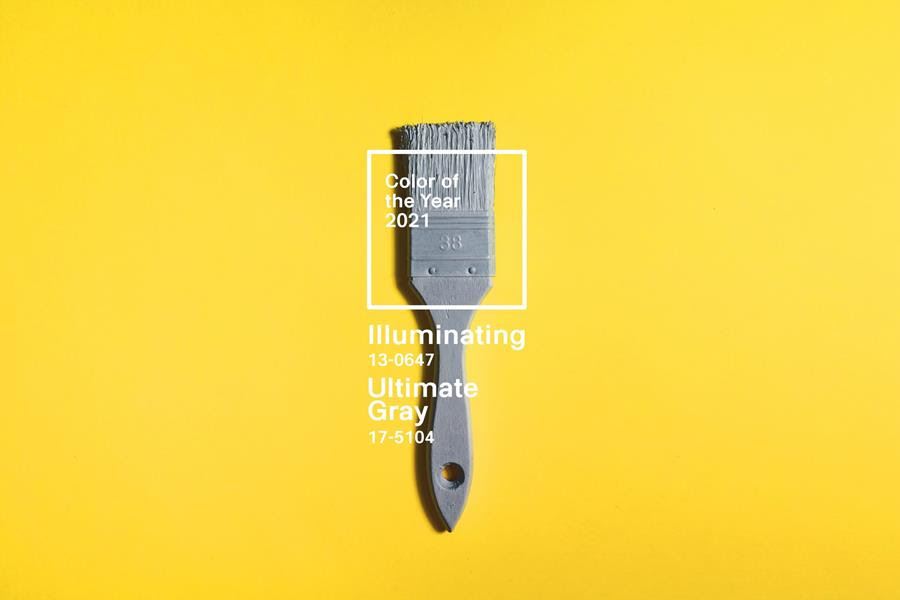 PANTONE 13-0647 Illuminating
inspires positivity!
The Pantone Illuminating Yellow is such a lovely color and one that we find very joyful here at The Erin Hanson Gallery. It has inspired us to collect some of our favorite Erin Hanson paintings that feature yellow tones. We hope these paintings brighten your day!
Here are some paintings inspired by the color yellow: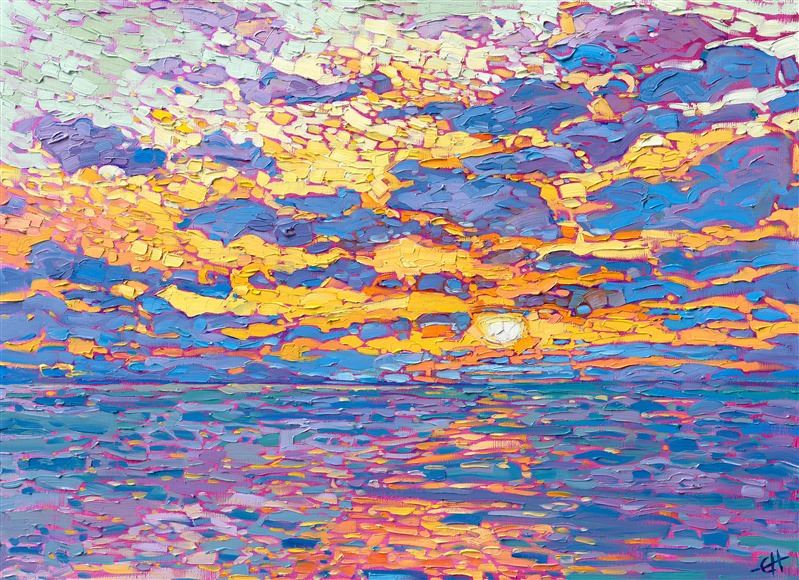 Dappled light of sunset flickers across the ocean in this impressionistic oil painting. Broad strokes of pure color capture the vivid hues of the setting sun reflecting on the ocean waters.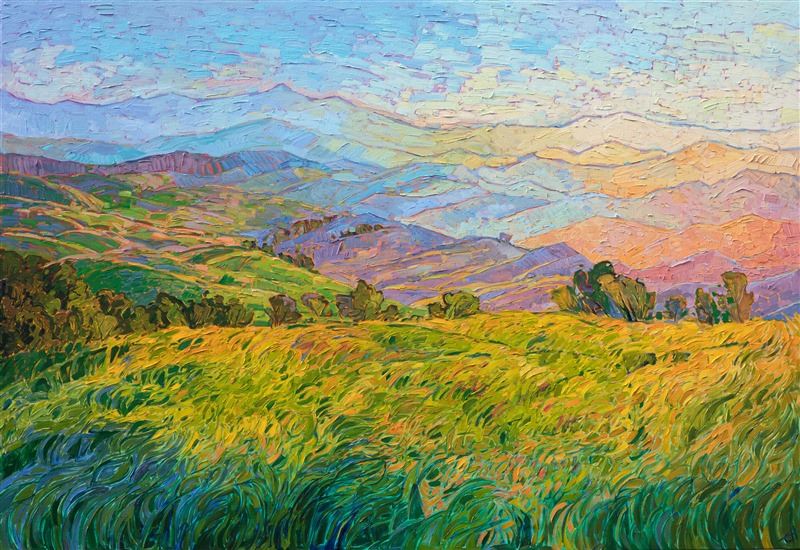 Layers of afternoon light fade into the distance, abstract shapes interacting to form a medley of color and light. This painting captures the coastal range of Paso Robles, California. The brush strokes are thick and impressionistic, capturing the texture of the moving grasses and scintillating light.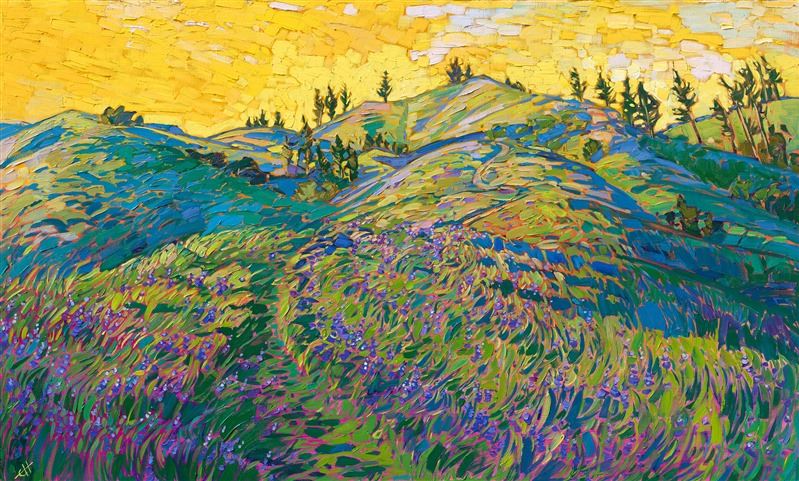 Endless fields of rich purple lupin blanket the coastal hills near Big Sur, California. This painting captures the vivid colors and wonderful sense of standing out of doors in the bright springtime morning.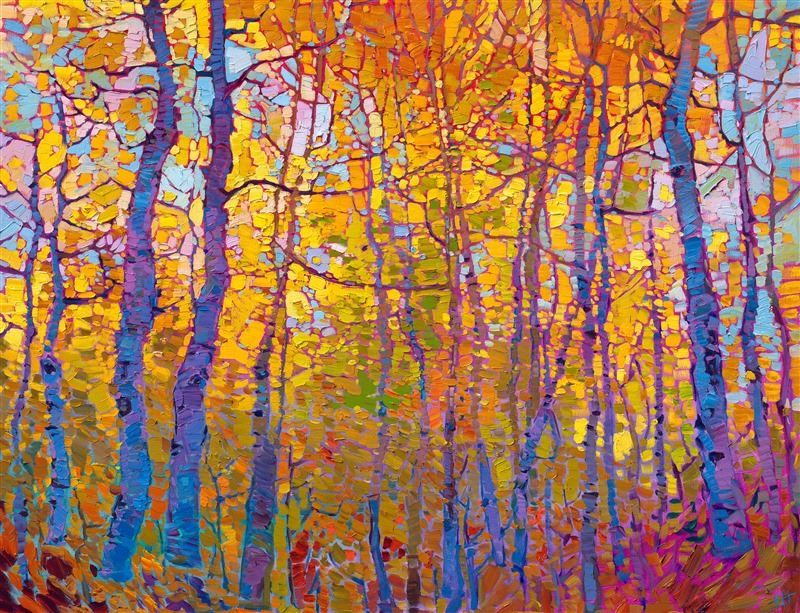 An exuberance of color dances on the canvas in celebration of the colors of autumn. The aspen trees glitter with hues of gold, the pale blue sky peeking out between the branches. The impressionistic brush strokes are thickly applied with a loose, painterly hand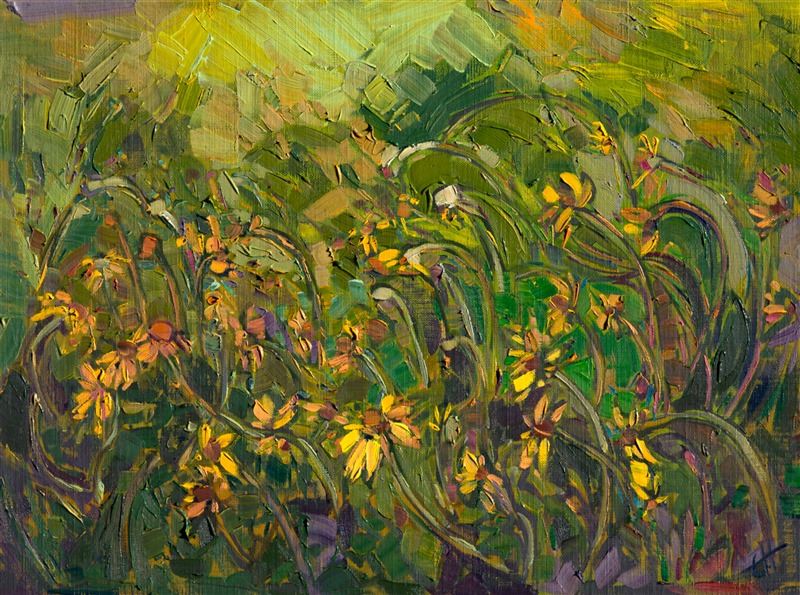 Yellow beads of color burst between the springtime grasses in this small impressionist oil painting. Each wildflower appears a precious, fleeting jewel of color, captured in a few expressive brush strokes.
Collection of The Allegretto Vineyard Resort, Paso Robles, CA. 2015.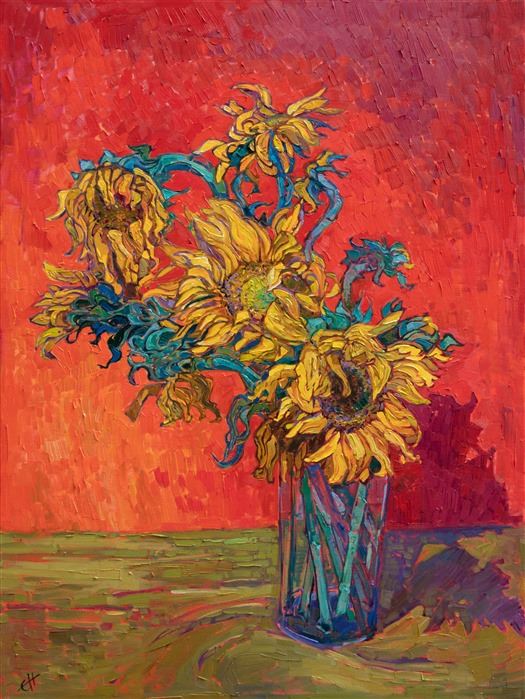 A brightly colored backdrop brings out the hues of a vase of sunflowers. The brush strokes are painterly and impressionistic, capturing the curving stems and flower petals. With a nod to Van Gogh's sunflower series, I have also created a series of sunflower still-life paintings, always striving to bring to life their transient beauty as the blooms begin to droop and change.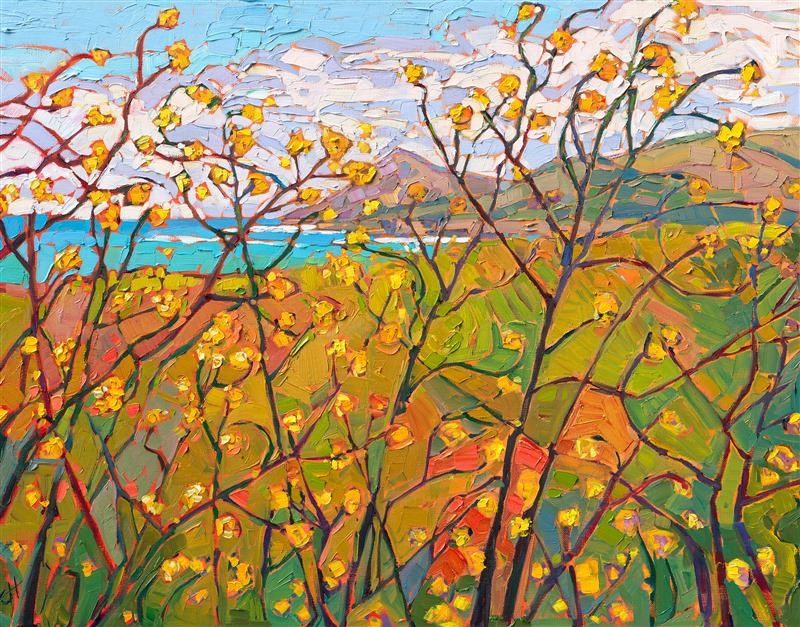 This painting captures the unique view of looking at the coast through the abstract branches of the iconic mustard plant, which blooms with vivacious yellows all along California's coastline. The abstract forms of color capture the movement and colorful beauty of California in the spring.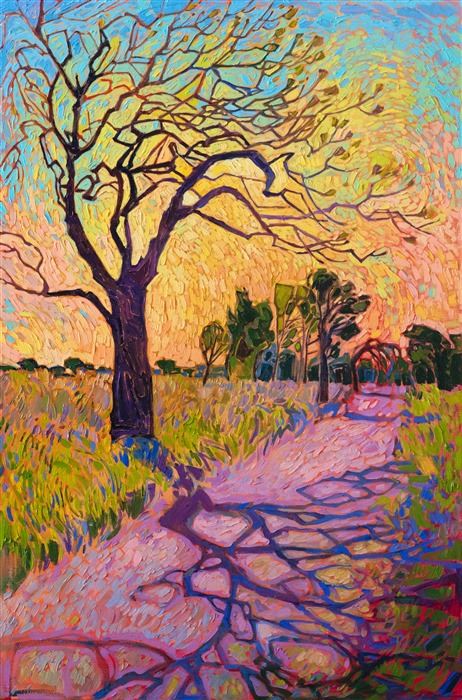 An impressionist vision of a country landscape, this painting re-captures nature with scintillating color and impasto brush strokes. The dramatic shadows invite you into the painting, to spend some time with your imagination.
Discover more joyful Erin Hanson paintings! Explore Erin Hanson's collection of paintings inspired by the color yellow.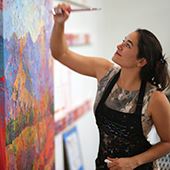 ERIN HANSON has been painting in oils since she was 8 years old. As a young artist, she worked at a mural studio creating 40-foot-tall paintings on canvas, while selling art commissions on the side. After getting a degree in Bioengineering from UC Berkeley, Erin became a rock climber at Red Rock Canyon, Nevada. Inspired by the colorful scenery she was climbing, she decided to paint one painting every week for the rest of her life. She has stuck to that decision ever since, becoming one of the most prolific artists in history. Erin Hanson's style is known as "Open Impressionism" and is now taught in art schools worldwide. With thousands of collectors eagerly anticipating her work and millions of followers online, Hanson has become an iconic, driving force in the rebirth of contemporary impressionism.

---
---