The Role of Impasto in Impressionism
Why is impasto commonly used in Impressionism?
Monday, October 31, 2016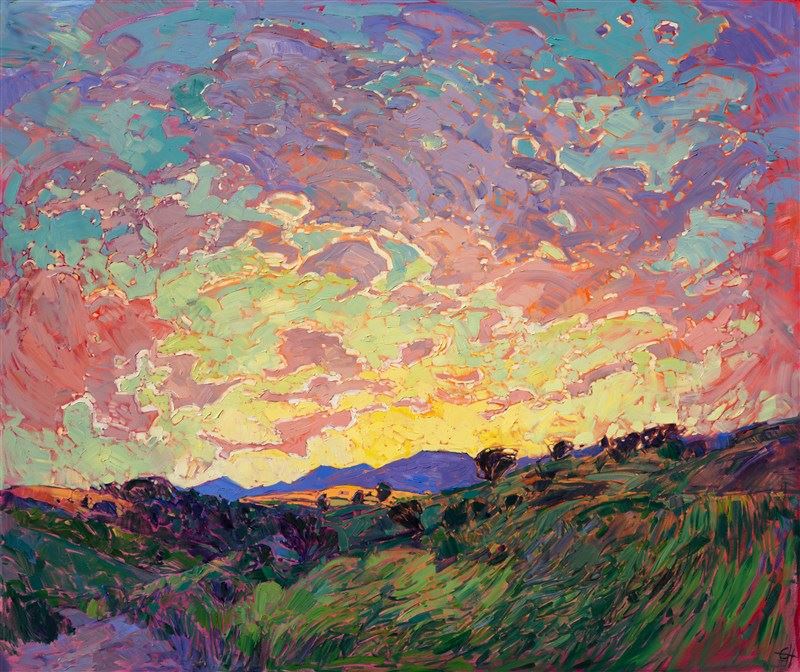 One of the hallmarks of an impressionist painting is the expressive use of texture in the artwork. Impasto has been used effectively by impressionist painters since the birth of the art form.
The term impasto is an Italian word meaning "dough, paste, or kneading." The etymology is indicative of the technique used in impressionism. With impasto painting technique, the artist applies paint thickly to the canvas, causing that brush stroke to stand out from the rest of the composition. You can see this style in action by viewing paintings by past masters such as van Gogh and Hofmann and by contemporary artists such as Erin Hanson. The result is a deeply textured painting that is vibrant in color and intensity.
In addition to making a single brush stroke stand out, impasto techniques can also be used to combine and soften colors. The artist applies paint to a canvas already covered in still-wet paint to intertwine color and allow harsh edges to fade into other aspects of the landscape. This mix of colors and thickly applied paint creates movement within the painting, allowing the artist to highlight aspects of a piece which would ordinarily feel flat and unchanging.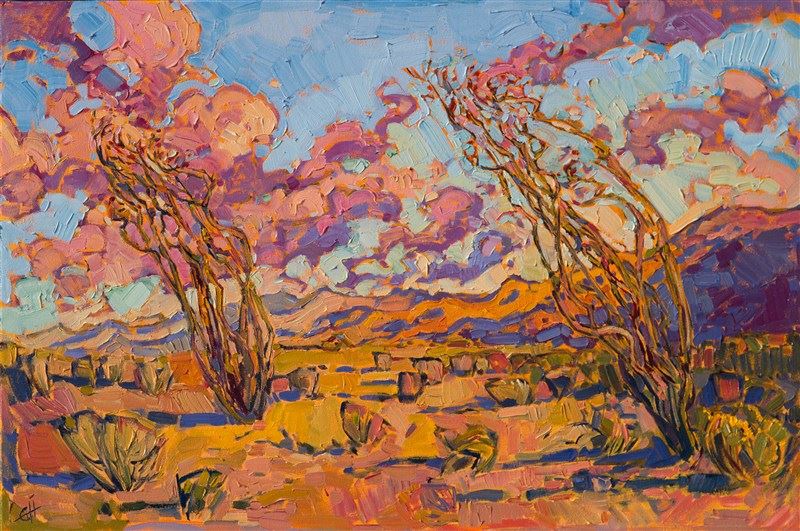 Erin Hanson uses impasto in her impressionist landscapes to allow the viewer to feel as if he were accompanying the artist, hiking alongside her through a constantly changing landscape. Nature is ever-shifting: clouds pass overhead, casting moving shadows across the terrain, the wind blows and rustles through the plantlife, and sunlight becomes warmer and more saturated as the day progresses. Impasto is one of the techniques that allows Hanson to depict this changing aspect of the scenery.
Because impressionism captures the heart of a subject and gives the viewer an impression of it, the technique by which the paint is applied is essential. A composition can feel flat and unmoving or vibrant and full of life based solely on the amount of texture the artist has applied. A rhythm is created by juxtaposing areas of flattened paint with areas of raised texture. This texture is also one of the ways an original painting differs from a print: as light moves across an original oil painting, the viewer sees aspects of the painting shift and change in the light.
If you haven't seen Erin Hanson's technique firsthand, be sure to visit her gallery or head to one of the many exhibitions she participates in.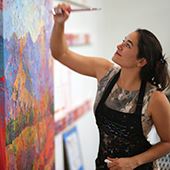 ERIN HANSON is a life-long painter, beginning her study of oils as a young child. Her passion for natural beauty is seen in her work as she transforms vistas familiar and rare into stunning interpretations of bold color, playful rhythms, and raw emotional impact. Her frequent forays into National Parks and other havens of nature include backpacking expeditions, rock climbing, and photo safaris. Hanson's unique painting style has become known as Open Impressionism, which is now taught in art schools around the world. With thousands of collectors eagerly anticipating her work and millions of followers online, Hanson has become an iconic, driving force in the rebirth of contemporary impressionism, and she is quickly recognized as a prolific, modern master.

---
---