---
Sunflower Gold
Fine Art Prints by Erin Hanson
$145 - $8,400
Kick Off Summer with
15% Erin Hanson Prints
CODE: REMEMBER15
---
Select Option Below:
Canvas Print, Rolled
Canvas Print, Stretched
Canvas Print, Framed
3D Textured Replica
---
About the Painting
Large sunflower blooms blossom with color across this large, impressionistic painting. The lively, impasto brush strokes add excitement and motion to the piece. This painting is unique in that the oil paint was applied over squares of 24 karat gold leaf. This adds a subtle gleam of warm color to the painting. You can see the gold leaf sparkle and catch the light when you view the painting from different angles.

About Sunflower Paintings
Sunflower paintings rank as one of the most recognizable icons of impressionism, right along with water lilies, haystacks, and starry nights. Their bright, expressive blooms can be painted while still growing in the orchards or cut in vases. Their long, layered petals are either as bright as the summer sun or drooping with expressive melancholy. Even the empty heads, with perhaps a few curled petals still clinging to the edges, are a beautiful subject to paint. Erin Hanson's collection of sunflower paintings is a celebration of impressionism, a nod to van Gogh, and a commemoration of this poignant flower.

Are you interested in a 3D Textured Replica that is printed directly onto 24kt gold leaf, just the original? Please contact the artist directly here.
Original Painting Size: 48 x 48 in
Year Created: 2022
---
Canvas Print, Rolled
A rolled canvas print arrives in a cylindrical shipping tube. The print will have a black border and some extra canvas to allow for stretching onto 1-1/2" stretcher bars. You can take this rolled print to your local framer for stretching and framing.

Erin Hanson canvas prints do not have texture applied - they are flat prints but they accurately capture the illusion of texture using photography.
Canvas Print, Stretched
Erin Hanson stretched canvas prints arrive pre-stretched onto 1-1/2" stretcher bars. The sides of the print are printed black. This print can be hung un-framed, as-is, or you may take it to your local framer and have it framed in a floater frame.

Erin Hanson canvas prints do not have texture applied - they are flat prints but they accurately capture the illusion of texture using photography.
Canvas Print, Framed
The framed canvas prints are stretched onto 1-1/2" stretcher bars, and then framed in your choice of floater frame (white, black, gold, or silver.) The floater frames are 3/8" wide, and there is a gap around the print, adding a total of 1-1/2" inches to the overall dimensions of the print.

Erin Hanson canvas prints do not have texture applied - they are flat prints but they accurately capture the illusion of texture using photography.
3D Textured Replica
Discover the cutting-edge technology of 3D printing. Each 3D Textured Replica captures the same brush strokes and colors as the original, using micro-layered 3D modeling and 48-bit color to create the most realistic painting reproductions available today.

These are limited edition prints, limited to only 100 replicas per painting. Framing is included: we recommend the "Gold EH Floater" (Erin's custom-made floater frame finished in antiqued 23-kt gold leaf with dark brown sides), and we also offer contemporary white and gold floater frames.
Watch the Video about 3D Textured Replicas
3D Print Sample
Are you curious to see (and feel) a 3D Textured Replica in person? We are offering 8" print samples for $20, including domestic shipping. Please click on the Paypal link below to place your order.
For international orders, please use the payment button below:
---
Return policy for prints: We guarantee you will love the quality of your Erin Hanson print. Every Erin Hanson canvas print and 3D Textured Replica is custom made to order. If for any reason you are not completely satisfied with your purchase, you may return the print in its original condition within 30 days of receipt and we will gladly provide a refund, replacement, or an exchange.


Exchanges/returns can be sent to:
The Erin Hanson Gallery
1805 NE Colvin Ct
McMinnville, OR 97128


If your print arrives damaged in shipping, please email photos to prints@erinhanson.com, and a replacement will be sent to you right away at no additional charge.


Click here to view customer feedback about Erin Hanson's canvas prints and 3D Textured Replicas.
---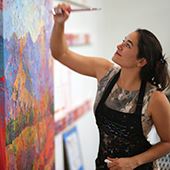 ERIN HANSON is a life-long painter, beginning her study of oils as a young child. Her passion for natural beauty is seen in her work as she transforms vistas familiar and rare into stunning interpretations of bold color, playful rhythms, and raw emotional impact. Her frequent forays into National Parks and other havens of nature include backpacking expeditions, rock climbing, and photo safaris. Hanson's unique painting style has become known as Open Impressionism, which is now taught in art schools around the world. With thousands of collectors eagerly anticipating her work and millions of followers online, Hanson has become an iconic, driving force in the rebirth of contemporary impressionism, and she is quickly recognized as a prolific, modern master.