---
Sunflower Gold
Fine Art Prints by Erin Hanson
$165 - $11,300
MEMORIAL DAY SPECIAL
15% Off All Prints
Code: SUMMER
---
Select Option Below:
---
About the Painting
Large sunflower blooms blossom with color across this large, impressionistic painting. The lively, impasto brush strokes add excitement and motion to the piece. This painting is unique in that the oil paint was applied over squares of 24 karat gold leaf. This adds a subtle gleam of warm color to the painting. You can see the gold leaf sparkle and catch the light when you view the painting from different angles.

About Sunflower Paintings
Sunflower paintings rank as one of the most recognizable icons of impressionism, right along with water lilies, haystacks, and starry nights. Their bright, expressive blooms can be painted while still growing in the orchards or cut in vases. Their long, layered petals are either as bright as the summer sun or drooping with expressive melancholy. Even the empty heads, with perhaps a few curled petals still clinging to the edges, are a beautiful subject to paint. Erin Hanson's collection of sunflower paintings is a celebration of impressionism, a nod to van Gogh, and a commemoration of this poignant flower.

Are you interested in a 3D Textured Replica that is printed directly onto 24kt gold leaf, just the original? Please contact the artist directly here.
Original Painting Size: 48 x 48 in
Year Created: 2022
---
Canvas Print, Rolled
A rolled canvas print arrives in a cylindrical shipping tube. The print will have a black border and some extra canvas to allow for stretching onto 1-1/2" stretcher bars. You can take this rolled print to your local framer for stretching and framing.

Erin Hanson canvas prints do not have texture applied - they are flat prints but they accurately capture the illusion of texture using photography.
Canvas Print, Stretched
Erin Hanson stretched canvas prints arrive pre-stretched onto 1-1/2" stretcher bars. The sides of the print are printed black. This print can be hung un-framed, as-is, or you may take it to your local framer and have it framed in a floater frame.

Erin Hanson canvas prints do not have texture applied - they are flat prints but they accurately capture the illusion of texture using photography.
Canvas Print, Framed
The framed canvas prints are stretched onto 1-1/2" stretcher bars, and then framed in your choice of floater frame (white, black, gold, or silver.) The floater frames are 3/8" wide, and there is a gap around the print, adding a total of 1-1/2" inches to the overall dimensions of the print.

Erin Hanson canvas prints do not have texture applied - they are flat prints but they accurately capture the illusion of texture using photography.
3D Textured Replica
Making giclees obsolete with the greatest technological leap since the colored printer, Erin Hanson's 3D Textured Replicas are the next best thing to an original painting. 3D Textured Replicas capture the detailed brush strokes and canvas texture of the original oil painting, as well as the vibrant colors of the original, making them the most realistic painting reproductions available with today's advanced technology.

Limited Edition 3D Textured Replicas (edition of 100) are hand-signed and numbered by the artist and come with a Certificate of Authenticity. For the Limited Edition 3D Textured Replicas, we offer the same framing options that we use for Erin Hanson's original oils: Gold EH Frame (burnished 23kt gold leaf floater frame with dark pebbled sides), Silver EH Frame (burnished sterling silver with dark pebbled sides), and three styles of wide, plein-air frames.

Open Edition 3D Textured Replicas are not signed or numbered by the artist. The framing options are the same as for the stretched canvas prints (silver, gold, black, or white floater frame.)
3D Print Sample
Are you curious to see (and feel) a 3D Textured Replica in person? We offer 8-inch samples for $20, including domestic shipping. Please click on the Paypal link below to place your order.
For international orders, please use the payment button below:
---
Return policy for prints: We guarantee you will love the quality of your Erin Hanson print. Every Erin Hanson canvas print and 3D Textured Replica is custom-made to order. If you are not completely satisfied with your purchase, you may return the print in its original condition within 30 days of receipt and we will gladly provide a refund, replacement, or exchange.


Exchanges/returns can be sent to:
The Erin Hanson Gallery
1805 NE Colvin Ct
McMinnville, OR 97128


If your print arrives damaged in shipping, please email photos to prints@erinhanson.com, and a replacement will be sent to you right away at no additional charge.


Click here to view customer feedback about Erin Hanson's canvas prints and 3D Textured Replicas.
---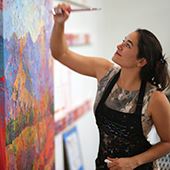 ERIN HANSON has been painting in oils since she was 8 years old. As a young artist, she worked at a mural studio creating 40-foot-tall paintings on canvas, while selling art commissions on the side. After getting a degree in Bioengineering from UC Berkeley, Erin became a rock climber at Red Rock Canyon, Nevada. Inspired by the colorful scenery she was climbing, she decided to paint one painting every week for the rest of her life. She has stuck to that decision ever since, becoming one of the most prolific artists in history. Erin Hanson's style is known as "Open Impressionism" and is now taught in art schools worldwide. With thousands of collectors eagerly anticipating her work and millions of followers online, Hanson has become an iconic, driving force in the rebirth of contemporary impressionism.