How to Commission a Painting
Commissioning a Custom Oil Painting
Thursday, May 2, 2013

Do you love an artist's work but need a special painting for a certain wall in your home? This article will help you work with an artist to create the perfect piece that will make you happy every time you see it.
Most professional artists are willing to create a custom piece of artwork for you, all you need to do is ask! There are different reasons why you might want to ask for a commission, instead of purchasing a painting "off the wall." You might love a certain painting, but it just won't fit the wall you have for it. You may have fond memories of a certain locale and wish the artist to work from photos you have taken to commemorate a special memory. From an interior designer's point of view, you may need specific colors or motifs within the painting to work within a room you are creating.
When you approach an artist, it is wise to have a clear idea of what you are looking for so you can describe to the artist what you like. On the other hand, an artist will usually create better when he has the freedom to do what he thinks is best for the painting. So how do you get what you want and still let the artist create? The most important thing is to communicate to the artist about any specific considerations you have. Also, you will get the best results if you want a painting in the style that the artist is currently working in. It has taken the artist many years (20-30 years, or more!) to refine and develop a painting style, and this is what he is best at. You wouldn't approach a watercolorist and ask for an oil painting, just as you wouldn't ask a realist painter to make you a loose impressionist piece.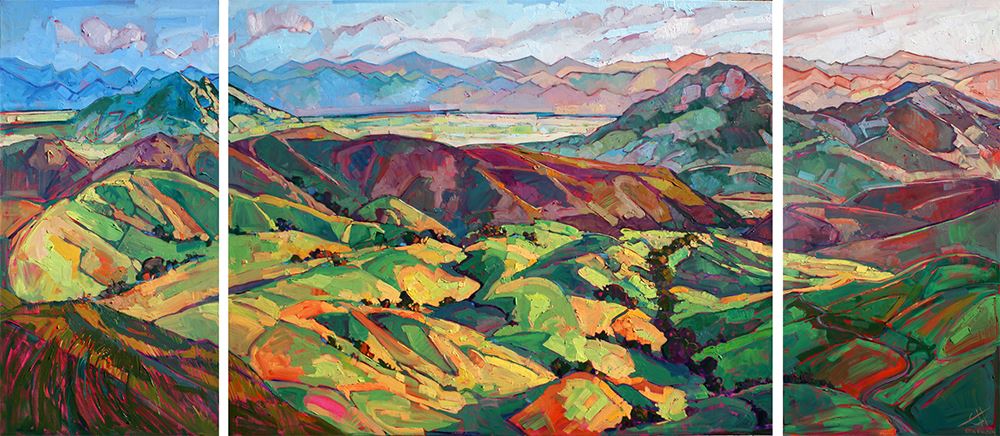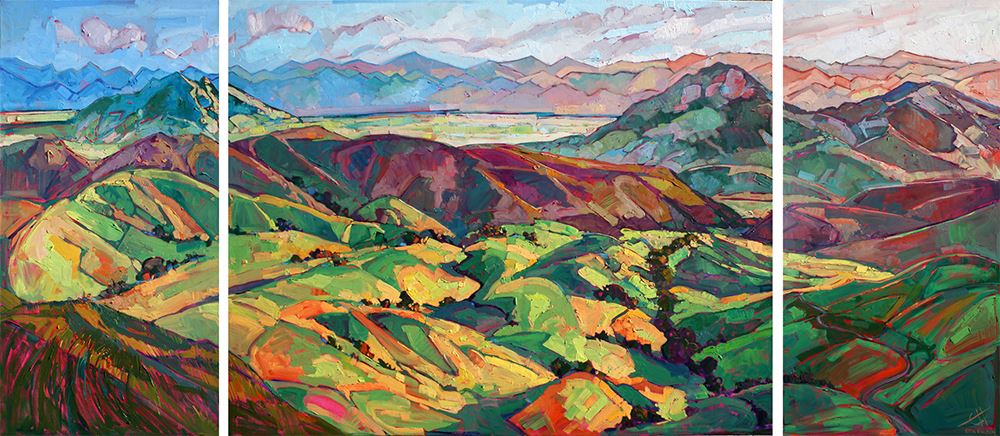 Taking this for granted, let's look at some of the specifics:
Color
Most artists can adapt their painting to the color theme of your choice. It is always best if the artist can see the space in person before he starts painting, getting a feel for the furniture and fabrics and general theme of the room. You can point out to the artist which elements of the room you would like to tie together within the painting. Alternatively, the artist can work with snapshots of the room or even fabric and wallpaper samples. If you are more flexible with the colors, you can always paint a wall to set off the colors of a painting (more on that later!)
Size
A painting can be created in any size you like. I personally have my canvases stretched on custom-cut pine frames, which can be made within fractions of an inch to any size I need.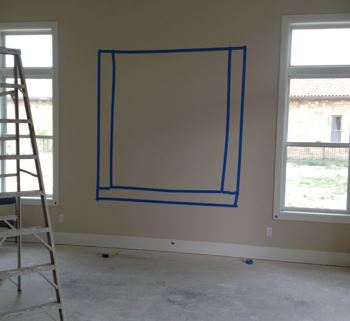 What size of painting is best for your wall? Well, it really depends on the wall. In a perfect world, the painting would be beautifully equidistant from each adjacent wall, and its vertical center would be at the same height as the vertical center of all the other artwork in the room. However, in reality there are usually light switches, air vents, and temperature gauges awkwardly getting in the way of perfect positioning. Also, it is good to take into the consideration what the painting will look like from different vantage points around the house. You want the painting to be as visible as possible from as many angles as possible. The best solution is to mock up a fake painting on your wall using masking tape. You can measure out a square with four lengths of masking tape placed directly the wall, and then walk around and look at it and make sure it is the correct size.
Lighting
If the artist is able to visit your home before he starts painting, he can take a look at the lighting in your house. Open, natural light always makes a painting look great, but after the sun goes down you will need artificial lighting. Some houses have warm incandescent lighting, others have cool LED lighting, and a painting will change color depending on the lighting around it. Unfortunately most ceiling lights are designed to only illuminate downwards, leaving the walls dark in the corners and near the tops of the walls. A painting will always look better if you can get a spotlight on it from above. These are surprisingly inexpensive to have installed by an electrician. Halogen spotlights will bring out the colors and texture in your painting and make it glow like it's in a museum! So, it is helpful for an artist to know what sort of lighting will be around the commissioned work. For example, if the painting will be in a dark corner, the artist will avoid dark colors or subtle contrasts that will be missed on a shadowy wall.
Framing
Framing is usually left up to the customer, unless the frame is an inherent part of the presentation of the work, like many photographs. For a traditional look, oil paintings can be set off in a beautifully carved and stained or gilted wooden frame with a natural linen lining. I like how gallery-wrapped paintings look in an elegant floater frame, where there is a small space between the edge off the canvas and the frame itself. Personally, I use a gallery-depth canvas (1.5" - 2" deep) and I paint around the sides of the canvas, continuing the image around for a neat three-dimensional look. These canvases look great unframed as well as framed.
Wall Color
You can use the color of your wall to change the look of a painting and draw attention to certain colors within the painting. This optical illusion trick also works with accents in your room, like a rug or throw pillows. Take a look how this same painting below changes when it is surrounded by different colors. Feel free to experiment with a digital image of your own painting on different colored walls, using Photoshop, before you paint!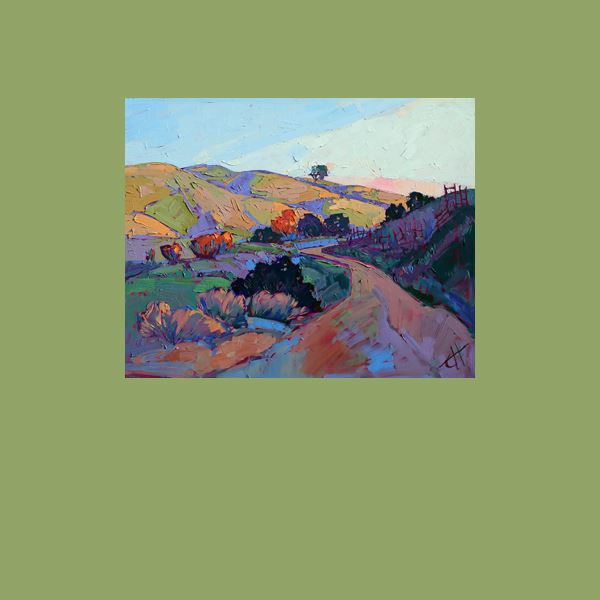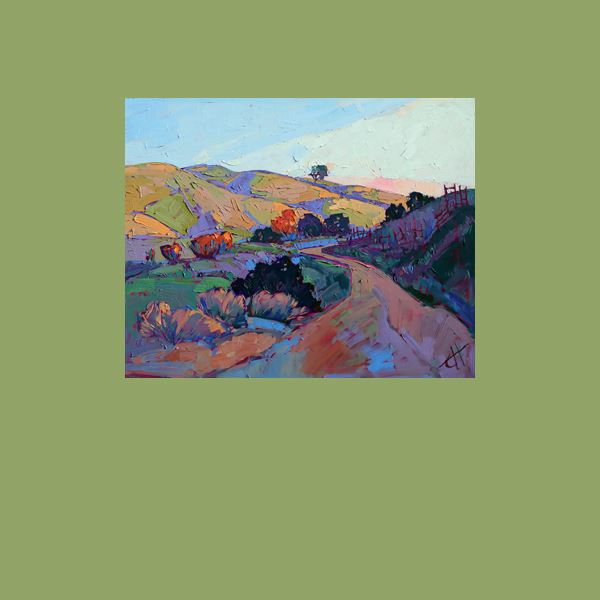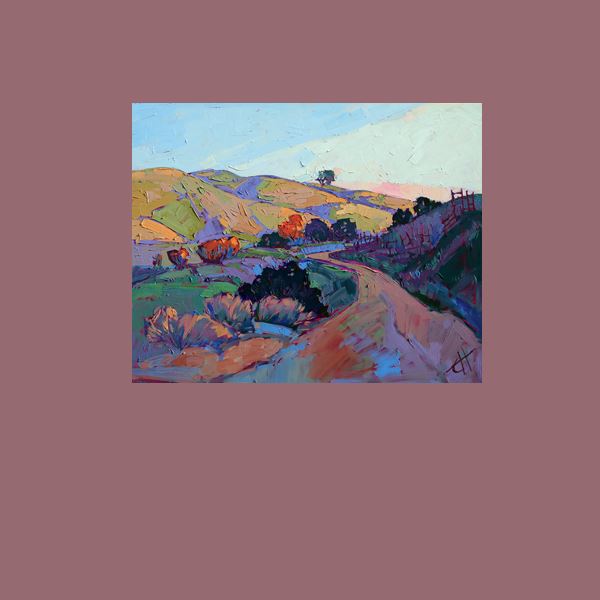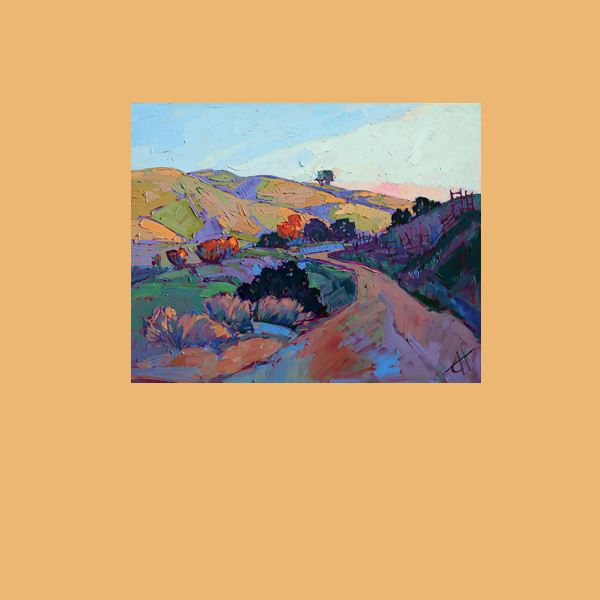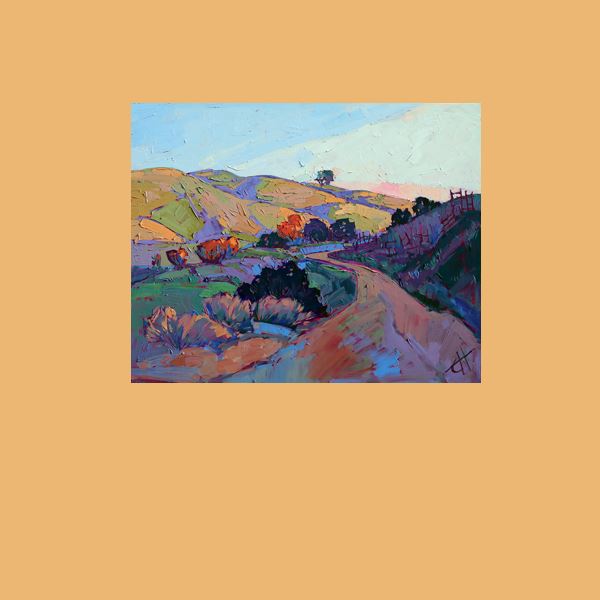 Contract and Terms
Many artists like to sign a contract with their client before starting a commissioned work. I personally like to arrange the agreement so that neither party has anything to loose, rather negating the need for a contract. I ask for a 50% deposit up front, with the remainder due when the client has the painting in their home and it is everything they hoped it would be. A photograph of the painting is emailed when the painting is completed, and the client can usually tell right away if they like it or not, although the final test is seeing the painting on the wall. If the client doesn't like the painting for any reason, I will give the commission another attempt, after understanding what they like or dislike about the first painting. However, with enough communication up front about your expectations, the painting should turn out right the first time.
Price
The price of the commission should depend more or less on the square footage of the painting, although artists may charge more or less than what they normally charge for paintings off the wall, depending on the project. I have done commissions for less than what I would normally change, simply because I was excited about the idea of the painting.
Helpful Tips
- Go through the artist's portfolio or website with the artist present, and point out which paintings you like or don't like, and what you like or don't like about each.
- Consider a "triptych" or a "diptych" for your home, a painting that continues across two or three separate canvases, giving the art a unique, exciting look. I have even successfully added side panels to paintings that had already been purchased, to give them greater width and add an interesting twist.
I have been creating custom paintings on commission for 20 years, from dog portraits and book covers to giant 2-story acrylic paintings on canvas destined for casinos and cruise liners. For the past six years, I have specialized in a loose, impressionist style of painting that I apply to landscapes that I love. For landscape commissions, I have painted everything from small 8x10 paintings on board to a giant 17-foot oil painting that was installed in a Kaiser hospital. I have painted using images shown to me in magazines, using photographs of beloved camping spots, using a detailed verbal description of an Incan woman carrying pots of water up a steep winding road with an ancient civilization in the background; I have even painted over an acrylic portrait painting to make the woman look more beautiful and lively. And in all this experience, the bottom line is this: you either have a specific idea of what you are looking for, which then must be communicated in detail to the artist, or you just love the artist's work and you would be happy be anything he created, but you would like a certain location painted or a certain size of canvas. Either way, the artist will work hard to give you what you want.
The bottom line is that a happy customer is a happy artist!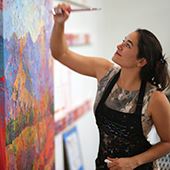 ERIN HANSON has been painting in oils since she was 8 years old. As a young artist, she worked at a mural studio creating 40-foot-tall paintings on canvas, while selling art commissions on the side. After getting a degree in Bioengineering from UC Berkeley, Erin became a rock climber at Red Rock Canyon, Nevada. Inspired by the colorful scenery she was climbing, she decided to paint one painting every week for the rest of her life. She has stuck to that decision ever since, becoming one of the most prolific artists in history. Erin Hanson's style is known as "Open Impressionism" and is now taught in art schools worldwide. With thousands of collectors eagerly anticipating her work and millions of followers online, Hanson has become an iconic, driving force in the rebirth of contemporary impressionism.

---
---