Erin Hanson's Enigmatic Big Bend Show is a Huge Success
A Look at Erin Hanson's Most Recent Museum Collection
Wednesday, December 26, 2018
In mid-September, there was a buzz around the Museum of the Big Bend in Alpine, TX. A new exhibition was going up, the artist was due to arrive for a presentation and lecture, and patrons were excited to meet her and enjoy the sixteen-piece collection. The series takes Hanson back to her western roots as she shares her time hiking in Texas' Big Bend National Park through her vivid and colorful paintings. This exhibition was Erin Hanson: Impressions of Big Bend Country. Beginning its life at the museum on September 21st, this collection of open impressionism paintings was greeted with excitement by museum patrons and curators alike. By the time the show closed on December 16th, every painting had been purchased by a private collector.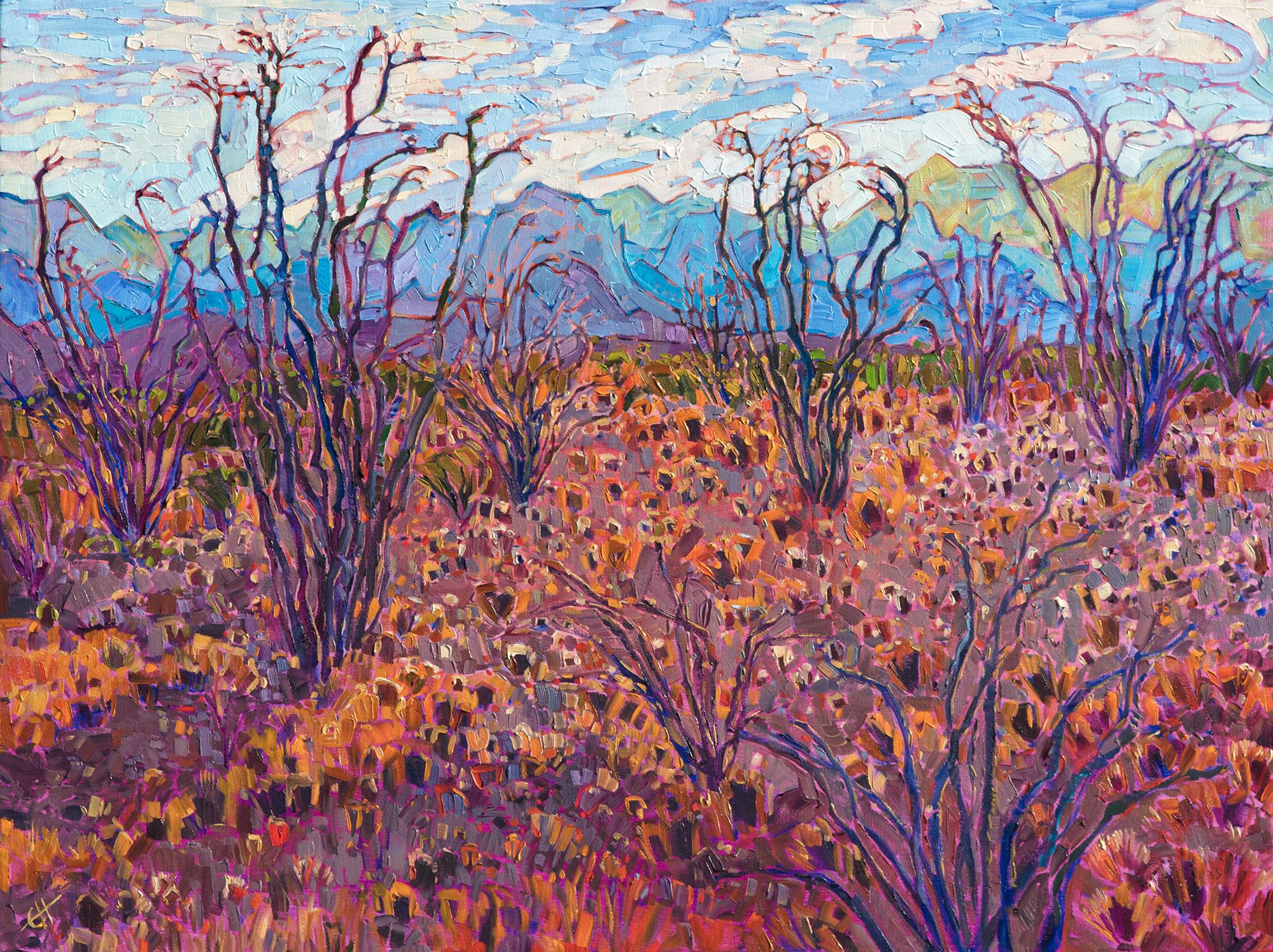 Big Bend Ocotillo by Erin Hanson
This national park is unique. It features both deserts and rivers, both mountains and hot springs. While it seems inhospitable, with towering limestone cliffs and swaths of the Chihuahuan Desert, Big Bend National Park is actually overflowing with life. Over a thousand species of plants make their home both in the desert and on the banks of the Rio Grande, as do hundreds of birds, mammals, and reptiles. The dichotomies of the land are featured in Hanson's sixteen-piece show, with each painting sharing new angles and impressions of this diverse and beautiful landscape. Here you will find towering ocotillo, waving grasses, rushing water, dramatic cliffs, delicate flowers, and huge Texan skies. Each piece seeks to impart the enigmatic beauty of this incredible borderland.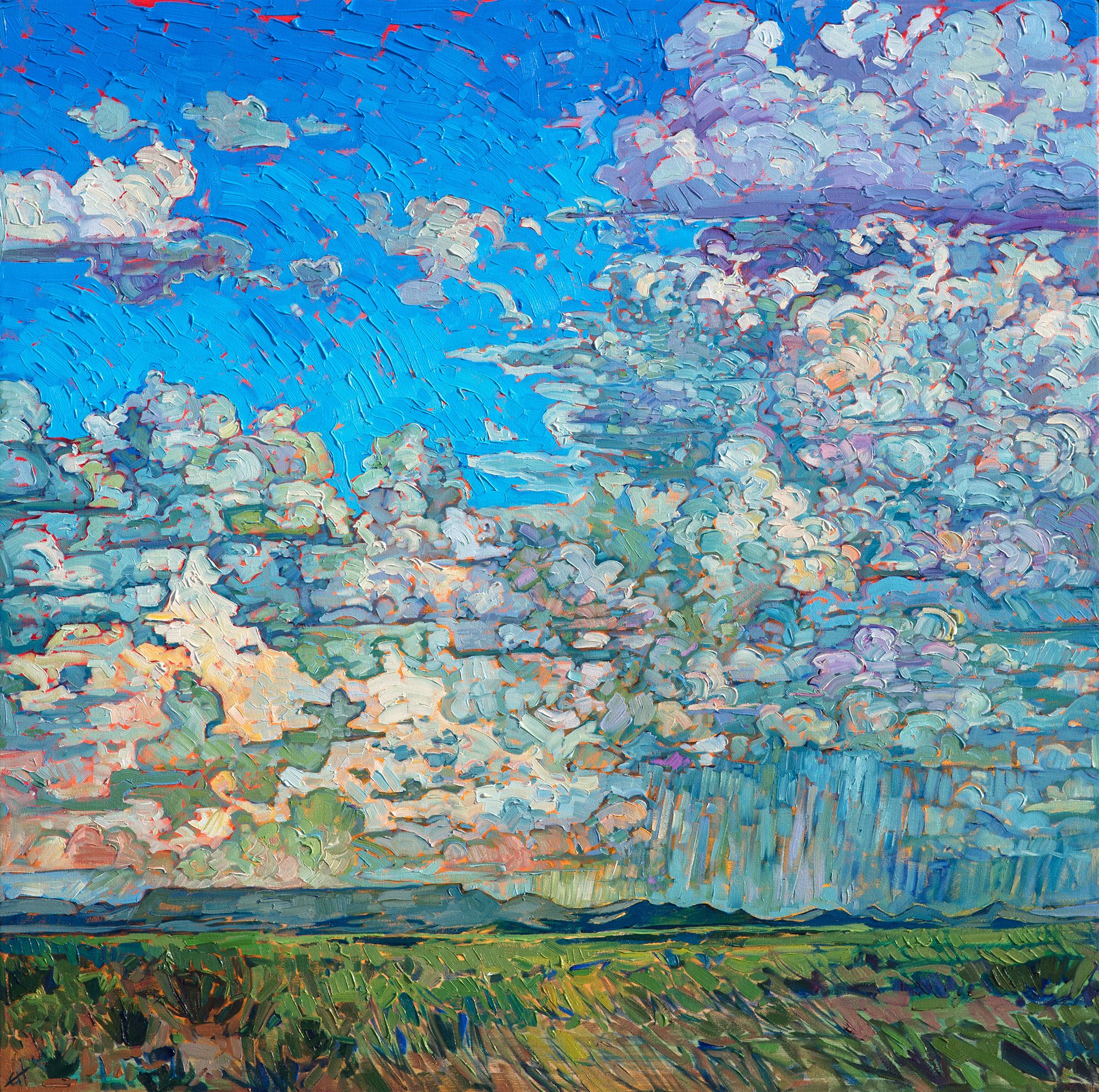 Big Sky by Erin Hanson
With such a compelling collection, it's no wonder Texans and tourists alike flocked to the show on opening night and enjoyed Hanson's presentation the following day. Erin Hanson: Impressions of Big Bend Country will continue to be exhibited until December 16th. Since its exhibition, this collection has sold out, so each piece will be sent to its respective collector immediately after the holidays.

While this incredible collection will likely never be displayed in the same room again, you can view it online here or visit each piece in person by going to the Museum of the Big Bend before December 16th, 2018.

We hope you will enjoy this collection of western art by Erin Hanson, as well as the many other pieces she paints as she continues to explore landscapes here on the West Coast and throughout America and the world.
Enjoy the Collection HERE
Find Out More About ERIN HANSON
Enjoy More Texas Landscapes HERE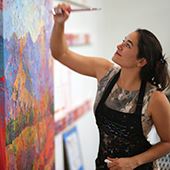 ERIN HANSON is a life-long painter, beginning her study of oils as a young child. Her passion for natural beauty is seen in her work as she transforms vistas familiar and rare into stunning interpretations of bold color, playful rhythms, and raw emotional impact. Her frequent forays into National Parks and other havens of nature include backpacking expeditions, rock climbing, and photo safaris. Hanson's unique painting style has become known as Open Impressionism, which is now taught in art schools around the world. With thousands of collectors eagerly anticipating her work and millions of followers online, Hanson has become an iconic, driving force in the rebirth of contemporary impressionism, and she is quickly recognized as a prolific, modern master.

---
---