---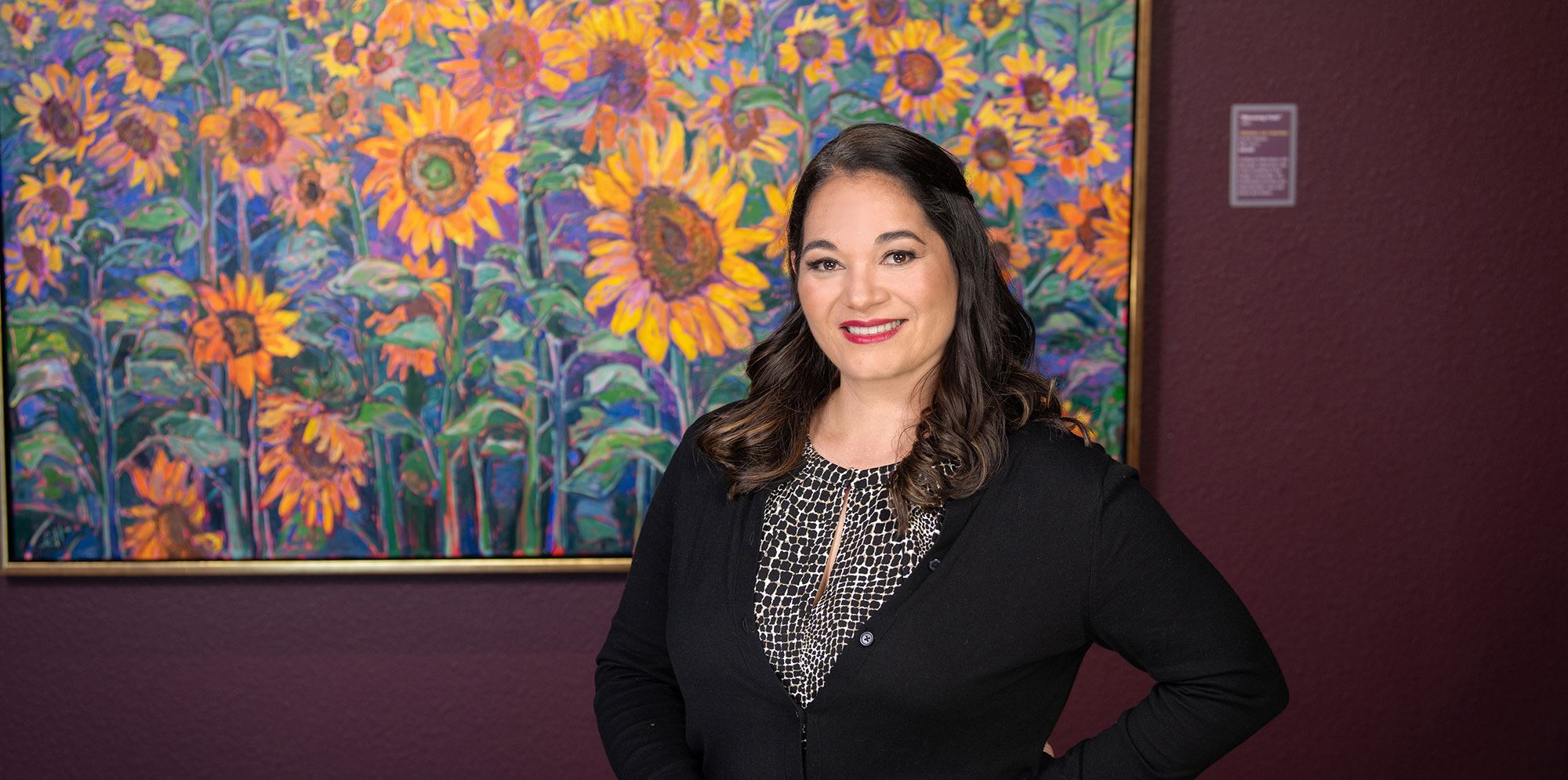 Artist Biography
ERIN HANSON, b. 1981

Hanging precariously and horizontally from red sandstone hundreds of feet above the ground may not seem like it would inspire the creation of beautiful oil paintings, but that is precisely what happened with Erin Hanson. After a lifetime of experimenting with different styles and mediums, it wasn't until Hanson began rock climbing at Red Rock Canyon that her painting style was consolidated by a single inspiration and force of nature.

Erin Hanson is the creator of the contemporary painting style known as "Open Impressionism," which is currently taught in art schools and colleges around the world. Open Impressionism is a blend of classical impressionism and modern expressionism, with a dash of plein air style.

Hanson has spent the past twenty years developing the unique techniques of Open Impressionism, which involve minimal brushstrokes and impasto application of paint. Unlike traditional oil painters, Hanson does not build up the painting layer by layer; instead, she lays her paint strokes side by side without overlapping and works to get each stroke "right the first time." These clean strokes give a mosaic or stained-glass effect to her paintings, while also conveying a sense of movement to her work. She uses a limited palette of only five pigments to create a vivid dance of un-muddied color upon the canvas, choosing colors that ignite the imagination and capture the emotional feeling of being out of doors.

Through the years, Hanson has continued to use the outdoors to inspire a vast collection of works. She visits the Colorado plateau every year, backpacking and hiking through Zion National Park, Canyon de Chelly, Monument Valley, and other national parks. Other favorite haunts include Paso Robles, Oregon wine country, Joshua Tree National Park, and the Anza-Borrego desert. Erin Hanson transforms these landscapes into abstract mosaics of color and texture, her impasto application of paint lending a sculptural effect to her art. Her oil paintings stand out in a crowd, bringing a fresh new look to Western landscapes.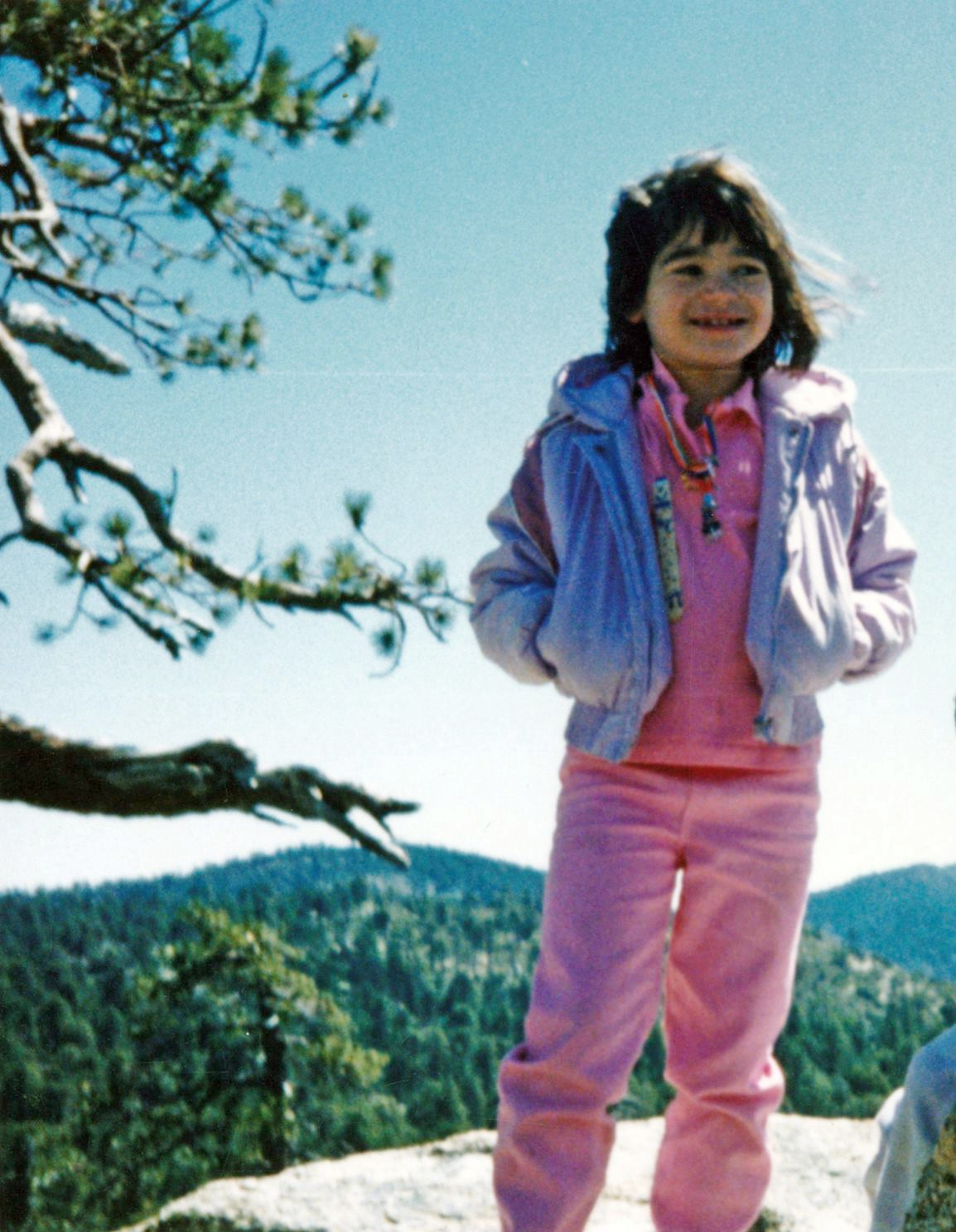 Erin Hanson: Early Beginnings
Erin Hanson began oil painting as a young girl of 8 years old, also learning the techniques of acrylics, watercolor, pen and ink, pastels, and life drawing from accomplished art instructors. As a child, she got her painting inspiration from the outdoors, hiking and exploring the National Forests of southern California. She began commissioning paintings at age 10, and by age 12, she was employed after school by a mural studio, helping to paint giant-scale, 40-foot canvases that were installed in casinos, restaurants, and cruise ships around the world. Two years later, while in high school, a scholarship took her to Otis College of Art, where she immersed herself in figure drawing for a summer. Graduating high school at age 16 and once again demonstrating that she was a child prodigy, Hanson next attended UC Berkeley, excelling further in her creative development while attaining a degree in Bioengineering.
Inspired by Rock Climbing

While Erin Hanson lived in Las Vegas, she became an expert rock climber, climbing weekly at Red Rock Canyon, Mt. Charleston, and southern Utah. Hanson attributes the chunky, abstract nature of Open Impressionism to her method of painting Red Rock Canyon during the first two years of her career, when she was rock climbing every week. Dark cracks in the rocks separated the distinct planes of color in the rocky cliffs, creating defined light and dark areas and a medley of abstract shapes within the rocks. To emulate this effect in her paintings, Hanson likewise used dark lines and separated brush strokes to create planes of distinct color, and her brush strokes were naturally "square-shaped" to communicate the square angles of the rocks.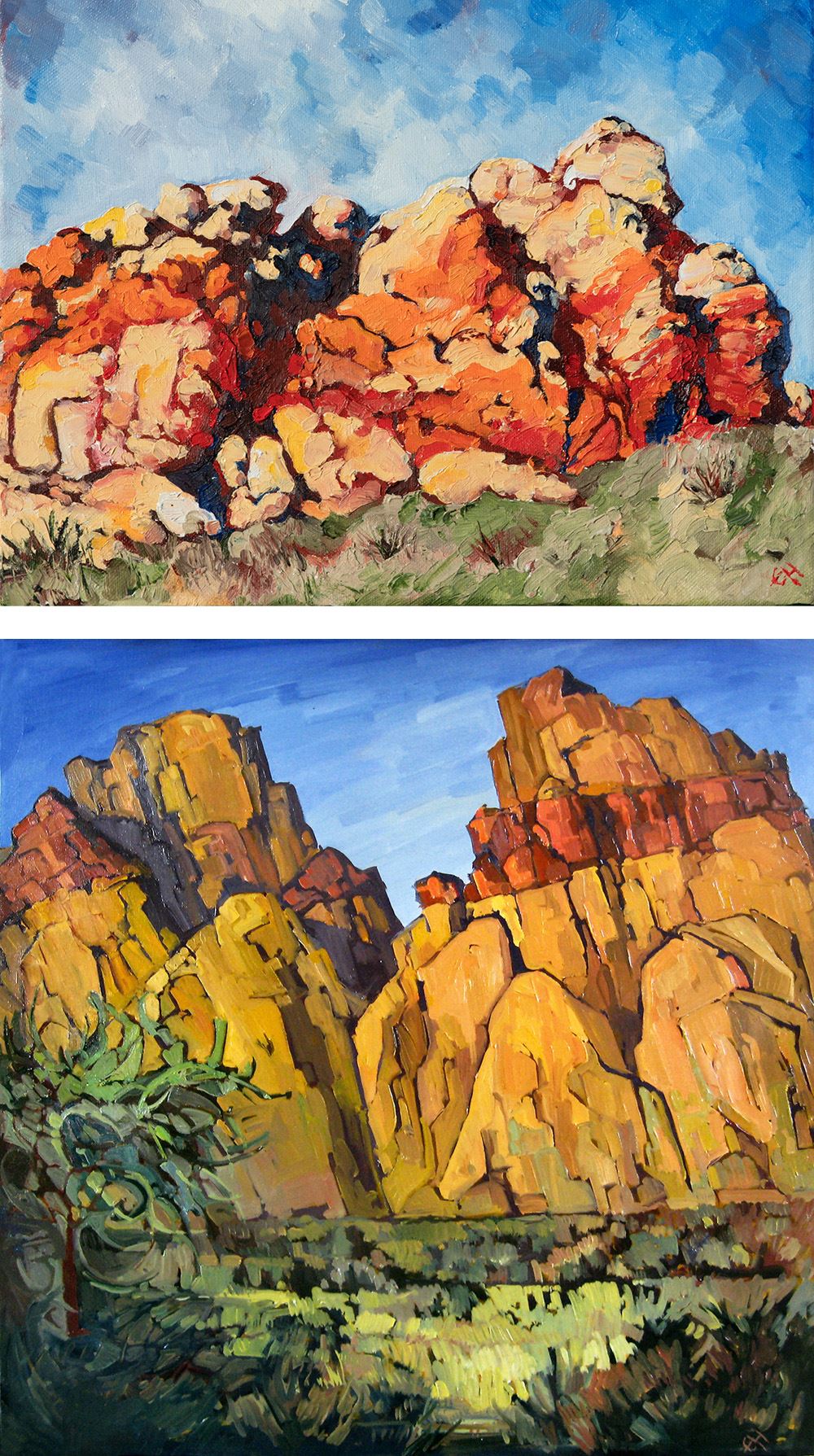 Birth of Open Impressionism
In 2006, Erin Hanson created the first painting that gave birth to her signature style, which later became known as "Open Impressionism." Erin had just moved to Las Vegas, and she spent her first few days in Vegas camping out at Red Rock Canyon, since the electricity in her new apartment hadn't been turned on yet. With her entire life's belongings piled up in the back of her pickup truck (including her easel and paints), she decided to do some plein air painting on that first morning waking up in the desert. Erin climbed to the top of a dusty gray hillside just as the sun was rising, and she glimpsed Red Rock Canyon for the first time: a glorious expanse of red and orange rock formations glowing in the early morning light.

Erin painted a small plein air painting right then and there, and the style of the brush strokes and colors she chose to capture this rocky landscape became the foundation for the entire body of work she would later create. She was so inspired by these rocks that she became a dedicated rock climber and spent many years exploring their craggy depths and painting their vibrant colors onto canvas. Hanson declares, "If the electricity had been turned on in my apartment like it was supposed to, I might never have developed Open Impressionism."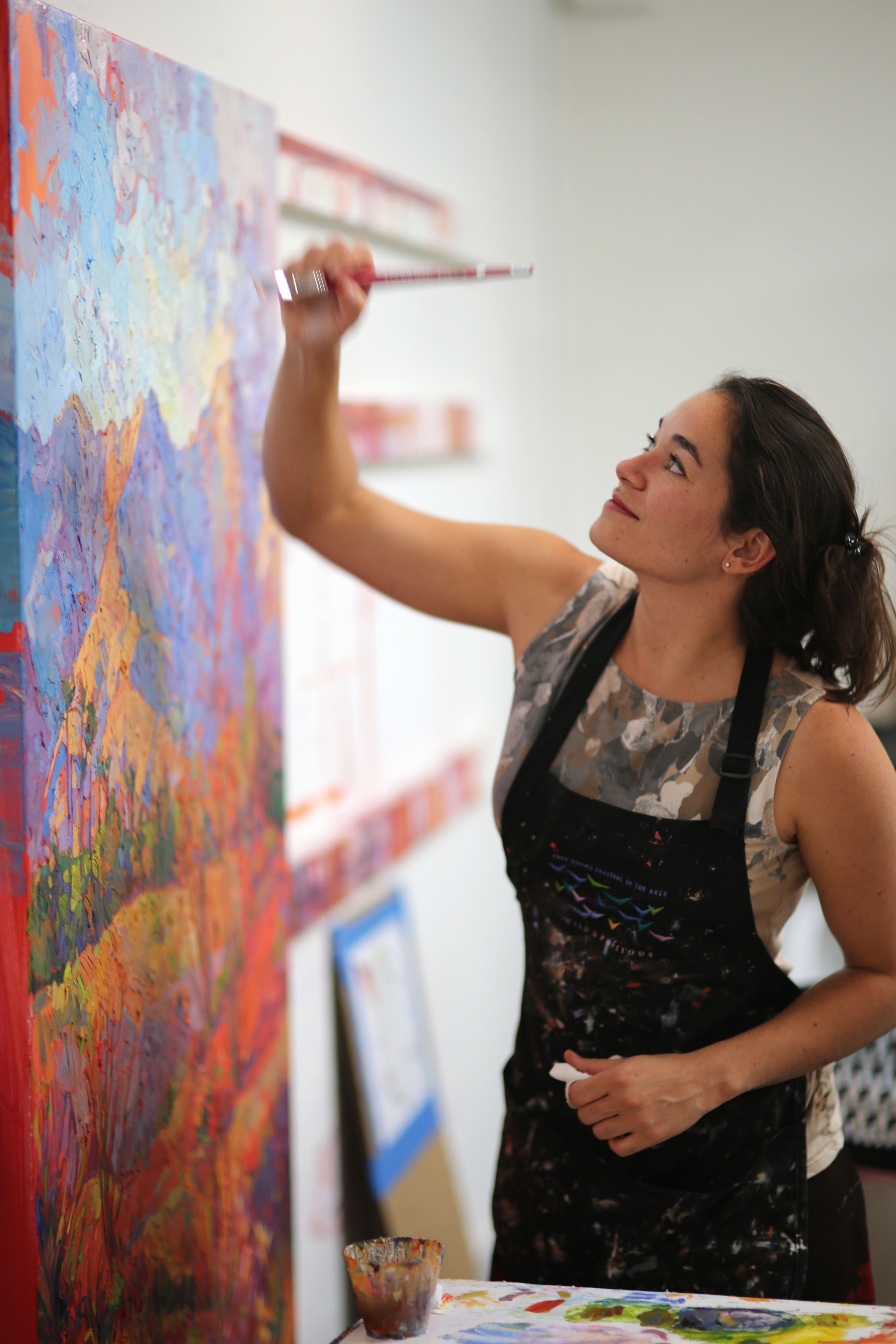 One Painting a Week

At age 25, shortly after moving to Las Vegas, Erin made a personal decision to create one painting every week to develop her skills as an artist. Erin Hanson's first experimentations in painting red rock landscapes employed richly colored cadmium hues of red and orange, and the young artist painted almost 50 paintings of the Nevada desert during her first year living in Las Vegas.

Erin Hanson has dedicated herself to creating at least one painting every week ever since. Over the past twenty years, Erin's portfolio of completed (and sold) works numbers over 3,000 original oil paintings. As she explains, "After so much practice, my hands seem just to know what they are doing without much thought." Instead of worrying about technique while she paints, Erin gets to focus on creating unique color combinations, exciting compositions, and bringing to life the movement and rhythm of the landscape.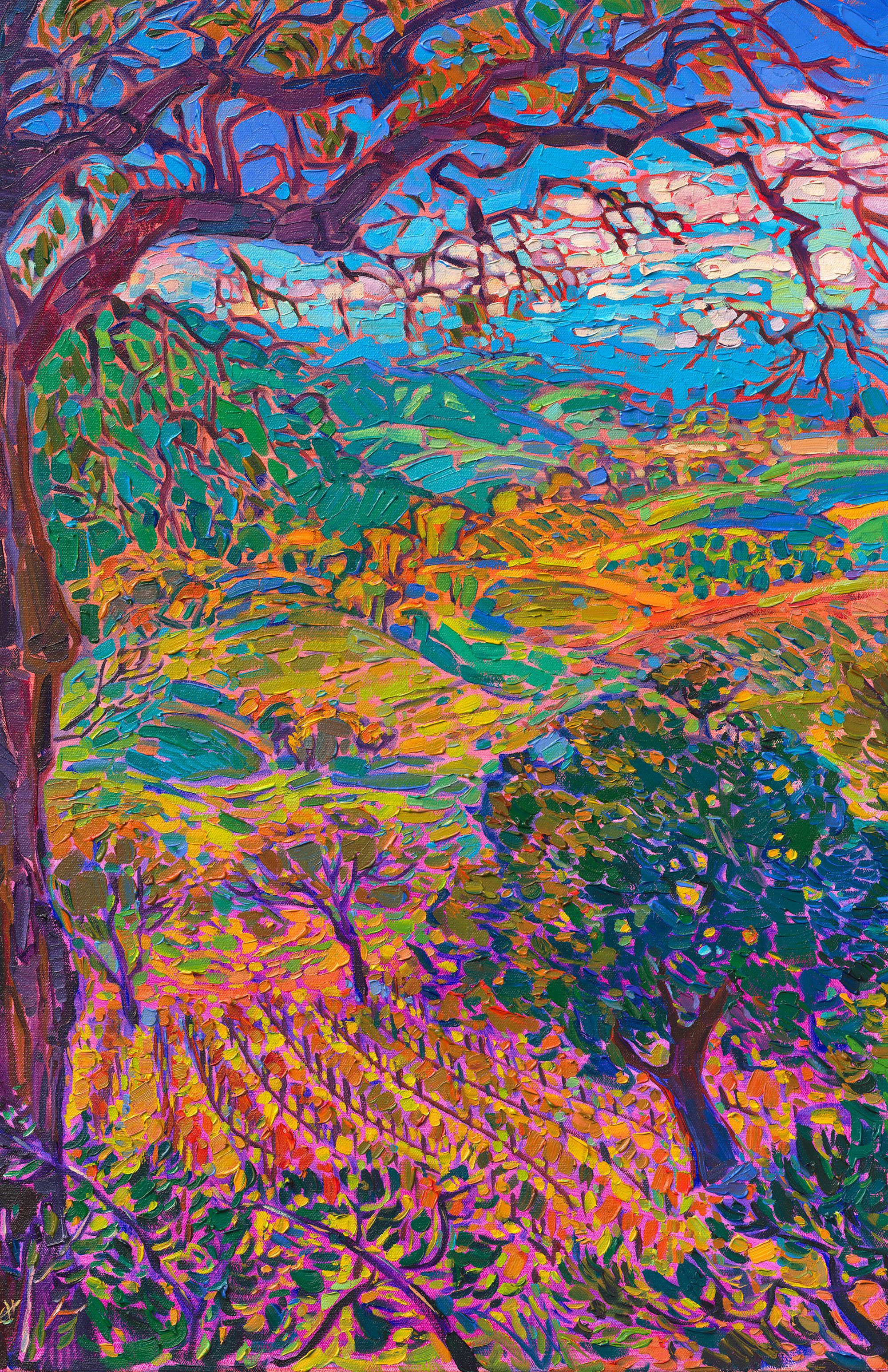 Wine Country Inspirations
In 2010, Erin Hanson moved back to California, where she discovered the idyllic, rolling landscapes of Paso Robles wine country. She was immediately captivated by this romantic landscape of rounded oak trees and verdant hillsides, such a contrast to the stark, angular beauty of Red Rock Canyon. She began painting wine country paintings, applying the Open Impressionism technique she had developed while painting desertscapes to this new landscape of slopes and curves.

Erin Hanson loved painting wine country so much that she published a coffee table book Wine Country: Impressions in Oil, which contains over 300 pages of wine country-inspired works from Paso Robles, Temecula, Napa, Mendocino, Carmel Valley, and Oregon's Willamette Valley.

"Erin Hanson transforms landscapes into abstract mosaics of vibrant color. Her confident use of impasto brush strokes adds depth and structure, lending an almost sculptural dimension to the canvas. She uses as few brush strokes as possible, without layering, in a style that has become known as Open Impressionism." – excerpt from Wine Country: Impressions in Oil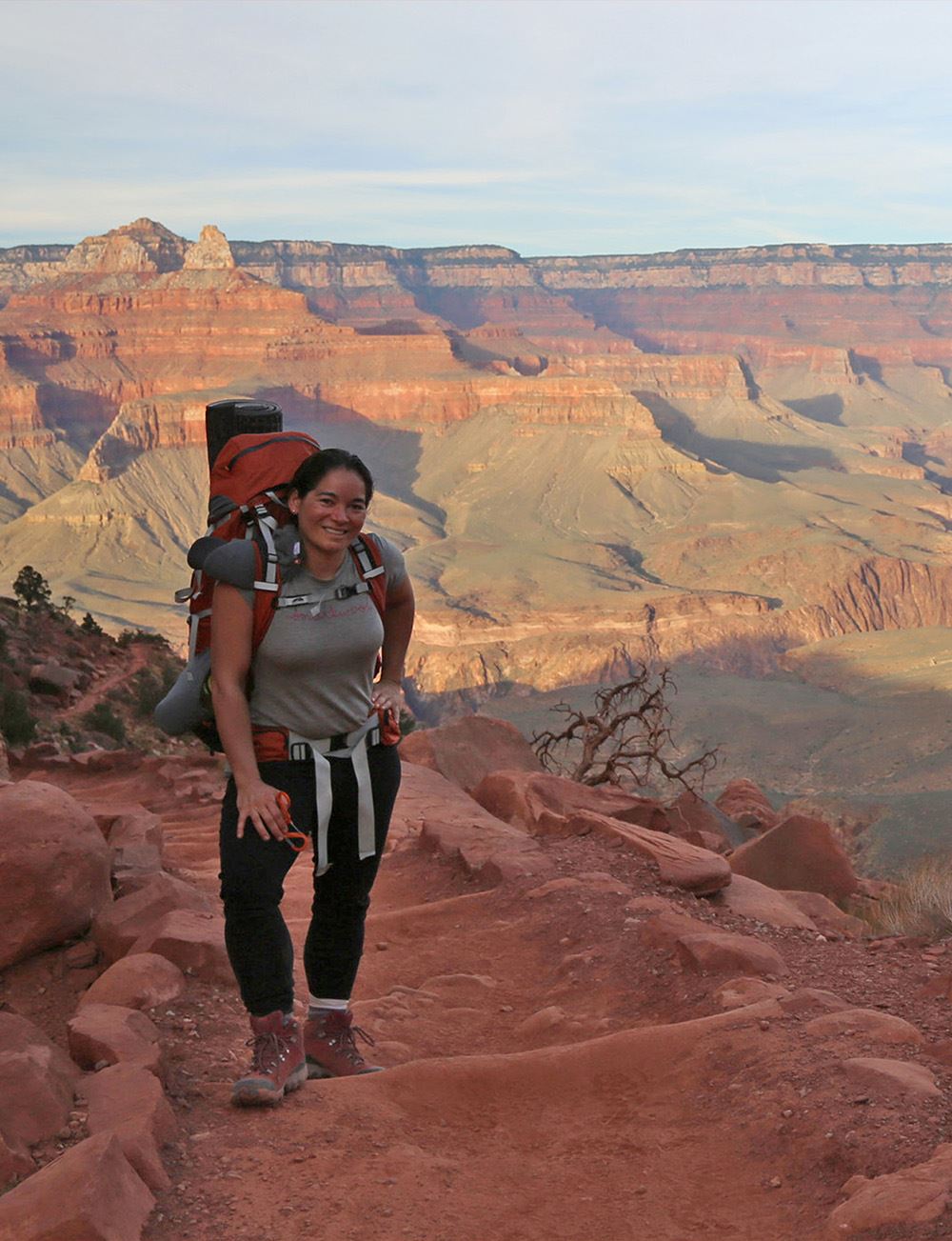 National Park Adventures

All her life, Erin Hanson has been inspired by the beauty of the outdoors. As the elder sister of three Boy Scouting brothers, Erin grew up spending her summers backpacking and camping all over the Western states. Her Open Impressionism paintings capture the wide-open spaces and natural beauty she loves. Characterized by wide, loose brush strokes, her paintings seem filled with the wind and light of the outdoors.

Erin Hanson has found inspiration in many national parks around the country. One of her favorite haunts is the Colorado Plateau and surrounding red rock desert, including Zion National Park, Bryce Canyon, Canyon de Chelly, Monument Valley, and the Grand Canyon. Several years ago, she backpacked 50 miles across Zion National Park with two of her brothers, watching the sun rise and set over the high plateaus finding inspiration in the dramatic weather changes and breathtaking vistas.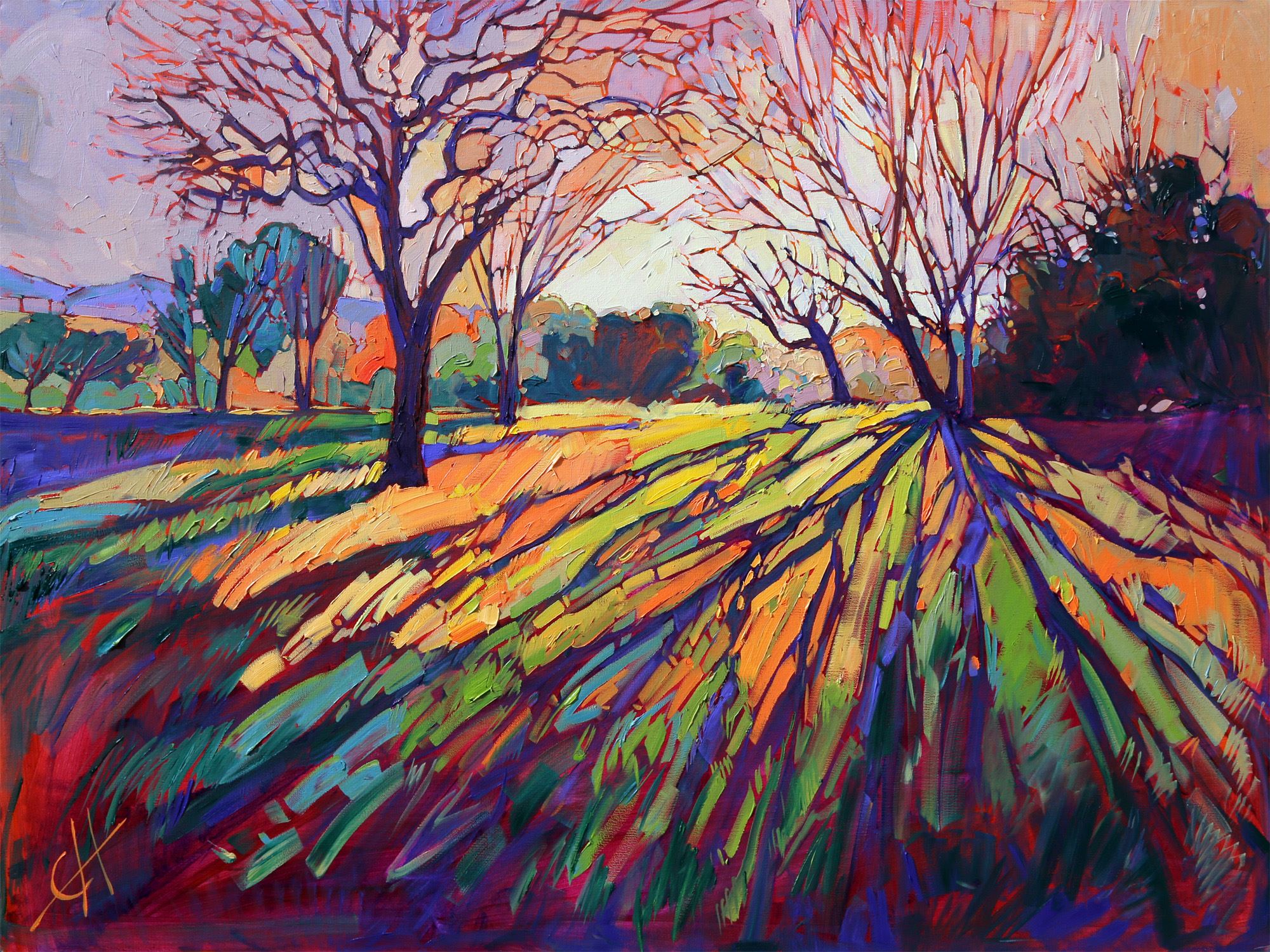 Iconic Works
Crystal Light, oil on canvas, 2013

"Erin Hanson's iconic Crystal Light series was born in 2013 with her pivotal painting Crystal Light. This impressionist oil painting captured the prismatic spectrum of refracted light in a painted pattern resembling a butterfly's wing. This piece has become synonymous with Hanson's Open Impressionistic style, and she has since created a whole series of popular works which capture mosaic prisms of light. These paintings are considered Hanson's first movement in the evolution of her style." – Artfixdaily.com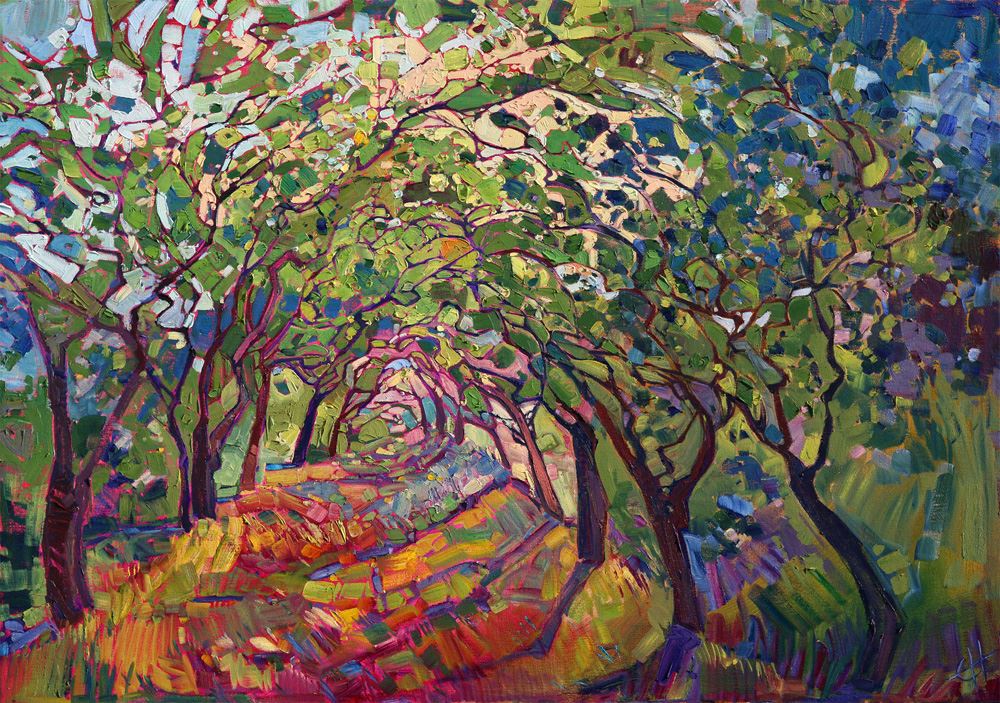 Iconic Works

The Path, oil on canvas, 2014

One of Hanson's most iconic paintings, The Path, is an expressionistic celebration of color and motion. This inviting, oak-lined path beckons you into another land of beauty and imagination. The brush strokes, loose and lively, create a vivid interplay of color and light between the tree branches.
Iconic Works
Field of Blooms, oil on canvas, 2016

Field of Blooms marks the largest single canvas Erin has painted in oil. Measuring 6-1/2 feet tall and 13 feet wide, this painting captures a vast expanse of floral hues and changing light, with a nod to Monet's Water Lilies series. This painting was inspired by wildflowers in Texas hill country.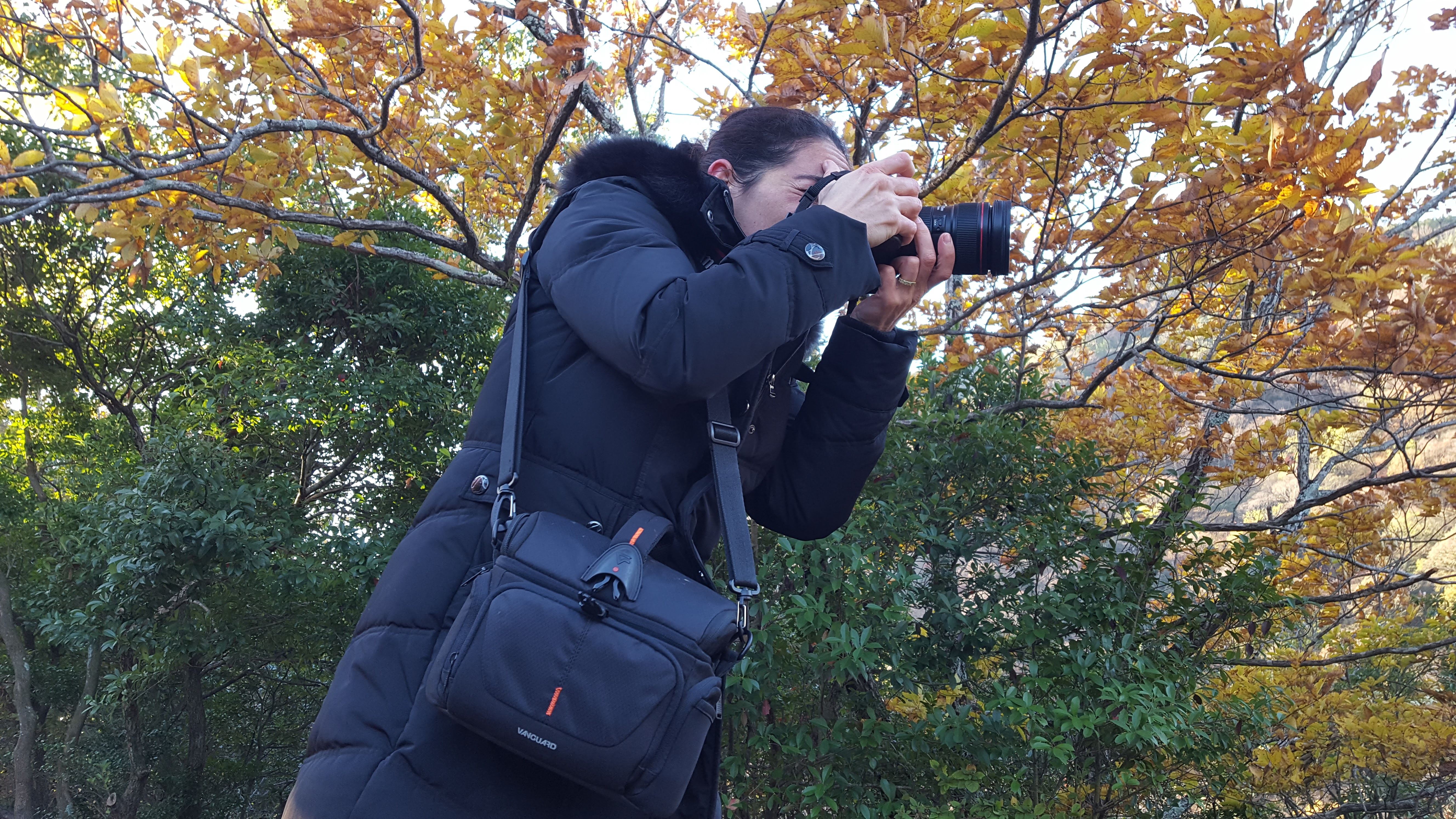 Adventure
Through the Lens of Impressionism

"My paintings all begin with outdoor hikes and explorations in nature. My goal when I paint is to recapture that feeling of being out of doors and surrounded by natural beauty: how do I capture the experience of waking up in a National Park at dawn, surrounded by quiet darkness and watching a sunrise slowly dawn over a dramatic canyon — how do I capture the contrast of a single cottonwood tree that has turned canary yellow before its fellow trees, strikingly gold against a red rock cliff — how do I paint in two dimensions the wide expanse of a sunset sky — how can I make my paintings as alive and fresh as I feel when I am out of doors?
"When I paint, I work from photos I took in the field. My challenge is to turn a flat, uninspiring photograph into a beautiful, impressionist painting that captures all the light and movement of the outdoors.
"The first step is to decide which elements I want to focus on in my painting. For example, I could decide to focus on a brilliant sunset sky, in which case I would make the foreground indistinct and dark by contrast. I could focus on the different colors I see beneath the waves in a coastal painting: here I would dramatize the size of the waves and the various hues of green, turquoise, blue, and purple, using the white foam as contrast. I might focus on the abstract shapes of light I see between the branches of an ancient oak tree. In this case I would select which branches to paint that would make the most interesting series of negative spaces. I compose all my paintings to communicate a specific focus within the landscape.
"When I am out in the field, I use a variety of cameras to capture different angles that might come in handy later when I am painting: I use two Canon EOS 5D cameras, one with a standard lens and one with a telephoto zoom lens. I use my iPhone's camera when I want to shoot wide-angle shots or panoramas. I sometimes use a drone to get higher-elevation shots or reach difficult angles.
"When I come home from an adventure shoot, I have thousands of photos that could turn into paintings. I start by printing out several reference photos of the same scene. Then I use pencil sketches to test out different compositions that might work to best communicate my "focus." Rarely can I use a photograph just as-is. I often move around strong compositional elements, like trees, or take hills from one photo and merge with the foreground of another photo, for example.
"After painting thousands of landscape compositions, I have refined my technique of transforming a mere ordinary photograph back into the original beauty of the landscape that made me pick up my camera in the first place."
Erin Hanson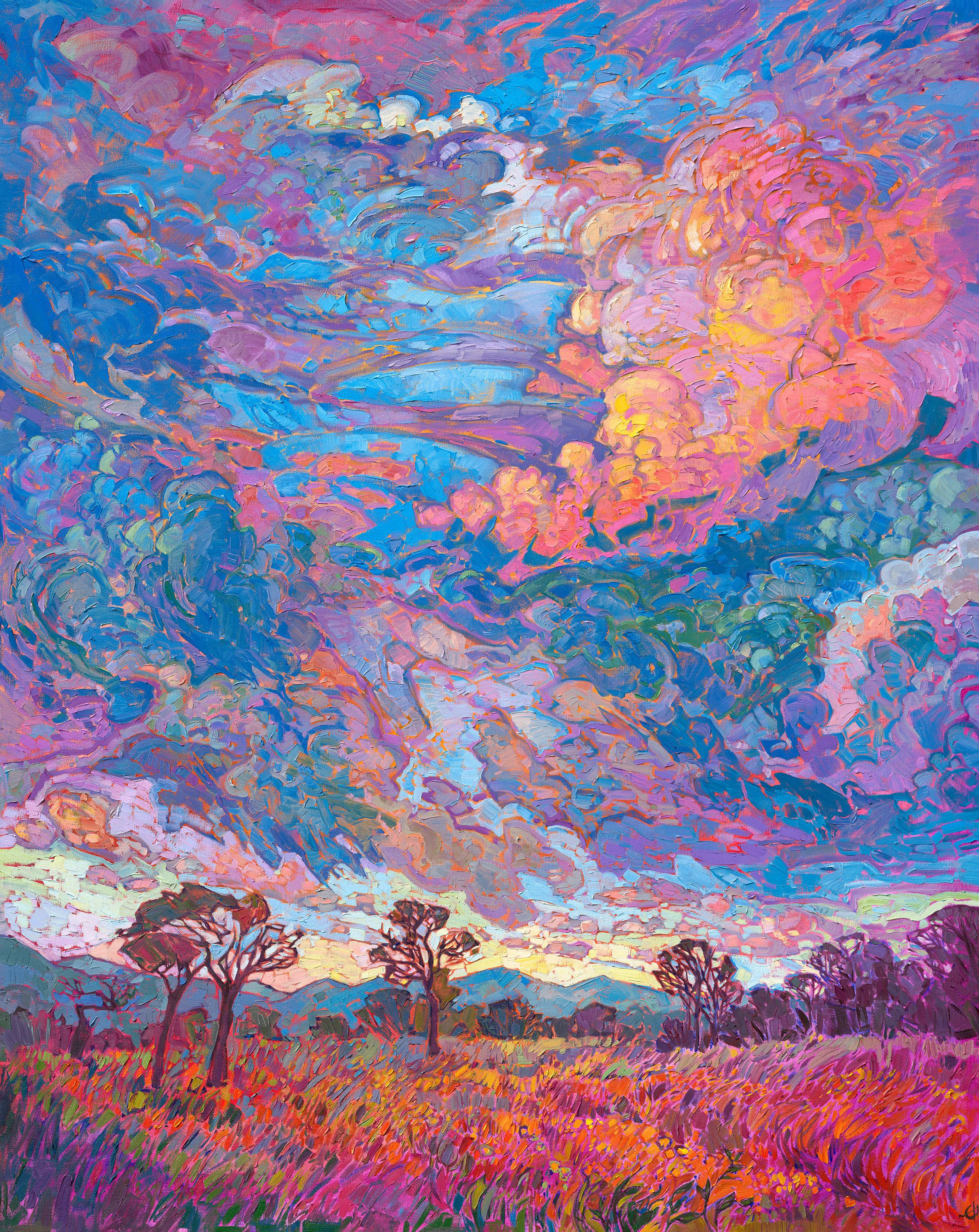 "My goal with my art is to improve quality of life. If I can surround people with beautiful paintings that inspire them emotionally, I will have improved their quality of life."

Erin Hanson
In the Studio
With Erin Hanson

"My painting technique is done with expressive color and loose brush strokes, in a wet-on-wet technique known as alla prima. Alla prima comes from Italian, literally meaning "at first attempt" and is loosely applied to any painting that is done in a direct, expressive style.

"I extensively plan out my paintings before I start painting with a brush, working out compositions and color combinations that will most effectively capture the drama of the landscape. I work with a limited palette of 4-5 colors, which I mix into a wide variety of hues and values appropriate to the scene I am creating. When it comes time to paint, I try to get the painting "right the first time," using as few brush strokes as possible to capture the immediacy and emotional movement of a landscape. The French term for this application is premier coup. You can see the texture of every brush stroke in my paintings, since I do not layer or thin my paint with turpentine. The result is an impasto oil painting with additional depth and movement from the thick texture of the paint."
Erin Hanson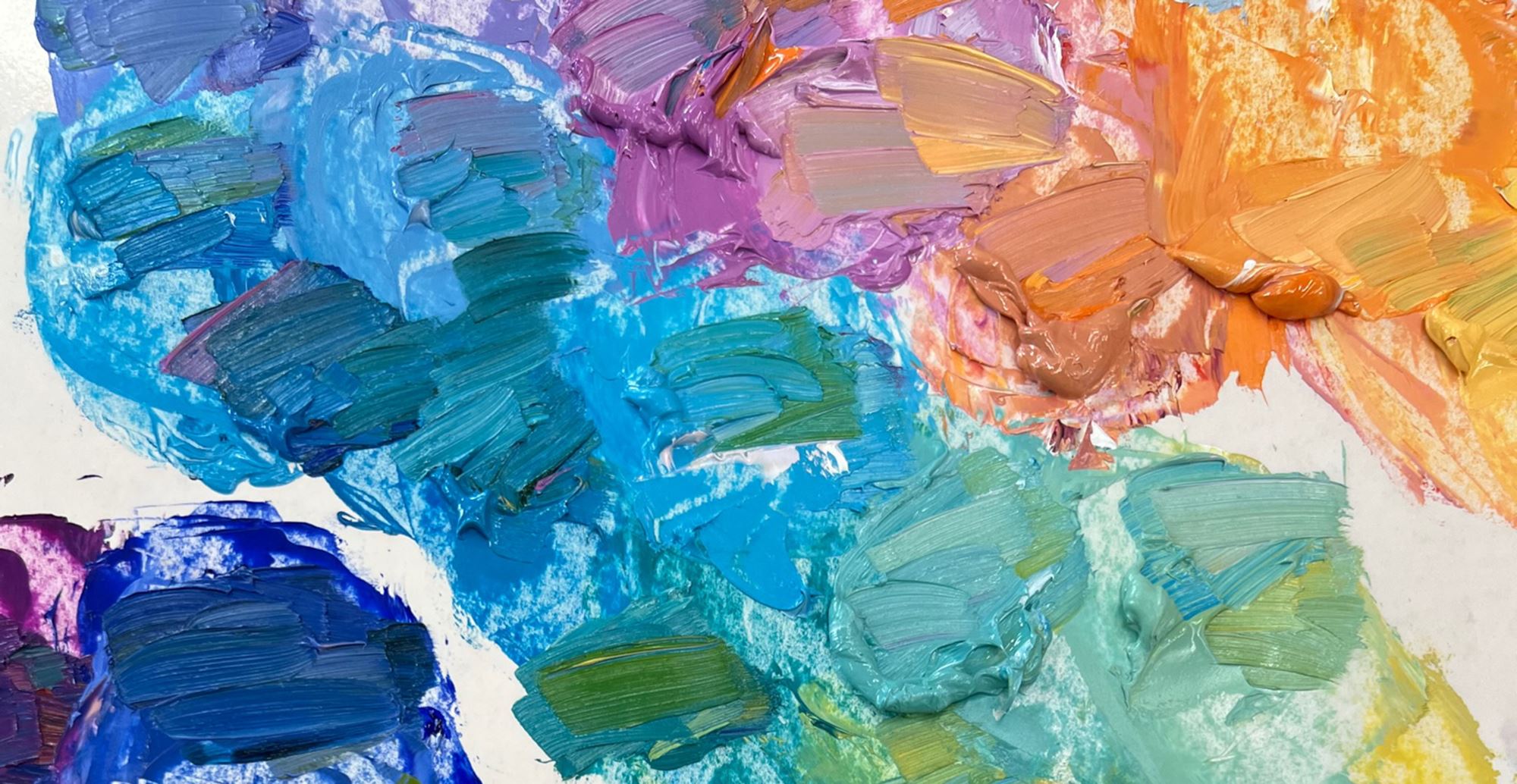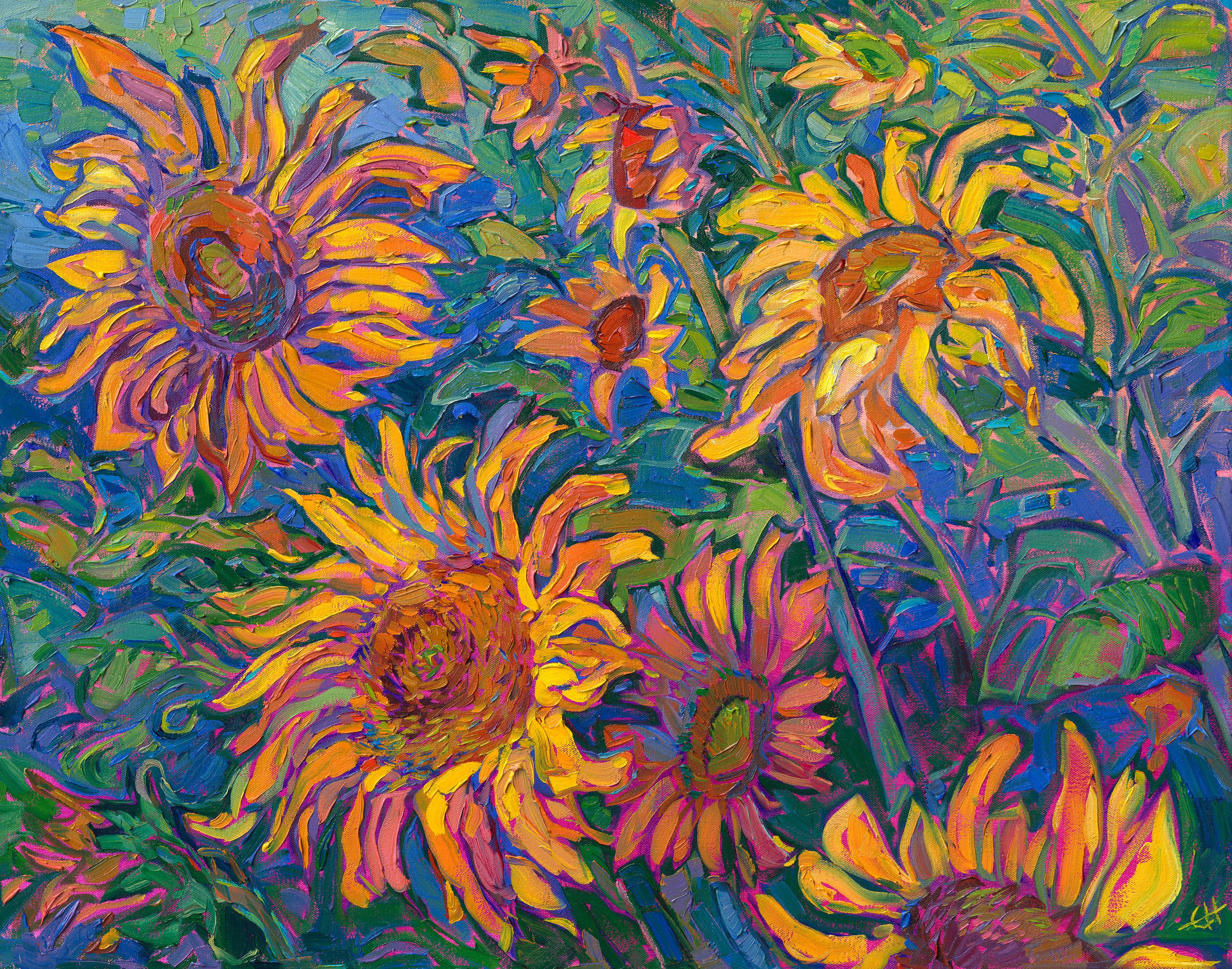 What is Open Impressionism?

Open Impressionism is unlike any other painting style and truly stands by itself in the contemporary art world. While inspired by the impressionists of the past, Hanson has a more expressionistic manner of painting, and her works attempt to recapture the emotional content of the outdoors, instead of merely the light and forms of the landscape. While Open Impressionism was developed over the span of 20 years and certainly changed as the artist experimented and refined her techniques, there are some basic hallmarks of Open Impressionism that we can take note of.

Open Impressionism is best described as abstracted, contemporary impressionism. The brush strokes are loose and expressive, conveying a sense of movement and transient light. Because the brush strokes are applied alla-prima, without layering, the paintings have a mosaic or stained-glass quality. The underpainting is allowed to appear through the brush strokes, giving the painting a sense of underlying light.

Erin Hanson pre-mixes her entire palette before she begins painting, planning out her colors in advance and mixing the full range of hues from only a few pure pigments, known as a "limited palette." By limiting the colors on her palette to only 4 or 5 primary colors, Hanson can create a full range of pure and vibrant colors. Her paintings are never dull and muddied, instead they have a crystalline, back-lit appearance. She always focuses on the light in a composition, letting the shadows fade into indistinction.

When she paints, Hanson tries not to go over the same spot on the canvas more than once; she tries to "get it right the first time." This has two effects: one, the brush strokes are very textured, since they have not been flatted out by repetitively going over the same place on the canvas; two, the paintings have a sense of spontaneity and freshness to them, and they never appear overworked or overly detailed. This impressionistic approach to painting allows the viewer to participate in the finished artwork – his imagination must "fill in the blanks" instead of having the whole literal landscape dictated to him like a photograph. When Hanson paints, she focuses on a single dramatic aspect of the landscape, and this single communication is felt in her paintings.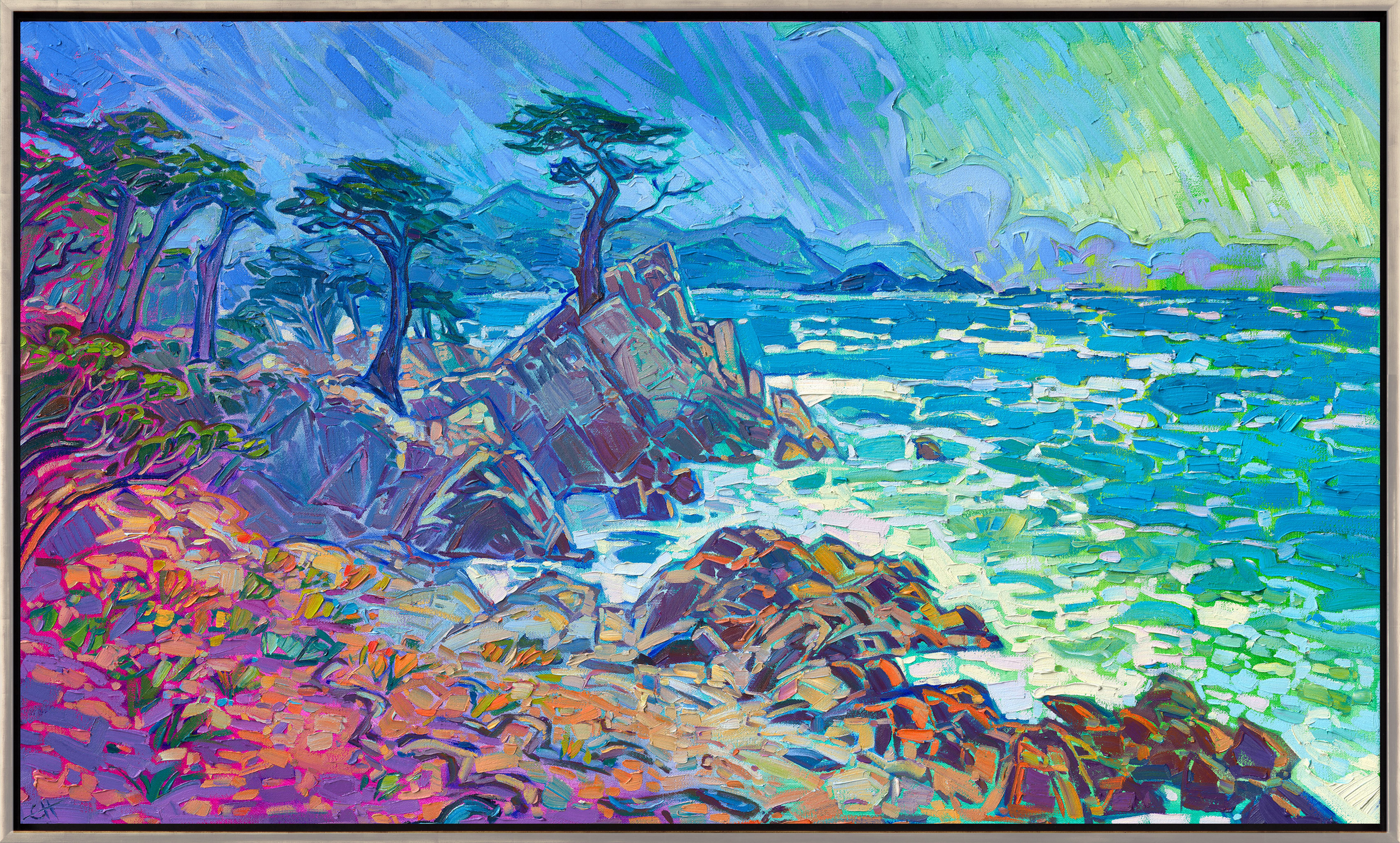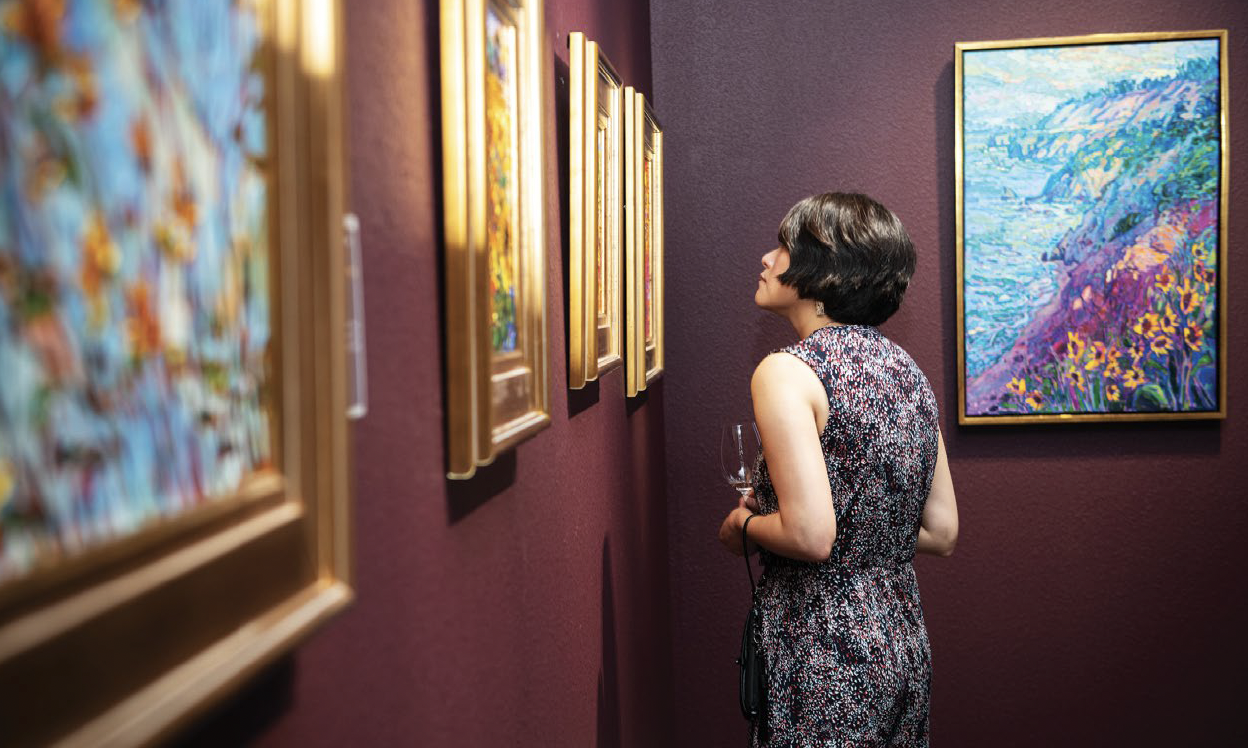 Upcoming Exhibitions


Click here to see Erin Hanson's show schedule of upcoming art exhibitions. There is nothing like seeing Erin Hanson's works in person, so you can fully experience their vibrant colors and thick brush stroke texture.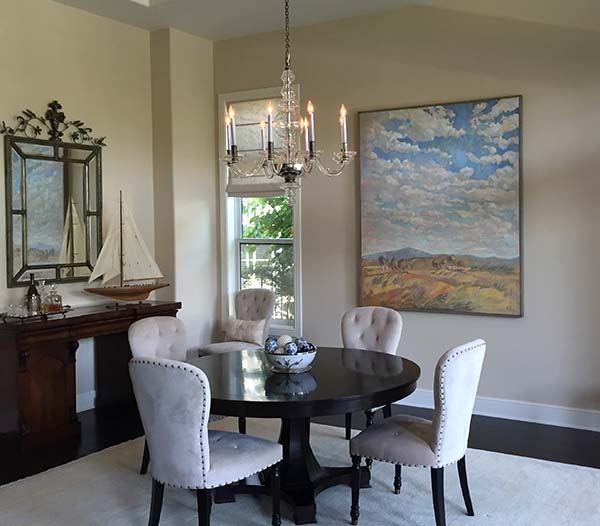 Testimonials

Read what Erin Hanson's collectors have to say about her artwork. Are you looking to add an Erin Hanson piece to your collection?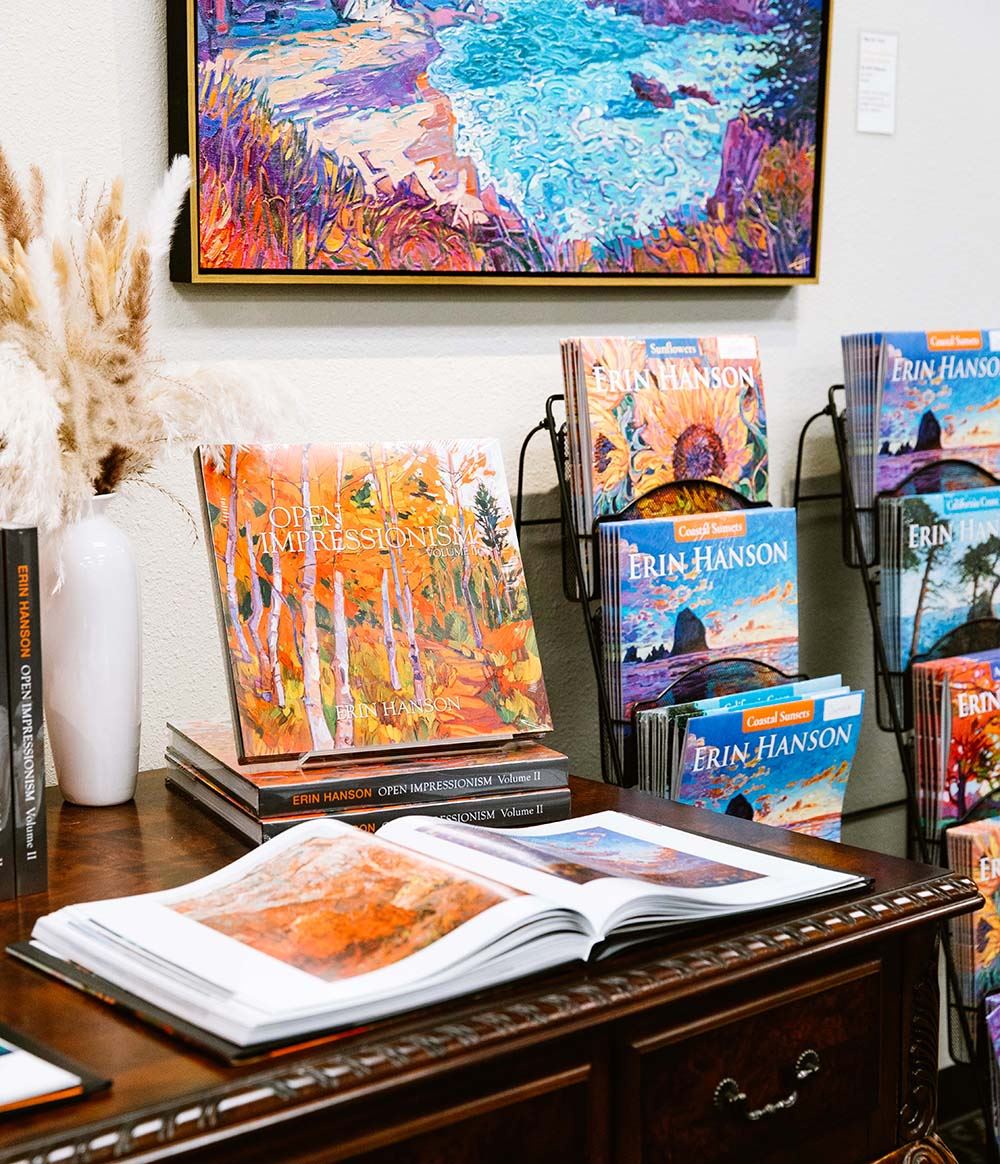 Gift Shop

Visit Erin Hanson's gift shop to purchase coffee table books, calendars, paper prints, and other collectibles that make perfect gifts for the art lover in your life!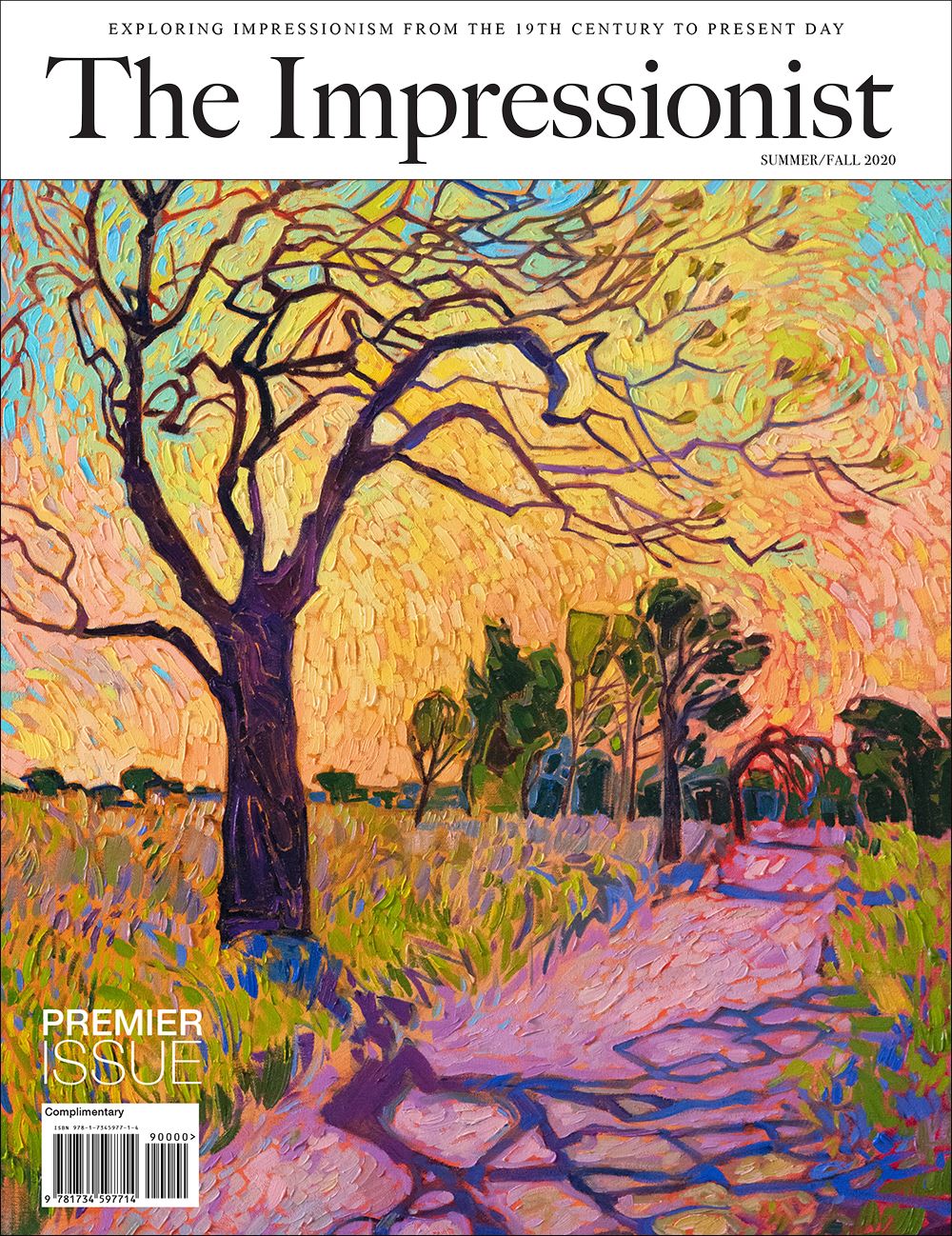 Erin Hanson Magazines

Discover Erin Hanson's free publications and flipbooks, including Color & Light, the magazine for Erin Hanson collectors, and The Impressionist, the magazine designed to educate and inspire.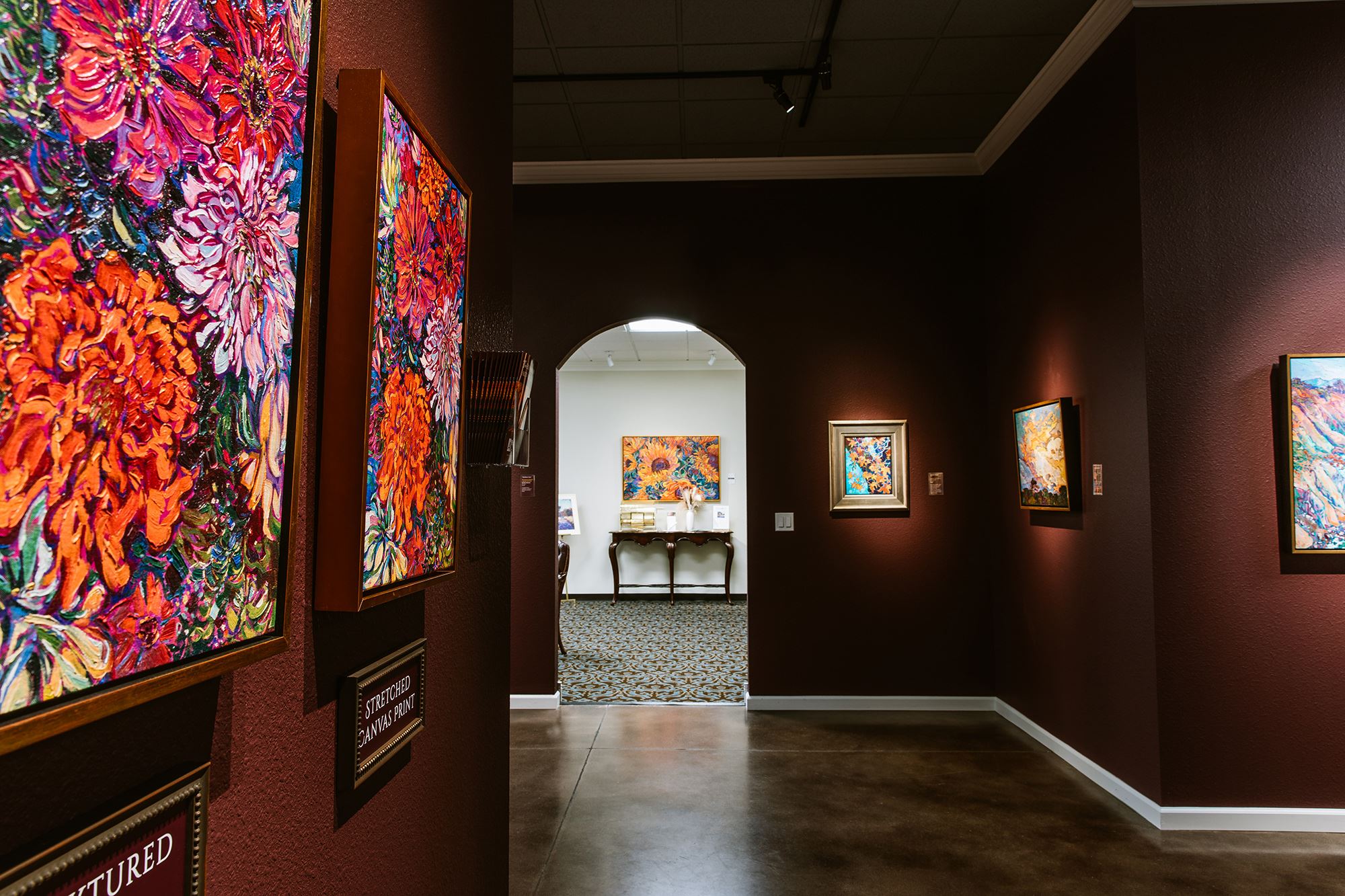 The Erin Hanson Gallery


Visit The Erin Hanson Gallery to see Erin's works in person. She has locations in Carmel-by-the-Sea, Oregon wine country, and Old Town Scottsdale. You can visit Erin's studio (and meet Erin in person!) in McMinnville, Oregon. Click here to see current hours and contact information.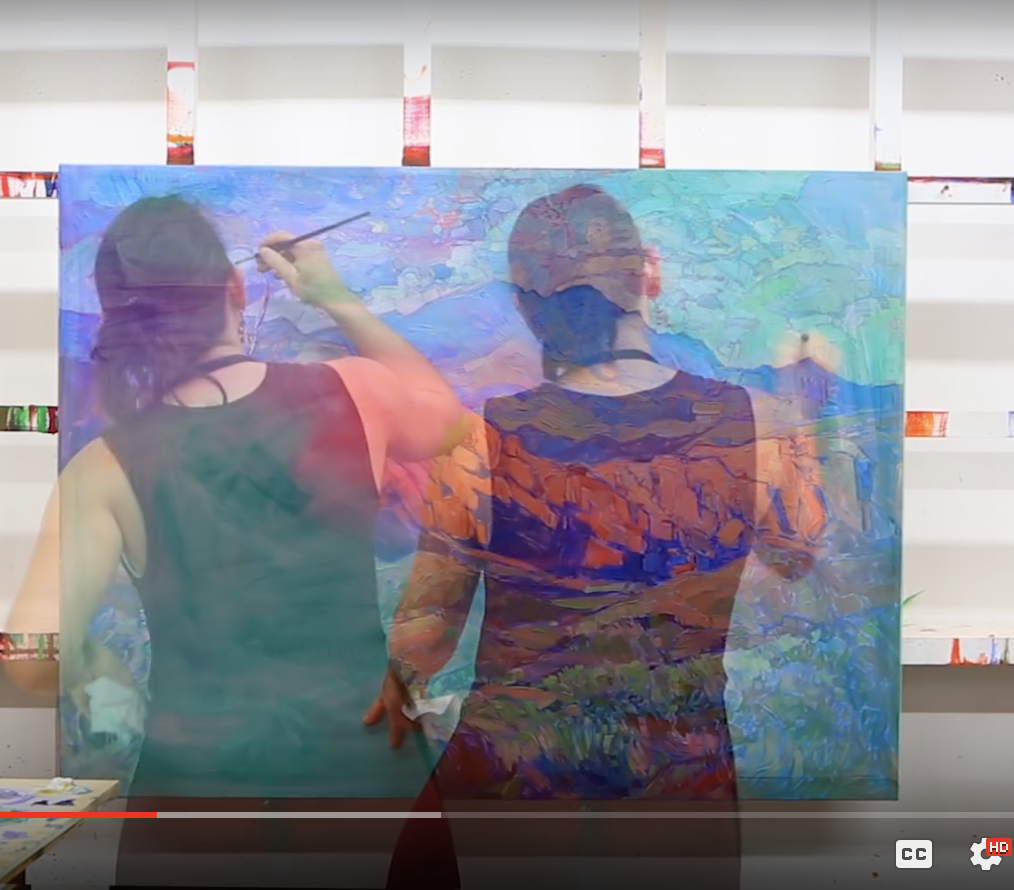 Videos of Erin Hanson

Watch videos about Erin Hanson, candid talks with Erin, fan videos, and more!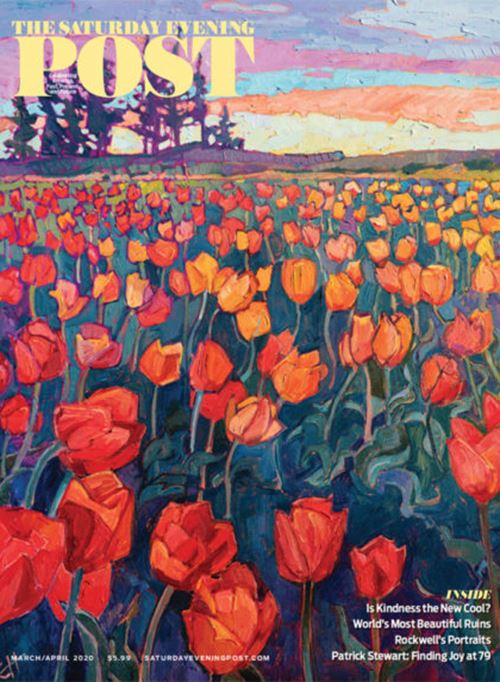 In the Press
Read about Erin Hanson in the press, including interviews, editorials, and news articles. Erin Hanson has been featured in popular media such as Southwest Art Magazine, CNN, Forbes, American Lifestyle Magazine, My Modern Met, California Homes, American Art Collector, Modern Luxury, The Saturday Evening Post, and more.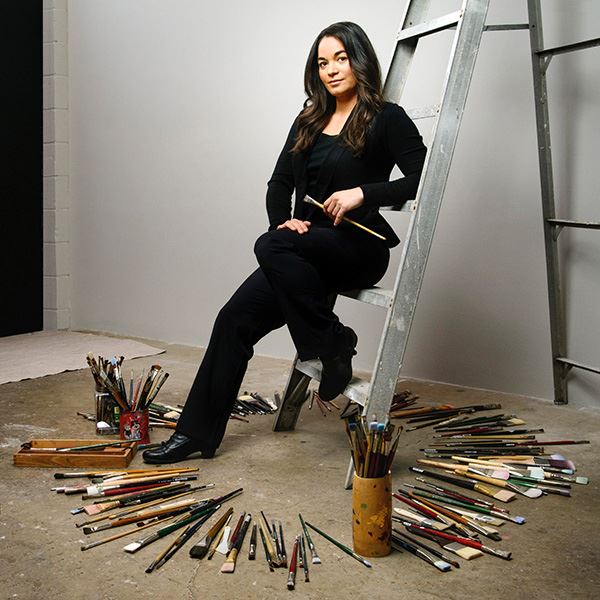 Artist Blog

Click here to read Erin Hanson's artist blog. Learn everything you ever wanted to know about Erin Hanson, her story, and Open Impressionism.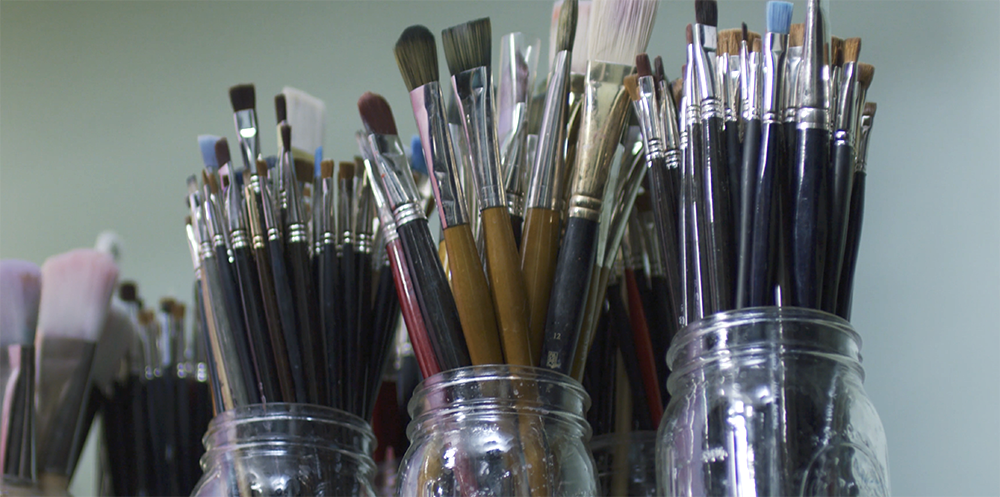 Resources for Artists

Erin Hanson has helped thousands of artists re-kindle their passion for painting. Erin has put together a collection of resources that will help artists learn to paint, make a living as an artist, and follow their passion.

Selected Exibitions
Museum Collections & Exhibitions


CHANNEL ISLANDS MARITIME MUSEUM. Erin Hanson: The Color Show. Oxnard, CA. 2023.
BONE CREEK MUSEUM OF AGRARIAN ART. Erin Hanson: Colors on the Vine. David City, NE. 2023.
HILBERT MUSEUM OF CALIFORNIA ART. Orange, CA. Permanent collection. 2021.
SANTA PAULA ART MUSEUM. Erin Hanson: Colors of California. Santa Paula, CA. 2021.
MUSEUM OF THE BIG BEND. Impressions of Big Bend Country. Big Bend, Alpine, TX. 2018.
NATURAL HISTORY MUSEUM OF LOS ANGELES. California Art Club's 107th Annual Gold Medal Exhibition. Los Angeles, CA. 2018
ZION NATIONAL PARK MUSEUM. Erin Hanson: Impressions of Zion. Springdale, UT. 2017.
ST. GEORGE ART MUSEUM. Erin Hanson's Painted Parks. St. George, UT. 2016.
ROCKWELL MUSEUM OF ART. A Feeling of Humanity: Western Art from the Ken Ratner Collection. Corning, NY, 2015.
LA SALLE UNIVERSITY ART MUSEUM, Philadelphia, PA. Permanent collection. 2014.
MATTATUCK MUSEUM, Waterbury, CT. Permanent collection. 2014.
BONE CREEK MUSEUM OF AGRARIAN ART, David City, NE. Permanent collection. 2014.
ST GEORGE ART MUSEUM, St. George, UT. Permanent collection. 2013.


Awards & Shows

NORMANDY CHAIR FOR PEACE. An Artist for the Earth. 2020.
JUMBISH WORLD ART COMPETITION 4.0. Jury Member. 2020
COWGIRL UP! Desert Caballeros Western Museum, Wickenburg, AZ. Awards: 1st Place 2-D on Canvas 2018 and Best in Show 2019. 2016 - 2019
THE MOUNTAIN OYSTER CLUB ART SHOW. Tuscon, AZ. 2016 - 2017

THE WOODLANDS WATERWAY FESTIVAL. The Woodlands, TX. Awards: Best in Show, Featured Artist for 2017 and Poster Artist for 2018.
ART SAN DIEGO. San Diego, CA. Awards: Spotlight Artist, Best New Exhibitor. 2016
LA QUINTA ARTS FESTIVAL. Juror for painting category. 2016 - 2017
THE ERIN HANSON ART & WINE TOUR. Paso Robles, CA. 2015
ART IN EMBASSIES. U.S. Department of State. 2015 and 2018
SAATCHI ART. Awards: The Year in Review: Best of 2015.
WOODLANDS WATERWAY ART FESTIVAL. Houston, TX. Awards: Best in Show for 2015.
INDIAN WELLS ART FESTIVAL. Indian Wells, CA. Awards: Poster Artist for 2015.
HERMOSA BEACH ARTWALK. Hermosa Beach, CA. Poster Artist for 2015.

THE MOUNTAIN OYSTER CLUB ART SHOW. Tuscon, AZ. 2014
WORLDWIDE ART LOS ANGELES, Artavita Contest 1st Place Winner. Los Angeles, CA. Curated by Despina Tunberg. 2014
ERIN HANSON: BORREGO IN COLOR. Tumbleweed Art Gallery, Borrego Springs, CA. Curated by Glenda Garmon. 2014
PASOSCAPES: OILS BY ERIN HANSON. Studios on the Park, Paso Robles, CA. Curated by Sasha Irving. 2013
EARTH, SKY, WATER. Arts at Denver, Denver. Curated by Paula Colette. 2013
LA JOLLA FESTIVAL OF THE ARTS. Awards: 1st Place Painting. 2013
BORREGO ART INSTITUTE. Borrego Springs, CA. Curated by Barbara Nickerson. 2013
ART IN THE PARK. Boulder City, NV. 1st Place Painting. Juried by Boulder City Hospital Foundation. 2012
ERIN HANSON: COLORS OF PASO, SOLO SHOW. Paso Robles, CA. Curated by Sasha Irving. 2012
BOULDER CITY FINE ART FESTIVAL. 1st Place Fine Art. Juried by Boulder City Art Guild. 2012
NATIONAL OIL & ACRYLIC PAINTERS' SOCIETY Awards: Best of America 2012
CA 101 EXHIBITION, 2012, Redondo Beach, CA. Curated by Sandra Liljenwall. 2012
ICONS OF THE WEST 2012. Missoula, MT. Curated by Dana Gallery. 2012
DESERTSCAPES: COACHELLA VALLEY AND BEYOND. Palm Desert, CA. Curated by Jana Koroczynsky. 2012
THE MAJESTICAL ROOF. Downtown Pasadena, CA. Curated by Christina Burnal. 2009
LIGUORI GALLERY SOLO SHOW. Boulder City, NV. Curated by Steven Liguori. 2007
VALLEY OF FIRE VISITOR'S CENTER. Valley of Fire State Park, Nevada. 2006
Get InspiredSign up for Erin Hanson's weekly newsletter
I am interested in:
Original Artwork
3D Textured Replicas
Canvas Prints
Books and Calendars
Resources for Artists
Just Getting Inspired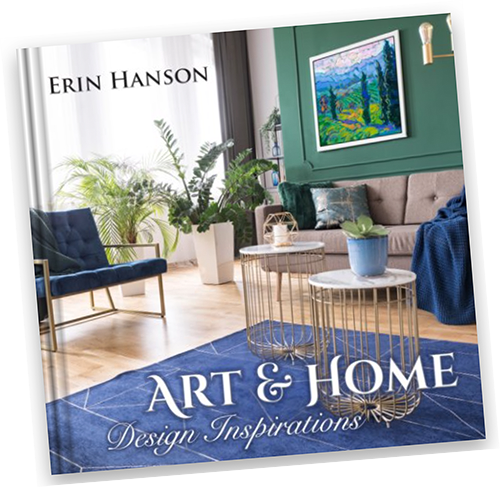 To receive a free copy of Erin's 50-page "Design Inspirations" flipbook, please include your mailing address below (U.S. only).
Send me a second information packet for a friend