Around the Art World in 80 Seconds
Internet + Art Galleries: An Art Collector's Dream
Tuesday, March 29, 2016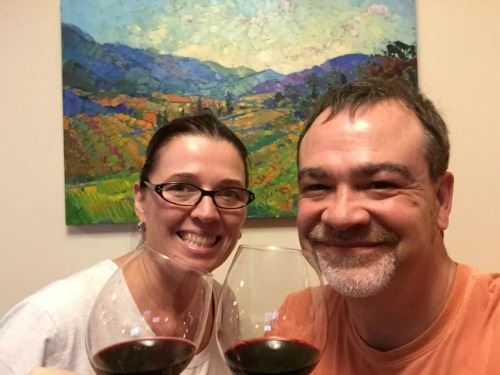 (above) The proud owners of Napa in Color, oil on canvas, by Erin Hanson celebrate the new addition to their collection.
Access to art online is creating a new global renaissance in art collecting. Many factors weigh in on choices, such as budget, but now anyone passionate about art may become a collector. The modern art collector leans heavily on a very important tool to complete their quest for the perfect art: the online art gallery.
Benefits of Online Art Galleries for the Art Collector
The seasoned art collector has, no doubt, already incorporated the Internet into their bag of research tools. For the budding art lover or collector, here are a few reasons online galleries can help you find the perfect art for your home or your collection.
Discover Your Personal Art Taste
Visiting museums and galleries in person is an experience that can't be replicated online. Similar to dining or giving someone a hug, the digital version will never be as fulfilling as the real thing. But one CAN develop a taste of the most appealing "look" through online art galleries.
Ignoring any "lack" of formal education on art styles, art movements or art mediums, a lot of ground can be covered from the comfort of your own home. It's also nicer to take notes sitting at a desk listening to your favorite music (instead of the gallery director's favorite music picks). Once you have a preference for a specific artist, style or both narrowed down, be sure to find some galleries to visit to see the art in person, if possible. But you'll have narrowed down your travel to one or a few locations.
Leverage Wikipedia and other online resources to better grasp the most attractive art styles and methods to you. Understanding the process makes collecting art that much more enjoyable. Which bring us to the next point.
Get to Know the Artist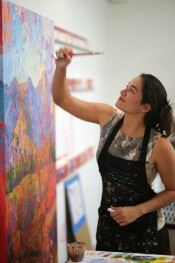 All art is a form of communication and, as such, it will resonate with some viewers, and not with others. Finding out what makes a particular artist tick is part of the art appreciation process. Often a piece of art has an origin story, or a specific message the artist wishes to convey. That kind of information about an artist or a specific work can be a lot easier to find online than at a pop-up art show over the weekend. Many artists have their own website, or at least a biography page on a gallery's website with in-depth information about the artist.
On the other hand, if you can meet the artist in person (at a show or their gallery) that's probably the best way to get to know them. Call ahead to verify the artist's availability/gallery visiting hours, or if and when the artist will be at a specific event in person.
Proper Planning Prevents Poor (Travel) Performance
Source specific pieces online to plan productive viewing or procurement trips. A few hours online is better than a few days at the wrong gallery or event. Keep in mind it's not required to see a piece in person before making an online purchase. Many galleries or artists have a return policy. In other words, you can usually return pieces if they don't work out for some reason. The larger the artwork, the greater the potential shipping cost, so factor that into your planning as well.
Develop Your Art Collector Philosophy by Studying Other Art Collectors
Whether you wish to start collecting art as an investment, or for the pure love of art, other collectors just like you have shared their story online. Another collector's viewpoints on art, how they collect it, scaling from a small art collection to a large, established collection - such information can help chart a path and avoid hurdles others have already surmounted.
Reading collector testimonials for a given artist can also provide valuable insight.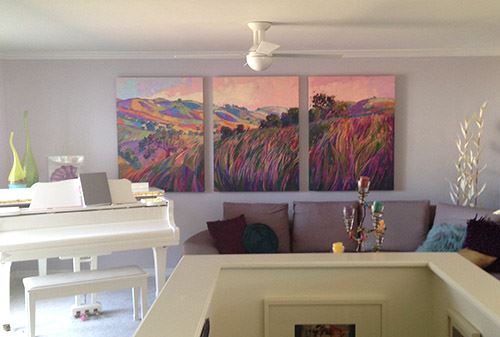 (above) Private Collection: Morning Fields in Triptych, oil on canvas, by Erin Hanson
Establish a Collector Profile
Some online gallery websites have personalized collector profiles available. Creating a profile helps galleries understand what you are looking for, and can lead to faster/preferential treatment. For example, an already known and established collector might get first right of refusal on a new work. Start by utilizing any online collector profile options and help the gallery help you with your collection.
Right Now, or Later
Art galleries in the "real" world have a closing time to their physical store locations. Online galleries don't have a closing time. View art at your convenience.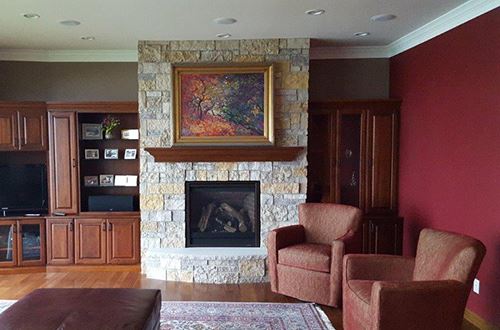 (above) Private Collection. Cottonwood Path, oil on canvas, by Erin Hanson
Ruling Out Fakes
Purchasing a fake is one mis-step a new art collector should strive to avoid. Buying through an established gallery cuts down the chance of fraud a great deal. Many artists have their own online gallery, and buying direct from the artist ensures a valid purchase. Purchasing original art works through eBay can be a risky endeavor for the inexperienced art collector. As much time as you spend researching your personal art tastes and style, learn the ropes on spotting fakes and recognizing the signs of potential fraud.
While we are on the topic, here's a quick tutorial from Mark Sublette, owner of the Medicine Man Gallery, on identifying reproductions of originals and verifying the age of a painting:
Getting Started:
The Google Art Project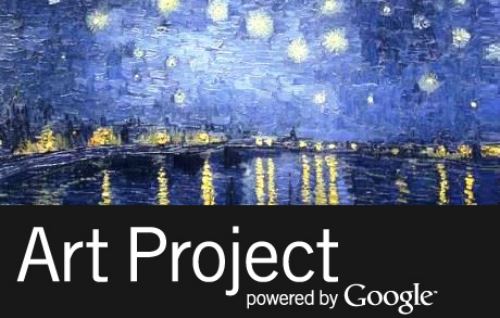 A wonderful place to start is the Google Art Project. Launched in 2011, the Art Project allows anyone with an internet connection (and decent bandwidth) to virtually tour a number of museums and other Project partners using Google's "Street View" mapping technology. Save art to your own virtual "collection," compare pieces side by side and share your finds with friends.
Here's a list of the original 17 Google Art Project Partners:
Alte Nationalgalerie, Berlin, Germany
Freer Gallery of Art, Smithsonian, Washington, DC, USA
Frick Collection, New York, USA
Gemäldegalerie, Berlin, Germany
Museum Kampa, Prague, Czech Republic
Metropolitan Museum of Art, New York, USA
Museum of Modern Art, New York, USA
Museo Reina Sofia, Madrid, Spain
Thyssen-Bornemisza Museum, Madrid, Spain
National Gallery, London, UK
Palace of Versailles, Versailles, France
Rijksmuseum Amsterdam, Amsterdam, Netherlands
State Hermitage Museum, St. Petersburg, Russia
State Tretyakov Gallery, Moscow, Russia
Tate Britain, London, UK
Uffizi, Florence, Italy
Capitoline Museums, Rome, Italy
Van Gogh Museum, Amsterdam, Netherlands
Thanks to the Google Art Project, visiting museums and collections from around the world really is just a click away. It's going to take more than 80 seconds to visit them all, because you'll want to spend a lot longer than 80 seconds in any one of these museums.
Finding your personal art preferences and style is a first step in the joy of art collecting. May your artistic passion be ignited and your online search fruitful. Bon Voyage!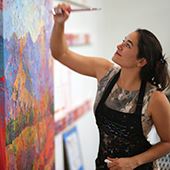 ERIN HANSON is a life-long painter, beginning her study of oils as a young child. Her passion for natural beauty is seen in her work as she transforms vistas familiar and rare into stunning interpretations of bold color, playful rhythms and raw emotional impact. Her frequent forays into National Parks and other recesses of nature include backpacking expeditions, rock climbing, and photo safaris. Hanson's unique painting style has become known as Open Impressionism, which is now taught in art schools around the world. With hundreds of collectors eagerly anticipating her work and millions of followers online, Hanson has become an iconic, driving force in the rebirth of contemporary impressionism, and she is quickly recognized as a prolific, modern master.

---
---